This is the fourth in a weekly series reviewing the last week in high school girls golf and looking ahead to highlights on this week's schedule. Results from #WIHSGolf matches and invitationals can be found on the Wisconsin.Golf girls golf scoreboard or on Twitter @WisDotGolfLive.
LOOKING BACK
Golfer of the week
Amanda Karvala, New Berlin Eisenhower/West. Few golfers enjoyed as busy — or as successful — a week as the Lions senior did last week.
In between winning three Woodland Conference mini-meets, Karvala played in her first 18-hole event of the fall at Thursday's Waukesha County Invitational and acquitted herself quite well against some of the state's top golfers. 
Karvala shot 77 at Wanaki Golf Course in Menomonee Falls to finish fourth behind Kettle Moraine's Jenna Anderson (72), Hartland Arrowhead's Jessica Guiser (73) and Brookfield Central's Sarah Balding (76) in the 84-golfer field. In addition, the Lions shot a 366 to finish fourth behind Kettle Moraine (325), Hartland Arrowhead (327) and Brookfield Central (333) among varsity teams.
Earlier in the week, Karvala shot 38 on Tuesday at Pewaukee Golf Club to win the Woodland Mini-Meet #5 by four shots over teammate Sammy Gallan. The next day, Karvala shot 39 at Greenfield Park GC in Milwaukee to earn medalist honors by five shots over teammate Lauren Haefs. Karvala made it a clean sweep of the week's mini-meets by shooting 41 at Currie Park GC in Milwaukee to edge Haefs and Pewaukee's Anna Grzeszczak by six shots for top honors.
"I played in 16 WPGA and women's amateur events over the summer to help me prepare for my high school golf season," Karvala wrote in a text message to Wisconsin.Golf. "My career low is a 74 so my expectations every time I go out is to beat that score. I am feeling very confident with my game right now and I am looking forward to helping my team succeed at the same time."
It will be a tough road to the WIAA Division 1 state tournament for Karvala and the Lions. Eisenhower/West will have to contend with top-ranked Brookfield Central, Franklin and Oak Creek at the Racine Case regional at Ives Grove Golf Links in Sturtevant. No. 3 Arrowhead and No. 8 Union Grove join the mix the following week at the Franklin sectional at Oakwood Park GC.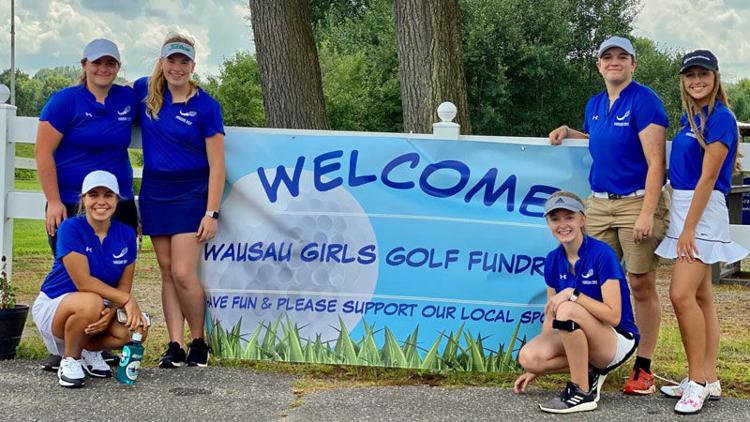 Team of the week
Wausau East/West. The Wausau co-op didn't let the delayed start to the girls golf season in the Wisconsin Valley Conference hold it back last week.
With perennial favorite Stevens Point waiting until the WIAA's alternate season in March to play its girls golf schedule, Wausau has established itself as the clear favorite in the four-team conference. Wausau shot a 184 at Crane Meadows GC in Weston on Thursday and a 179 at Tribute GC in Wausau on Friday to sweep the first two legs of the WVC tournament series, finishing 22 shots ahead of Wisconsin Rapids on Thursday and 17 shots on Friday.
Junior Tess Bruner led the team in both matches, shooting 41 at Crane Meadows to edge teammate Jasmine Yang by two shots and 40 at Tribute to slip past Yang for medalist honors there, too. Jess Nardi was a solid No. 3 score for Wausau in both matches, shooting 50 at Crane Meadows and 47 at Tribute. The co-op found fourth scores from Kit Kronberger (50) in the opener and No. 5 golfer Ayla Trollop (51) on Friday.
The Wisconsin Valley will play seven more legs of the tournament series over the next three-plus weeks with the finale scheduled for Oct. 13, the same day as the final round of the WIAA state tournament. This week, the WVC will go to Marshfield CC on Tuesday and The Ridges GC in Wisconsin Rapids on Friday. 
Tweet of the week
Crossing the tees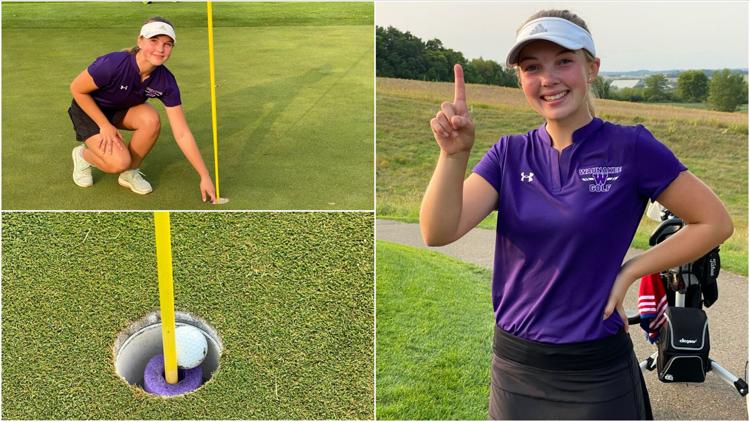 Menomonee Falls' Jane Yoo wasn't the only one celebrating a hole-in-one in competition last week. Waunakee freshman Jordan Shipshock made her first career ace Tuesday during a non-conference dual meet with Lakeside Lutheran at Bishops Bay CC in Middleton, where her father John is the head professional. Jordan used a pitching wedge to hole her tee shot on the 107-yard 10th hole en route to an 85. By the way, it has been confirmed that the hole-in-one is the first by any member of the Shipshock family at Bishops Bay, her father included. "It must have been those lucky purple noodles John used in the cups today!" Waunakee assistant coach Betsy Zadra joked. ... There were no changes at the top of the Division 1 or Division 2 state rankings as Brookfield Central and Prescott, respectively, continued to hold down the top spots in the second Golf Coaches Association of Wisconsin state polls released Sunday. Union Grove debuted in the top 10 in Division 1 at No. 8 while Wisconsin Dells cracked the top 10 for the first time in Division 2 at No. 10. ... Kettle Moraine and Hartland Arrowhead switched spots in the Division 1 poll with the Lasers moving into the No. 2 spot and Arrowhead slipping to No. 3. However, that is being put to the test this week with Kettle Moraine forced to compete without Reagan Stuke. The senior is in a 14-day quarantine after her youngest brother Brandon, 12, tested positive for COVID-19. He is asymptomatic and feels great, Karina Stuke said, but told Wisconsin.Golf that her daughter is taking all appropriate precautions even though it means she is missing Monday's mini-meet at Ironwood GC in Sussex and will sit out the Classic 8 Conference Championship Wednesday at Broadlands GC in North Prairie. She can't play or practice with the team until the morning of the Kettle Moraine regional Sept. 30 at Naga-Waukee GC. ... Milwaukee Pius XI has suspended its fall sports until October after moving Friday to all virtual instruction for two weeks to prevent the spread of the coronavirus. ... The Lady Popes remain in the WIAA regional tournament assignments updated Friday. Division 1 Superior and Division 2 Nekoosa and Westby/Viroqua have opted out of WIAA postseason play. ... A tournament schedule for WIAA regional and sectional competition has been posted to the WIAA website. Nine of the 14 regionals will be played on Sept. 30 and  four on Oct. 1. The Division 1 Glendale Nicolet regional has yet to finalize its date.
LOOKING AHEAD
This week's schedule: Click here.
---
Monday's highlights
The first of this week's conference championships will take place at Viroqua Hills Golf Club in Viroqua where Tomah and Onalaska will decide their season-long rivalry at the Mississippi Valley Conference Championship. Tomah won last year's meeting 372-378 over the Hilltoppers. ... Madison Edgewood and Waunakee square off again at Cherokee CC in Madison, home course for Waunakee freshman Izzi Stricker. ... Portage and Wisconsin Dells renew their rivalry and they picked a great layout to do it at, squaring off at Wild Rock GC in Wisconsin Dells. ... Racine Horlick, Park and Case, who were late in starting the season this fall, have added a triangular at Ives Grove GL in Sturtevant, where Racine Case will play host to a WIAA Division 1 regional next week. 
Tuesday's highlights
Wander Springs in Greenleaf will provide a challenging venue to decide the Bay Conference Championship. Shawano, West De Pere and Appleton Xavier have all taken turns leading the way during the regular-season mini-meet series. ... The Fox Valley Association Fall Championship will be contested at Winagamie GC in Neenah featuring the four remaining teams in the FVA playing golf during the traditional fall season with Kimberly the favorite to win the 18-hole event. ... Cedarburg and senior Elise Hoven look to defend their titles at the North Shore Conference Championship at Washington County GC in Hartford. The Bulldogs will get all they can handle from Mequon Homestead and Eleanor Potter, who won last week's mini-meet at Hon-E-Kor GC in Kewaskum. ...  Westosha Central and Union Grove will decide their entertaining Southern Lakes Conference rivalry at the 18-hole conference championship at Browns Lake GC in Burlington. Union Grove won the nine-hole dual between the two schools, shooting a school-record 167 behind sophomore Norah Roberts' 35 to win by six shots at Brighton Dale Links in Kansasville.
Wednesday's highlights
How low can they go? That's the question Kettle Moraine and Hartland Arrowhead will answer at the Classic 8 Conference Championship at Broadlands GC in North Prairie, where former Kettle Moraine golfer Abby Cavaiani (now at Missouri State) shot her eye-popping 60 at the 2017 Classic 8 Championship to beat Arrowhead's Emily Lauterbach (now at Wisconsin) by seven shots. Kettle Moraine junior Jenna Anderson and Arrowhead freshman Jessica Guiser are both capable of going low, but they will have to dethrone Warhawks junior Lauren Peterson, who won last year's title with a 76 at Broadlands. ... Brookfield Central and junior Sarah Balding are heavy favorites to win the Greater Metro Conference Championship at Naga-Waukee GC. Brookfield Central has won the last eight GMC titles, the last two with Balding as the conference champion. Balding's sister, Emily, won the two GMC titles before that. ... Sophomore Ava Salay and Prescott, the top-ranked team in Division 2, will try to end New Richmond's five-year reign atop the Middle Border Conference, but will have to do it on the Tigers' home course at New Richmond GC, which will play host to the 18-hole conference championship. ... Three other conference championships are on the docket — the North Eastern Conference Championship (Wander Springs in Greenleaf), the SWAL/SWC (at Prairie du Chien CC) and the Heart O'North (at Sioux Creek GC in Chetek).
Thursday's highlights
Oak Creek's Ellie Behring and Franklin attempt to defend their titles at the Southeast Conference Championship at Meadowbrook CC in Racine. The Sabers have won the team title each of the last six years. ... Arcadia, Black River Falls and Gale-Ettrick-Trempealeau are the only schools with full teams, but all three are capable of breaking 400 and will get the chance to prove it at the Coulee Conference Championship at Drugan's Castle Mound GC in Holmen. ... Osseo-Fairchild/Fall Creek goes after its third straight conference title at the CloverCroix Conference Championship at Lake Halli GC in Chippewa Falls. ... Amanda Karvala and New Berlin Eisenhower/West will try to close out a season of dominance in the Woodland Conference at the 18-hole championship at Washington County GC in Hartford. 
Friday's highlights
Hartford is scheduled to play host to a 17-team invitational at Hartford GC, bridging the gap between the regular season and next week's WIAA regionals.
Saturday's highlights
A sure sign that the 2020 girls golf season has been unlike any other: The Waukesha Catholic Memorial Invitational, scheduled for Broadlands GC in North Prairie, is the first major invitational on the 2020 calendar to be played on a Saturday. Those are usually a weekly staple during years when college football is in full swing and play on courses is lighter as golfers' attention on Saturdays is diverted to the gridiron.