This is the fifth in a weekly series reviewing the last week in high school girls golf and looking ahead to highlights on this week's schedule. Results from #WIHSGolf matches and invitationals can be found on the Wisconsin.Golf girls golf scoreboard or on Twitter @WisDotGolfLive.
LOOKING BACK
Golfer of the week
Elise Hoven, Cedarburg. The North Dakota State recruit served notice she is ready for the start of the WIAA Division 1 postseason with a pair of impressive victories last week.
Elise Hoven at WIAA state tournament
Year
Scores
Place
2019
75-76 -- 153
3rd
2018
89-80 -- 169
T28
2017
DNQ
T14
(Sectional)
First, the Bulldogs senior shot 73 at Washington County GC in Hartford and successfully defended her individual title Tuesday at the North Shore Conference Championship. No other golfer in the field broke 80 as Hoven topped Eleanor Potter of Mequon Homestead and Isa Pierri of Glendale Nicolet by nine shots for medalist honors.
In addition, Hoven led Cedarburg to its third consecutive team title. Hoven's 73 was the Bulldogs' only sub-90 score in a 350 total that helped them top Homestead by 12 shots for the North Shore team title
Hoven and Cedarburg returned to Hartford three days later and cleaned up at the Hartford Invitational at Hartford Golf Club.
A career-low, 5-under-par 67 from Hoven powered the Bulldogs to a three-stroke victory with another 350 total. Her round included four birdies and an eagle on the par-4 13th hole as she won by 13 shots over Grace Durkin of Green Bay Notre Dame, Ashlee Hattori of Hartford and Chloe Sileno of Mequon Homestead.
"This past week was great getting both the team and individual wins," Hoven wrote in a text message to Wisconsin.Golf. At conference, I played well. I just felt as if I left a lot of shots out there, especially on the greens.
"On Friday, all aspects of my game started to click and it was nice to see more putts drop. I started out on hole 13 with the eagle. It was playing short around 250 and I didn't catch all of my drive and it was just short of the left greenside bunker. I chipped it, the ball took a couple bounces and went in, so that was a nice way to start off a round."
Hoven, who finished third at the 2019 WIAA Division 1 state championship at University Ridge GC in Madison, will begin her quest to get to the 2020 state championship at Blackwolf Run GC in Kohler at this week's Glendale Nicolet regional at Brown Deer Park GC in Milwaukee. Hoven shot 76 at Brown Deer during the first round of the WPGA Junior Championship this summer en route to a fifth-place showing in the 36-hole, two-course championship.
"I hope to continue my play to help my team in the postseason next week!" Hoven wrote.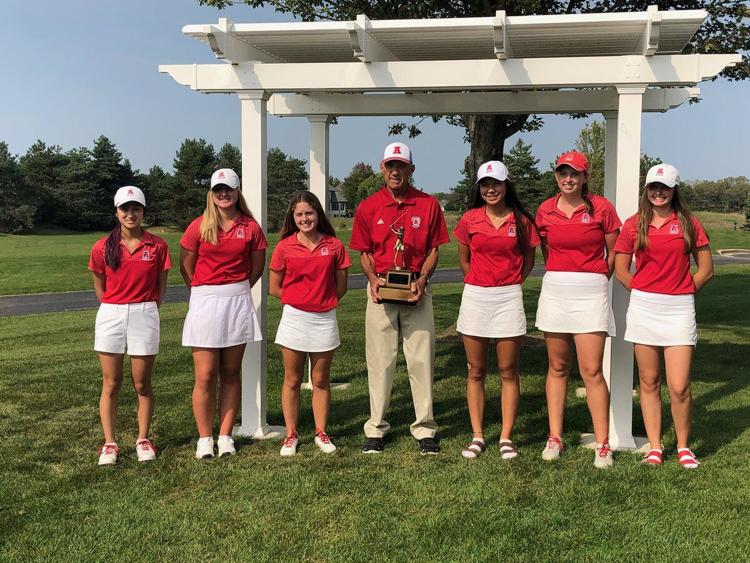 Team of the week
Hartland Arrowhead. There were 15 conference championships contested last week and the Warhawks' winning score at the Classic 8 Conference Championship — a 310 — was the lowest in the state by 12 shots.
All six Arrowhead golfers broke 90 in the play-six, count-four format at Broadlands GC in North Paririe. Freshman Jessica Guiser, whose 72 gave her medalist honors by three shots, led the way. The Warhawks also counted a 76 from defending champion Lauren Peterson, a 77 from senior Kyle Lanza and an 85 from Kaitlyn Amtmann, throwing out an 87 from Jada Chang and an 89 from Audrey Kaiser.
Broadlands played to 4,952 yards, according to results provided to Wisconsin.Golf. That's about 300 yards less than the typical target yardage for the WIAA state tournament and presumably much shorter than what the Greater Metro Conference played at Naga-Waukee GC in Pewaukee, where top-ranked Brookfield Central shot 322 and won the GMC title by 32 shots.
The Warhawks will return to Broadlands GC this week for the WIAA Division 1 Waukesha co-op regional where they figure to tangle with Southern Lakes Conference runner-up Union Grove for top honors.
Arrowhead and Brookfield Central will get the chance to measure themselves on the same course at least once in the next three weeks. They are the heavy favorites to advance out of the Franklin sectional and, assuming both get through their respective regionals this week, will see each other Oct. 6 at Oakwood Park GC in Franklin for the sectional.
Tweet of the week
Crossing the tees
2020 has struck, and due to an exposure Emma will have to miss her last meet, her conference championship, and possibly Regionals. Devasted...BUT...we will be virtually cheering the loudest for our team! Go @GirlsSlinger 💪🏻#OWLsuperfans🦉 @mro_shs

— Cindy raimer (@raimer_cindy) September 22, 2020
Slinger's Emma Raimer is on the entry list for this week's WIAA Division 1 Hartford regional after sitting out the North Shore Conference Championship following a COVID-19 exposure. She is at least the second golfer in as many weeks to miss action due to a COVID-19 precaution, joining Kettle Moraine's Reagan Stuke. The Owls have the second-best nine-hole average entering the regional (197) at Washington County GC, where the top four teams Wednesday advance to the Mequon Homestead sectional. But they shot 222-189 without Raimer at the North Shore meet on the same course behind No. 1 golfer Samantha Pendowski, who bounced back from a 49 on the front nine with a 40 on the back. No. 3 Eve Ihlenfeld (53-47) and No. 6 golfer Meadow Lietzau (63-47) also rallied for Slinger. ...  Speaking of Stuke, Karina Stuke said her daughter was touched by a gesture following last week's Classic 8 Championship by conference coaches, who made her a second-team all-conference selection even though her COVID exposure forced her to miss the conference championship at Broadlands GC in North Prairie. She is also listed in the regional entries for this week's WIAA Kettle Moraine regional at Naga-Waukee GC. ... For the second week in a row, there were no changes at the top of the Division 1 or Division 2 state rankings as Brookfield Central and Prescott, respectively, continued to hold down the top spots in the third Golf Coaches Association of Wisconsin state polls released Sunday. ... Chetek-Weyerhaeuser, Evansville and Sturgeon Bay joined the list of Division 2 schools that have been removed from the WIAA's initial regional assignments.
LOOKING AHEAD
This week's schedule: Click here.
---
Monday's highlights
Hudson looks to complete its sweep of the Big Rivers Conference mini-meets and unofficial conference championship at the last BRC mini-meet at River Falls Golf Club. Hudson, River Falls and Rice Lake have finished 1-2-3 at each of the first five mini-meets. Raiders senior Paige Hillman, a University of Sioux Falls (S.D.) recruit, who has won three of the five mini-meets squares off with River Falls' Jaden Woiwode on Woiwode's home course. ... Wisconsin Dells, which won the SWAL/SWC Conference championship last week for the second year in a row, looks to finish off its sweep of SWAL/SWC mini-meets with a rescheduled match at Lancaster CC.
Wednesday's highlights
Prescott, the top-ranked team in Division 2 in this week's coaches' poll, begins its WIAA postseason journey at the WIAA St. Croix Central regional at Pheasant Hills GC in Hammond. The regional is one of four Wednesday in Division 2. ... Hartland Arrowhead and Kettle Moraine, ranked No. 2 and 3, respectively, in Division 1 also get their postseason underway as heavy favorites at the Waukesha South regional at Broadlands GC in North Prairie (Hartland Arrowhead) and the Kettle Moraine regional at Naga-Waukee GC in Pewaukee (Kettle Moraine). ... Other regionals will be hosted in Division 1 by Hartford (Washington County GC), Glendale Nicolet (Brown Deer Park GC in Milwaukee) and Wausau East/West (Greenwood Hills CC in Wausau). In Division 2, Black River Falls (Skyline GC), Waukesha Catholic Memorial (Broadlands GC in North Prairie) and Prairie du Chien (Prairie du Chien CC) will host regionals.
Thursday's highlights
Brookfield Central, the top-ranked team in Division 1 in this week's coaches' poll, begins its pursuit of its 28th WIAA state tournament berth at the WIAA Division 1 Racine Case regional at Ives Grove GL in Sturtevant. The Lancers, who won the Greater Metro Conference Championship last week, will be one of three conference champions at this regional, along with Franklin (Southeast) and New Berlin Eisenhower/West (Woodland). ... Other WIAA Division 1 regionals Thursday will be hosted by New Richmond at New Richmond GC and Portage at Portage CC. ... Northwestern (Maple) and Waupaca will host Division 2 regionals at Hidden Greens GC in Solon Springs and FoxFire GC in Waupaca, respectively.  
Friday's highlights
Wausau East/West, coming off a pair of double-digit victories in Wisconsin Valley Conference mini-meets at Marshfield CC and The Ridges GC in Wisconsin Rapids, is back at it in the lone WVC mini-meet of the week. A scheduled mini-meet Thursday at Greenwood Hills CC in Wausau has been postponed to a date yet to be announced.