Milanne Dahmen and Lucy Strey had played basketball against each other but had never played golf together until the opposing Cardinals from Middleton and Sun Prairie, respectively, found themselves paired together in the third-to-last group Wednesday at the WIAA Division 1 Portage regional.
With consecutive swings on the par-3 10th hole at Portage Country Club, however, the bond that brought them together became cemented forever.
They shared an unlikely and unforgettable moment during the first leg of the WIAA's postseason by making back-to-back holes-in-one to start the back nine and helping their teams qualify for next week's sectional. It was a surreal scene that was witnessed, according to Dahmen, by victorious U.S. Ryder Cup captain Steve Stricker, whose daughter Izzi played two groups behind the day's two aces and was tournament medalist with a 73.
"Everyone cheered, screamed, clapped and was very complimentary," Dahmen wrote in a text to Wisconsin.Golf. "Many hugs were given. Steve Stricker was there and took a picture of me and then the two golf balls in the cup. Coach Becky (Halverson) took the ball out of play and gave it to me after the round."
Dahmen's only other ace came during practice her freshman year. In fact, even a program with as much postseason success as Middleton, which has won back-to-back WIAA state titles and made 21 state appearances, can seemingly count on one finger — now — the number of aces in program history. 
"This is the first one in competition that I remember," Becky Halverson, in her ninth season as Middleton's head coach, wrote via text to Wisconsin.Golf. "I couldn't believe what I witnessed! We were all so happy for them." 
Dahmen, a senior, was first to play and hit a 3-wood from 173 yards to a green with a front hole location. Her tee shot hit just in front of the green and rolled into the cup.
"I saw it rolling and thought it had a chance but knew it was on the green for sure until I saw it drop," wrote Dahmen, the only one in her extended family with a hole-in-one although she said her father, Kendall, came within a foot of recording one on a par 4 at Lake Wisconsin Country Club in Prairie du Sac. "I ran to coach Becky and jumped in her arms and hugged. I hugged the other players and my mom (Sharon) and people were clapping and cheering.
Strey, a junior who said she had never witnessed a hole-in-one, was next and joked to Sun Prairie assistant coach Jay Royle: "How am I supposed to follow that?" His response? "Well, I guess you need to do the same," Royle told the junior, whose 4-wood from 173 yards also found the cup.
"Again, we saw the ball drop in the hole and it was quite the celebration," Strey wrote in a text to Wisconsin.Golf. "Players from other holes were around cheering. By then, I had definitely shed a few tears.
"The feeling of hitting a hole-in-one was just surreal, and doing so in a tournament as big as regionals is something I will never forget. Sharing the feeling with someone else was even more spectacular."
Dahmen added: "I was the first to run to Lucy and hug and we were both so happy for each other. It was fun to share this special hole 10 with her and I'm sure it's something that will connect us for many years. We pretty much talked about it every hole.
"If one of us hit a bad shot we would just say, 'That's OK, you just had a hole-in-one.' We were very supportive of each other."
There was a lot for both golfers to celebrate on this day.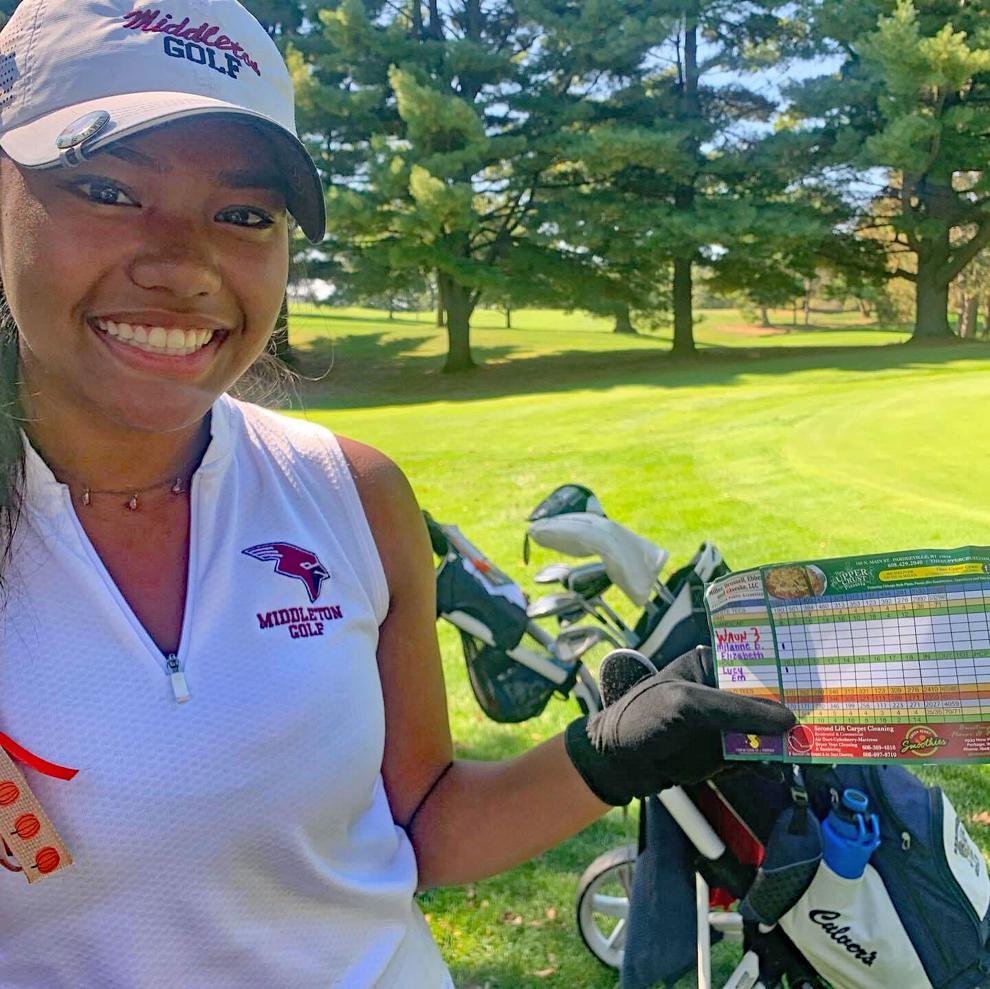 Strey shot 90 behind junior twins Isabel and Sophia Royle, who shot 81 and 90, respectively. Sun Prairie also counted a 92 from No. 5 golfer Rebecca Perko to finish off a 353 that gave the team the fourth qualifying spot by 16 strokes over Baraboo.
"Knowing that I had eight more holes left, it was definitely hard containing my excitement," Strey wrote. "The (rest of) the back nine, I didn't play as well as I had hoped. I missed some putts that I'd like back. (I'm) glad I didn't play with my hole-in-one ball or I may not have had it at the end of the round. :)"
Dahmen equaled teammates Ellie Frisch and Vivian Cressman for low honors on the team with matching 78s. Middleton also counted a 79 from No. 5 golfer Ellen Close to round out its 313, good for a three-stroke victory over Waunakee.
"I felt really confident after the hole-in-one," Dahmen wrote. "I was still really excited and kept trying to stay focused as I knew our team needed to win. I was happy with my round and our team's round. We only won by three shots and needed everyone to contribute.
"I was especially happy that I was able to contribute and help our team win a big regional like this. I was just happy our team won otherwise it would not have been as easy to celebrate the hole-in-one. It's a day and shot I will never forget."
Nor will Strey, who had her golf ball signed by Stricker after the round.
"He is such a great advocate for the game of golf and a fantastic role model for young girl golfers like myself," Strey wrote. "I also congratulated him on winning the Ryder Cup."
Middleton and Sun Prairie will next play at the WIAA Division 1 Oregon sectional Monday at Foxboro Golf Course in Oregon. Because Middleton finished first and Sun Prairie fourth at the regional, Dahmen and Strey will have to attack the course's five par-3s from different groups.
---
WIAA Girls Golf Results
Host School
Portage

Course
Portage Country Club
Portage, WI
Par 70
---
Team Results
| | | |
| --- | --- | --- |
| POS | TEAM | SCORE |
| 1 | Middleton | 313 |
| 2 | Waunakee | 316 |
| 3 | Reedsburg Area | 341 |
| 4 | Sun Prairie | 353 |
| 5 | Baraboo | 366 |
| 6 | Madison West | 376 |
| 7 | DeForest | 401 |
| 8 | Portage | 407 |
---
Individual Results
** Denotes Individual Qualifier
| | | | | |
| --- | --- | --- | --- | --- |
| POS | NAME | TEAM NAME | YEAR | TOT |
| 1 | Izzi Stricker | Waunakee | 10 | 73 |
| 2 | Jordan Shipshock | Waunakee | 10 | 74 |
| 3 | Taryn Endres** | DeForest | 12 | 77 |
| 4 | Ellie Frisch | Middleton | 12 | 78 |
| 4 | Milanne Dahmen | Middleton | 12 | 78 |
| 4 | Vivian Cressman | Middleton | 10 | 78 |
| 7 | Ellen Close | Middleton | 10 | 79 |
| 8 | Amanda Beckman | Middleton | 11 | 80 |
| 8 | Grace Benish | Reedsburg Area | 12 | 80 |
| 10 | Isabel Royle | Sun Prairie | 11 | 81 |
| 10 | Ashleigh Johnson | Reedsburg Area | 11 | 81 |
| 12 | Taylor Swalve | Waunakee | 12 | 83 |
| 13 | Caroline Lewison** | Baraboo | 12 | 84 |
| 13 | Brooklyn Fleming** | Madison West | 11 | 84 |
| 15 | Ella Denure** | Portage | 11 | 85 |
| 16 | Emily Humphrey | Waunakee | 12 | 86 |
| 17 | Lily McPherson | Reedsburg Area | 11 | 87 |
| 18 | Gabby Ziegler | Waunakee | 11 | 88 |
| 19 | Sadie Schlender | Baraboo | 12 | 89 |
| 20 | Lucy Strey | Sun Prairie | 11 | 90 |
| 20 | Sophia Royle | Sun Prairie | 11 | 90 |
| 22 | Kayla Capener | Baraboo | 11 | 91 |
| 23 | Ava Rikkers | Madison West | 11 | 92 |
| 23 | Rebecca Perko | Sun Prairie | 11 | 92 |
| 25 | Elizabeth Carey | Reedsburg Area | 11 | 93 |
| 26 | Elizabeth Fick | Portage | 12 | 97 |
| 26 | Madison Monte | Reedsburg Area | 11 | 97 |
| 28 | Lauren Connor-Dieter | Madison West | 12 | 99 |
| 29 | Brenna Butler | Madison West | 11 | 101 |
| 30 | Meg Turkington | Baraboo | 12 | 102 |
| 31 | Gaby Jurvelin | Baraboo | 11 | 104 |
| 32 | Eliza Marcus | Madison West | 11 | 105 |
| 33 | Taryn Loomis | DeForest | 11 | 107 |
| 33 | Avery Meek | DeForest | 9 | 107 |
| 35 | Kat Baumgart | DeForest | 10 | 110 |
| 35 | Ingrid Harke | DeForest | 10 | 110 |
| 35 | Ally Saloun | Portage | 9 | 110 |
| 38 | Lexi Veldkamp | Sun Prairie | 12 | 111 |
| 39 | Naomi Saalsaa | Portage | 11 | 115 |
| 40 | Gracie Kohn | Portage | 11 | 123 |
---
Detailed Team Results:
Baraboo
Coach:
Steve Lien
| | | | | | | | | | | | | | | | | | | | | | | | |
| --- | --- | --- | --- | --- | --- | --- | --- | --- | --- | --- | --- | --- | --- | --- | --- | --- | --- | --- | --- | --- | --- | --- | --- |
| NO. | NAME | YEAR | 1 | 2 | | | 5 | 6 | 7 | 8 | 9 | OUT | 10 | 11 | 12 | 13 | 14 | 15 | 16 | 17 | 18 | IN | TOT |
| | Caroline Lewison** | 12 | | | | | | | | | | | | | | | | | | | | | |
| | Kayla Capener | 11 | | | | | | | | | | | | | | | | | | | | | |
| | Sadie Schlender | 12 | | | | | | | | | | | | | | | | | | | | | |
| | Meg Turkington | 12 | | | | | | | | | | | | | | | | | | | | | |
| | Gaby Jurvelin | 11 | | | | | | | | | | | | | | | | | | | | | |
Team Score:
366
---
DeForest
Coach:
Scott Siemion
| | | | | | | | | | | | | | | | | | | | | | | | |
| --- | --- | --- | --- | --- | --- | --- | --- | --- | --- | --- | --- | --- | --- | --- | --- | --- | --- | --- | --- | --- | --- | --- | --- |
| NO. | NAME | YEAR | 1 | 2 | 3 | 4 | 5 | 6 | 7 | 8 | 9 | OUT | 10 | 11 | 12 | 13 | 14 | 15 | 16 | 17 | 18 | IN | TOT |
| 1 | Taryn Endres** | 12 | 4 | 3 | 3 | 4 | 5 | 3 | 6 | 5 | 5 | 38 | 5 | 4 | 5 | 5 | 3 | 4 | 3 | 5 | 5 | 39 | 77 |
| 2 | Ingrid Harke | 10 | 6 | 3 | 5 | 6 | 8 | 5 | 6 | 10 | 5 | 54 | 4 | 10 | 6 | 8 | 6 | 8 | 4 | 5 | 5 | 56 | 110 |
| 3 | Avery Meek | 9 | 4 | 5 | 5 | 5 | 6 | 4 | 5 | 7 | 7 | 48 | 7 | 6 | 7 | 9 | 6 | 7 | 6 | 6 | 5 | 59 | 107 |
| 4 | Taryn Loomis | 11 | 7 | 4 | 5 | 6 | 6 | 6 | 8 | 6 | 5 | 53 | 4 | 5 | 6 | 6 | 7 | 5 | 6 | 6 | 9 | 54 | 107 |
| 5 | Kat Baumgart | 10 | 6 | 4 | 6 | 7 | 7 | 5 | 5 | 9 | 8 | 57 | 5 | 5 | 6 | 7 | 8 | 5 | 5 | 7 | 5 | 53 | 110 |
Team Score:
401
---
Madison West
Coach:
Kayleigh McHugh
| | | | | | | | | | | | | | | | | | | | | | | | |
| --- | --- | --- | --- | --- | --- | --- | --- | --- | --- | --- | --- | --- | --- | --- | --- | --- | --- | --- | --- | --- | --- | --- | --- |
| NO. | NAME | YEAR | 1 | 2 | 3 | 4 | 5 | 6 | 7 | 8 | 9 | OUT | 10 | 11 | 12 | 13 | 14 | 15 | 16 | 17 | 18 | IN | TOT |
| 1 | Brooklyn Fleming** | 11 | 5 | 3 | 2 | 7 | 4 | 3 | 4 | 7 | 5 | 40 | 4 | 5 | 4 | 7 | 4 | 6 | 5 | 4 | 5 | 44 | 84 |
| 2 | Ava Rikkers | 11 | 4 | 4 | 5 | 4 | 5 | 4 | 7 | 5 | 6 | 44 | 4 | 5 | 7 | 5 | 6 | 7 | 3 | 5 | 6 | 48 | 92 |
| 3 | Brenna Butler | 11 | 5 | 4 | 5 | 5 | 5 | 5 | 5 | 11 | 5 | 50 | 5 | 8 | 8 | 5 | 6 | 5 | 5 | 5 | 4 | 51 | 101 |
| 4 | Lauren Connor-Dieter | 12 | 7 | 3 | 5 | 6 | 5 | 5 | 6 | 6 | 6 | 49 | 5 | 5 | 6 | 8 | 5 | 5 | 4 | 6 | 6 | 50 | 99 |
| 5 | Eliza Marcus | 11 | 6 | 4 | 5 | 6 | 6 | 5 | 7 | 6 | 7 | 52 | 4 | 5 | 6 | 7 | 6 | 6 | 5 | 6 | 8 | 53 | 105 |
Team Score:
376
---
Middleton
Coach:
Becky Halverson
| | | | | | | | | | | | | | | | | | | | | | | | |
| --- | --- | --- | --- | --- | --- | --- | --- | --- | --- | --- | --- | --- | --- | --- | --- | --- | --- | --- | --- | --- | --- | --- | --- |
| NO. | NAME | YEAR | 1 | 2 | 3 | 4 | 5 | 6 | 7 | 8 | 9 | OUT | 10 | 11 | 12 | 13 | 14 | 15 | 16 | 17 | 18 | IN | TOT |
| 1 | Ellie Frisch | 12 | 8 | 2 | 3 | 4 | 4 | 4 | 4 | 6 | 5 | 40 | 4 | 4 | 5 | 5 | 4 | 4 | 4 | 4 | 4 | 38 | 78 |
| 2 | Vivian Cressman | 10 | 5 | 5 | 3 | 4 | 5 | 3 | 5 | 5 | 5 | 40 | 4 | 5 | 6 | 4 | 4 | 4 | 2 | 4 | 5 | 38 | 78 |
| 3 | Milanne Dahmen | 12 | 5 | 3 | 3 | 4 | 5 | 4 | 6 | 6 | 5 | 41 | 1 | 4 | 5 | 4 | 4 | 5 | 6 | 4 | 4 | 37 | 78 |
| 4 | Amanda Beckman | 11 | 6 | 3 | 3 | 5 | 3 | 3 | 6 | 6 | 5 | 40 | 5 | 4 | 5 | 5 | 4 | 3 | 4 | 5 | 5 | 40 | 80 |
| 5 | Ellen Close | 10 | 3 | 4 | 4 | 4 | 5 | 5 | 6 | 5 | 6 | 42 | 5 | 4 | 4 | 3 | 6 | 3 | 2 | 5 | 5 | 37 | 79 |
Team Score:
313
---
Portage
Coach:
Ed Carlson
| | | | | | | | | | | | | | | | | | | | | | | | |
| --- | --- | --- | --- | --- | --- | --- | --- | --- | --- | --- | --- | --- | --- | --- | --- | --- | --- | --- | --- | --- | --- | --- | --- |
| NO. | NAME | YEAR | 1 | 2 | 3 | 4 | 5 | 6 | 7 | 8 | 9 | OUT | 10 | 11 | 12 | 13 | 14 | 15 | 16 | 17 | 18 | IN | TOT |
| 1 | Ella Denure** | 11 | 5 | 4 | 3 | 5 | 5 | 3 | 5 | 6 | 4 | 40 | 4 | 6 | 5 | 5 | 5 | 6 | 4 | 5 | 5 | 45 | 85 |
| 2 | Elizabeth Fick | 12 | 6 | 3 | 4 | 3 | 9 | 5 | 5 | 6 | 6 | 47 | 6 | 7 | 6 | 7 | 6 | 5 | 3 | 5 | 5 | 50 | 97 |
| 3 | Naomi Saalsaa | 11 | 6 | 3 | 6 | 8 | 12 | 5 | 6 | 9 | 7 | 62 | 4 | 7 | 7 | 6 | 5 | 6 | 4 | 8 | 6 | 53 | 115 |
| 4 | Gracie Kohn | 11 | 7 | 4 | 4 | 8 | 7 | 7 | 6 | 6 | 9 | 58 | 9 | 8 | 4 | 9 | 8 | 6 | 5 | 9 | 7 | 65 | 123 |
| 5 | Ally Saloun | 9 | 6 | 3 | 6 | 5 | 6 | 3 | 7 | 10 | 7 | 53 | 5 | 4 | 6 | 9 | 8 | 5 | 6 | 6 | 8 | 57 | 110 |
Team Score:
407
---
Reedsburg Area
Coach:
Jesse Monte
| | | | | | | | | | | | | | | | | | | | | | | | |
| --- | --- | --- | --- | --- | --- | --- | --- | --- | --- | --- | --- | --- | --- | --- | --- | --- | --- | --- | --- | --- | --- | --- | --- |
| NO. | NAME | YEAR | 1 | 2 | 3 | 4 | 5 | 6 | 7 | 8 | 9 | OUT | 10 | 11 | 12 | 13 | 14 | 15 | 16 | 17 | 18 | IN | TOT |
| 1 | Ashleigh Johnson | 11 | 5 | 2 | 4 | 4 | 5 | 4 | 6 | 7 | 5 | 42 | 4 | 4 | 5 | 6 | 5 | 4 | 3 | 4 | 4 | 39 | 81 |
| 2 | Grace Benish | 12 | 5 | 2 | 3 | 4 | 4 | 5 | 5 | 5 | 5 | 38 | 3 | 5 | 5 | 5 | 4 | 4 | 4 | 7 | 5 | 42 | 80 |
| 3 | Elizabeth Carey | 11 | 6 | 4 | 5 | 4 | 5 | 6 | 4 | 7 | 6 | 47 | 4 | 5 | 7 | 6 | 4 | 4 | 4 | 6 | 6 | 46 | 93 |
| 4 | Lily McPherson | 11 | 5 | 3 | 5 | 5 | 4 | 5 | 6 | 5 | 4 | 42 | 4 | 4 | 6 | 5 | 5 | 5 | 4 | 7 | 5 | 45 | 87 |
| 5 | Madison Monte | 11 | 6 | 3 | 5 | 5 | 7 | 3 | 6 | 6 | 8 | 49 | 5 | 6 | 6 | 7 | 6 | 4 | 3 | 5 | 6 | 48 | 97 |
Team Score:
341
---
Sun Prairie
Coach:
Shana Tiltrum
| | | | | | | | | | | | | | | | | | | | | | | | |
| --- | --- | --- | --- | --- | --- | --- | --- | --- | --- | --- | --- | --- | --- | --- | --- | --- | --- | --- | --- | --- | --- | --- | --- |
| No. | Name | Year | 1 | 2 | 3 | 4 | 5 | 6 | 7 | 8 | 9 | OUT | 10 | 11 | 12 | 13 | 14 | 15 | 16 | 17 | 18 | IN | TOT |
| 1 | Isabel Royle | 11 | 4 | 3 | 4 | 4 | 4 | 3 | 5 | 6 | 5 | 38 | 5 | 4 | 5 | 6 | 4 | 4 | 5 | 5 | 5 | 43 | 81 |
| 2 | Sophia Royle | 11 | 5 | 5 | 4 | 5 | 5 | 4 | 4 | 6 | 5 | 43 | 5 | 5 | 5 | 7 | 5 | 5 | 4 | 5 | 6 | 47 | 90 |
| 3 | Lucy Strey | 11 | 5 | 5 | 4 | 5 | 5 | 4 | 6 | 6 | 5 | 45 | 1 | 5 | 5 | 7 | 5 | 6 | 5 | 7 | 4 | 45 | 90 |
| 4 | Lexi Veldkamp | 12 | 12 | 5 | 5 | 7 | 6 | 4 | 7 | 7 | 6 | 59 | 7 | 5 | 6 | 7 | 6 | 5 | 4 | 5 | 7 | 52 | 111 |
| 5 | Rebecca Perko | 11 | 7 | 3 | 4 | 5 | 5 | 4 | 6 | 6 | 6 | 46 | 5 | 7 | 6 | 5 | 4 | 4 | 4 | 6 | 5 | 46 | 92 |
Team Score:
353
---
Waunakee
Coach:
Paul Miller
| | | | | | | | | | | | | | | | | | | | | | | | |
| --- | --- | --- | --- | --- | --- | --- | --- | --- | --- | --- | --- | --- | --- | --- | --- | --- | --- | --- | --- | --- | --- | --- | --- |
| NO. | NAME | YEAR | 1 | 2 | 3 | 4 | 5 | 6 | 7 | 8 | 9 | OUT | 10 | 11 | 12 | 13 | 14 | 15 | 16 | 17 | 18 | IN | TOT |
| 1 | Izzi Stricker | 10 | 3 | 4 | 2 | 3 | 4 | 4 | 6 | 4 | 3 | 33 | 4 | 6 | 4 | 7 | 3 | 4 | 3 | 6 | 3 | 40 | 73 |
| 2 | Jordan Shipshock | 10 | 5 | 2 | 3 | 4 | 4 | 3 | 5 | 5 | 5 | 36 | 4 | 3 | 4 | 6 | 4 | 4 | 3 | 6 | 4 | 38 | 74 |
| 3 | Emily Humphrey | 12 | 5 | 3 | 3 | 4 | 5 | 3 | 5 | 7 | 5 | 40 | 3 | 7 | 7 | 6 | 4 | 6 | 4 | 5 | 4 | 46 | 86 |
| 4 | Taylor Swalve | 12 | 6 | 2 | 3 | 4 | 5 | 4 | 5 | 5 | 6 | 40 | 4 | 4 | 5 | 5 | 5 | 4 | 3 | 8 | 5 | 43 | 83 |
| 5 | Gabby Ziegler | 11 | 5 | 2 | 4 | 4 | 5 | 4 | 5 | 6 | 7 | 42 | 5 | 6 | 5 | 6 | 4 | 5 | 4 | 5 | 6 | 46 | 88 |
Team Score:
316