It won't be easy for the most successful high school girls golf coach in Wisconsin history to watch her team from the sidelines if it gets the green light to compete this fall. However, as wide-ranging as Peggy Gierhart's emotions have been since the start of the COVID-19 pandemic, the Madison Edgewood coach believes it is the right place for her to be.
In an email to her golfers Monday night, Gierhart revealed her decision to reduce her role during the fall season to that of what she described as a "general manager" due to personal concerns about her ability to coach in a COVID-19 environment as well as the potential risk doing so would have on high-risk members of her family, herself included. She said she will assist the yet unnamed interim coach with scheduling, clothing orders and other tasks more "behind the scenes" with the intent to return to coaching full-time in 2021.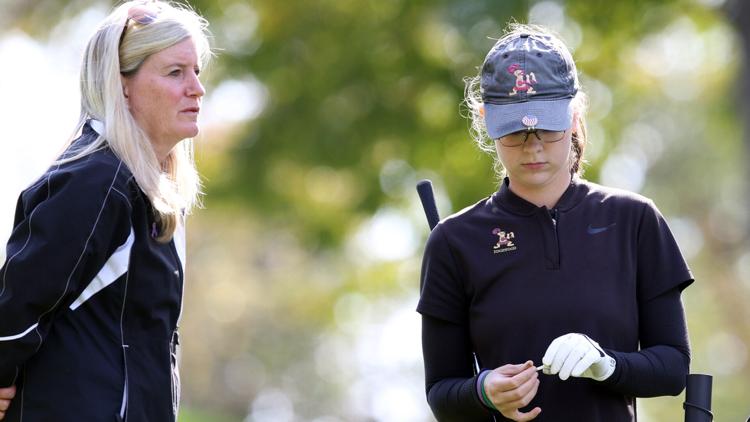 It was an extremely difficult decision for Gierhart, who has led Edgewood to a record 13 WIAA state girls golf championships and three runner-up showings since taking over as head coach in 2002. She returns three of the five golfers off her 2019 team that topped Prescott by 71 shots at University Ridge Golf Course to win the Division 2 title – including seniors Caitlyn Hegenbarth and Grace Jaeger, who have been in the lineup for the last three years as the Crusaders have won back-to-back state titles following a runner-up finish in 2017.
"Since this has all started, there has been a lot of change in everybody's life," Gierhart said in a telephone interview with Wisconsin.Golf. "Analyzing this new normal and how it affects everybody differently and how families deal with it, after talking to my family – and we have a couple of high-risk people in my family – and seeing some of the effects of the virus in family and friends, we just feel more comfortable with me not coaching. I know that golf is safe and can be safe, but this, for us (as a family), is the right thing to do."
Edgewood athletic director Chris Zwettler said Tuesday he will reach out to potential interim candidates, believed to be former Crusaders golfers or those with ties to the program, in hopes of having someone in place by Aug. 24. That is the school-imposed start date for what the WIAA has termed "low-risk" sports – girls golf, girls tennis, girls swimming and boys and girls cross country, which were given the go-ahead last month to begin practice as early as Monday pending additional action at a WIAA Board of Control meeting Friday.
"We are keeping all of our options on the table to try and do something in the fall," Zwettler said. "Friday's meeting will hopefully give us a little bit more direction. Obviously, we'll have to be abiding by Dane County health protocols and screenings and things like that. If we do move to the spring with (girls) golf, Peggy … would be on board and she'd be there for that.
"This was all done with her blessing; it was her choice and we support it 100 percent. I've been there and done that in situations like that with other coaches. I've been there myself (as a basketball coach) a few times. I get it. I support it. We'll all be back together soon."
It won't be soon enough for Gierhart, who has had her share of challenges during 2020.
Her father, Ron Kelly, died July 13 at the age of 88. He was a longtime director with the Western Golf Association and played a major role in the organization's efforts in training caddies and raising money for its Evans Scholar Program. He also spent many years as first-tee announcer for the WGA-run Western Open where he introduced many of golf's greats including his nephew (and Gierhart's cousin), PGA Tour golfer Jerry Kelly.
"After losing my dad, it's just been an emotional time and I don't feel I'm necessarily in the best place to boost the team up," Gierhart said, "as opposed to being someone trying to be extra cautious because that's the way I feel I need to be for me and my family."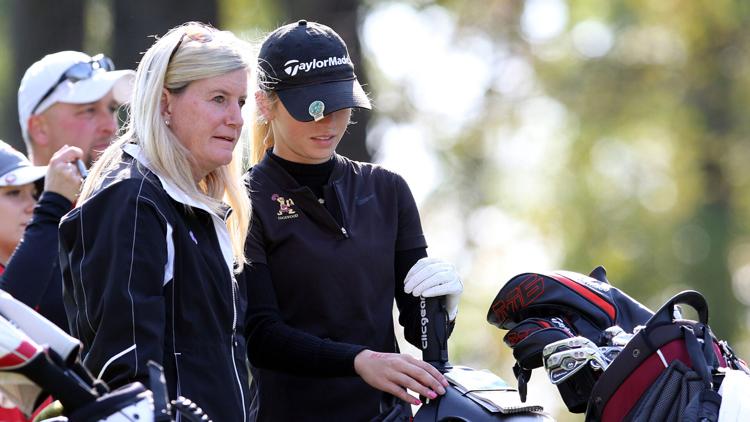 Gierhart was open and honest during a 30-minute interview with Wisconsin.Golf about how the COVID-19 pandemic has impacted her personally. She has been outspoken on social media about exercising caution on many levels in dealing with coronavirus concerns.
Given how much time she spends speaking to reporters each fall on behalf of her team and the sport she has played since before her days as an Edgewood golfer in the 1980s and, later at Pepperdine University, Gierhart was understandably conflicted about doing that this fall. She maintains that golf can be played safely this fall by those WIAA schools that choose to do so – she played frequently on her home course at Maple Bluff Country Club in May and June before her father took ill – but she didn't want to be put in a position to have to filter her personal opinions while speaking to issues related to COVID-19 during the 2020 season.
"Without being too as I am – most people see me on social media anyway – I'm obviously worried about it," Gierhart said. "As a community, we should be respectful of it. Obviously, we can't live in a bubble. Those are my thoughts. I think I've seen it enough in people.
"I know there are a lot of opinions flying around out there and everyone has to deal with their own situation. You have to control what you can control in your own life. I've been learning that over the last few months. … I'm just trying to control my own environment a little bit."
In the meantime, it remains to be seen what the girls golf environment will look like this fall.
There are 22 conferences in Wisconsin that sponsor girls golf and at least three of them – the Badger, the Big Eight and the Rock Valley in southern Wisconsin – have announced they will not offer conference-sanctioned competition. In addition, at least 20 schools in those three conferences have announced they will not play girls golf until the spring.
Edgewood is one of at least eight Badger Conference schools that, at this point, will play a modified schedule this fall. According to Gierhart, Portage coach Ed Carlson has created two four-team geographical pods and tentatively scheduled dual meets between them.
WIAA assistant director Tom Shafranski said in an email Wednesday that a deadline for schools to declare which season it will play girls golf has yet to be established. He said Sept. 1 will be the date proposed to the WIAA Board of Control when it meets Friday.
Gierhart said she understands the conflict facing the WIAA and local administrators.
"I, personally, would like to have a spring season," she said. "I respect it would be difficult on dual (sport) coaches. I respect that the weather would be crappy potentially, especially if (the second season falls in) March and April. That's almost not doable. If we went to the end of May and overlapped with the boys a little bit, had fewer events, I think that would be great. On the other hand, who knows what the (COVID-19) numbers are going to be like then? I think some people are like 'I'll take what I can get for non-conference (in the fall), play 8-10 duals, enjoy ourselves and maybe the WIAA will have an end-of-season thing.'"
After nearly 20 years of taking golfers to tournaments during the fall, when the days get shorter and the weather gets colder, Gierhart knows how challenging that might be.
"I don't get what's going to happen when everyone gets a cold," Gierhart said. "I know in September, when we go to Janesville (for the Parker Invitational) and everyone is always sick. I'm like 'OK, you're all sick so you all have to get tested, but we have to wait five days for your results so we can't go to the tournament.' Right there in the regulations it says if you have cold-like symptoms you have to not practice or play. How's that going to work?
"I don't know, but I do know that (regular) viruses are going to happen."
As Gierhart waits out the height of the pandemic at home with her family, she looks forward to the day she can coach the way she always has — with love and compassion.
"I know my team and I know how I am when I coach," Gierhart said. "I'm going to go within six feet. I know I am. I know I'm going to have a mask. I get that. I'm kind of a touchy/feely person and I feel like I'm going to be in a lot of environments where I'm going to be uncomfortable. I respect people who think that sounds a little too cautious, but that's how I am."