Rob Hernandez: On the move for all the right reasons, WIAA girls golf teams begin season that looks to be wide open through the end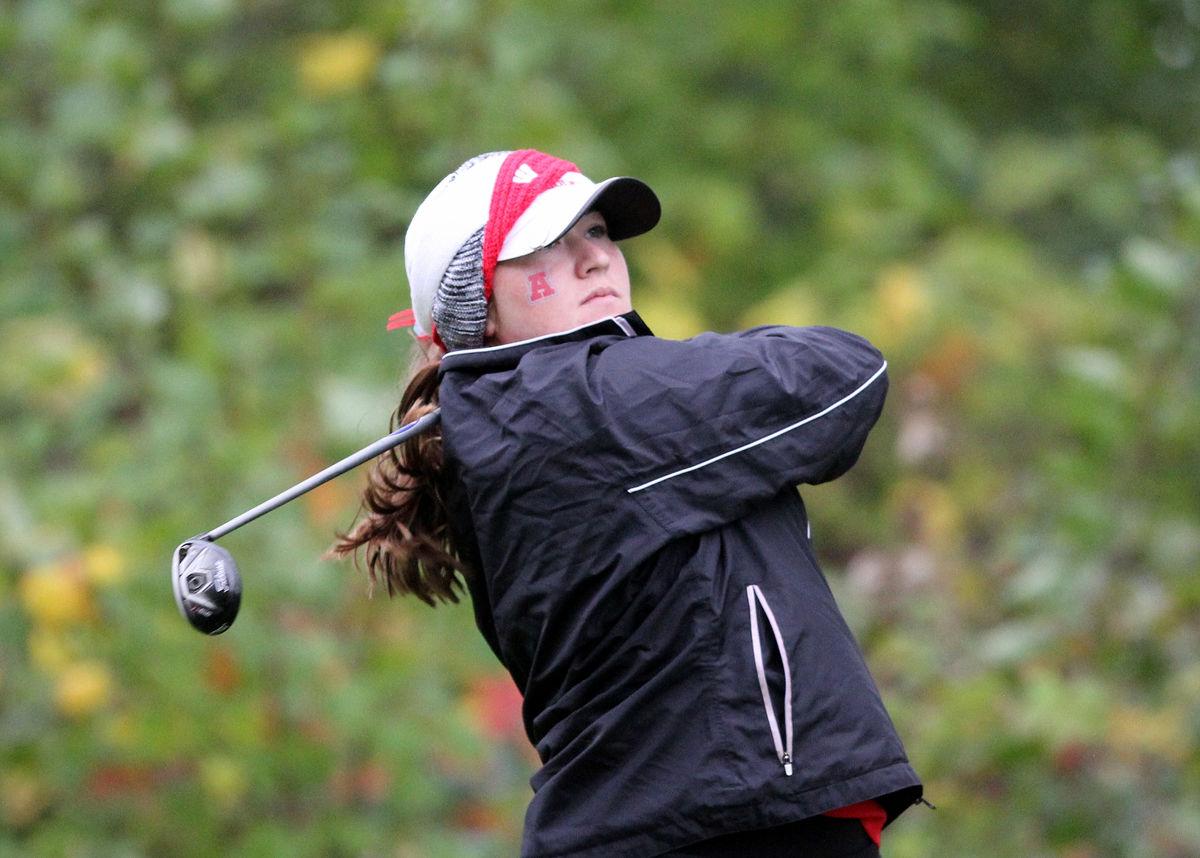 Were this a high school sport other than girls golf, perhaps the families of Emily Lauterbach of Hartland Arrowhead, Rachel Kauflin of Wauwatosa East/West, Elise Hoven of Cedarburg, Mallory Swartz of Franklin and Anouska Siva of Brookfield East would have entertained the idea of going in on a moving van and finding a school district to which they could all relocate so their daughters could tee it up together this fall and take full advantage of liberal WIAA transfer rules to form a seemingly unbeatable team.
They all played a lot of golf together this summer on the Wisconsin PGA Junior Tour. They all mean a ton to the high school teams they lead now, but … they could do some serious damage to the WIAA record books if they chose to, y'know, pool their resources.
Fortunately, golf is still a sport that takes great pride in its appearance.
No matter how good a gold medal would look around their necks at the WIAA state girls golf tournament in early October, it appears all five southeast Wisconsin talents will pursue their laurels the old-fashioned way: They're going to earn it. On their own.
And that's good news as the 2018-19 season begins Monday when teams around the state can hold their first, official practices ahead of the first tournaments of the season, which are scheduled for Thursday.
For the first time since a four-year stretch starting in 2009, there is no clear-cut favorite to win the WIAA Division 1 state championship. And, because that stretch fell smack-dab in the middle of an 11-year run during which Madison Edgewood won the Division 2 state title 10 times, this fall marks the first time since the move to divisional play in girls golf in 2003 that there is no lead-pipe cinch to win either division entering the start of the season.
In fact, there is something refreshingly exciting about a competitive landscape so balanced that Kettle Moraine might be the early choice to have the best shot at winning the Division 1 state title despite graduating 2017 Golf Coaches Association of Wisconsin player of the year Abby Cavaiani to Missouri State. The Lasers return five girls who made the trip to Madison last fall for the WIAA state tournament, including four who were in the lineup both days and helped the team finish a distant fifth to repeat state champion Hartland Arrowhead.
Milton graduated reigning Division 1 state champ Mia Seeman, but — like Kettle Moraine — has ample returning talent to hoist the gold trophy for the first time if the Lasers stumble. What could make the pursuit challenging is last week's announced coaching change in which Kirk Wieland, who took over for his wife Andrea in 2016 when she became the coach at UW-Whitewater, will take a one-year leave-of-absence and hand the duties to former Milton golfers Ashton Stair, the 2010 state champion, and Brady Farnsworth.
After that, it's anybody's guess who will challenge for the top spot among large schools.
Of the six programs that have won Division 1 state titles in the last 10 years, only one has more than two golfers coming back with varsity experience. But Waunakee, which returns four golfers, finished third at the Verona sectional last fall and individual state qualifier Sam Soulier, a senior, is the only one of the four with any experience competing on the big stage at University Ridge.
It's much the same story in Division 2, where Edgewood could very well return to the top, if not through hard work this summer of the six returning golfers off the Crusaders' state runner-up team, then by attrition of other contenders.
Defending state champion La Crosse Aquinas has one of the state's top individuals in senior Annie Balduzzi, but the Blugolds had to drum up support around school during the offseason just to get four other girls to join her and fellow senior Carolyn Swift. Still, there is only so much they can do to offset the inevitable inexperience that could hamper them against other contenders.
Edgewood, for example, has two-time state qualifier Grace Welch and four other golfers with state experience. However, the Crusaders only broke 360 once during its four rounds en route to the silver trophy at University Ridge, which — using that as a target score — might make 84 a magic number.
Any school that can get four scores at or below 84 by the end of the season will have a shot at walking away with a state title. Schools like Hayward, with a proven No. 1 in 2017 state runner-up Emily Neff, could have an edge as could Fox Valley Lutheran, which graduated 2017 state champion Erika Priebe but returns three golfers off a team that placed third at state; or Waukesha Catholic Memorial, which returns four golfers off its fourth-place team.
That's not out of reach for any number of schools, given that many girls playing high school golf do not lock into the sport until the WIAA season begins and — once they do — the 5,200 yards at which most high school tournament courses are played usually paves the way for low scores.
Of course, we won't know exactly how the season will shake out until golfers report to their teams Monday and even then it might take the bulk of the season for the contenders to distinguish themselves from the pretenders.
At this point, though, it appears the only surprises will be ones orchestrated through moving acts and, thankfully, not through acts of moving.
2018 @WisDotGolf preseason Division 1 girls golf rankings
No.
School
2017 WIAA
State Meet
The Skinny
1
Kettle Moraine
5th
State runner-up Abby Cavaiani is gone, but the sky's the limit for the Lasers with four state golfers back
2
Milton
2nd
State champ Mia Seeman has graduated; sister Claudia and the Hakala sisters are back under new coaches
3
Kaukauna
9th
Five of top six golfers return from team that made first state tournament appearance in 13 years.
4
Brookfield Central
3rd
Can incoming freshman Sarah Balding minimize graduation losses at the top of the lineup?
5
Hartland Arrowhead
1st
How low can the Warhaws go with 2016 state champ Emily Lauterbach back, three 2017 seniors gone?
6
Waunakee
DNQ
Senior Sam Soulier is ready to lead four returnees off team that finished third in tough sectional in 2017.
7
Brookfield East
DNQ
Anouska Siva logged a lot of miles this summer to lead senior-heavy team hungry for first state berth since 2012
8
Middleton
8th
Can strong junior golf programs in the district keep the Cardinals' streak of state appearances (six) going?
9
Franklin
4th
Junior Mallory Swartz gives the Sabers a solid No. 1, but 2018 will test gains the program has made at the youth level.
10
Bay Port
10th
Sophomore Jo Baranczyk (T5 at state in 2017) can take it low enough to lead the Pirates back to state
Honorable mention
Eau Claire Memorial
11th
Senior Lexi Meade has the talent to move her team into the top 10 if the Old Abes can replace three golfers.
Oconomowoc
DNQ
Sectional qualifiers Madison LaPaz, Grace Suter look to help the Racoons contend for a state tournament berth
Sussex Hamilton
DNQ
The Chargers, who have a strong No. 1 in Kirsten Leonardi, might be one score away from making some noise
Stoughton
DNQ
Junior Myranda and sophomore Caylie Kotlowski played a lot of rounds this summer and will back senior Bre Viken
Stevens Point
DNQ
Sisters Abby and Ally Nickel give the Panthers reason to hope that 2018 could net positive gaines.
Cedarburg
DNQ
Sophomore Elise Hoven leads a team on the rise that brings back three golfers from last season.
2018 @WisDotGolf preseason Division 2 girls golf rankings
No.
School
2017 WIAA
State Meet
The Skinny
1
Madison Edgewood
2nd
The Crusaders return their top six golfers from a year ago, but are not as invincible as they once were.
2
Waukesha Catholic Memorial
4th
Sydney Brandt (third at state) has graduated, but the Crusaders bring back four golfers with state experience.
3
Appleton Xavier
DNQ
Clair Phakamad, a sectional champion two years ago, is back and forms a solid, 1-2 punch with sophomore Lauren Haen
4
Hayward
DNQ
Senior Emily Neff goes after her fourth straight state berth; will she bring her Hurricane teammates back with her?
5
Fox Valley Lutheran
DNQ
Replacing 2017 state champion Erika Priebe will be a tall order, but the Foxes usually find a way to reload
Honorable mention
Somerset
6th
The Spartans got a taste of the WIAA state tournament; can two returning golfers under a new coach get them back?
Ellsworth
DNQ
Senior Erica Feuerhelm gives the Panthers a strong No. 1; can three other returnees take them the rest of the way
La Crosse Aquinas
1st
Senior Annie Balduzzi led a group of over-achievers to a state title a year ago; what will they do for an encore?
Jefferson
DNQ
Filling two big holes at the top of the lineup might be all that separate the Eagles from a return to state