ROUND OF THE DAY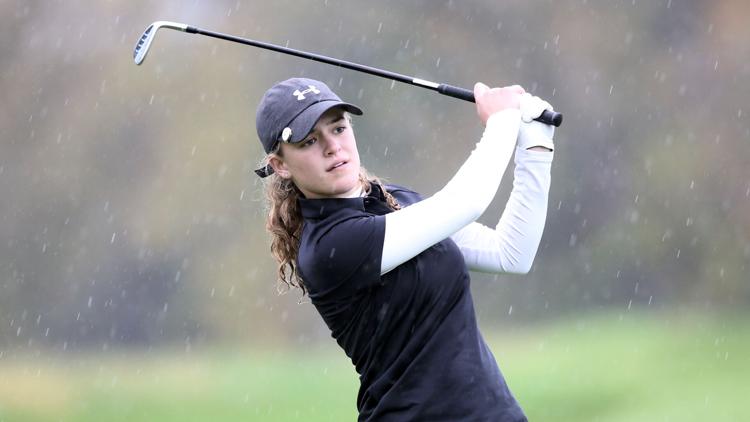 Kylie Walker, Westosha Central. On a day when the average score among the 52 golfers in the WIAA Division 1 state girls golf tournament field was a wind-blown 48.75, the Falcons freshman shot 1-over-par 37 on the Meadow Valleys Course at Blackwolf Run. Let that sink in for a minute. Walker played the course for the first time Sunday in a practice round and one day later she was the only WIAA golfer on the grounds to break 40 in the weather-hampered opening round. That's two birdies, three bogeys and four pars and a three-shot advantage.
TEAM OF THE DAY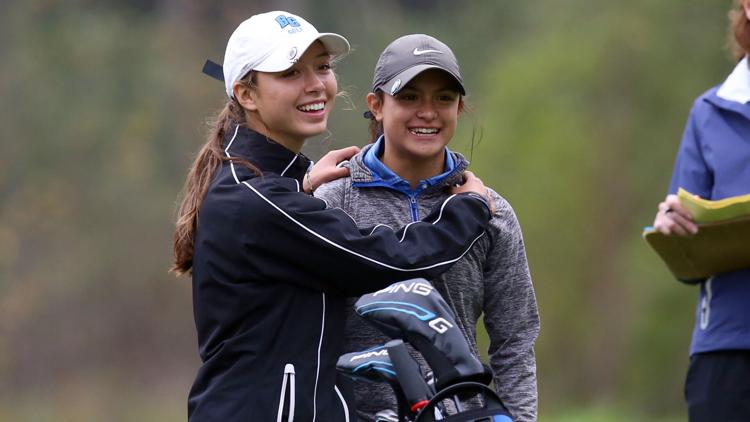 Brookfield Central. The Lancers, in their record 28th WIAA state tournament appearance, did something that none of the seven other Division 1 teams were able to do Monday: Count four scores in the 40s. That was enough for an eight-stroke lead in their bid to earn the program's second state title and first since 2003. The day included a 3½-hour nap, chat and strategy session in the team bus while Brookfield Central waited out a lengthy weather delay. "It was a unique day, for sure," Lancers coach Brian Scrobel said. "We'd just started to get our mojo before they blew the horn for the lightning. That was too bad; we were really starting to play well. We went to the bus; we had time to relax in there. Girls were listening to music. I just thought they were at a good place mentally." No. 5 golfer Nora Purtell (47) and No. 4 Erin Rosencranz (44) gave the Lancers two solid scores early in their wave and No. 3 Kylie Wipper (40) and No. 1 Sarah Balding (43), the state runner-up a year ago, rounded out the scoring as Brookfield Central was, indeed, in a good place: First..
FEAT OF THE DAY
Rollercoaster ride for Hoven. Cedarburg senior Elise Hoven had her share of adventures on opening day as she was reminded yet again how the how golf can give just as easily as it can take away. Hoven reached the green in two shots on the 415-yard seventh hole only to three-putt for a par. She bounced back with a birdie on the 93-yard, par-3 eighth hole en route to a 41.
YOU SHOULD KNOW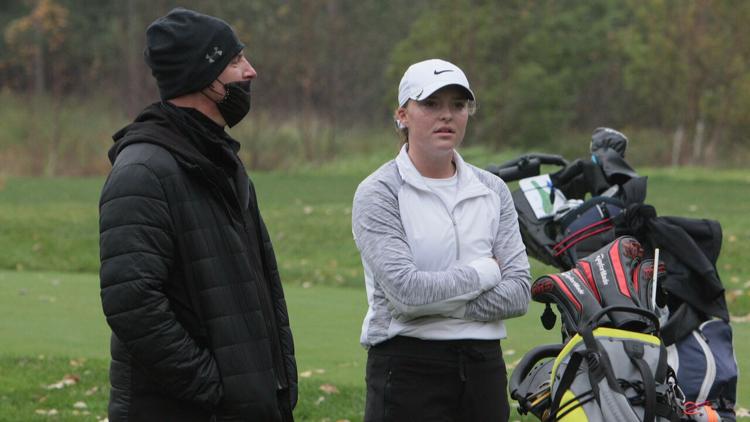 Faith Flynn, Green Bay N.E.W. Lutheran. It didn't matter how hard the wind blew or how much the temperature dropped. Flynn was thrilled to be teeing it up Monday on the Meadow Valleys Course at Blackwolf Run.
The senior spent three years on the Blazers boys golf team, reaching the WIAA Division 3 sectional in 2019. When her 2020 season was canceled by COVID-19 this past spring, there was a silver lining in that she had begun the legwork required to launch a girls golf team at her school so she could play this fall.
That her efforts were rewarded with a state berth was the big deal. It didn't matter that stormy weather reduced Monday's round from 18 to nine holes.
"There is no disappointment; I am honored to be here and playing at the 2020 girls state tournament," Flynn wrote via text message. "This has been a lifelong dream of mine and I'm trying to soak up a once-in-a-lifetime experience."
On Monday, that consisted of one birdie, one par, five bogeys, one double-bogey and a quadruple-bogey on No. 7 that kept Flynn from flirting with the lead. Her 46 left her in a five-way tie for fifth place, six strokes off the lead taken by Ashley Stanislawski of Catholic Memorial (Waukesha).
Flynn, who reached the 428-yard, par-5 fourth hole in two and two-putted for birdie, ran into bigger problems on the other par-5. She hit what she called "an amazing drive" only to aim too far to the right on her approach and end up in deep fescue.
"By that time, I got a little in my head and it showed through the rest of my shots and a three-putt. 🤦🏼‍♀️" Flynn wrote. "One hole messed me up, but the rest of my game I am very proud of."
Flynn should also be proud of her attitude toward the WIAA's decision to reduce the opening round from 18 holes to nine.
PHOTOS: A snapshot of Day 1 at the WIAA girls state tournament
"I respect the leadership of the WIAA and believe that they made the best decision for us," Flynn wrote. "And I will continue tomorrow to compete my hardest no matter how many holes we get to play and what the conditions are!"
CROSSING THE TEES
Monday's decision to go from 18 holes to nine was only the second time there has been a weather-related reduction in play in the 49-year history of the WIAA state girls tournament. Bill Linneman, the Wisconsin State Golf Association director of rules and competition, was also there in 1991 when snow at Lake Arrowhead GC south of Wisconsin Rapids started to accumulate on greens during the first round, which was eventually scrubbed. The second round was moved in town to The Ridges GC, which would play host to the WIAA state cross country championships two weeks later, and Madison Memorial's Darby Schnarr shot 79 to beat Prairie du Chien's Keri Sawvell by one stroke. ... Catholic Memorial (Waukesha) senior Ashley Stanislawski made six pars, most in either division during Monday's nine-hole round. ... Franklin's Claire Fugate and Onalaska's Amber Nguyen each had five pars, tops in Division 1. Tomah's Brinn Neumann, Kimberly's Madeline Kiley and Walker each made two birdies to lead that category in Division 1. No one had more than one birdie in Division 2. ... Waunakee freshman Izzi Stricker was seen working on her putting after an opening 44 with someone who knows a thing or two about putting — her dad, U.S. Ryder Cup captain Steve Stricker.
WISCONSIN.GOLF CONVERSATIONS