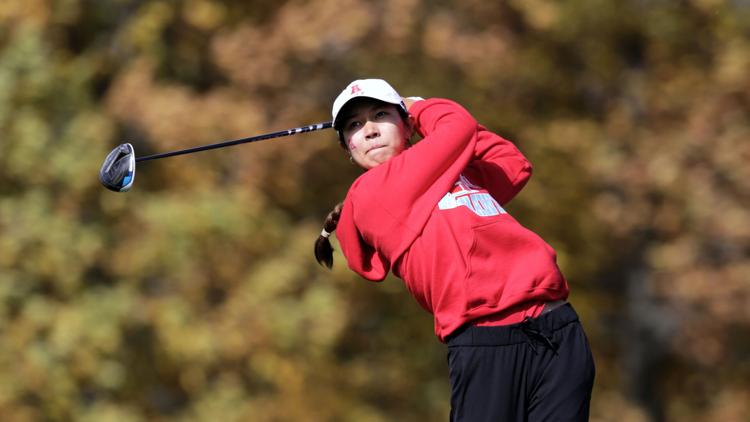 ROUND OF THE WEEK
Jessica Guiser, Hartland Arrowhead. Seldom does the final round of the WIAA Division 1 state girls golf championship trend more toward survival than shootout, but that is exactly the way things went down this week on the Meadow Valleys Course at Blackwolf Run in Kohler.
The Warhawks freshman shot 5-over-par 77 to rally from five strokes behind after the weather-shortened, nine-hole opening round and win the Division 1 medalist honors with an 11-over 119 total. It is the highest final-round score by an individual Division 1 champion since Middleton's Lauren Skibba won by four strokes with a 69-78 card at University Ridge Golf Course in Madison in 2014. In fact, the medalist has closed with a score higher than 75 just three times since 2000.
That's not to say Guiser's 77 wasn't exceptional. Not only was she the only golfer in the 52-player field to avoid a score worse than bogey in each of the two wind-swept days, she was the only one to do so in Tuesday's final round.
"Going into (Tuesday), I had a new mindset to just stay focused, confident with my shots," Guiser said. "It didn't rain (Tuesday), which was also very helpful. The wind was the biggest issue. But I did play in it (Monday) so I was a little more used to being more confident with the club I'm choosing so that was very helpful going into (Tuesday)."
TEAM OF THE WEEK
Prescott. Live scoring this year was done by each golfer using an app on her smartphone, which was a blessing for some coaches and a curse for others.
For Prescott's Chad Salay, he fell somewhere in the middle.
"I was trying not to focus on it too much," the Cardinals coach said. "I did know that we were close. Our assistant coach, Maddie Wagner, keeps us up to date with those numbers hole-by-hole."
During a crazy, one-hour stretch early in the final round Tuesday, here's what they would have seen as Madison Edgewood and Racine Prairie School threatened Prescott's hopes of becoming the first public school to win a WIAA Division 2 state title (with links to Wisconsin.Golf Live Blog updates):
▶ 9:09 a.m. (lead trimmed to five shots over Edgewood);
▶ 9:12 a.m. (it's a four-shot lead over Edgewood);
▶ 9:24 a.m. (Edgewood pulls to within two after leading briefly by two shots);
▶ 9:51 a.m. (The Prairie School hurdles Edgewood and pulls within two shots);
▶ 10:03 a.m. (Prescott gives itself some breathing room and leads by five);
The final scare came at 2 p.m. when The Prairie School drew even with the Cardinals at 100-over-par with their golfers between Nos. 10 and 14. Five holes later, Prescott had restored a 10-stroke lead and eventually pulled away for a 19-shot victory in just its second state appearance.
"We did know it was close," Salay said. "But it doesn't change anything you do out there, really. You just go out there and battle away. That's what they did and they really fought back on that last stretch of holes for us and that was really huge for us. That's where we made the jump."
FEAT OF THE WEEK
Lucky numbers? Westosha Central freshman Katelyn Walker stood by the 18th green Tuesday, waiting for twin sister Kylie, the first-round leader, to finish her round. Asked how her round went, Katelyn replied: "A lot better than (Monday)."
Indeed, Walker did something that seemed destined to never again be duplicated in a WIAA state tournament — shoot the same score in relation to par for 18 holes Tuesday that she did for nine holes Monday.
For the math majors in the audience, our spreadsheet says this feat assumes two things: that the golfer improved significantly from Round 1 to Round 2 and that she finished with an even-numbered score. Walker got there by shooting 13-over-par 49 during her WIAA state tournament debut Monday and a 13-over 85 playing all 18 holes Tuesday.
Impossible to duplicate, right?
Not so fast! Five groups later, Waunakee senior Aly Kinzel pulled off the same statistical feat. After shooting 11-over 47 on the front nine in Monday's opening round, she bounced back with an 11-over 83 in Tuesday's 18-hole finale, helping the Warriors to rally for a share of second place in Division 1.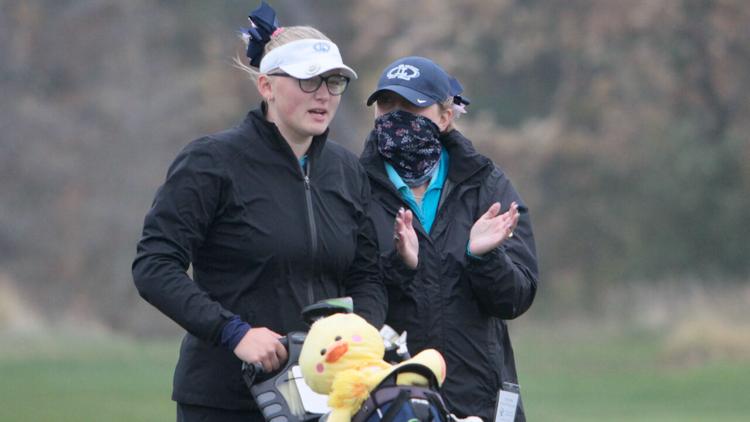 YOU SHOULD KNOW
Kyra Lostetter, Lakeside Lutheran (Lake Mills) and Brian Bobinski, Notre Dame (Green Bay). They were the two coaches of teams at the WIAA state tournament that went there without a conference this fall.
Lakeside Lutheran declared by Aug. 15 that it would take a different approach than the other girls golf schools in the Rock Valley Conference and play a fall schedule. Green Bay Notre Dame came to the same determination Aug. 24 after the rest of the Fox River Classic Conference opted to wait for the WIAA's alternate season for girls golf, which begins March 29 and ends May 17-18 with a "culminating event," the plans for which have yet to be announced.
Lostetter and Bobinski were the coaches charged with making it all work. Reaching the finish line Tuesday was just part of what made their effort rewarding; giving their golfers — especially their seniors — the chance to go out at Blackwolf Run was the frosting on the cake.
Coincidentally, both schools finished sixth this week in their respective divisions of the WIAA state tournament — Lakeside in Division 2 and Notre Dame in Division 1. Looking back, we asked both coaches, did the opportunity to compete in a traditional WIAA tournament series and make it to the state tournament validate the decision to compete this fall?
"The past two days absolutely validated moving forward with our season," Lostetter wrote via email to Wisconsin.Golf. "I wasn't 100 percent sure it was going to happen until my athletic director said it's up to me if I wanted to move to the spring, but the WIAA was supporting a fall season. I was more concerned about Maya Heckmann getting her chance to shine as a senior. There was no guarantee if there would be a state tournament this fall or if we would even have a state tournament in the spring.
"I made the decision to go for it!! I thought why not? I know that the girls wanted to play and needed to play — they needed something that felt normal and golfing to them was normal."
Bobinski felt the same way about his school's decision and its ultimate impact on his Tritons program.
"I would say that our team's ability to finish the season validated the decision to play," Bobinski wrote via email. "We did not have any positive (COVID) tests and our girls worked hard to keep themselves out of situations where they may get the virus. That said, the last two days were an awesome experience for our girls. We didn't play as many regular season events as we typically do, so I wasn't sure how ready we were for the postseason. I'm so proud of our girls for rising to the occasion.
"Obviously, they had a great sectional as we previously discussed. But then they showed up at state and had another great performance. Our score today in the very difficult conditions on a challenging golf course was special."
Like Lakeside, which had two seniors in Heckmann and Ella Butzine, Notre Dame gave its two seniors, Emily Noble and Lily Ballison, a sendoff to remember. In addition, the Tritons gave the golfers returning next season a taste of what the state tournament is like — reduced gallery due to COVID-19 notwithstanding.
"It was also invaluable for our four returning girls to experience the thrills and emotions of the state tournament," Bobinski wrote. "Going through these two days and then watching the final teams finish after us has given them tremendous motivation and momentum heading into the offseason. They now see what could be possible for our program with an offseason of hard work and commitment to their sport. None of these things would have been possible had our school had not made the decision to move forward with the season."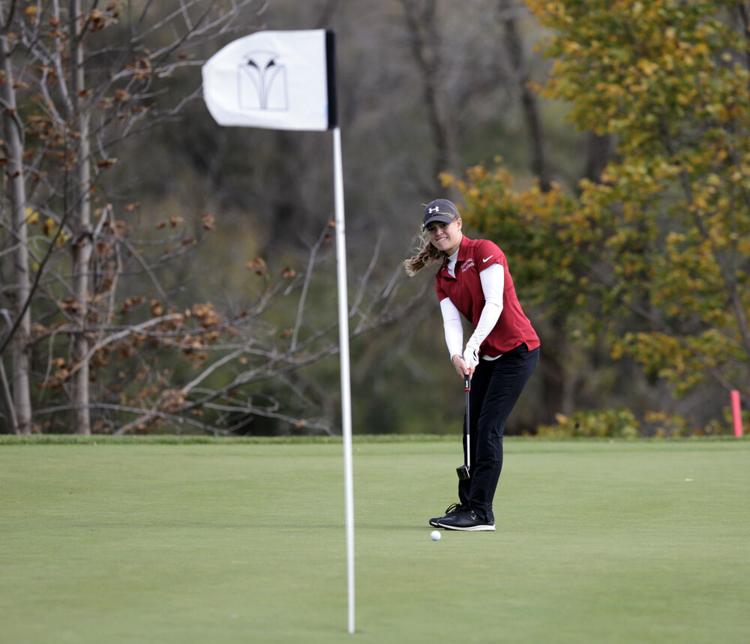 STAT OF THE WEEK
It will be interesting to gauge feedback on the overall state tournament experience at Blackwolf Run, which stepped in to host the event after COVID-19 restrictions in Dane County made it impossible for the WIAA to hold the girls golf championship at University Ridge or any of its fall tournaments in Madison at University of Wisconsin venues.
While the hospitality shown by Kohler Golf was second-to-none, the Meadow Valleys Course was possibly the toughest test of golf in the tournament's 49-year history. Golfers were slapped around by two days of 25 mph winds that are not exactly uncommon at the four Kohler courses, given their proximity to Lake Michigan.
Even at 5,065 yards (nearly 200 yards shorter than the state tournament course at U-Ridge), scoring conditions were challenging, to say the least.
The lack of 36-hole data from this year's weather-shortened event and two fewer teams in the Division 1 field make it tough to crunch the numbers side-by-side between Blackwolf Run and University Ridge. However, here is a comparison of scoring average and other scoring metrics averaged out based on number of teams in the field from this year's final round vs. those from a year ago and in 2014, which — until this year — was considered the gold-standard for brutal conditions (golfers dealt with heavy rains that gave way to cold temperatures and strong winds): 
TALE OF THE TAPE
| | | DIV. 1 | | | | DIV. 2 | |
| --- | --- | --- | --- | --- | --- | --- | --- |
| CATEGORY | 2020 | 2019 | 2014 | | 2020 | 2019 | 2014 |
| Scoring average | 91.48 | 89.01 | 93.91 | | 101.13 | 97.95 | 97.49 |
| Birdies per team | 3.625 | 6.5 | 2.67 | | 2 | 3.3 | 3.17 |
| Pars per team | 33.5 | 37.41 | 29.58 | | 22.2 | 25.5 | 22.67 |
| Bogeys per team | 47 | 41.1 | 45.25 | | 36 | 38 | 44.33 |
| Double-bogeys per team | 20.625 | 20.91 | 26.08 | | 31.7 | 29.33 | 28 |
| "Others" per team | 12.375 | 9.7 | 13.5 | | 25.2 | 21 | 18.83 |
| | | | | | | | |
THE OUTSIDE LOOKING IN
Wisconsin.Golf enlisted the help of two-time defending WIAA Division 1 state champion Jo Baranczyk of Bay Port in our live coverage of the final round at Blackwolf Run as she waits for the Pirates — among the 25 percent of WIAA schools that opted out of the traditional fall season due to COVID-19 — to compete in the WIAA's alternate fall season for girls golf, which begins in late March.
Baranczyk was tasked with following future North Dakota State teammate Elise Hoven of Cedarburg and her bid to rally from a four-stroke deficit after a first-round 41. Hoven would shoot 78 and go to a playoff with Hartland Arrowhead's Jessica Guiser, who won with a par on the first extra hole.
We asked Baranczyk to share her thoughts on what it was like to watch the action as the reigning champion without an opportunity to chase down a third state title in the traditional fall season.
"I would be lying if I did not say that it was difficult to not be playing," Baranczyk wrote via text. "I was, however, really glad to have the opportunity to watch it ... and be there for my good friends. Congrats to Jessica! I'm also very proud of Elise for grinding it out like she did. I'm very excited to be teammates!
"Several of the parents, coaches, and golfers came up to me and just said how my team should have been playing so that was nice of them."
Which brings us to the alternate season, plans for which have not been revealed or, in many cases, developed. We asked Baranczyk if she had any preference for how her postseason will look since it appears officials at the WIAA and local levels are still considering options.
"As far as my spring season coming up, I look forward to anything they can offer us," Baranczyk responded. "My team and I are going to be ready to play whenever we can, even though we would have liked to play this fall. I hope that we actually get to play in the spring. I'm not sure how the spring season will be with so few teams. It might not feel like a true state championship. That is an unfortunate way to end my senior year."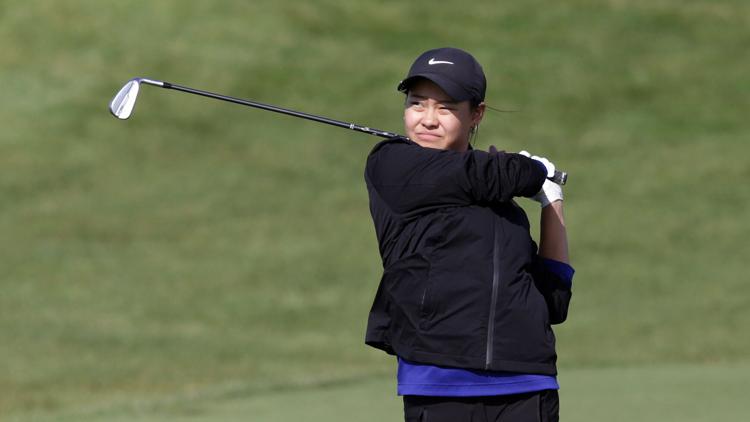 CROSSING THE TEES
Jessica Guiser's victory makes her just the second WIAA state champion from Arrowhead, joining current University of Wisconsin golfer Emily Lauterbach (2016). The two were a duo, of sorts, in 2015 when Lauterbach, then 14, and Guiser, then 9, qualified together for the national Drive, Chip & Putt competition at Augusta (Ga.) National GC the week before The Masters, as chronicled by our Gary D'Amato when he was the golf writer at the Milwaukee Journal Sentinel. … Waunakee's state runner-up finish comes on the 10th anniversary of its only state championship, a five-stroke victory over Milton. … Speaking of the Warriors, they played all season without senior Elena Maier, the No. 5 golfer on their 2019 state championship team where she was Waunakee's top finisher (T22). Maier, who missed the golf season after injuring her knee playing basketball in an AAU basketball game, made headlines Tuesday when she gave her oral commitment to play college basketball at NCAA Division I Kent State (Ohio). … No one played more competitive golf over the last 10 days than state qualifier Jasmine Yang of Wausau East/West. The senior finished up two nine-hole legs of the Wisconsin Valley Conference tournament series Oct. 5 and 9 around the 18-hole WIAA Division 1 Notre Dame (Green Bay) sectional Oct. 6. After earning the first of three state berths there, she, of course, played two more rounds at the WIAA state tournament, where she shot 50-91–141 and finished 29th, after a practice round on Sunday. It was all worth it, though. She held off teammate Tess Bruner to earn WVC player-of-the-year honors…  After hosting the sectional in which Fort Atkinson's Natalie Kammer competed, Kettle Moraine is helping to spread the word about a GoFundMe effort set up to help defray medical expenses from a 10-hour surgery Monday to correct Chronic Thromboembolic Pulmonary Hypertension (CTEPH). … The third-place finish by Union Grove sophomore Norah Roberts made her the first Broncos golfer to earn a medal at the state tournament.  
BET OF THE WEEK