LOOKING BACK
RECENT CONFERENCE HISTORY: WISCONSIN VALLEY
Year
Champion
Points
Runner-up
Points
Medalist
Points
2019
Stevens Point
60
Wausau West/East
47
Abby Nickel, Stevens Point
85.5
2018
Stevens Point
70
Wausau West/East
48
Jasmine Yang, Wausau East/West
Abby Nickel, Stevens Point
62.5
2017
Stevens Point
28
Schofield D.C. Everest
21
Abby Nickel, Stevens Point
46
2016
Stevens Point
82
Stanley-Boyd
74
Mary McDonald, Stevens Point
NA
2015
Stevens Point
68
Stanley-Boyd
56
Julia Szepieniec, Eau Claire Regis
41
Top 2019 WIAA finishes
Team: Stevens Point shot 362-360 at the WIAA Division 1 state tournament and finished seventh with a 36-hole total of 708, which was 57 strokes behind champion Middleton. Individual: Stevens Point senior Abby Nickel shot rounds of 85 and 83 and finished tied for 22nd with a 36-hole total of 168, which was 19 strokes behind repeat champion Jo Baranczyk of Bay Port.
LOOKING AHEAD

When They Are Playing: Wisconsin Valley
| | School | Fall | Spring |
| --- | --- | --- | --- |
| | D.C. Everest (Schofield) | ✓ | |
| | Marshfield | ✓ | |
| | Stevens Point | | ✓ |
| | Wausau West/East | ✓ | |
| | Wisconsin Rapids | ✓ | |
| | Note: Can begin practice Sept. 1; can begin competing Sept. 17 | | |
Preseason top three
 Wausau West/East, Wisconsin Rapids, Marshfield. 
Preseason fall all-conference
First team: Tess Bruner, jr., Wausau West/East; Faith Cour, jr., Wisconsin Rapids; Morgan Meyer, sr., Marshfield; Jess Nardi, jr., Wausau West/East;  Jasmine Yang, sr., Wausau West/East.
Second team: Ashtyn Fernstaedt, sr., Schofield D.C. Evest; Dylan Gruszynski, jr., Wisconsin Rapids; Bryssa Lenz, sr., Marshfield; Anna Weis, sr., Marshfield.
What to watch
Stevens Point's three-year reign atop the Wisconsin Valley Conference effectively came to an end Aug. 27 when the Stevens Point Area School District announced it had suspended all fall athletics and would be moving to the WIAA's alternate fall sport seasons, scheduled to begin in late March.
"I feel bad for our girls," Stevens Point coach Mark Lesinski wrote in an email to Wisconsin.Golf, acknowledging his program will have to look to the La Crosse, Eau Claire and Green Bay areas for scheduling options in the spring. "We have had a hold of the top of the WVC since it started three years ago."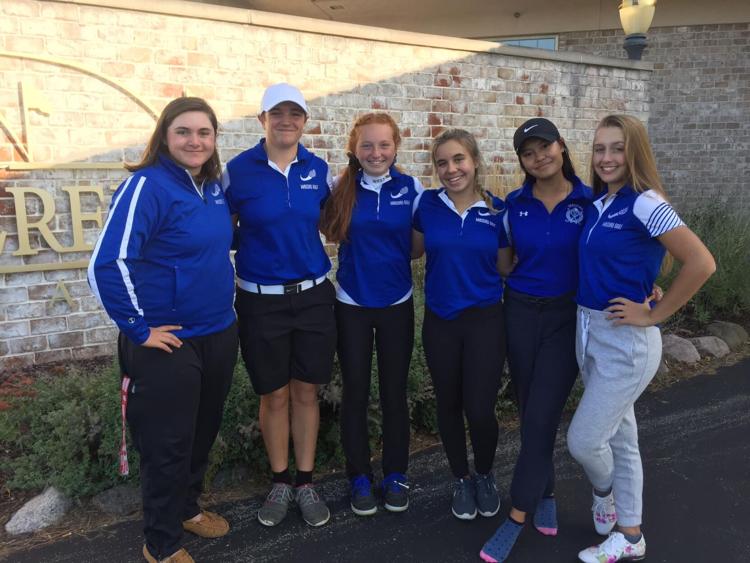 In the Panthers' absence, Wausau West/East is poised to dominate the WVC.
Senior Jasmine Yang has been a fixture atop the conference since Wausau added the sport in 2018, sharing the overall conference title as a sophomore before finishing second to Stevens Point senior Abby Nickel last season. Her greatest threat to the top spot will come from junior teammate Tess Bruner, a second-team all-WVC golfer last season who showed great promise this summer competing in six events on the Wisconsin PGA Junior Tour.
Wisconsin Rapids returns a pair of juniors — Faith Cour and Dylan Gruszynski  — off last year's team that reached the sectional. Raiders coach Andrew Cook will look to a deep junior class to fill in gaps in hopes of giving Wausau a run for the team title after his team finally caught Wausau and tied the Warriors for second in the last of the seven legs of the 2019 WVC Tournament Series.
Marshfield and D.C. Everest (Schofield) have the experience to make a move up the ranks as well. Marshfield returns all five golfers from 2019, including sectional qualifiers Anna Weis and Morgan Meyer, both seniors, while the Evergreens bring back four golfers led by senior Ashtyn Fernstaedt.
"The team to look out for in the WVC, I think, is the Wausau team," Lesinski wrote. "But I think it will be a very competitive (fall) season."
2020 calendar: Click here
▶ Wisconsin Valley Conference Fall Championship: Legs of the WVC Championship series will be played on the following dates at these courses:
WISCONSIN VALLEY CONFERENCE TOURNAMENT SCHEDULE
| Date | Host | Course |
| --- | --- | --- |
| Sept. 17 | Wausau East/West | Crane Meadows GC-Weston |
| Sept. 18 | Schofield D.C. Everest | Tribute GC-Wausau |
| Sept. 22 | Marshfield | Marshfield CC |
| Sept. 25 | Wisconsin Rapids | Ridges GC-Wisconsin Rapids |
| Oct. 1 | Schofield D.C. Everest | Greenwood Hills CC-Wausau |
| Oct. 2 | Marshfield | Marshfield CC |
| Oct. 5 | Wausau East/West | Trapp River GC-Brokaw |
| Oct. 9 | Wisconsin Rapids | Ridges GC-Wisconsin Rapids |
| Oct. 13 | TBA | Pine Valley GC-Marathon |