The long, winding and historic journey took roughly 581 days, 13 hours, 41 minutes and one pandemic to reach an unlikely climax Tuesday afternoon on the 18th green on the Meadow Valleys Course at Blackwolf Run in Kohler.
Middleton wins the girls state title by 1 shot thanks to this putt by Glenna Sanderson. A miss and the Cards were headed to a playoff with Bay Port. pic.twitter.com/yy9GUA09na

— Rob Reischel (@robreischel) May 18, 2021
And it was good to the last drop.
Middleton senior Glenna Sanderson capped the drama when she rolled in a 7-foot putt for double-bogey, allowing the Cardinals to escape with a one-stroke victory over Bay Port — and the Pirates' birdie-happy medalist Jo Baranczyk — and repeat as a WIAA state girls golf champion. Baranczyk became a three-time WIAA champion by making seven birdies in a final-round 70 that was nine strokes better than any score Middleton posted on the final day of the WIAA's historic alternate girls golf season, a day that Bay Port began 10 strokes behind the Cardinals.
Junior Ellie Frisch (79), Sanderson (81), freshman Vivian Cressman (81) and sophomore Amanda Beckman (88) figured into Middleton's final-round 329 that gave the Cardinals a 36-hole total of 640. Baranczyk (70), junior Avery Dudra (78), freshman Adalyn Johnston (86) and junior Abbey Beranek (86) accounted for Bay Port's closing 320, but it was Dudra's birdie on No. 18 in the penultimate group that cut what had been an 11-stroke deficit at the turn to three and set the stage for two seniors playing the final hole of their high school careers.
Could it get any better than this?
Baranczyk, a North Dakota State recruit who became just the second golfer in WIAA girls golf history to win three consecutive Division 1 or single-division state championships by a whopping 11-stroke margin, had been in attack mode all day long. She made four birdies on the front nine and was 3-under-par coming into the ninth hole, where she made a double-bogey 6, but then dusted herself off, made three more birdies on the back nine and was 2-under walking up the 18th fairway.
Photos: Scenes from thrilling final round at 2021 WIAA alternate season state girls golf championship at Blackwolf Run
"I had about 80 yards in on 18, and I unfortunately did not hit my approach shot well at all," Baranczyk wrote via text message to Wisconsin.Golf, sending it over the green and forcing her to make a scrambling par to keep the pressure on Sanderson, who split the fairway off the tee, "felt confident walking up to my ball" and then decided to pump Middleton coach Becky Halverson for information on the team competition.
"I asked Becky if it was close and she just said to just finish strong, but I knew it was a small gap between us and Bay Port," Sanderson wrote in a text to Wisconsin.Golf. "That ultimately led to me chunking my second shot into the bunker straight ahead, which isn't common for me. When I scanned the crowd and saw people freaking out I knew I had to collect myself and finish as best as I could.
"After getting on the green in 4, I left myself a 6- to 7-foot putt for double bogey. I stood over the ball and told myself this was to win state and to make this putt for my team and family. I didn't hesitate and made the putt center cup, which was extremely thrilling. I heard my team screaming and I knew we had just won state."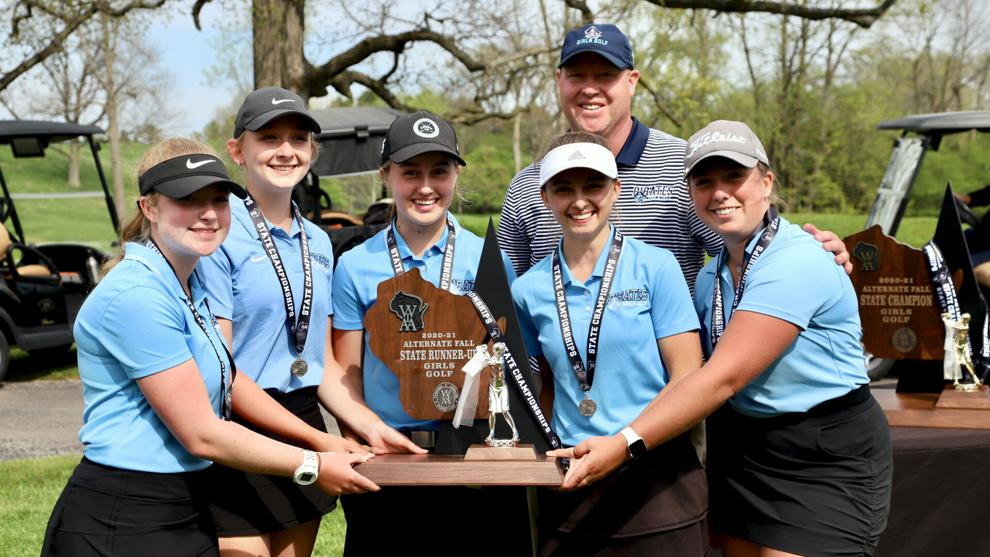 Halverson and Bay Port coach Jeff Johnsen, who went the extra mile to play each other four times to prepare their teams for this final showdown, could only have imagined the wire-to-wire excitement they got Tuesday, let alone the heart-pounding conclusion along the banks of the Sheboygan River.
"I tried not to focus on looking at scores and to stick to our plan of hitting to certain spots on the course," Halverson wrote in a text to Wisconsin.Golf. "I told the girls to finish strong and stay calm."
Johnsen wrote via text to Wisconsin.Golf: "The margin fluctuated quite a bit (Tuesday). My emotions went back-and-forth, but knowing what can happen within a couple holes, I never felt out of it. Most years 321-320 will be good enough."
Indeed, the see-saw nature of the margin forced both coaches to share information with their golfers cautiously.
"I wasn't certain where our team stood walking into 18, but my coach just told me that I needed to birdie or par," Dudra wrote in a text. "After he told me that, I went into 18 knowing I had to come up with something. I used my driver off the tee instead of hybrid to be aggressive."
Her tee shot sailed left into the fescue, about 80 yards from the green on the 303-yard, par-4. She was able to wedge her approach shot about 20 feet below the hole and then made the putt for her first birdie in 32 holes.
"I felt all tournament I wasn't getting the gimmes or clutch shots so to make it happen with my last hole was redeeming," wrote Dudra, who shot 80-78 and finished seventh.
For Middleton, the showdown was shades of 2015 when the Cardinals (641) edged Hartland Arrowhead (642) at University Ridge Golf Course in Madison to give Halverson the first of her three state titles and, no doubt, her first coaching gray hairs. Halverson learned the importance of a single stroke that year and added countless examples to the file during Tuesday's final round.
"I think all of the girls would say they had one stroke that they wish they could have gotten back and one that could have gone the wrong way," Halverson wrote, using Frisch, who bounced back from a triple-bogey 8 on No. 11 to play her final seven holes in even-par, as an example. "For instance, Ellie's multiple chips on (No.) 17 that could have gone better and her amazing approach on (No.) 16 that could have gone a lot worse. That's why we stress every shot counts and to stay focused on every single shot."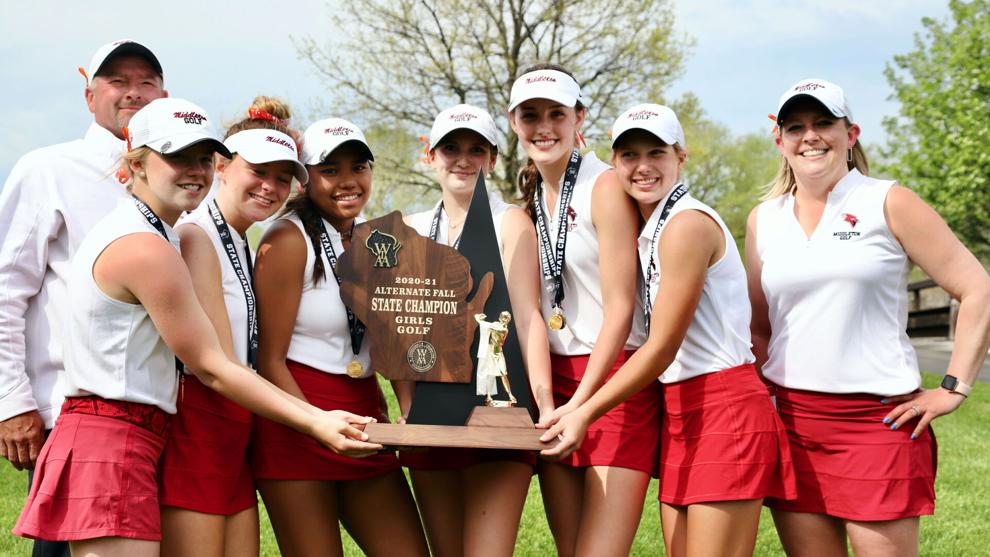 Suffice it to say it's been a long time since so many Middleton golfers were focused on one shot the way they were as Sanderson drew back her putter on the 18th green in her bid to salvage a double-bogey.
"It was definitely nerve racking to watch knowing it was for the win," Frisch wrote in a text to Wisconsin.Golf, "but I knew Glenna was a good golfer and I had all the confidence in the world that she could make it."
For Sanderson, who will attend the University of Wisconsin this fall with designs on a career in the medical field, the only thing better than making the putt was being enveloped in a sea of hugs from her teammates as she left the green.
"It has been so fun to play an alternate season with the girls on my team," Sanderson wrote. "I love them all and they have made this season extremely special. I will never forget how excited we all were when it was announced we'd play in the spring.
"It was such a great feeling making my last putt and getting to hug my team having won state by one stroke."