Round of the week
Emily Lauterbach, Hartland Arrowhead. There were 1,444 bogeys, 766 double-bogeys and 523 "others" over 36 holes between two divisions at the 2018 WIAA state girls golf tournament. That made Lauterbach's Tuesday scorecard all the more remarkable. It showed just two bogeys in a 2-under-par 70, the fewest in a single round by any golfer in either division all week. The next cleanest scorecard was the first-round 73 belonging to Stoughton sophomore Caylie Kotlowski, who had two bogeys and one double-bogey or just three — as the golf coaches like to call them — crooked holes.
---
Team of the week
Madison Edgewood. Since dominating the WIAA Division 2 girls golf scene in the early 2000s, winning the first seven titles after the state tournament was split into two divisions, the Crusaders had bettered 660 just twice since 2009 until Tuesday. They shot a final-round 326 Tuesday and won the program's WIAA-record 14th state championship with a 659 total — the lowest winning score in Division 2 since 2009 when Edgewood won with the same score. The 659 matches the fifth-lowest score since the switch to two-division play in 2003. The Crusaders counted three scores in the 70s over the two days of playing lift, clean and place due to the soft conditions — the most of any school in either division. Their 333-326 cards at University Ridge in Madison were 50 strokes better than the 372-337 at Prairie du Chien CC and Pleasant View GC in Middleton in the respective regional and sectional to get there.
---
Shot of the week
Ellie Frisch, Middleton. Between the five par-5s and a temporary tee box on No. 4 that made what is usually a menacing uphill par-4 not seem so bad, there was just one eagle recorded in either division this week. It belonged to Frisch, a freshman who hit driver/6-iron on the 428-yard second hole just off the green Tuesday and then chipped in for eagle. She finished with an 82.
---
Comeback of the week
Cedarburg. One day after counting two scores in the 100s during an opening-round 388, the Bulldogs didn't count one north of 95. Elise Hoven (80) and Maddie Wilke (87) as Cedarburg closed with a 351 to go from 13 shots out of 11th place to just four. It marked the Bulldogs' first state appearance.
---
Feat of the week
Jo Baranczyk, Bay Port. The Pirates sophomore had a tournament-high 10 birdies on nine different holes (Nos. 3, 4, 8, 9, 12, 14, 16, 17 and 18). Her only repeat birdie this week came on the 130-yard 17th hole. 
---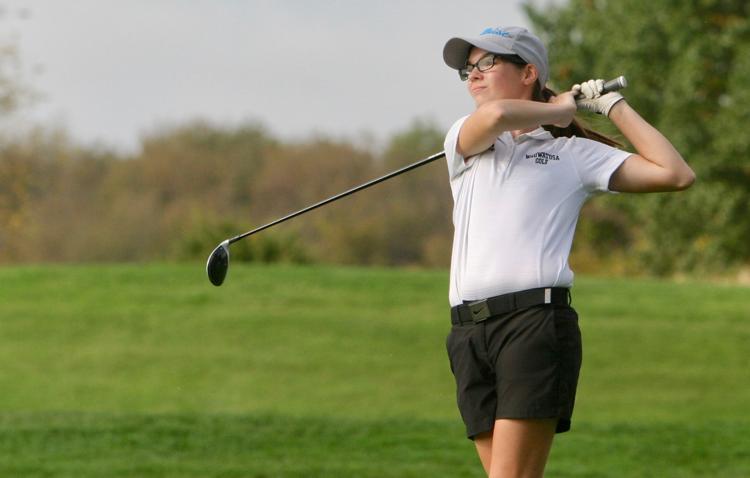 The other big winner
Rachel Kauflin, Wauwatosa West/East. The junior took a 25-point lead over Lexi Meade of Eau Claire Memorial in the Wisconsin PGA Junior Girls Player-of-the-Year points standings the WIAA state tournament and a five-shot lead over Meade into the final round of her state debut. Paired together in the final round Tuesday, Kauflin shot a final-round 77 and finished third behind Baranczyk and Lauterbach in Division 1 while Meade shot 81 and tied for 11th. That left Kauflin with 1,350 points in the WPGA Junior standings; Meade finished at 1,270.60. "Winning player of the year wasn't really on my radar at the beginning of the year, but I am extremely proud of the great golf I played all year and winning player of the year is very reflective of that," Kauflin said. "It was definitely something in the back of my mind the last few days, and it's just been really fun to compete with Lexi all summer as well as these past few days at state."
---
You should know
Clair Phakamad, Appleton Xavier. 
The Appleton Xavier jumped through more hoops than perhaps any girls golfer in WIAA history on her way to winning the Division 2 state title Tuesday.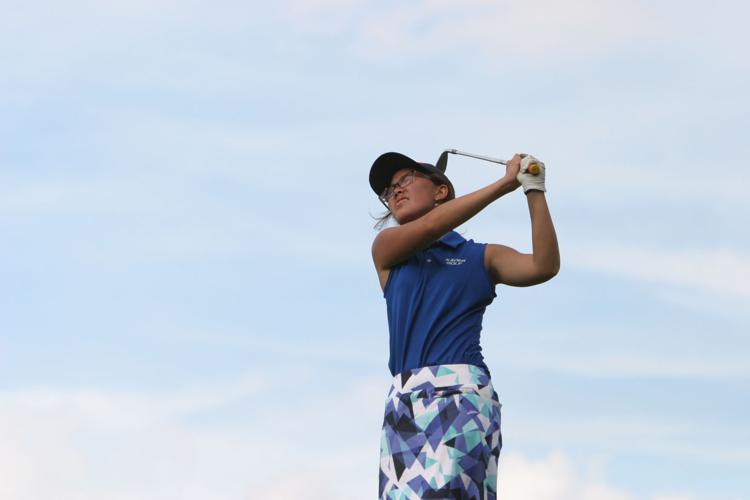 Phakamad came to Xavier from Thailand as an exchange student in 2016 and quickly turned heads with her work on the golf course. She shot an 83 at the Jefferson regional and finished second by eight shots to eventual state champion Sarah Busey of Racine St. Catherine's and then shot 77 on Busey's home course at Racine CC to win the St. Catherine's sectional by one shot over Busey and Freedom's Lori Meyer to qualify individually for the state tournament.
Unfortunately for Phakamad, that's where her story that season ended. She contracted food poisoning and was forced to withdraw on the sixth hole of the opening round.
Most international students would never be heard from again. Per WIAA rules, those in an approved exchange programs are afforded just one year of interscholastic athletic eligibility.
However, Phakamad elected to continue her education at Xavier with an eye toward trying to golf again. Per law, international students who wish to remain in the United States on an F-1 or M-1 visa can only do so at a private school, according to a WIAA official.
However, there were still two administrative hurdles for her to clear before she could get back on the golf course.
First, she had to sit out one year of varsity competition to comply with WIAA transfer rules for those students who do not live with their parents. Then, Xavier coach Jason Haen told Wisconsin.Golf before the season, she had to obtain an additional waiver to compete after turning 19 before Aug. 1 of her senior year, a courtesy afforded to most students who request one, according to the WIAA official.
With that, Phakamad returned to action this fall and formed a 1-2 punch with sophomore Lauren Haen. They helped the Hawks win the Little Chute regional — Haen shot 77, Phakamad 81 — to qualify for the sectional Xavier hosted at Ridgeway CC in Neenah, where Phakamad lost a playoff to Katie Glander of Luxemburg-Casco after both golfers shot 82 during regulation.
At University Ridge, Phakamad rallied from a four-stroke deficit after the opening round by shooting a closing 74 and rallying past first-round leader Annie Balduzzi of La Crosse Aquinas (74-80) to win by two shots.
Phakamad started on No. 10 and caught Balduzzi, one of her playing partners, four holes into the final round and passed her with back-to-back birdies at Nos. 15 and 16. Her lead swelled to three shots with three holes to play before Phakamad made back-to-back bogeys and watch her cushion shrink to one. She reached the fringe on the par-5 ninth hole in two and got up-and-down for birdie to finish two shots ahead of Balduzzi, who made three straight pars to close.
---
Tweet of the week
Appleton Xavier. Feel free to call this one "T-Shirt of the Week," too. 
STATE RUNNERS UP: Xavier finished as runners up in D2 team scoring during the 2018 WIAA Girls Golf State Championships at University Ridge. Left to right: Clair Phakamad, Lauren Haen, Catherine Sajbel, Kate Bernecker, and Tillie Carew. The team is coached by Jason Haen. pic.twitter.com/bsdZrpCNJy

— Xavier Hawks Sports (@XHawksSports) October 9, 2018
---
Crossing the tees
The WIAA state girls golf tournament has had five champions from Appleton — Darcy Madden of Appleton West (1978), Sue Ginter of Appleton West (1983), Ellen Mielke of Appleton West (1985 & 1986), Andrea Klee of Appleton West (1995), Erika Priebe of Fox Valley Lutheran (2017) and, now, Claire Phakamad of Appleton Xavier (2018) — but that's as far up I-41 as its list of past winners ventured until Tuesday. Jo Baranczyk of Bay Port became the first state champion from the Green Bay area with her victory in Division 1. ... Franklin sophomore Mallory Swartz turned in the best finish at the state tournament by a Sabers golfer with her sixth-place showing in Division 1. Current UW-Green Bay golfer Courtney Matschke tied for eighth for Franklin a year ago. ... New Richmond finished fifth in Division 1, its best finish in five state appearances. The Tigers tied for sixth in 2012. ... Hayward matched its best WIAA state tournament finish by placing third in Division 2 for the fifth time in program history. The Hurricane also finished third in 2016, 2012, 2009 and 2004. ... Milton coach Ashton Stair, who still holds the WIAA Division 1 state tournament 36-hole scoring record with her 140 total, helped coach the Red Hawks to an eighth-place finish in her state tournament coaching debut.