HAVEN — Bryson Mercier loves those Kohler faucets. Just turn the spigot one rotation to the right and the birdies come pouring out.
At least they do for the Powers, Mich., golfer, it seems.
Mercier, who won a Wisconsin PGA Players Tour event in nearby Kohler on the Meadow Valleys Course at Blackwolf Run two weeks ago, is halfway home in his quest to generate another victory on the Kohler Golf properties. He fired a 2-over-par 74 during Sunday's opening round of the Golf Coaches Association of Wisconsin/WPGA College Showcase to take a one-shot lead on Nick Mueller, a rising sophomore from Baldwin, on the Irish Course at Whistling Straits.
Three golfers are tied for third after rounds of 76 led by Parker Etzel, a rising sophomore at Eau Claire Memorial, who bounced back from at triple-bogey 7 on the first hole with three straight birdies midway through the front nine. Six others were tied for eighth at 77, including Mueller's older brother Matthew.
"The Kohler courses kind of fit my style as to the more accurate you are the better," Mercier wrote in a text message to Wisconsin.Golf. "And if you putt well, you can score well, so that plays into my game quite well."
Well, normally it does. Mercier said he cost himself a chance to put some serious distance between himself and the field by three-putting five times.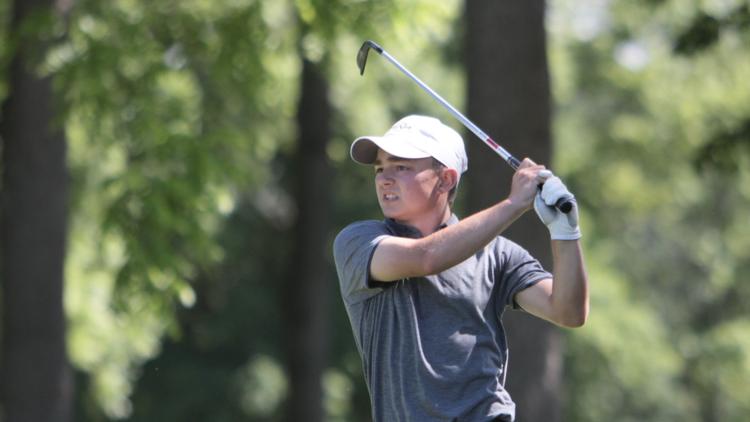 After parring his first four holes, Mercier birdied the par-5 fifth hole only to play the final four holes on the front in 4-over thanks to a double-bogey 5 on No. 6 and bogeys at Nos. 8 and 9. However, he was a picture of consistency on the back nine where he had six pars around a birdie-bogey-birdie stretch starting at No. 14 and wound up with the lead after Nick Mueller, playing one group behind him, bogeyed No. 18 after having played a 13-hole stretch in the middle of his round in 2-under to move near the top of the leaderboard.
"It is a very good thing to see that the younger kids are able to compete and it's not just 2020 and '21 kids that dominate the leaderboard," Mercier wrote. "That shows that the younger generation has a very bright future."
The 2020 College Showcase is being held despite NCAA Division I coaches being in a dead period for recruiting through Aug. 31 due to COVID-19. Division II coaches are also prohibited as part of a  "quiet period" through July 31, during which the only recruiting activities can be on-campus.
"While it is different this year," Mercier wrote, "I'm sure college coaches still look at the leaderboard."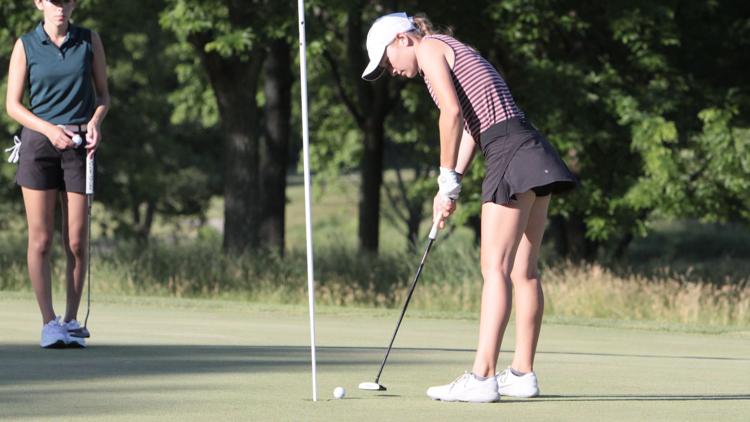 That was Hannah Dunk's thinking.
The rising sophomore from Milton shot a 6-over 78 and led Treva Dodd, who will be a freshman this fall at Brookfield Central, by one shot. Senior-to-be Glenna Sanderson of Middleton shot 80 and was alone in third while Amanda Karvala of New Berlin (83) and Plover's Riley Pechinski and Dousman's Jenna Anderson (84s) rounded out the top five.
"I think that this event is a great opportunity for players to showcase their abilities and to share their player profiles to a variety of college coaches all at one time in comparison to (other) summer events where the audience isn't directed to college recruiting," Dunk wrote via text to Wisconsin.Golf.
"This event is also exciting because players know that college coaches will be taking notice to the results."
Had they clicked on Dunk's scorecard, they would have seen a little bit of everything on the front nine where she made three birdies, three bogeys and a double-bogey in a 3-over 38. Dunk made seven pars, one triple-bogey (on the par-3 11th hole) and one bogey (on the par-5 18th hole to finish).
"For the most part, I was pretty happy with my round," Dunk wrote. "On a golf course like Irish course, it is very important to keep the ball in play."
---
Boys overall
POS

PLAYER

TOTAL

THRU

R1

R2

STROKES

 

1
Bryson Mercier  2022, Powers, MI
+2
18
74
 
74
 
2
Nick Mueller  2023, Baldwin, WI
+3
18
75
 
75
 
T3
Parker Etzel  2023, Eau Claire
+4
18
76
 
76
 
T3
Quinn Berglin  2020, Pewaukee, WI
+4
18
76
 
76
 
T3
Aiden Cudney  2024, Appleton, WI
+4
18
76
 
76
 
T6
Jacob Frederickson  2022, Cottage Grove, WI
+5
18
77
 
77
 
T6
Alex Weiss  2023, Middleton, WI
+5
18
77
 
77
 
T8
Ryan Darling  2022, Green Bay, WI
+6
18
78
 
78
 
T8
Matthew Mueller  2021, Baldwin, WI
+6
18
78
 
78
 
T8
Owen Covey  2021, New Richmond, WI
+6
18
78
 
78
 
T8
Maxwell Reis  2022, De Pere, WI
+6
18
78
 
78
 
T8
Luke Ladd  2022, Mequon, WI
+6
18
78
 
78
 
T8
Kaeden Nomm  2022, Minocqua, WI
+6
18
78
 
78
 
T14
Travis Bentley  2020, Pewaukee, WI
+7
18
79
 
79
 
T14
Jamozzy Skenandore  2020, De Pere, WI
+7
18
79
 
79
 
T14
Michael Yesbeck  2024, Middleton, WI
+7
18
79
 
79
 
T17
Samuel Evenson  2021, Holmen, WI
+8
18
80
 
80
 
T17
William Hemauer  2022, Wauwatosa, WI
+8
18
80
 
80
 
T17
Ryan Batterman  2020, Cottage Grove, WI
+8
18
80
 
80
 
T17
Jackson Cain  2021, Delafield, WI
+8
18
80
 
80
 
T21
Matthew Paulson  2021, North Prairie, WI
+9
18
81
 
81
 
T21
Jack Catherall  2021, Brookfield, WI
+9
18
81
 
81
 
T21
Hunter Neumann  2021, Warrens, WI
+9
18
81
 
81
 
T21
Ben Christenson  2023, Eau Claire, WI
+9
18
81
 
81
 
T25
Finn Somers  2022, Wauwatosa, WI
+10
18
82
 
82
 
T25
Luke Abram  2021, Williams Bay, WI
+10
18
82
 
82
 
T27
Jacob Hall  2021, Dresser, WI
+11
18
83
 
83
 
T27
John Mirsberger  2021, Franklin, WI
+11
18
83
 
83
 
29
Michael Antonelli  2022, Black River Falls, WI
+12
18
84
 
84
 
T30
Luke Lafond  2022, Green Bay, WI
+13
18
85
 
85
 
T30
Spencer Lynch  2023, Neenah, WI
+13
18
85
 
85
 
T30
Ben Busick  2021, De Pere, WI
+13
18
85
 
85
 
T30
Trey Oswald  2022, Beloit, WI
+13
18
85
 
85
 
T34
Matthew Solda  2021, Norway, MI
+14
18
86
 
86
 
T34
Dawson Kurth  2021, Durand, WI
+14
18
86
 
86
 
T34
Owen Naughten  2022, Twin Lakes, WI
+14
18
86
 
86
 
T34
T.J. Walton  2022, Lake Geneva, WI
+14
18
86
 
86
 
T34
Ty Kretz  2021, Marinette
+14
18
86
 
86
 
T39
Will Buettner  2021, Whitefish Bay, WI
+15
18
87
 
87
 
T39
Will Summers  2022, Richfield, WI
+15
18
87
 
87
 
T39
Jake Anderson  2021, Whitefish Bay, WI
+15
18
87
 
87
 
T39
Kaleb Lycke  2021, La Crosse, WI
+15
18
87
 
87
 
T43
Grant McGraw  2021, Jackson, WI
+16
18
88
 
88
 
T43
Alexander Buckoski  2022, Kaukauna
+16
18
88
 
88
 
T45
Logan Pechinski  2021, Plover, WI
+17
18
89
 
89
 
T45
Jakson Jazgar  2022, Green Bay, WI
+17
18
89
 
89
 
T47
Charlie Schubbe  2021, Appleton, WI
+18
18
90
 
90
 
T47
Collin Barry  2021, Whitefish Bay
+18
18
90
 
90
 
T47
Jack Weisenberger  2023, De Pere
+18
18
90
 
90
 
T47
Ethan Thomas  2022, Junction City, WI
+18
18
90
 
90
 
T47
Tyler Koch  2021, Neenah, WI
+18
18
90
 
90
 
52
Kale Gnewikow  2021, Warrens, WI
+19
18
91
 
91
 
T53
Griffin Oberneder  2022, Beloit, WI
+20
18
92
 
92
 
T53
Brendan Merriman  2021, Pewaukee, WI
+20
18
92
 
92
 
55
Marco Bamrah  2023, Delafield, WI
+22
18
94
 
94
 
T56
Joseph Fenceroy  2023, Fox Point, WI
+23
18
95
 
95
 
T56
Tyler Skogstad  2022, Wausau, WI
+23
18
95
 
95
 
T56
Jack Glaspy  2022, Pewaukee, WI
+23
18
95
 
95
 
59
Tyler Dahl  2021, Pleasant Prairie, WI
+26
18
98
 
98
 
T60
Jonah Curtis  2022, Green Lake, WI
+27
18
99
 
99
 
T60
Tate Naughten  2024, Twin lakes, WI
+27
18
99
 
99
 
62
Andrew Munn  2021, Cottage Grove, WI
+30
18
102
 
102
 
63
Caden Skelding  2021, Black River Falls, WI
+33
18
105
 
105
 
64
Tyler Fisel  2021, Kenosha, WI
+35
18
107
 
107
 
DID NOT FINISH
WD
Aidan Duchelle  2020, West bend, WI
 
 
 
 
 
 
WD
Caden Jacobson  2022, Lake Delton, WI
 
 
 
 
 
 
WD
Sebastian Kasun  2022, Elm Grove, WI
 
 
 
 
 
 
Girls overall
POS

PLAYER

TOTAL

THRU

R1

R2

STROKES

 

1
Hannah Dunk  2023, Janesville, WI
+6
18
78
 
78
 
2
Treva Dodd  2024, Brookfield, WI
+7
18
79
 
79
 
3
Glenna Sanderson  2021, Middleton, WI
+8
18
80
 
80
 
4
Amanda Karvala  2021, New Berlin, WI
+11
18
83
 
83
 
T5
Riley Pechinski  2023, Plover, WI
+12
18
84
 
84
 
T5
Jenna Anderson  2022, Dousman, WI
+12
18
84
 
84
 
T7
Grace Durkin  2023, Green Bay, WI
+13
18
85
 
85
 
T7
Skye Two Hawks Skenandore  2024, De Pere, WI
+13
18
85
 
85
 
T7
Jolie Guyette  2021, De Pere, WI
+13
18
85
 
85
 
T10
Norah Roberts  2023, Racine, WI
+14
18
86
 
86
 
T10
Avery Dudra  2022, Suamico, WI
+14
18
86
 
86
 
T12
Ashleyjen Powell  2023, Appleton, WI
+15
18
87
 
87
 
T12
Madeline Kiley  2021, Appleton, WI
+15
18
87
 
87
 
14
Ellie Behring  2021, Franklin, WI
+16
18
88
 
88
 
T15
Isabella Pierri  2021, Fox Point, WI
+22
18
94
 
94
 
T15
Brin Neumann  2023, Warrens, WI
+22
18
94
 
94
 
17
Ava Wittstock  2022, Sheboygan, WI
+24
18
96
 
96
 
18
Haley Thoeny  2022, Lodi, WI
+27
18
99
 
99
 
19
Faith Flynn  2021, Green Bay, WI
+28
18
100
 
100
 
20
Eva Kumer  2022, Brookfield, WI
+29
18
101
 
101
 
T21
Olivia McSorley  2022, Elm Grove, WI
+31
18
103
 
103
 
T21
Haley Myers  2020, Somerset, WI
+31
18
103
 
103
 
T21
Natalie Hoege  2021, Waunakee, WI
+31
18
103
 
103
 
T21
Eleanor Potter  2022, Mequon, WI
+31
18
103
 
103
 
25
Aly Kinzel  2021, Waunakee, WI
+32
18
104
 
104
 
T26
Payton Schmidt  2024, Jefferson, WI
+36
18
108
 
108
 
T26
Abby Busick  2022, De Pere, WI
+36
18
108
 
108
 
28
Haley Prudhomme  2021, Menomonee Falls, WI
+40
18
112
 
112
 
T29
Erin Rosencrantz  2021, Brookfield, WI
+43
18
115
 
115
 
T29
Lauren Reif  2021, Port Washington, WI
+43
18
115
 
115
 
DID NOT FINISH
WD
Grace Miller  2021, Oshkosh, WI
 
 
 
 
 
 
WD
Alyssa Schmidt  2021, Oregon, WI
 
 
 
 
 
 
WD
Grace Weiss  2021, Janesville, WI