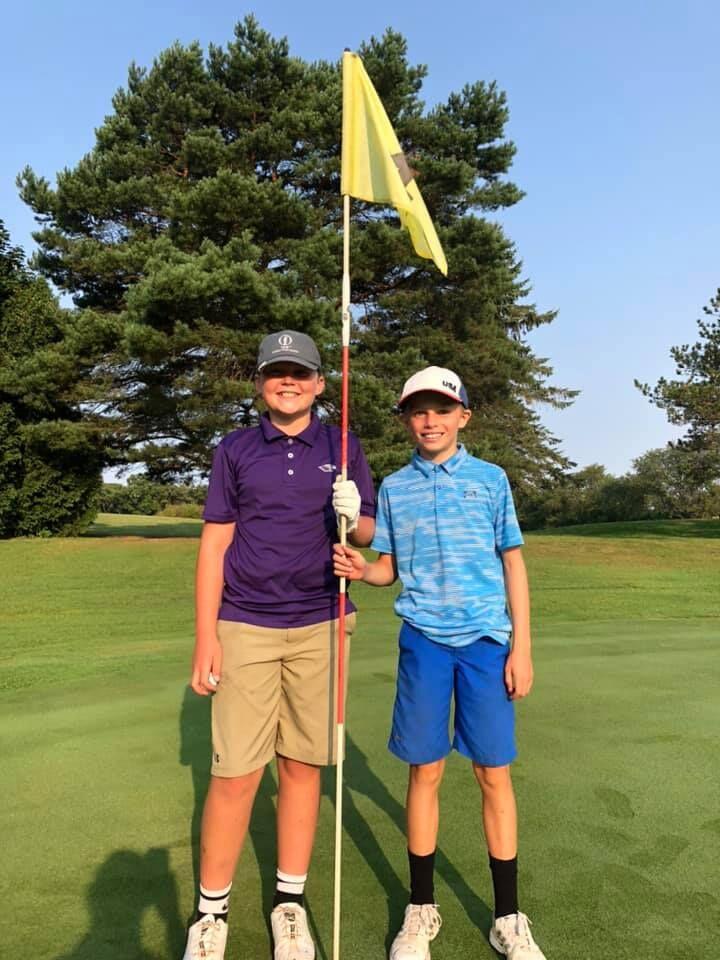 Milton golfer Kade Wieland made his first career hole-in-one Monday playing a junior golf fundraiser with friend Luke Weiss of Middleton at Oak Ridge Golf Course in Milton, which Kade's parents, Andrea and Kirk Wieland, own.
Kade Wieland, 11, and Luke Weiss, 12, are playing 100 holes of golf each while their older brothers Brett Wieland and Alex Weiss, both 15, are playing 200 holes each. Proceeds from the event go to benefit the Wisconsin PGA Junior Foundation.
As of 11 a.m., the WPGA reported on its Facebook page that Brett Wieland and Alex Weiss had completed 90 holes. Brett had 10 birdies and one eagle on the day and Alex had 9 birdies.
For more information on how to help the four boys in their fundraising efforts, there is a link at the bottom of this news release from the Wisconsin PGA.
---
Four Local Kids Aim to Play 600 Holes of Golf in a Day for Charity
Oak Ridge Golf Course
MONDAY, AUGUST 24, 2020
Working to break their personal record of playing 145 holes for charity in one day that they set last year, Alex Weiss (15) of Middleton and Brett Wieland of Milton (15) plan to play 200 holes of golf each, and this year, have their younger brothers, Luke Weiss (12) and Kade Wieland (11), join them, and try to play 100 holes each in one day in order to raise money for the Wisconsin Junior PGA Foundation.
WHEN:  TODAY (5:30 a.m. to ???)
WHERE: Oak Ridge Golf Course | 1238 Bowers Lane | Milton, WI 53563
"We chose to play this year to raise needed funds for the Wisconsin Junior PGA Foundation as they hold junior golf tournaments for kids of all ages and provide scholarships for kids that wouldn't otherwise be able to participate in these events. We have played in the Wisconsin Junior PGA tournaments for many years and it's been an incredible experience for us, especially during COVID-19," said Alex Weiss.
"They also provide college scholarships for kids that decide to play college golf. Their mission statement is to promote the game of golf by providing positive opportunities, enjoyment, and education to Wisconsin junior golfers and their families. Any size donation is greatly appreciated and will go a long way to provide opportunities for these kids who couldn't afford to play otherwise," said Brett Wieland.
To make a donation to their effort:
✓ Click on this link to donate online;
✓ Mail a donation to: WPGA Junior Foundation | 11350 W. Theo Trecker Way | West Allis, WI  53214