HARTFORD — As the number of junior golf tournaments Jessica Guiser can still win this summer dwindles to the final few, the Hartland golfer has mixed emotions about seeing the other golfers who have made her better preparing for their high school season while her high school career is still a year away.
Lately, though, the rising eighth grader in the Arrowhead School District has been putting a new spin on an old adage: If you can't join them, beat them.
For the second week in a row, Guiser won a major event on the Wisconsin PGA schedule. This time, she outlasted Myranda Kotlowski, a rising senior at Stoughton, winning a 19-hole championship match at Hartford Golf Club to win the WPGA/WWSGA State Junior Girls Match Play Championship.
Guiser had seized a 1-up advantage in the see-saw match going to the par-3 17th hole. Kotlowski stuck her tee shot to two feet and made birdie to square the match going to the final hole, which they halved to extend the match an extra hole.
"Myranda didn't hit her tee shot the best and had a long (second) shot into the green," Guiser wrote in a text message to Wisconsin.golf. "Based on her drive, I decided to play the hole safe by hitting the green in regulation and two-putting for par, which ended up winning the hole."
When it was over, Guiser — winner of last week's Morgan Stanley WPGA Junior Tour Championship — felt that more importantly than winning another trophy, she had won another friend in Kotlowski.
"Playing with Myranda has been very fun and challenging," Guiser wrote. "Myranda is an amazing golfer and the match went back and forth between us multiple times. ... Not only was it challenging but very fun, she's very complimentary and supportive."
Kotlowski, who had seven top-15 finishes in as many starts on the WPGA Junior Tour, will now turn her attention to leading a Stoughton team eyeing defense of its Badger South Conference title. Guiser, meanwhile, will continue to build her resume on her own.
"I'm very excited to play in high school on the golf team, but for my last fall (of middle school) I am playing other tournaments," Guiser wrote, referring to events on the American Junior Golf Association and Hurricane Junior Golf tours. "I am extremely proud to have won two big tournaments with very strong fields. Playing these tournaments made me more confident and playing (against) a very strong field has allowed me to play very well."
---
Championship flight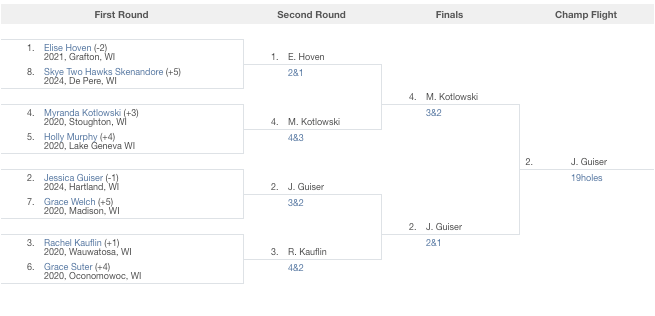 First flight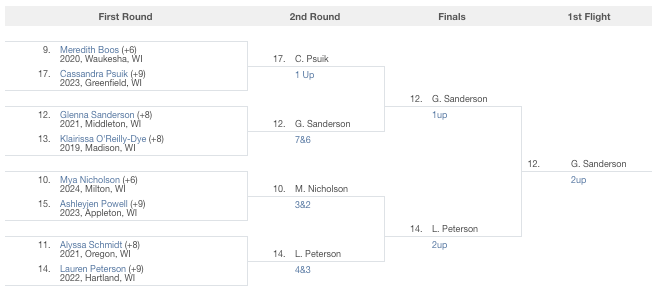 Second flight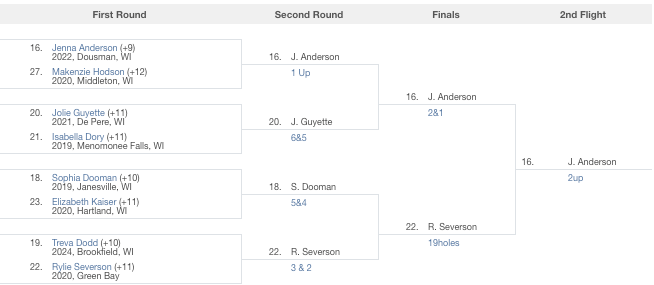 Third flight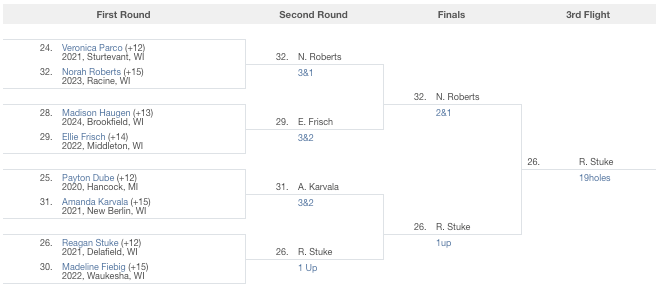 Fourth flight