There may not be many paths that lead out of Michigan's peaceful Upper Peninsula to the land of fame and fortune.
However, Bryson Mercier is familiar with enough determined natives who have gone down those roads to know that the journey can be made.
The junior at North Central High School in Powers, Mich., is all too familiar with the legend of "Izzo and Mooch" — aka Yoopers Tom Izzo and Steve Mariucci, former high school classmates at Iron Mountain High who enjoyed great success coaching college basketball and professional football, respectively. Mercier is also familiar with U.P. golf legend Becky Iverson, a native of Escanaba who made it to the LPGA Tour before settling down in Madison as the director of golf at Bridges Golf Course.
And, of course, Mercier doesn't have to look far for recent trailblazers from his neck of the woods. He plays "after-shift" rounds with two of them — NCAA Division I golfers Hunter Eichhorn of Carney (Marquette University) and Bryce Douglas of Gladstone (Detroit Mercy University) — at Sage Run Golf Club in Harris and knows he would not have been in position to earn the 2020 Wisconsin PGA boys player of the year honor without their examples.
"It is possible from a small area like up here to do some extraordinary things," said Mercier, whose success on the WPGA Junior Tour is similar to Eichhorn, who was a two-time WPGA player of the year (in 2016 and '17). "I can't start to talk about how (Eichhorn) has made my game better, just by being around and carving a path as well. Without him, college coaches probably wouldn't even step foot in the U.P. I can't thank him enough for what he's done."
At the same time, no one has worked harder than Mercier over the last two years to make himself one of the top junior golfers on the WPGA circuits.
2020 WPGA Junior Boys: Top 10 finishers
Pos.
Player
Points
1
Bryson Mercier
2022, Powers, MI
1,347.50
2
Ty Kretz
2021, Marinette
1,293.33
3
Benjamin Pausha
2021, Delafield, WI
820.83
4
Kyle Bengtson
2020, Woodruff, WI
805
5
Tyson Sparks
2024, Muskego, WI
751.25
6
Silas Pickhardt
2021, Madison, WI
698.17
7
Maxwell Reis
2022, De Pere, WI
682.14
8
Kaeden Nomm
2022, Minocqua, WI
647.5
9
Aiden Cudney
2024, Appleton, WI
644.67
10
Austin Georger
2021, Appleton, WI
641.24
After playing only a handful of WPGA events between 2015 and 2018, Mercier showed glimpses of potential in 2019 when he won a one-day event at Green Bay Country Club with a 73 and finished T3 in another on the Irish Course at Whistling Straits with a 76. However, he failed to contend in any of the three two-day events that season, finishing ninth at the Golf Coaches Association of Wisconsin College Showcase on the Irish Course with rounds of 77 and 81 and 21st at a WPGA Players Tour event at Blackwolf Run (79-81) and the Morgan Stanley Tour Championship at Washington County GC in Hartford (74-83).
It was a much different story in 2020.
Mercier, whose sophomore season at Powers Central was canceled by COVID-19, began the summer with a playoff victory over friend Ty Kretz of Marinette at the WPGA Players Tour event at Blackwolf Run after shooting rounds of 74 and 73 on the Meadow Valleys Course. That would be a foreshadowing of a season-long battle between the two regional rivals the rest of the summer.
After finishing tied for 10th in his debut at the WPGA Junior Championship in Milwaukee, Mercier rattled off consecutive victories on the Irish Course at Whistling Straits in the weather-shortened GCAW College Showcase with a 74 and in a WPGA Junior Tour event with a 72. One day later, Mercier fired a 67 to win a WPGA Junior Tour event at Brown County GC in Green Bay — his personal-best round in competition and the highlight of a summer in which he never shot higher than 76 and averaged 72.5 in 14 competitive rounds.
The son of a successful high school basketball coach, Mercier grew up with a pretty good understanding of what it takes to be the best at a sport. Adam Mercier coached Powers Central to three consecutive Michigan High School Athletic Association Class D state titles starting in 2015 and a state-record 84 consecutive wins before stepping down as coach after the 2017-18 season.
"Practice, practice, practice — and more practice," Bryson Mercier said, when asked what allowed him to see such significant improvement during the 2020 golf season. "There's not much you can do. Fundamentals are fundamentals, but — at the end of the day — it comes down to how much you practice.
"It's kind of a cliché, but in golf you can always get better. That's the good thing about it. There is not one day where you wake up and said 'Nah, I'm too good at golf; I don't need to work at anything.' It's such a tough ... sport where you always need to strive to get better."
With scholarship offers from Detroit Mercy and UW-Green Bay and a personal commitment to "appreciate" the recruiting process and the attention it has brought him, Mercier promises to reinforce his work ethic as he looks forward to 2021 with the motivation to prove that 2020 was just a start for him.
"This is a huge summer for me to back up what I did last summer," Mercier said. "That was my first year of really bursting onto the stage like I did. It's definitely a huge year for me to back that up with some more solid places in big tournaments and to just play well over the summer (in 2021)."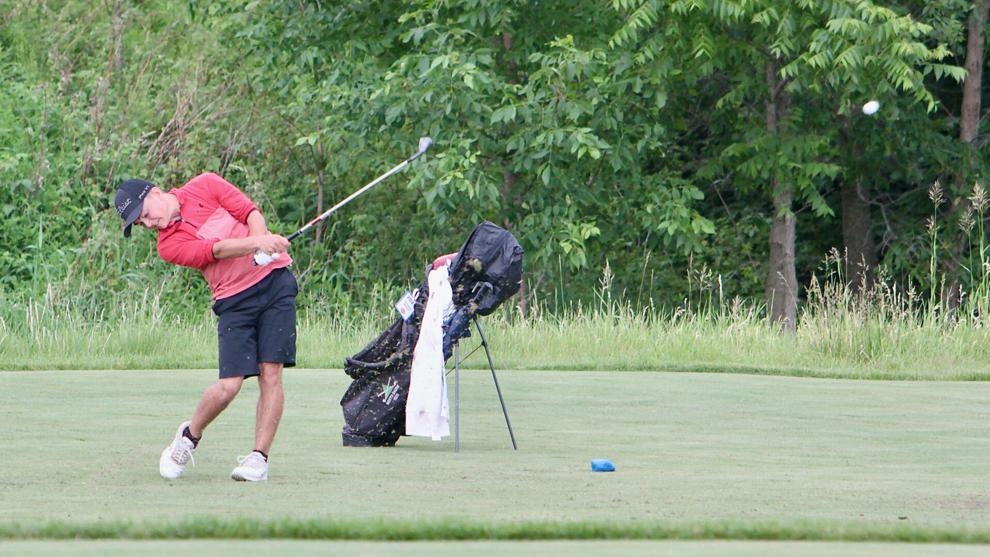 Mercier need only look to Kretz, who finished second in the 2020 WPGA Junior boys standings in what was essentially a two-player race, to realize that there is a lot of work left to gain more college attention.
Kretz won his first three starts on the WPGA Junior Tour in 2020, a sizzling start during which he twice shot 64; finished in the top 10 of three majors on the Wisconsin junior calendar, and made the 36-hole cut at the Wisconsin State Amateur at famous Milwaukee CC, finishing T38. However, as recently as November, Kretz said his three college scholarship offers were from NCAA Division I South Dakota State and UW-Green Bay as well as St. Thomas (Minn.), which will begin transitioning to Division I after the 2020-21 season.
Saying he will expand his 2021 schedule to include more amateur and, possibly, national junior events, Mercier will patiently continue to build a resume that he hopes will overshadow his 5-foot-4 frame. He is coming off a 4.0 semester in the classroom and now has a 3.7 cumulative grade-point average. Mercier, the president of the National Honor Society at his school, has mastered the art of outreach via social media and email to college coaches and others in his effort to make them aware of the great results he has seen the past 12 months.
"The whole COVID thing has put my class and the grade above me and the grade below me in a very unfortunate situation," Mercier said, acknowledging the glut of golfers on college rosters due to extra eligibility awarded current college athletes who lost seasons due to the ongoing COVID pandemic. "(College) coaches just don't know what they've got coming back, what players are going to stay for the extra year and what they've got for scholarships. I'm just kind of taking it one day at a time with the recruiting thing. After all, I'm only a junior. I have plenty of time to choose where I want to go.
"I'm just going to keep sending out my emails to coaches to update them on how I'm doing. I'm just going to kind of let it happen."
In his corner of the golf world, that's how people get there from here.
2020 WPGA Junior Boys Player of the Year Standings
| RANK | PLAYER | POINTS |
| --- | --- | --- |
| 1 | | 1,347.50 |
| 2 | | 1,293.33 |
| 3 | | 820.83 |
| 4 | | 805.00 |
| 5 | | 751.25 |
| 6 | | 698.17 |
| 7 | | 682.14 |
| 8 | | 647.50 |
| 9 | | 644.67 |
| 10 | | 641.24 |
| 11 | | 637.50 |
| 12 | | 625.00 |
| 13 | | 572.50 |
| 14 | | 571.07 |
| 15 | | 553.33 |
| 16 | | 550.42 |
| 17 | | 525.00 |
| 18 | | 516.40 |
| 19 | | 515.00 |
| 20 | | 503.00 |
| 21 | | 492.50 |
| 22 | | 469.58 |
| 23 | | 464.92 |
| 24 | | 409.34 |
| 25 | | 406.67 |
| 26 | | 401.00 |
| 27 | | 400.00 |
| 28 | | 397.50 |
| 29 | | 392.00 |
| 30 | | 389.57 |
| 31 | | 376.07 |
| 32 | | 372.23 |
| 33 | | 350.00 |
| 34 | | 343.50 |
| 35 | | 323.50 |
| 36 | | 308.83 |
| 37 | | 297.50 |
| 38 | | 295.33 |
| 39 | | 292.30 |
| 40 | | 272.67 |
| 41 | | 271.00 |
| 42 | | 250.00 |
| 43 | | 242.83 |
| 44 | | 240.00 |
| 45 | | 227.83 |
| 46 | | 217.94 |
| 47 | | 217.50 |
| 48 | | 213.00 |
| 49 | | 207.50 |
| 50 | | 205.00 |
| 51 | | 194.50 |
| 52 | | 185.00 |
| 53 | | 172.83 |
| 54 | | 165.00 |
| 55 | | 162.30 |
| 56 | | 155.00 |
| 57 | | 147.50 |
| 58 | | 146.00 |
| 59 | | 141.00 |
| 60 | | 137.50 |
| 61 | | 136.13 |
| 62 | | 131.00 |
| 63 | | 130.00 |
| 64 | | 126.75 |
| 65 | | 123.17 |
| 66 | | 122.57 |
| 67 | | 120.75 |
| 68 | | 118.87 |
| 69 | | 117.49 |
| 70 | | 116.09 |
| 71 | | 113.17 |
| 72 | | 108.33 |
| 73 | | 105.57 |
| 74 | | 105.17 |
| 75 | | 103.67 |
| 76 | | 99.80 |
| 77 | | 99.58 |
| 78 | | 99.44 |
| 79 | | 98.50 |
| 80 | | 94.58 |
| 81 | | 90.88 |
| 82 | | 87.50 |
| 83 | | 86.75 |
| T84 | | 85.00 |
| T84 | | 85.00 |
| 86 | | 81.17 |
| 87 | | 78.75 |
| 88 | | 77.67 |
| 89 | | 77.50 |
| 90 | | 77.23 |
| 91 | | 75.10 |
| 92 | | 74.83 |
| 93 | | 73.75 |
| 94 | | 73.30 |
| 95 | | 72.50 |
| 96 | | 72.00 |
| 97 | | 70.83 |
| 98 | | 70.00 |
| 99 | | 68.50 |
| 100 | | 67.50 |
| 101 | | 67.17 |
| 102 | | 66.75 |
| 103 | | 64.00 |
| 104 | | 62.93 |
| 105 | | 60.67 |
| 106 | | 60.00 |
| 107 | | 58.00 |
| 108 | | 57.97 |
| 109 | | 57.43 |
| 110 | | 57.33 |
| 111 | | 54.83 |
| 112 | | 52.67 |
| 113 | | 50.50 |
| 114 | | 49.50 |
| 115 | | 49.00 |
| 116 | | 48.50 |
| 117 | | 48.16 |
| 118 | | 47.50 |
| 119 | | 46.25 |
| 120 | | 46.00 |
| 121 | | 45.50 |
| 122 | | 45.33 |
| T123 | | 45.00 |
| T123 | | 45.00 |
| 125 | | 44.80 |
| 126 | | 44.33 |
| 127 | | 43.75 |
| 128 | | 42.50 |
| 129 | | 42.00 |
| 130 | | 41.75 |
| 131 | | 41.67 |
| 132 | | 40.90 |
| 133 | | 40.00 |
| 134 | | 38.50 |
| 135 | | 38.00 |
| 136 | | 37.77 |
| T137 | | 37.50 |
| T137 | | 37.50 |
| 139 | | 37.33 |
| 140 | | 36.51 |
| 141 | | 35.83 |
| 142 | | 35.50 |
| 143 | | 35.00 |
| 144 | | 34.33 |
| 145 | | 33.90 |
| 146 | | 33.50 |
| 147 | | 33.33 |
| 148 | | 32.99 |
| 149 | | 32.83 |
| T150 | | 32.50 |
| T150 | | 32.50 |
| T150 | | 32.50 |
| T150 | | 32.50 |
| 154 | | 32.34 |
| T155 | | 31.92 |
| T155 | | 31.92 |
| 157 | | 31.83 |
| 158 | | 31.67 |
| 159 | | 30.15 |
| 160 | | 30.00 |
| 161 | | 29.67 |
| 162 | | 28.33 |
| 163 | | 27.92 |
| T164 | | 27.83 |
| T164 | | 27.83 |
| T164 | | 27.83 |
| 167 | | 27.65 |
| 168 | | 27.50 |
| 169 | | 27.33 |
| T170 | | 26.50 |
| T170 | | 26.50 |
| 172 | | 26.00 |
| 173 | | 25.67 |
| 174 | | 24.90 |
| 175 | | 24.34 |
| 176 | | 23.00 |
| T177 | | 22.50 |
| T177 | | 22.50 |
| T177 | | 22.50 |
| T177 | | 22.50 |
| T181 | | 22.00 |
| T181 | | 22.00 |
| 183 | | 21.00 |
| 184 | | 20.75 |
| T185 | | 20.67 |
| T185 | | 20.67 |
| 187 | | 20.50 |
| 188 | | 20.00 |
| 189 | | 19.00 |
| 190 | | 17.33 |
| 191 | | 17.00 |
| 192 | | 16.92 |
| 193 | | 16.33 |
| 194 | | 16.00 |
| T195 | | 15.00 |
| T195 | | 15.00 |
| 197 | | 14.67 |
| 198 | | 14.66 |
| 199 | | 13.50 |
| 200 | | 12.00 |
| 201 | | 11.25 |
| T202 | | 11.00 |
| T202 | | 11.00 |
| 204 | | 10.40 |
| 205 | | 10.17 |
| 206 | | 10.10 |
| 207 | | 10.00 |
| 208 | | 9.80 |
| T209 | | 8.50 |
| T209 | | 8.50 |
| 211 | | 8.43 |
| T212 | | 7.33 |
| T212 | | 7.33 |
| T212 | | 7.33 |
| 215 | | 7.00 |
| 216 | | 6.75 |
| T217 | | 6.40 |
| T217 | | 6.40 |
| T219 | | 6.25 |
| T219 | | 6.25 |
| T219 | | 6.25 |
| 222 | | 5.67 |
| T223 | | 5.40 |
| T223 | | 5.40 |
| T223 | | 5.40 |
| T226 | | 5.00 |
| T226 | | 5.00 |
| T226 | | 5.00 |
| T226 | | 5.00 |
| T226 | | 5.00 |
| T226 | | 5.00 |
| T226 | | 5.00 |
| T226 | | 5.00 |
| T226 | | 5.00 |
| T226 | | 5.00 |
| T226 | | 5.00 |
| T226 | | 5.00 |
| T226 | | 5.00 |
| T226 | | 5.00 |
| T226 | | 5.00 |
| T226 | | 5.00 |
| T226 | | 5.00 |
| T226 | | 5.00 |
| T226 | | 5.00 |
| T226 | | 5.00 |
| T246 | | 4.00 |
| T246 | | 4.00 |
| T246 | | 4.00 |
| T249 | | 2.50 |
| T249 | | 2.50 |
| T249 | | 2.50 |
| T252 | | 1.25 |
| T252 | | 1.25 |
| 254 | | 1.00 |