HARTFORD — Schedule conflicts kept Jo Baranczyk from competing in the WPGA/WSGA Girls State Match Play Championship the last three years, but Thursday proved it wasn't the format that kept her from another trophy.
The two-time defending WIAA Division 2 state champion from Green Bay won her seventh major junior championship in the last three years, scoring a 4 and 3 victory over defending champion Jessica Guiser of Hartland in the finals of the two-day event at Hartford Golf Club. Baranczyk got there by edging good friend and Central Michigan-bound Rachel Kauflin 2 and 1 in the semifinals.
"This win feels good," said Baranczyk, who has won two WIAA titles, two WPGA Junior Championship titles and two Lake Arrowhead Invitational titles since the start of the 2018 season, but according to WPGA records had never qualified into championship flight in previous appearances in this event in 2015 and '16. "I love match play so this was a fun tournament, and to end it with a win is exciting. It was also special because I played with some close friends."
Baranczyk said her match with Kauflin see-sawed back and forth with Kauflin taking a 1-up lead through five holes only to have Baranczyk lead 2 up at the turn. The North Dakota State commit pushed the lead to 3 up through 12 before Kauflin won Nos. 13 and 14 to cut Baranczyk's lead to 1 up, which is where it stayed until No. 17 where Baranczyk closed out the 2 and 1 win.
In the final, Baranczyk and Guiser started on No. 10 and Baranczyk served notice this might just be her day. She pulled her drive into the trees, but made an 18-foot putt to save a scrambling par, a sign of things to come.
After Guiser won No. 11 with a birdie, Baranczyk answered by winning Nos. 12 and 13 with birdies. Her putter cooled off slightly until the turn when Baranczyk won Nos. 1, 2, 3 and 6 on birdies to close out the match.
"I knew that playing against Jo would be a hard match because she is a very strong golfer," Guiser wrote via text to Wisconsin.Golf. "The match started to turn early on. Ho was making all of her putts from everywhere and my iron striking was off.
"Jo's games was very strong. Her short game impressed me most. She drained almost all her putts out there on the course, which made it very hard to win holes. Also her irons where dialed in; she hit most of the green. She played very strong and I had a great time playing with her."
Baranczyk said: "A win always feels good. ... I hope I can keep my short game going through the rest of the year."
Championship flight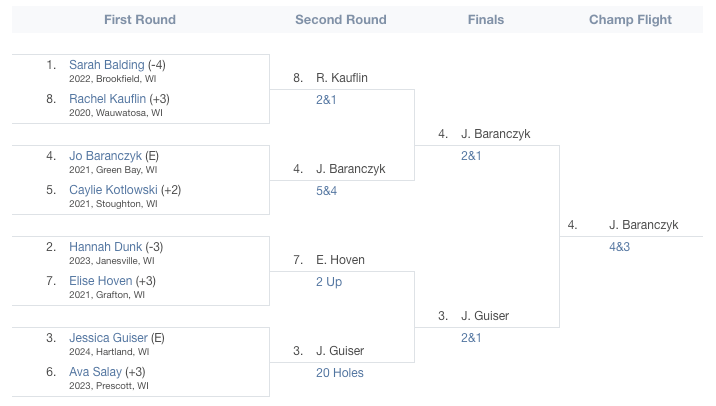 First flight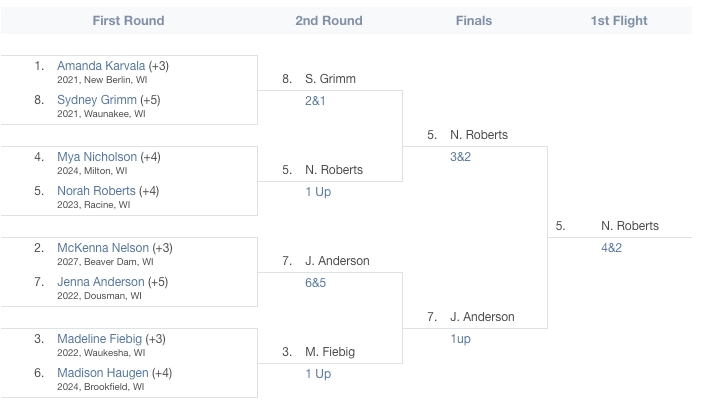 Second flight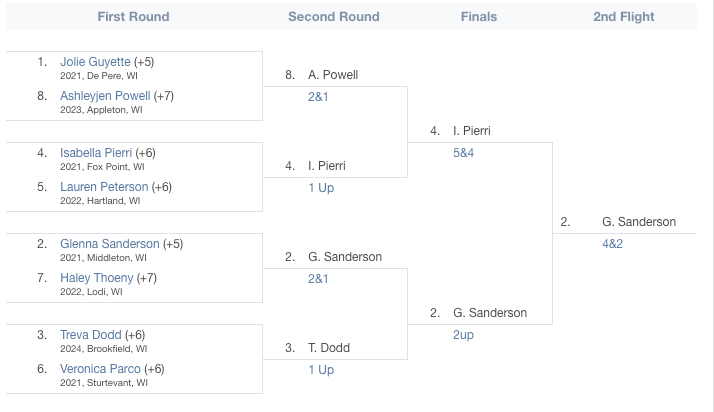 Third flight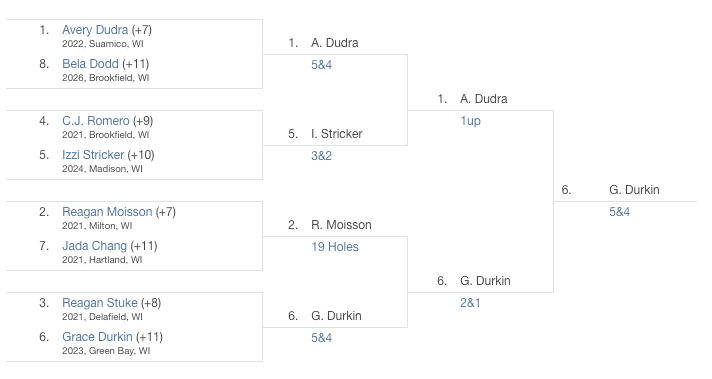 Fourth flight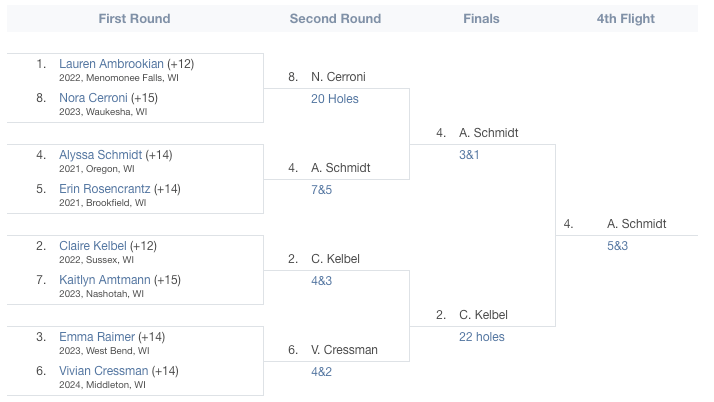 Fifth flight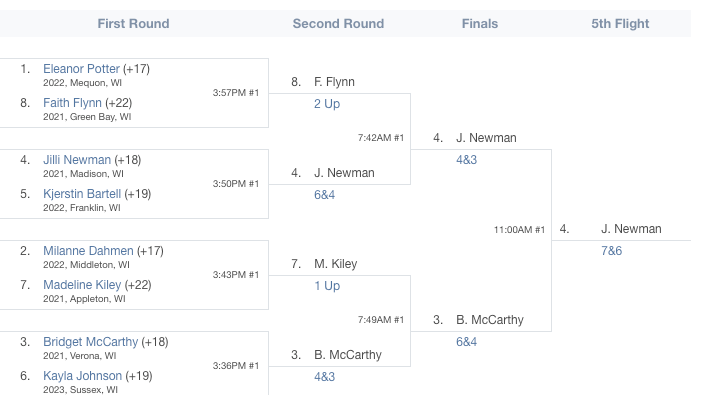 Sixth flight