KOHLER — There are worse names a golfer can be called and, quite frankly, the nickname pinned to Ty Kretz of late is one the Marinette golfer enjoys.
"A lot of people have said 'Hey, Mr. 64,' " Kretz was saying the other day, still basking in the glow of a pair of 8-under-par rounds that made 64 his magic number last week and led to two of his three wins on the WPGA Junior Tour.
"They'll say 'Are you going to do it today?' I'll say 'It's a different course, different ballgame.'"
Indeed, what Kretz did on a Tuesday (at Cherokee Country Club in Madison) and a Thursday (at The Beloit Club) was something most junior golfers don't get to experience once during a career, let alone twice in three days.
Kretz, who also won another WPGA Junior Tour event in between with a fairly pedestrian 75 at Beaver Dam CC, capped his week by jarring a 15-foot birdie putt on the final hole in Beloit to break the competitive course record held by WPGA Player of the Decade Ryan Helminen of Appleton. It also installed him as a threat to win virtually any time he tees it up against his peers, especially over the next two days at the WPGA Junior Championship in Milwaukee.
"You know you have to take it low when he shoots like that," said Bryson Mercier, who lives less than an hour north of Kretz in Powers, Mich., and Monday managed to outlast Kretz in a two-hole playoff to win the WPGA Players Tour event on the Meadow Valleys Course at Blackwolf Run GC after both players tied at 3-over 147, Mercier going 74-73 and Kretz going 76-71.
"Even (Monday), he shot 1-under. So you've got to play well to beat him."
Finding the zone
In 13 rounds in WPGA Junior Tour events last year, Kretz broke 70 for the first time in the very last one at Edelweiss Chalet CC in New Glarus with a 68. That also netted him his first Junior Tour victory since 2016 when he won seven times in his last eight starts but never with a score lower than 74.
At Cherokee, Kretz made nine birdies and one bogey in his first 64. Two days later, at the Beloit Club, he made seven birdies, and eagle and one bogey in his second 64 of the week and third of his career (the other was 6-under 64).
"I putted well," Kretz said after his round earlier this week at Blackwolf Run. "(Monday), I struggled putting a little bit. I think I had close to 30. There, I probably had 24 or 25 putts. There are some strokes right there."
At Cherokee, he won by 11 strokes over Silas Pickhardt of Madison. It took the next nine names on the leaderboard combined to match his nine birdies.
At Beloit Club, Kretz won by seven shots over Charlie Erlandson of Verona. There, the next two golfers had more sub-par holes (10) than Kretz (8), but Erlandson and Daniel Romero of Darien also had six bogeys and two doubles while Kretz did a much better job of minimizing his mistakes.
"I fixed my putting stroke a lot (and) my stance," Kretz said. "I was putting well at my home course. I figured I'd play well, but I didn't think I'd go that low. It didn't feel that much different; I just kept making a bunch of putts."
Making up for lost time
Kretz was in the same situation as many boys golfers in Wisconsin when he made his 2020 debut last week.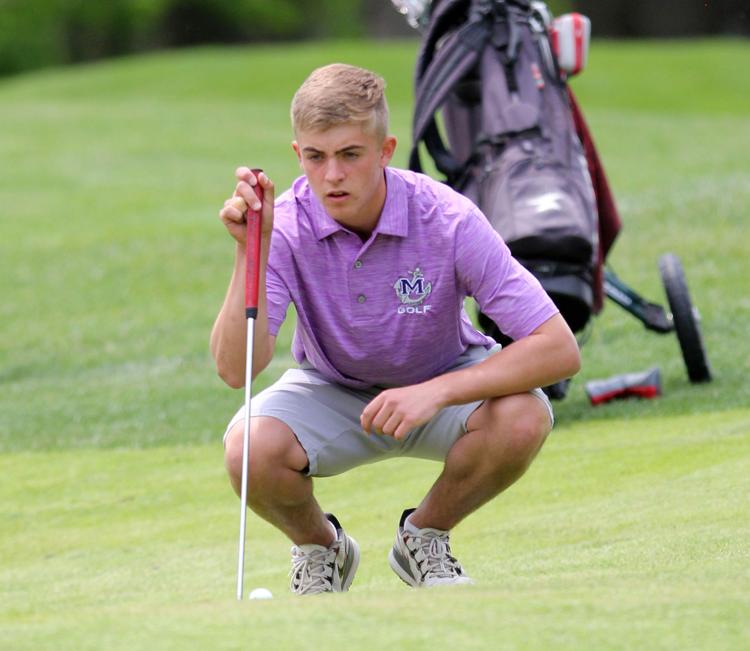 The 17-year-old had lost his junior season at Marinette and the high hopes that went with it to the COVID-19 pandemic. In 2019, Kretz helped the Marines reach the WIAA Division 2 state tournament for the first time in three years and 20th time overall. He shot 71-39 in the weather-shortened, 27-hole event and finished third individually, just two strokes behind winner Joe Forsting of Edgerton.
This year's lost season meant a lost opportunity for Kretz to showcase his talents in front of college coaches. He said prior to the coronavirus outbreak he had received interest from the University of Wisconsin, South Dakota and UW-Green Bay.
"I feel I have to make up a lot of ground," Kretz said. "We didn't have the state championship this year. We didn't have the conference (tournament). You have to play a lot more golf to prove how good you can play."
In Wisconsin, though, it only took one  tournament after his remarkable run for Kretz to be reminded that other junior golfers are lurking to scoop up the victories when he is not at his very best.
Mercier, who led Kretz after one round at Blackwolf Run, made two birdies and two bogeys on the front nine the second day and fell one shot behind Kretz, who shot 2-under 34 on the front. However, Mercier parred eight holes in a row on the back nine and took a one-stroke lead into the final hole where he three-putted from short range to send his duel with Kretz to a playoff.
"We know each other pretty well because we're pretty much from the same area," Mercier said after exacting some revenge on the 18th green on the second hole of the playoff where he made a 10-footer for birdie to register his first Players Tour victory. "We've played against each other before and it's always a great time playing against him. He always plays well and you know you have to play well to beat him."
All things considered Sunday and Monday at the Blackwolf Run event, Kretz didn't play too shabby.
"I've struck the ball well all four (tournaments); I just needed to putt a little better (Sunday and Monday)," said Kretz, who — looking back — probably learned as much in defeat as he did in his three victories the previous week. "It's tough to follow those (64s) up. You're not going to shoot 8-under every, single round."