As much as Andy Landenberger would love to build off the great success the Wisconsin PGA Junior Tour experienced in 2020 despite the ongoing pandemic, the director of junior golf for the WPGA was running out of real estate on the calendar even before COVID-19 hit in March.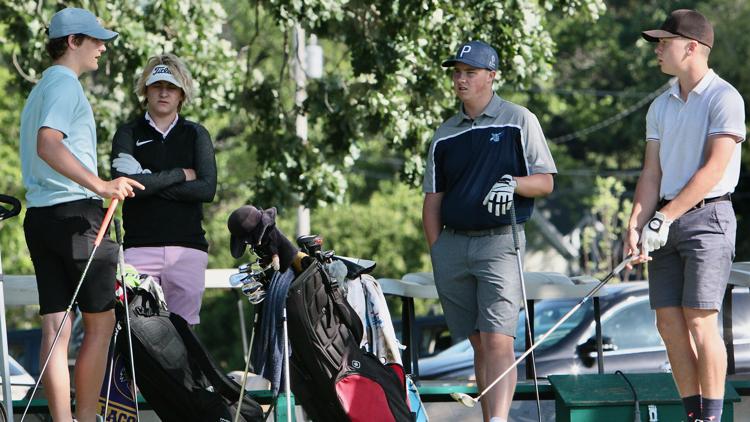 Nine months later, that dynamic hasn't changed as Landenberger and his staff look to ride the wave of popularity in junior golf — membership in the WPGA Junior Foundation was down 11 percent over 2019, but tournament entries were up 7 percent — into the 2021 season.
Landenberger built his 2020 schedule conservatively at the front end not knowing the impact that new dates for the WIAA state boys golf tournament would have on early events. He never got to find out after COVID-19 canceled the entire WIAA boys season for the first time and sent junior golfers scrambling to his events, which went off without any COVID-related issues.
Nonetheless, Landenberger saw enough interest in early WPGA Junior events from those golfers whose participation in them would not have been impacted had the WIAA been able to hold its boys season to factor that into the 2021 WPGA Junior schedule released Monday.
It includes five WPGA Junior Tour events and the Wisconsin-only qualifier for the American Junior Golf Association event in Waukesha later in the summer, all events scheduled before the playing of the 2021 WIAA state boys golf tournament June 18 and 19 at University Ridge Golf Course in Madison (although the WIAA has at least temporarily revised its 2021 boys golf calendar on its website to reflect "culminating activity" between June 1 and 19). WIAA rules allow golfers to play up to two events not on their high school's schedule while in-season and four of the Junior Tour events and the AJGA qualifier fall in an eight-day window between what were scheduled as the sectional and state tournaments on the WIAA's original calendar.
"It stinks, for us, that (WIAA) state is another week later for us," Landenberger said. "But we can't not have events. We can't say we're going to start our season on June 20. For us, that's hard to do. We have a lot of other kids that are still eligible that aren't at (WIAA) state.
"I thought if we scheduled the AJGA qualifier early enough, we'd have some kids who would play on that Sunday. Maybe that's one of those outside events the (boys) play in outside their season. Maybe they play in that qualifier and one of the Junior Tour (events) prior to state because there is a long layover for them. They might want to play in something."
WPGA Junior Foundation: Membership, Entry Totals
| Year | Members | Entries |
| --- | --- | --- |
| 2020 | 1,130 | 7,517 |
| 2019 | 1,267 | 7,012 |
| 2018 | 1,321 | 7,225 |
| 2017 | 1,125 | 6,813 |
Many of the state's top girls golfers will compete that opening week at the Wisconsin State Women's Open (June 15-16) on the Links Course at the Golf Courses of Lawsonia in Green Lake. Combined with the scheduled WIAA state boys tournament, it will trigger a potentially busy stretch to start the summer schedule, especially for the state's best junior golfers.
The first WPGA Players Tour event follows the Sunday and Monday after the state tournament at Blackwolf Run in Kohler. The popular WPGA Junior Bestball Tournament is scheduled June 22 – and returns to The Bull at Pinehurst Farms in Sheboygan Falls – in between the WPGA Players Tour opener and the WPGA Junior Championship, the first major of the junior golf season June 23-24 at Brown Deer Park and Dretzka Park in Milwaukee.
"It's a serious run there, especially for the boys," Landenberger said. "They go right from state to play in some big tournaments right away. It could be a lot; that's what I worry about. I don't think a boy would play in the bestball if he's going to play at Blackwolf and the Junior Championship. That's a lot. That's like no days off."
WPGA Junior Golf: Year-by-year averages
Year
JUNIOR
No. of
events
TOUR
Event
Average
PLAYERS
No. of
events
TOUR
Event
Average
FUTURES
No. of
events
TOUR
Event
Average
2020
40
93
3
52
17
52
2019
43
65
4
50
16
50
2018
43
69
3
52
13
52
2017
43
67
4
48.5
12
48.5
Welcome to Landenberger's world. There weren't many weeks void of major events for junior golfers and Monday's schedule did not include the Morgan Stanley Tour Championship or the WPGA/WSGA Girls Match-Play Championship, which will move from Hartford Golf Club in 2021 and will be expanded from two to three days. Landenberger said he is working to find dates for those events on the 2021 calendar that do not conflict with other events already scheduled.
The Wisconsin Junior Masters, a popular boys-only match-play event in Racine that was not held in 2020 due to COVID-19, has not announced its dates for its anticipated 2021 return. Likewise, the USGA, which canceled its Junior Boys and Junior Girls Championships in 2020 in wake of the ongoing pandemic, has not announced qualifying dates in Wisconsin for the 2021 U.S. Junior Girls (July 12-17 at Columbia CC in Chevy Chase, Md.) and U.S. Junior (Boys) Amateur (July 19-24 at The CC of North Carolina in Pinehurst. N.C.).
The WPGA Junior Par-3 Championship will be played July 5 at The Sandbox at Sand Valley Golf Resort near Nekoosa the day before the SentryWorld girls-only event returns to the calendar at SentryWorld Golf Course in Stevens Point, which did not open during 2020 due to COVID-19. Those two events precede the second WPGA Players Tour event at Lawsonia (July 7-8) and the Golf Coaches Association of Wisconsin College Showcase, which is July 11-12 on the Irish Course at Whistling Straits in Haven.
For the top boys and girls, the Wisconsin Men's and Women's State Amateur Championships will provide a competitive bridge between the beginning of July and a busy stretch at the end.
"Since we can't have (the) Lake Arrowhead (Invitational) at the beginning of the summer, we're really compressed in the back end of the schedule," said Ed Swab, who is in wrapping up his second season as junior golf coordinator working with Landenberger on the administration of junior golf programming that also features regional events in the Milwaukee, Madison and Wisconsin Dells areas for both beginning and advanced junior golfers.
To wit, the Sherri Steinhauer - a girls-only event at Blackhawk Country Club and Pleasant View Golf Club in the Madison area – will be played Aug. 2-3 opposite the Wisconsin State Golf Association Junior Boys Championship, which runs Aug. 3-5 at a site to be determined. The 33rd Lake Arrowhead Invitational will be Aug. 8-9 on the Pines and Lakes Courses, with the final round overlapping with the first day of practice for the WIAA girls golf season (forcing girls to delay reporting to their high school teams until that event is completed).
Derek Schnarr, the director of golf at Blackhawk CC in Madison whose club has hosted a leg of the Sherri Steinhauer since 2015, has added a similar event for boys named for his father – longtime Blackhawk CC head professional Mike Schnarr – to be played Aug. 30-31. Landenberger also hopes to initiate a two-day event for boys and girls in response to the success that the Hurricane Junior Golf Tour had hosting fall events in the state in 2020.
"Why don't we offer something like that?" Landenberger said. "We're tweaking a few things."
Landenberger said 2021 WPGA Junior events are likely to follow the same COVID-mandated protocols that allowed them to be the first competitive tournaments for junior golfers after the start of the pandemic in March. He said that will include social distancing at the driving range and on the practice green and possibly not having rakes in bunkers and leaving flagsticks in holes. It will certainly include tee times for most events, a change mandated by COVID-19 restrictions that replaced the traditional shotgun starts and improved the overall experience.
"We learned we can run better events with tee times," Landenberger said. "Pace of play was just better with tee times. That was what we learned the most this year. We can still have events. We can run our events like we normally would and abide by our COVID policies.
"But it shocked me that we could turn all 115 events over to tee times and it worked out really well."
Date

Tournaments

Status  
 
Registration  
Jun 11
Info

 

 

Opens 04/01/2021

Jun 13
Info

 

 

Opens 04/01/2021

Jun 14
Info

 

 

Opens 04/01/2021

Jun 14
Info

 

 

Opens 04/01/2021

Jun 15
Info

 

 

Opens 04/01/2021

Jun 15
Info

 

 

Opens 04/01/2021

Jun 16
Info

 

 

Opens 04/01/2021

Jun 17
Info

 

 

Opens 04/01/2021

Jun 18
Info

 

 

Opens 04/01/2021

Jun 18
Info

 

 

Opens 04/01/2021

Jun 20-21
Info
 

Opens 04/01/2021

Jun 21
Info

 

 

Opens 04/01/2021

Jun 21
Info

 

 

Opens 04/01/2021

Jun 22
Info

 

 

Opens 04/01/2021

Jun 23-24
Info
 

Opens 03/08/2021

Jun 25
Info

 

 

Opens 04/01/2021

Jun 25
Info

 

 

Opens 04/01/2021

Jun 28
Info

 

 

Opens 04/01/2021

Jun 28
Info

 

 

Opens 04/01/2021

Jun 28-29
Info
 

Opens 04/01/2021

Jun 29
Info

 

 

Opens 04/01/2021

Jun 30
Info

 

 

Opens 04/01/2021

Jun 30
Info

 

 

Opens 04/01/2021

Jul 1-2
Info

 

 
 
Jul 1
Info

 

 

Opens 04/01/2021

Jul 5
Info

 

 

Opens 04/01/2021

Jul 6
Info

 

 

Opens 04/01/2021

Jul 6
Info

 

 

Opens 04/01/2021

Jul 6
Info

 

 

Opens 04/01/2021

Jul 7-8
Info
 

Opens 04/01/2021

Jul 7
Info

 

 

Opens 04/01/2021

Jul 9
Info

 

 

Opens 04/01/2021

Jul 11-12
Info
 

Opens 04/01/2021

Jul 12
Info

 

 

Opens 04/01/2021

Jul 12
Info

 

 

Opens 04/01/2021

Jul 12
Info

 

 

Opens 04/01/2021

Jul 12
Info

 

 

Opens 04/01/2021

Jul 13
Info

 

 

Opens 04/01/2021

Jul 14
Info

 

 

Opens 04/01/2021

Jul 14
Info

 

 

Opens 04/01/2021

Jul 14
Info

 

 

Opens 04/01/2021

Jul 15
Info

 

 

Opens 04/01/2021

Jul 15
Info

 

 

Opens 04/01/2021

Jul 16
Info

 

 

Opens 04/01/2021

Jul 16
Info

 

 

Opens 04/01/2021

Jul 19
Info

 

 

Opens 04/01/2021

Jul 19
Info

 

 

Opens 04/19/2021

Jul 19
Info

 

 

Opens 04/01/2021

Jul 20
Info

 

 

Opens 04/01/2021

Jul 20
Info

 

 

Opens 04/01/2021

Jul 20
Info

 

 

Opens 04/01/2021

Jul 21
Info

 

 

Opens 04/01/2021

Jul 21
Info

 

 

Opens 04/01/2021

Jul 21
Info

 

 

Opens 04/01/2021

Jul 21
Info

 

 

Opens 04/01/2021

Jul 23
Info

 

 

Opens 04/01/2021

Jul 25
Info

 

 

Opens 04/01/2021

Jul 26
Info

 

 

Opens 04/01/2021

Jul 26
Info

 

 

Opens 04/01/2021

Jul 26
Info

 

 

Opens 04/01/2021

Jul 26
Info

 

 

Opens 04/01/2021

Jul 27
Info

 

 

Opens 04/01/2021

Jul 28
Info

 

 

Opens 04/01/2021

Jul 28
Info

 

 

Opens 04/01/2021

Jul 30
Info

 

 

Opens 04/01/2021

Aug 2
Info

 

 

Opens 04/01/2021

Aug 2
Info

 

 

Opens 04/01/2021

Aug 2-3
Info
 

Opens 04/01/2021

Aug 5
Info

 

 

Opens 04/01/2021

Aug 5
Info

 

 

Opens 04/01/2021

Aug 6
Info

 

 

Opens 04/01/2021

Aug 6
Info

 

 

Opens 04/01/2021

Aug 6
Info

 

 

Opens 06/17/2021

Aug 8-9
Info
 

Opens 04/26/2021

Aug 9
Info

 

 

Opens 06/14/2021

Aug 10
Info

 

 

Opens 04/01/2021

Aug 10
Info

 

 

Opens 03/08/2021

Aug 11
Info

 

 

Opens 04/01/2021

Aug 13
Info

 

 

Opens 04/01/2021

Aug 19
Info

 

 

Opens 04/01/2021

Aug 20
Info

 

 

Opens 04/01/2021

Aug 23
Info

 

 

Opens 04/01/2021

Aug 24
Info

 

 

Opens 06/16/2021

Aug 30-31
Info
 

Opens 04/01/2021

Oct 3
Info

 

 

Opens 04/01/2021