SAUKVILLE – Veteran tournament golfers will tell you that the first thing to go is putting, which is to say nerve. The 10-footers that once rammed into the back of the cup start veering offline or come up inches short. The 3-footers, once automatic, become an adventure, and not the good kind.
It wasn't like that with Gary Menzel. With Menzel, the first thing to go was the want-to, the desire, the hunger to prove himself against the best.
Sitting in a conference room at The Bog, his home course – though he rarely plays there or anywhere else these days – Menzel lets out a sigh when asked why he stopped playing competitive golf years ago.
"I've thought about this a lot," he says. "It wasn't in my heart anymore. I had a lot of heart when I played. Not much talent, trust me, but I had heart. I just loved the game and I loved the competition. That's what drove me. I lost so many tournaments and I won my share and I just got to the point where my heart wasn't there to play golf tournaments."
Menzel, 76, a lifelong Milwaukee resident, compiled an impressive amateur record after retiring from the Milwaukee Police Department in 1996. Over the next 15 years, he won more than 20 Wisconsin State Golf Association titles and, at age 57, the Ray Fischer Amateur Championship.
In fact, he played some of his best golf after turning 50, winning seven WSGA State Senior Amateur titles, six WSGA Senior Best-ball titles and four State Senior Open titles over a 13-year span, during which he finished runner-up in the 1999 U.S. Senior Amateur, reached the semifinals in 2000 and played in two U.S. Senior Opens.
And then, just like that, his run was over. Menzel had done everything he set out to do, with the exception of winning the State Amateur (more on that later). He learned the game on public courses, and it had taken him to places he never dreamed he'd see: Merion, Saucon Valley, Salem CC, Kinloch. Others may have had more talent, but few built up more sweat equity, until the time came when the reward no longer merited the effort.
"Like I said, my heart wasn't in it," Menzel says. "Tom Watson said, 'I will take a guy with 10 percent talent and 90 percent heart every time over the guy with 90 percent talent and 10 percent heart.' I adhered to that. I had heart. I never thought about winning. I just liked the competition."
Menzel was a star basketball player at Milwaukee Lutheran High School, leading the team in scoring his junior and senior seasons and earning all-America honors among the nation's Lutheran high schools. He went to UW-La Crosse (then La Crosse State University) to play hoops, but academics got in the way.
"I lasted one year," he says with a chuckle. "They said, 'Go home.' College just wasn't for me."
Menzel joined the MPD – "I was sworn in on 6-6-66" – and was on the force during the 1967 summer riots. "We handled it altogether different under Mayor Maier than it is being handled today," he says. "If you were out after curfew, you were arrested."
Around that time, he started getting serious about golf, playing mostly with buddies at Brown Deer Park. One day, the starter called him over and said, "See that kid there? That's Mark Bemowski. Watch that kid. That kid can play."
"He was here and I was here, trust me," Menzel says, holding one hand above his head and the other at chest level. "So, I got to know him a little bit and we started playing together."
Thus began a 50-year yin-and-yang friendship in which Bemowski was Menzel's inspiration, foil, sometimes-partner and sometimes-rival. Bemowski had by far the better record as a six-time State Amateur champion and the 2004 U.S. Senior Amateur champion, but Menzel more than held his own and took down Bemowski plenty of times, whether it was in their fiercely competitive Saturday morning money game at Johnson Park in Racine or in state-level tournaments.
"I think Mark sometimes would look down on me, like, 'How did he beat me? This guy?'" Menzel says. "That's the way I felt. A lot of times I took it the wrong way."
They had a falling out over "stupid stuff," but after Bemowski was diagnosed with pancreatic cancer in December 2016, they patched up their friendship and were close until Bemowski died 21 months later. Menzel teed it up in the 2017 WSGA Senior Best-ball only because Bemowski, weak from chemo and a shell of himself as a golfer, entered as the defending champion with partner Paul Zarek.
Menzel has not played in a tournament since.
"I saw Mark one day before he passed away," he says, eyes glistening. "Randy Warobick and myself and our wives went to see him. We talked and joked. I'm going to cry now, thinking about it. When we walked out, I said to Randy, 'That's the last time we're going to see him.' He died the next day."
Menzel's first significant victory came in 1970, in the long-defunct Milwaukee Journal stroke-play tournament, but a quarter-century would pass before he would win another amateur title. In '71, he led the State Amateur over George Madsen with two holes to go, but three-putted the 17th at Milwaukee Country Club and then heeled his drive into a buried lie under the lip of a fairway bunker on 18.
"Who comes running down the fairway? Mark Bemowski," Menzel says. "He says, 'George bogeyed (the 18th hole).' I was ahead, apparently. He said, 'Just get it out.' I chop it out in the fairway and now I've got a 6- or 7-iron into the green. I chunked that shot and it went about 40 yards and now I'm really going. I made a 7 on the hole and lost (to Madsen) by two.
"I didn't realize how big a deal that really was, to win a State Am."
With two young boys at home and a demanding job with the MPD, Menzel decided to turn pro in 1972 because he wouldn't be able to play a summer amateur schedule and figured he might as well try to make a little money in the few tournaments he would enter. For the next two decades, he played in the State Open and not much else.
Eventually, he got the itch to compete again and applied for amateur reinstatement in 1991. After retiring from the MPD in 1996, he had time to work on his game and spent hour upon hour practicing his chipping and putting. It paid off when he won the WSGA Governor's Cup that summer.
"My dad was still alive and it was up at Nakoma (Golf Club in Madison)," Menzel says. "That was Andy North's (home) course. I couldn't believe I won. I'm telling you. I called my dad and I said, 'I just won this tournament. I can't believe it.' Boy, I'll tell you, it felt good to know that I could win."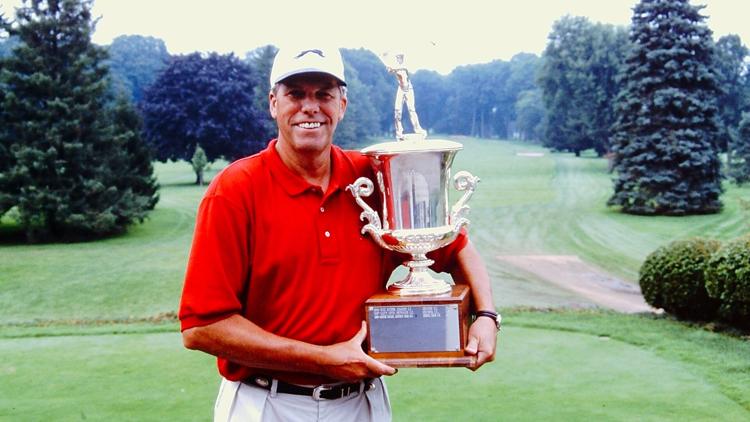 By 1999, Menzel was a force. He won the first of his WSGA Senior Amateur titles and the first of his Senior Best-ball titles that year and made it to the championship match of the U.S. Senior Amateur before losing, 3 and 2, to Bill Ploeger at Portland (Ore.) Golf Club.
"The night before the final, Mark calls me," Menzel says. "His first words: 'What the hell is going on up there?' I said, 'Mark, I don't know, I kept winning matches and I'm in the final.' He said, 'Don't get ahead of yourself, do this and that.' My final words to him, and I'll never forget it, I said, 'Mark, when you turn 55, you'll win one of these. You are so much better than these guys.'"
Menzel reached the U.S. Senior Amateur semifinals in 2000 and was exempt again in 2001. He qualified for match play and won his first match at Norwood Hills Country Club in St. Louis. The second-round matches were played on Sept. 11. The memory is seared in Menzel's mind.
"I'm 4-up after 11 holes on this guy," he says. "A USGA official shows up and motions us over. He says, 'Something just happened in the country. Do you guys want to know?' I said, 'Yeah, I want to know.' He said, 'The twin towers were just hit.' I said, 'What the hell is going on here?' I lost the match in extra holes. We got in the car and I drove straight home.
"I think that took something out of me. I really think it did."
It would be 2011 before Menzel would again play in the U.S. Senior Amateur. During the first round of stroke-play qualifying he hit a drive on the 10th hole and felt stabbing pain shoot down his left leg. He hobbled through the rest of the round but withdrew the next day, after playing only a few holes. He'd torn the iliotibial band, a long piece of connective tissue that runs down the outer thigh.
It turned out to be a blessing in disguise. Back home, he saw his doctor, who ordered lab work. The blood test revealed a high PSA score. Prostate cancer.
"I elected surgery and had it removed in 2012," Menzel says. "The day after the Masters."
That summer, he tried to play in the State Amateur at The Club at Strawberry Creek but made it through just one round.
"By about the 15th hole, I was done," he says. "I hit a wall. I was cramping, everything. This was too soon (after surgery). I went home, called down there the next morning and said, 'I have to withdraw.' That was it for the State Am. It was the last one I played."
Menzel was inducted into the Wisconsin Golf Hall of Fame in 2005, joining Bemowski, who went in 14 years earlier.
These days, he plays fewer than 20 rounds a year and has a 4.2 handicap index at The Bog. He spends more time there helping to mentor college golfers than he does working on his own game.
"I should probably be an 8 or 9 handicap," he says. "I don't play. I don't turn any (scores) in because I don't play."
Tellingly, though, after a two-hour interview, and with the sun low in the October sky, Menzel could be seen walking toward the practice green at The Bog, putter in hand.