What could be better than playing a round of golf at the famed Augusta National Golf Club? For Tony Bennett, it will be playing it with his father, Dick.
Tony Bennett, the Wisconsin native and coach of the NCAA Division I champion Virginia basketball team, will have that experience Wednesday and Thursday at the home of The Masters Tournament. Tony and Dick will join a Virginia backer who is a member at Augusta National, and Barry Parkhill, associate athletic director for development with the Virginia Athletics Foundation.
If the plan to have this take place was supposed to be done under a shroud of secrecy, the probability of that pretty much came to an end shortly after Virginia won the championship April 8.
As CBS announcer Jim Nantz was wrapping up a postgame interview with Tony Bennett on a makeshift stage at U.S. Bank Stadium in Minneapolis, the Cavaliers coach let slip a little wager he had with his father when Nantz asked about Dick Bennett being in attendance for the title game. (Nervous about being in the stands for games his son coaches, Dick Bennett had watched the semifinal game in his hotel room in Minneapolis.)
With thousands listening in the stadium and hundreds of thousands more watching on CBS, Bennett smoothly turned the table on Nantz, the voice of the Masters Tournament.
"My dad said if I got to the Final Four he'd come and play Augusta with me," Tony said. "So maybe you can get us on that course, all right?"
"I'll work on that one," Nantz said with a chuckle.
As it turned out, Tony Bennett already had a connection to get his father on Augusta National. That the son remembered a promise from his father during the celebration of a national championship perhaps showed how important it is to Tony Bennett for his father to have that Augusta experience.
"It is interesting, because he had played at Augusta three years ago," Dick, the former University of Wisconsin coach who celebrated his 76th birthday on April 20, said during a recent telephone conversation. "He played with two guys who were former basketball players at Virginia (Parkhill and Wally Walker, who played in the 1970s), two of their greatest players, in fact (both have had their uniform numbers retired), from a long ago past, and a Virginia backer who is a member there.
"Tony had asked me, before that, if I wanted to play there. And I said, 'No, Tony, you don't need me to play at Augusta.' He said, 'Dad, it would be great, and this gentleman (the member) would love to have you.' And I told him, at that time, 'Tony, the only way I'd play there, let's make a deal; if you ever go to the Final Four, and you're invited again, I'll play.'
"We didn't talk about it, but that gentleman got ahold of Tony right after the championship game and said, OK, I'm going to give you some dates, and you're going to get your dad there, right? So Tony called me immediately and said, 'Dad, how about the beginning of May? What do you have on your calendar?' My calendar is relatively empty these days anyhow.
"I'm not crazy about traveling, but this is something I know Tony looked forward to, and once I get there, I will, too. So he said: 'We're all set up. You'll join me here at home and then we'll go down together.'"
Not that Nantz didn't offer to lend a hand, according to Dick Bennett.
"The business with Jim (Nantz), actually, Jim spoke to me afterward and said, 'You know, if you want to play there, I will get it done somehow,'" Dick Bennett said. "And I said, 'Don't worry about that.' I wasn't even thinking of this other possibility. I'm happy to play where I am (in central Wisconsin). It was left at that.
"Then it was that week, after the final game, that he (Tony) called and said it would be the first part of May; check your schedule, and we'll play. So that's where it is."
That's where it is, all right.
Of course, the group will not simply show up, warm up, play and be on its way. The privilege of playing at Augusta National with a member does not stop when the round is finished. It is highly likely the group will dine and be overnight guests on the hallowed grounds of the club founded in 1933 by Bobby Jones and Clifford Roberts.
"On one of the days, we're going to play the par-3 course, and then have dinner and stay, and then the next morning we're going to play the 18 holes," said Dick, who — except for three season at Washington State — spent his entire coaching career in Wisconsin, beginning in 1965 as a freshman coach at West Bend High School and including a Final Four appearance with the Badgers in 2000 (with Tony as one of his managers).
"Tony doesn't play golf much," Dick said. "I think that he's as excited as can be to get back there, because I know how excited he was the first time. I'm excited just to have the opportunity. Quite frankly, I'm just happy when I can play. I really didn't start playing to any extent until after I retired. Before that, it was always one of those fundraisers or something. But now, I enjoy it."
Then again, Augusta National will be a golfing experience unlike any the elder Bennett has ever experienced. And he knows it.
"This is one time I can say I'm honestly in over my head," Dick said. "I've never been there, so I'm anxious to see it.
"I'm really excited to see the greens, because that's what Tony told me. 'You'll be amazed, even when we play, how quick and slippery they'll be.'"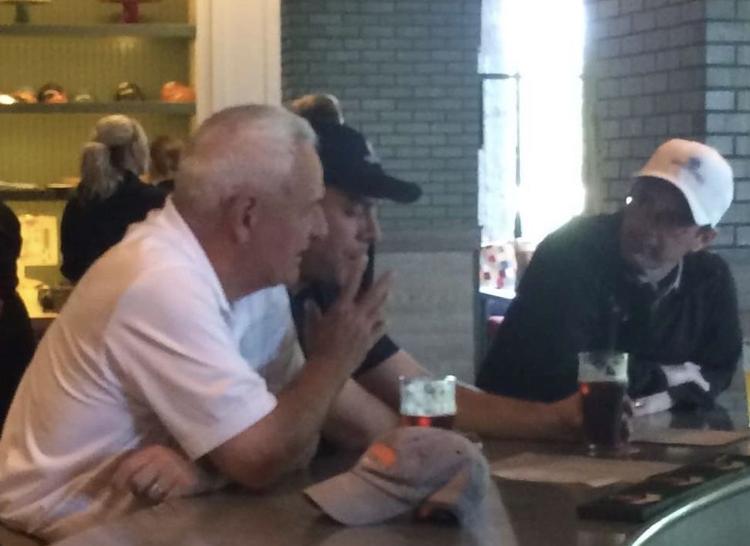 Having an Augusta National caddie will be a valuable resource in navigating a course where, just two weeks ago, Tiger Woods won his fifth green jacket.
"That's what Tony said," said Dick, who carries an 11.8 handicap with the Wisconsin State Golf Association. "Listen to your caddie."
The coach in Dick Bennett came out when asked if there was a particular hole he looked forward to playing, or one that he was worried about. He would not choose one, showing a great reverence for every hole on one of golf's most storied layouts.
"We'll obviously play from tees that are reasonable," Dick said. "I know Barry is a big hitter. Tony is very consistent even though he plays maybe once or twice a summer. He's just a good athlete. He plays right-handed. He does everything left-handed and left-footed, but he plays golf right-handed.
"Me, I'm just, you never know what I'm going to do."
Then again, the elder Bennett knows exactly what he is going to do: Have the experience of a lifetime ... with his son. And Tony Bennett feels the same way.
"It will be a great father-son moment to play Augusta National with my father," Tony said through a representative of the Virginia media relations department.