REPORT CARD
How it started
The gates to Whistling Straits opened at 6 a.m. Friday and by 6:11 the grandstands behind the first tee were full. With temperatures still in the upper 40s and the sun just beginning to rise above Lake Michigan, spectators began to fan out along the first fairway in anticipation of the first foursomes match of the 43rd Ryder Cup — and Wisconsin's first — scheduled to tee off at 7:05 a.m.
That was the good news. The bad news? If you didn't exit I-43 by 6 a.m., you were lucky to be on the grounds by the time Sergio Garcia struck the first drive for the Europeans to get what became a raucous party started.
How it's going
Team USA enjoyed its most dominant opening day in more than 40 years, winning both sessions by 3-1 and 2-0-2 margins, respectively, to take a 6-2 lead on the Europeans with 20 points still at stake (eight more Saturday in foursomes and four-ball sessions and 12 Sunday when singles matches will wrap up the weekend).
Not since 1977, when the Americans jumped out to a 7½-2½ lead after Thursday foursome and Friday four-ball matches against Great Britain and Ireland, has the start of a Ryder Cup gone so well for Team USA. That year, Hale Irwin, Lanny Watkins,  Tom Watson and Dave Stockton Sr. went 2-0 in those matches on their way to a 12½-7½ win after Saturday's singles matches.
This time, U.S. captain Steve Stricker played all 12 golfers on his team over the course of the day with Dustin Johnson and Xander Schauffele going 2-0 and Patrick Cantlay going 1-0-1. It was Johnson's first 2-0 day in five Ryder Cup starts and it came on the same day Europe's Rory McIlroy, who brought an 11-9-4 record into his sixth Ryder Cup, went 0-2 for the first time. 
American player of the day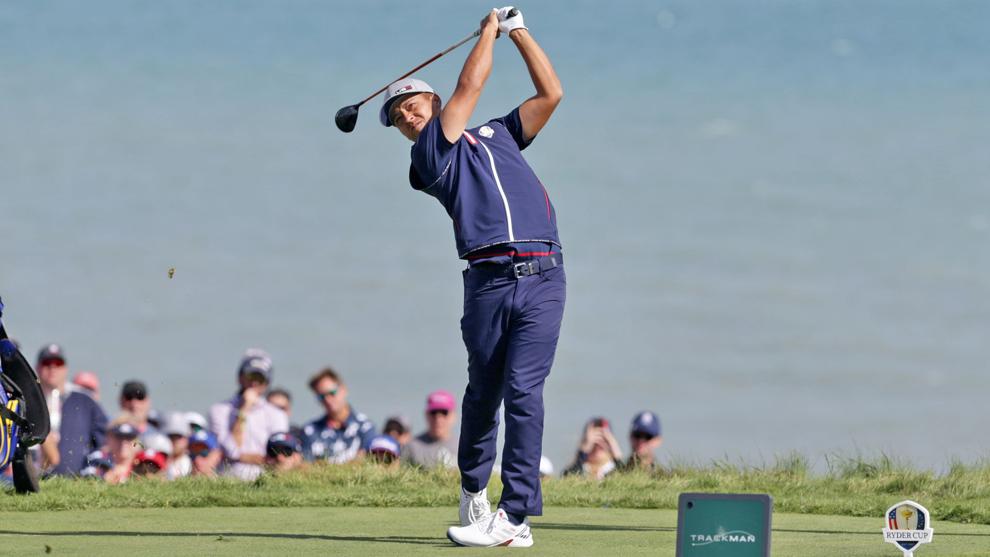 Xander Schauffele. The Olympic gold medalist won both of his matches with different partners to validate Stricker's decision to go with six rookies on his 12-man team in hopes of reversing Team USA's Ryder Cup fortunes – having dropped four of the last five, five of the last seven and nine of the last 12 – and to change up pairings from the morning to the afternoon. In the morning foursomes session, Schauffele teamed with good friend and fellow rookie Cantlay to birdie the first five holes in the alternate-shot format and bury European stalwarts McIlroy and Ian Poulter, 5 and 3. In the afternoon, he watched Johnson and his putter do much of the heavy lifting during the middle of their four-ball match against Bernd Wiesberger and Paul Casey to regain the 3-up lead they'd built earlier in the session before Schauffele made a 5-foot par putt on No. 17 to close out their 2 and 1 victory. 
European player of the day
Jon Rahm. The world's No. 1-ranked golfer accounted for 75 percent of Team Europe's scoring on opening day. He teamed with fellow Spaniard Garcia in the opening match of the day to birdie six holes in the alternate-shot format and earn a 3-and-1 victory over Justin Thomas and Jordan Spieth. He followed that up by pairing with England's Tyrrell Hatton to halve their match with Bryson DeChambeau and Scottie Scheffler in the afternoon four-ball competition.
Shot of the day
Jordan Spieth. It probably won't go down as the greatest shot in Ryder Cup history, but the three-time major champion's magic on a greenside recovery shot might go down as one of the most deftly executed in recent memory.
With the ball some 10 feet below the putting surface, buried in thick grass in the side of the 17th green facing Lake Michigan, Spieth pulled his 52-degree wedge, took a mighty swing and lost his balance, back-pedaling toward the water while the golf ball somehow found the green, coming to rest about six feet from the cup only to have Thomas — the guy responsible for putting Spieth in the awkward situation in the alternate-shot format — miss the putt.
"Yeah, it's kind of one of those shots that you practice as a kid for fun, and you don't ultimately want to have it," Spieth said. "And the chances of it going there, you could roll a thousand balls off the green, and it's not going to stay where it was. I hit like a 52-degree because a 60 might have gone over the back of my head, and you know, just tried to flick it right underneath and hit it as hard as I could, as high as I could.
"It ended up right on a crown (of the green) where it was a tough putt." 
Even so, Spieth's efforts drew a loud roar from the gallery around the green on No. 17, not to mention humorous reactions on the NBC telecast and from various media outlets.
NBC's Mike Turico described what he saw on the shot this way: "One of the (great) shots of this or any Ryder Cup — 24 steps backwards, Jordan Spieth takes, he never sees it. He's staring at Ludington, Mich., and we're staring at one of the great shots we've ever seen."
Wisconsin.Golf contributor Gary Van Sickle, writing on Morning Read of  Spieth seemingly careening toward Lake Michigan: "We almost had a new candy — Spieth's Pieces."  
Drive of the day
Bryson DeChambeau. Who else? Golf's gift to tape measures vowed earlier in the week to take an aggressive line on the par-5, 581-yard fifth hole if the wind direction were to make it worth his while. Well, playing significantly downwind, it was worth his while.
Like 417 yards worth his while! (He ended up eagling the hole.)
"Well, I knew if it was a little downwind, I could take a unique line, and I luckily was able to have that wind (Friday)," DeChambeau said. "It was 20-plus, and I said to myself, all right, I have to aim at the green, so I did. So I just aimed at the green and bombs away."
Stat of the day
Spain's Sergio Garcia, already the all-time leading scorer in Ryder Cup history before he got to Whistling Straits, added to that mark by winning his foursomes match with Jon Rahm and bringing his career total to 26½ points. In the process, he tied Nick Faldo for most overall matches won in Ryder Cup history (23).
Photo of the day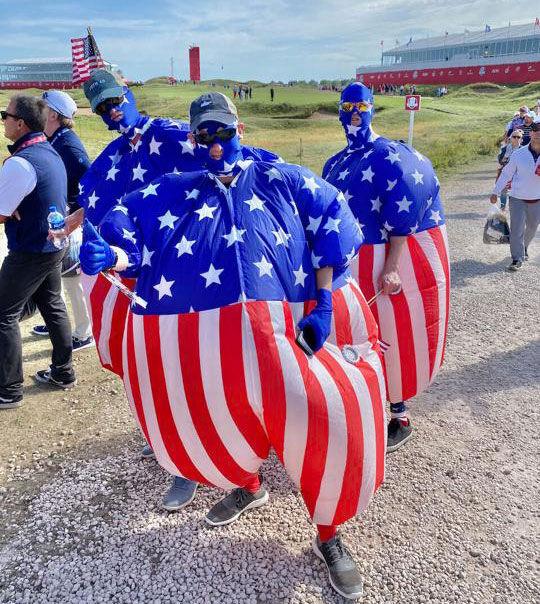 Quote of the day
American Collin Morikawa, on whether he felt nervous on his first tee shot in his first Ryder Cup appearance Friday morning: "You know, I'll be honest, I was actually more nervous at the Walker Cup, which is crazy. Obviously, I've been able to play in a few big events so far the past couple years, but I just loved it. It was so fun, every part of it, obviously tugged it a little bit, wish I hit the fairway but it worked out. I guess I'm used to this, little 50-yard pitch shot uphill. I loved it and you are never going to get one again, but I'm going to remember that one forever."
Herding the sheep
It was a star-studded gallery for Day 1 of the matches. Former NBA star Michael Jordan and former NFL star Ahmad Rashad were parked near one green watching the action while current NBA sharpshooter Seth Curry was also in the house. ... Spanish pairings are 24-5 in Ryder Cup play since 1985 with the Rahm/Garcia victory in foursomes Friday. They will lead things off for the Europeans again Saturday.