REPORT CARD
How it started
Bright sunshine greeted golfers at 7 a.m. on the first tee at Whistling Straits in Haven as Day 2 of the 43rd Ryder Cup got underway amid chilly conditions with temperatures still in the high 40s on what felt like a football Saturday.
Team USA wasted no time picking up where it left off Friday, when it build a 6-2 lead and took advantage of a historic home-crowd advantage with COVID-19 travel restrictions limiting the number of European fans in attendance.
The American duos of Brooks Koepka and Daniel Berger and Dustin Johnson and Collin Morikawa combined to make five birdies over the first three holes, with both teams winning each of them to take 3-up leads. They would split those matches, but the dye had been cast on another big day for the U.S.
"Message to the guys was just to come out fresh (Saturday), pretend that (Friday) never happened and let's put our foot down," U.S. captain Steve Stricker said. "And do the same like we did (Friday)."
How it's going
Blame the late night Friday and early wake-up call Saturday, but the first tee experience on Day 2 of the Ryder Cup had a little more energy to it in the afternoon after Team USA had stretched its lead to 9-3 in the morning.
Justin Thomas and Daniel Berger, who sat out the afternoon session, whipped the crowd into a frenzy when they each scooped a full can of beer and chugged it on the first tee. That prompted fans to plead with vice captains Fred Couples and Phil Mickelson to do the same only to be rebuffed. 
"I was in trying to grab some lunch, but you know, to be quite frank with you, it looks like they are having a good time and enjoying the experience," Stricker said after the session. "We get ridiculed for being too tight and all that, and then we do something like that where it looks like our team is together and having a good time and trying to get with the crowd. I thought it was great. It's kind of a Milwaukee Bucks thing where, if I'm not mistaken, I've seen 'Chug a Beer' on the JumboTron at the Milwaukee Bucks games, and it's something that's kind of a Wisconsin tradition, I guess, whether it's good or bad. It just looks like they are having a good time."
Ultimately, though, what felt a little like golf's version of Summerfest perhaps was a premature celebration. Europe jumped out to leads in each of the first three matches, leading start-to-finish in the first two and dropping the third.
American player of the day
Dustin Johnson. At 37, the oldest player on Team USA will be the only one to play in all five sessions for the Americans. His partnership with Ryder Cup rookie Collin Morikawa, who led the U.S. points standings for these matches, was further cemented Saturday with a 2 and 1 victory over Paul Casey and Tyrell Hatton in foursomes and a 4 and 3 victory over veterans Ian Poulter and Rory McIlroy in four-ball, bringing their record to 3-0 for the week and Johnson's to 4-0.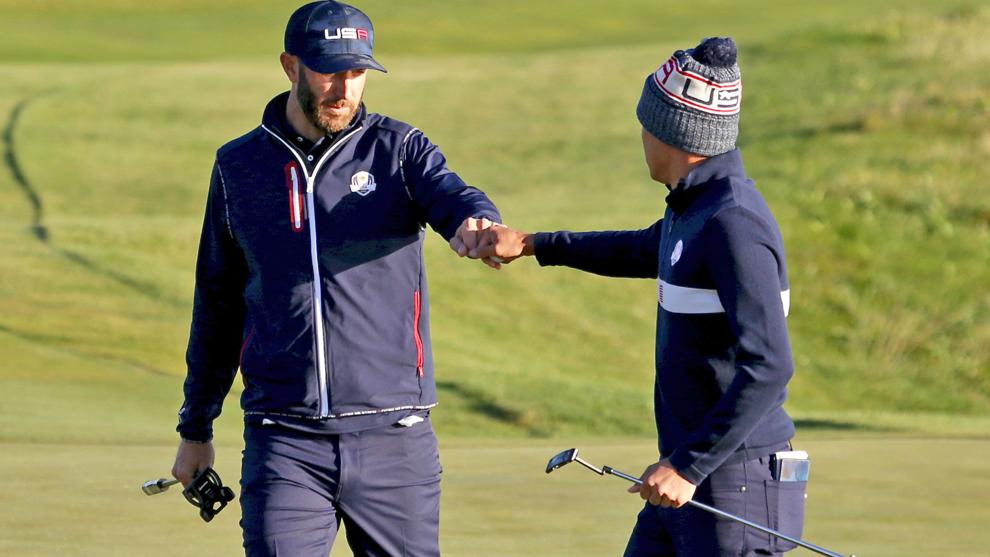 A victory over Paul Casey in Sunday's singles matches would make Johnson the first American to go unbeaten in five matches since Hunter Mahan went 2-0-3 in 2008. He would become the fourth American to go 5-0 and the first since Larry Nelson in 1979.
"Generally I wasn't nearly the oldest person on the team so we always had a lot of veterans and leadership," Johnson said, when asked to compare his role on his fifth Ryder Cup team. "This year was definitely different, but you know, like I said, the guys, we've got a young team, but all of them are really good players, and they all want to be here and they want to win. So it's a lot of fun to be a part of."
European player of the day
Jon Rahm. The world's No. 1-ranked player has been a workhorse for Team Europe, contributing to 3½ of his team's five points and joining rookie Viktor Hovland as the only Europeans to play in all five matches. His pairing with fellow Spaniard Sergio Garcia conjured up memories of the partnership of Spain's two other Ryder Cup legends — Seve Ballesteros and Jose Maria Olazabal, who paired together a Ryder Cup-record 15 times — and produced two more victories over Brooks Koepka and Berger in foursomes (3 and 1) and Koepka and Jordan Spieth in four-ball (2 and 1). 
"So proud to have a partner like this one," Garcia said. "I mean, this afternoon he was unbelievable. I was No. 1 spectator watching a great guy do great thing after great thing after great thing. It was awesome to be a part of. I was so happy. I was just trying to keep him up and make sure he kept heading in the right direction. You know, it was great to see."
Shot of the day
Paul Casey. The Englishman had a blind approach shot on the 396-yard, 14th hole so he didn't even see the result of the shot that earned him this honor. He holed a wedge from 108 yards for an eagle-2 on the hole, conjuring up memories of his hole-in-one on the 14th hole at the K Club in Ireland at the 2006 Ryder Cup. 
"Totally blind for me down behind the bunker in the first cut in the semi (rough), and it was a good number, but I hit a lovely looking shot, felt good," Casey said. "As the crowd reacted, I actually – and cheered – I actually thought it rolled off the back edge. That was kind of the way our luck was going a little bit. But no, in it went. Honestly, it was a great reception, and the crowd were fantastic. I gave the ball away to a kid in the crowd. There's always sort of Ryder Cup moments and sometimes they are not the hole-in-one or winning putts, and I've obviously had a hole-in-one, and that's obviously another cool Ryder Cup moment I'll remember forever."
Stat of the day
If you are wondering the extent to which Rory McIlroy has struggled this week, here is why he was excluded from Saturday morning's foursome session only to return in the afternoon to be handed a 4 and 3 thumping with fellow veteran Ian Poulter by Johnson and Morikawa in the most lopsided outcome of the day: In the 30 holes of four-ball that McIlroy played this week, his only score in red figures was the eagle he made on No. 5 in Friday's session, a 4 and 3 loss to Tony Finau and Harris English.
Photo of the day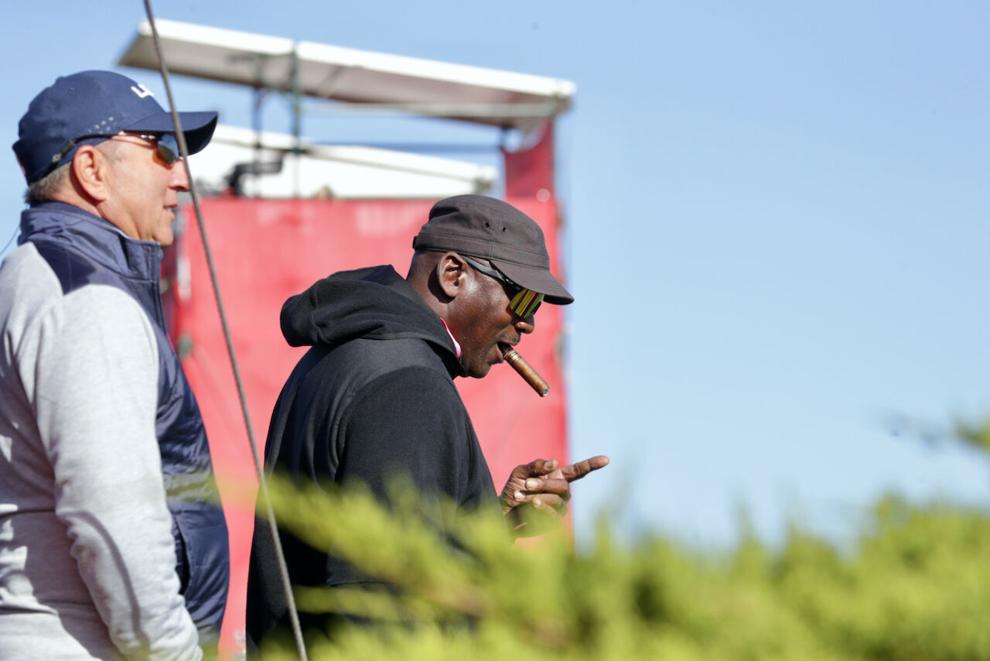 Quote of the day
Reporters love to test Ryder Cup captains at the end of a long day and that was the case Saturday when someone asked Stricker: "If the spectrum of possible thought right now is on one end, 11-5, we've done it, nobody's come back from that much, it's over, and on the other side it's I'm dreaming of all the different possible ways we can lose, where are you?"
Stricker paused a second and replied: "Yeah, I don't know, my brain is tired, I know that. It's been a long couple years and a long month, really, this last month. But I'm still super excited and super encouraged and fired up for my guys, and my focus is straightaway on (Sunday). ... I'm thinking about, you know, just taking each shot, each match at a time, and try and enjoy the day again. It's going to be a long day again. I'm really not trying to think about results yet."
Photos: Saturday at the Ryder Cup at Whistling Straits