HOW IT STARTED
What will go down as one of the most eventful sports days in Wisconsin in recent memory — the Milwaukee Brewers clinched the NL Central and the Green Bay Packers won a prime-time game with a field goal as time expired — began amid great energy around the first tee at 11:04 a.m. Sunday at Whistling Straits in Haven.
The 43rd Ryder Cup was Team USA's for the taking and its boisterous fans,  dressed in various combinations of red, white and blue, came ready to roar. 
What's a competition of this magnitude without a stirring rendition of the "Star-Spangled Banner?" Absent a national recording artist to belt out the tune, fans gathered around the first tee did the honors and the decibel level never really started to taper off until eight or nine groups into the lineup.
At one point, before Europe's Rory McIlroy struck the first tee shot of Sunday's singles matches, the crowd chanted for vice captain Phil Mickelson to "SHOW THOSE CALVES!" U.S. captain Steve Stricker tried to help Mickelson roll up the cuffs of his pants only to discover the calves — on this day — were protected from view by red and white striped socks so fitting for the occasion.
HOW IT'S GOING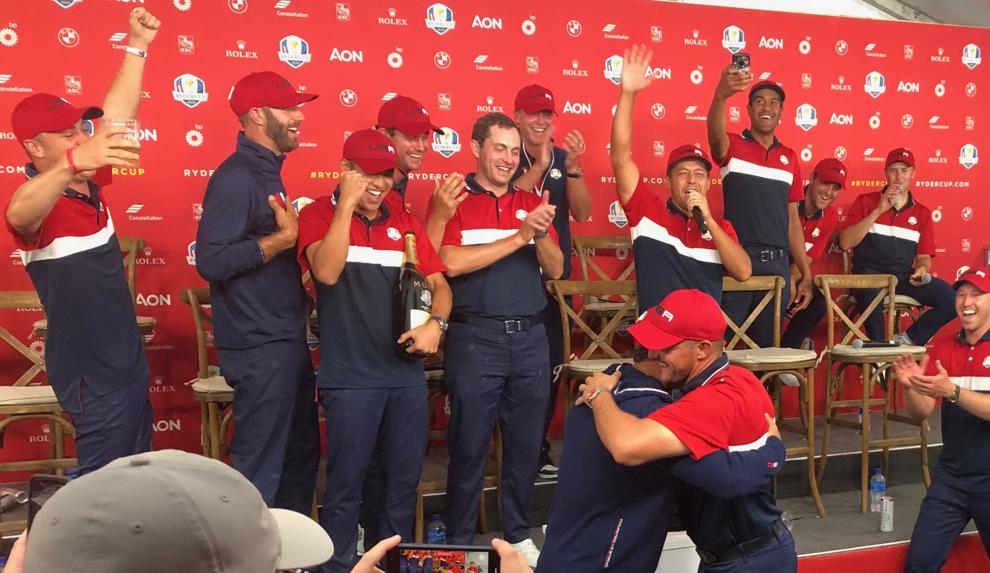 Had he been told that media obligations don't go away when one wins the Ryder Cup, rookie Xander Schauffele might not have had what he was drinking early Sunday evening at Whistling Straits. Or him. Or him.
Or any of the, um, slightly tipsy members of Team USA.
The champagne flowed and caddies made beer runs to the clubhouse while Team Europe met the media ahead of the Americans. When it was time for Team USA to start fielding questions, it didn't take long for the Q&A with the newly minted Ryder Cup champions to become one for the ages (and maybe not all ages).
"Just in case you didn't know, the Bears lost (Sunday)," one reporter informed Stricker, who drew a chorus of boos at the opening ceremony Thursday when he admitted publicly to his allegiances being with the Bears, not Packers.
"Why did you have to say that?" Tony Finau asked.
"Next time, let's not tell all the Green Bay fans that you're a Bears fan," Dustin Johnson suggested to his captain.
"We're not talking about L's; we're only talking about W's today," Finau said.
"That's just messed up," Collin Morikawa said.
Oh, it was just getting "messed up," Collin.
"There's been a few bromances going on this week, D.J. and Collin ...," one reporter asked before Johnson cut him off.
"Yeah," Johnson said, grinning, "we got a bromance. It's OK."
The reporter compared their bromance to that of the European duo of Tommy Fleetwood and Francesco Molinari, who went 4-0 as a duo at the 2018 Ryder Cup and subsequently recorded a video showing them in bed together.
"Will you go to bed together with the trophy," the reporter asked.
"If you want me to, absolutely," Johnson said. "I ain't scared."
There was clearly love in the air as the Americans enjoyed just their third victory in the last eight meetings between the two sides, so much so that Justin Thomas offered this suggestion before everybody left the room.
"I think before this is all over we should have Brooks and Bryson hug in the middle of the room; to prove how much of a team we are," Thomas said before breaking out into a chorus of "Why Can't We Be Friends" while the two golfers, at odds with each other most of the year, hugged in front of reporters.
REPORT CARD
American player of the week
Dustin Johnson. The 37-year-old punctuated his fifth Ryder Cup start by becoming the first American golfer in more than 40 years to go 5-0 in a single Ryder Cup by tying the last two holes of his match with Paul Casey to pull out a 1-up victory. Johnson is the fourth U.S. golfer to win matches in all five sessions of a Ryder Cup and the first since Larry Nelson, who went 5-0 in 1979 and then won his first four matches in 1981. They join Arnold Palmer and Gardner Dickinson (1967) as the only Americans to turn the feat while Italy's Francesco Molinari (2018) in the only European golfer to go 5-for-5
Afterward, his teammates made sure reporters knew about Johnson's accomplishment.
"That's 5-0, ladies and gentleman," Collin Morikawa, his partner in three of the four team sessions, said. "Fivvvvvve-and-ohhhh."
Tony Finau added: "5-0 speaking."
Johnson replied: "That's all right. I had good partners, though."
American player of the day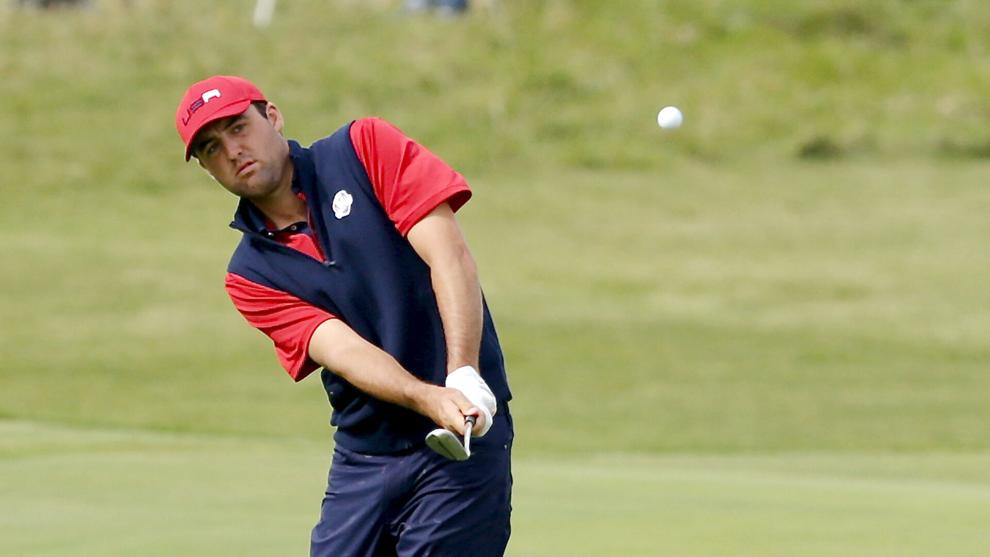 Scottie Scheffler. After pairing successfully with Bryson DeChambeau in going 1-0-1 in four-ball competition the first two days of this Ryder Cup, Scheffler – the lowest-ranked golfer on the U.S. Ryder Cup points standings named a captain's pick by Stricker – ventured out on his own Sunday and throttled world No. 1 Jon Rahm 4 and 3 in the third match out in singles.
It marked the second straight Ryder Cup that the world's top-ranked player lost in singles. Johnson fell 2-up to Ian Poulter (No. 34) in 2018 at Le Golf National in France. Scheffler, ranked No. 21 in the world, shocked Rahm from the get-go, winning the first four holes, only the third time since 1985 that a Ryder Cup singles match has started with one player winning the first three holes.
"It was amazing to see that," Johnson said of Scheffler (2-0-1), the first American to have a winning record at a Ryder Cup before winning an official event on the PGA Tour. "I told him before he went out, 'Go put it to him.' Jon is one of the leaders and he is world No. 1. He played unbelievable this week. One thing that could really push the U.S. team was Scottie going out and beating their best player."
European player of the week
Jon Rahm. Unbeatable through the first two days of competition, Rahm finished 3-1-1 after his loss to Scheffler. But that didn't diminish his importance as the cornerstone to a European team that leaned on him and fellow Spaniard Sergio Garcia for points.
"To be able to win those matches with them the way we did it, that is undoubtedly the most fun I've had on a golf course by far," Rahm said of his partnership with Garcia, conjuring up memories of the work countrymen Seve Ballesteros and Jose Maria Olazabal did during the height of their Ryder Cup careers, partnering 15 times.
"I'm hoping I can keep playing good enough to be in this team again. I hope we can repeat it because that is something I want to do again. It meant that much to me. I grew up watching him play, watching Seve and Ollie, and that legacy is important. They had a great record. I think it was 11-2-2. We started pretty well so far. Not that we are going to beat it, but I hope that we have a chance to keep adding to that."
European player of the day
Ian Poulter. A tough weekend for one of Europe's top threats in these matches ended with Poulter bouncing back from a loss in both foursomes (Friday) and four-ball (Saturday) to preserve his unbeaten record in singles play, topping Harris English 3 and 2.
But he was clearly stung by the Europeans' decisive loss as a team.
"I've only lost one other one, and it's dismal," Poulter said. "You know, watching the guys out on 18 enjoying themselves is something that you come into this week with visions of that happening for you as a team. We've got a great team this week, and we were outplayed. Every session was difficult. They did their job, and they made it painful for us today, and this one's going to hurt for a bit."
Photo of the day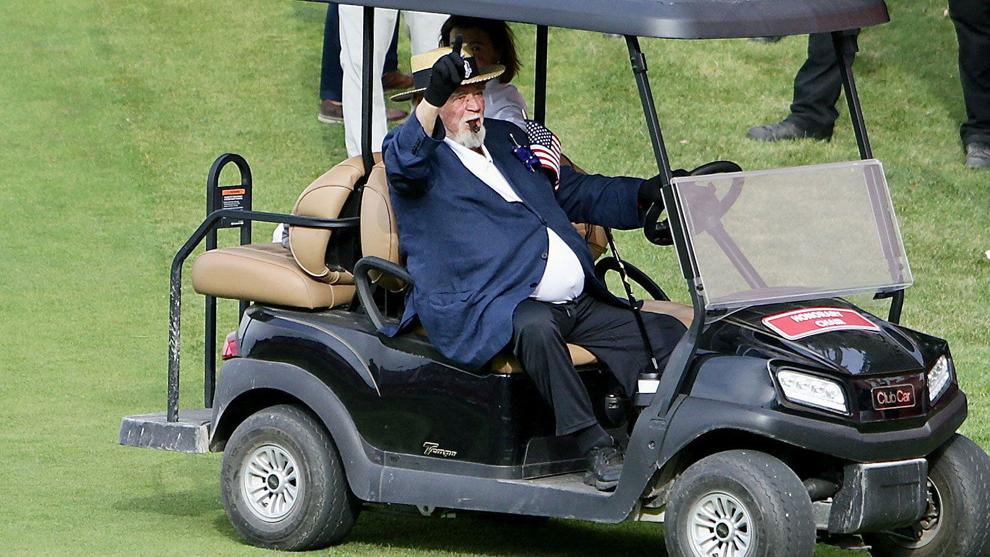 Quote of the day
An emotional Rory McIlroy fought back tears Sunday after winning the opening match of his singles 3 and 2 over American Xander Schauffele, describing in a post-round interview with Golf Channel just how much these matches and his teammates mean to him: "I'm really proud to be part of this team, to be a teammate of all these guys, the captain, the vice-captains. We've had a great time. It looks like it's not going to pan out the way we wanted on the golf course and I've been extremely disappointed I have contributed more to the team, ... but it's been a tough week. And the more and more I play in this event I realize it's the best event in golf, bar none."
A few minutes earlier, McIlroy told Sky Sports: "It is by far the best experience in golf and I hope little boys and girls watching this today aspire to play in this event or the Solheim Cup because there's nothing better than being a part of a team, especially the bond that we have in Europe."
Herding the sheep
Spain's Sergio Garcia and American Dustin Johnson were named winners of the inaugural Nicklaus-Jacklin Award presented by AON, given to one golfer from each side who best embodies the spirit of the famous 1969 concession when Jack Nicklaus conceded a 2-foot putt to Tony Jacklin for a halved match that resulted in the first tie in Ryder Cup history. ... Bob and Carolyn Stricker watched son Steve captain Team USA to victory from their home in Edgerton. "We have been couch potatoes all weekend," Carolyn Stricker wrote in a Twitter message to Wisconsin.Golf. "So exciting!!"