Phil Mickelson will not be "hitting bombs" at Whistling Straits later this month.
The 2021 PGA Championship winner was named Wednesday as a vice captain for the upcoming Ryder Cup, meaning his record run of 12 consecutive appearances for Team USA has come to an end. Madison's Steve Stricker, the U.S. Ryder Cup team captain announced that Mickelson, 51, and Fred Couples will join Zach Johnson, Jim Furyk and Davis Love III on his vice captain roster.
Despite becoming the oldest golfer to win a major championship earlier this year at Kiawah Island in South Carolina, Mickelson has not had a top-15 finish since. He told ESPN at the World Golf Championship FedEx St. Jude Invitational that "you can't take somebody that inconsistent," referring to Stricker and the six captain's picks he has for the rescheduled 2020 Ryder Cup Sept. 24-26.
Mickelson has been a fixture on the U.S. Ryder Cup team for more than 20 years. He owns some of the most notable records on the U.S. side, including most appearances (12), most U.S. four-ball points won (9) and most overall matches played (47).
He jumped from No. 52 to No. 16 in the Ryder Cup points standings after his historic victory at the PGA Championship in May. However, that was as close to the top 12 as he came, dropping to No. 20 in this week's update after failing to advance out of last week's BMW Championship in the PGA Tour's FedEx Cup Playoffs.
This is Couples' second term as a Ryder Cup vice captain, after serving in 2012 alongside Davis Love III. Couples, who won Stricker's PGA Tour Champions event, the American Family Insurance Championship in 2017, also competed for the United States in five Ryder Cup competitions: 1989, '91, '93, '95 and '97.
Couples has 15 PGA Tour victories and won the 1992 Masters.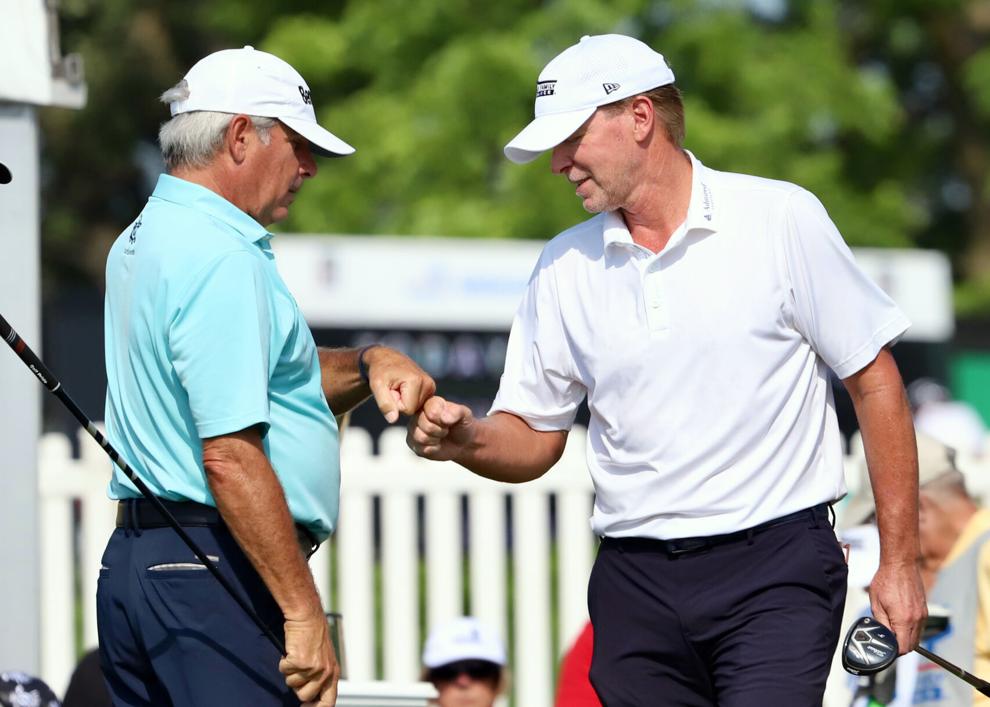 "I've been staying in close contact with both Freddie and Phil, talking about all things Ryder Cup, for a while now," Stricker said in a statement. "They provide honest and impactful feedback, and both have such a passion for the Ryder Cup. I'm honored that they were willing to join our Team and help put us in the best position to win in a few weeks at Whistling Straits."
The announcement did not shed any light on Tiger Woods' potential involvement in the matches. The 2019 U.S. Presidents Cup team captain has been recovering from a serious car accident in Los Angeles in February, but there was hope he would have a presence in Wisconsin for the matches.
"Tiger has been a part of the process so far and he's been a help already," Stricker said Monday on his father-in-law Dennis Tiziani's radio show "Talking Golf," declining to tip his hand. "Whether he can be an assistant captain, you'll have to wait and see. But he's been helping out already."
Mickelson being named a vice captain could improve the chances of a Ryder Cup veteran such as Stewart Cink being considered for an at-large selection for Team USA. Stricker will reveal those selections next week after the season-ending Tour Championship at East Lake Golf Club in Atlanta. Love, one of two vice captains in the field at last week's Ally Challenge on the PGA Tour Champions, suggested to reporters in Grand Blanc, Mich., that Team USA's minimal Ryder Cup experience among the top six automatic qualifiers could be reflected in Stricker's selections.
Cink, 48, a five-time U.S. Ryder Cup team member, is one of six golfers to win two more more events on the PGA Tour during its 2020-21 mega-wraparound season. He comes to East Lake at No. 23 among the 30 qualifiers for this week's Tour Championship.
In addition to going 5-7-7 in his five Ryder Cup appearances, Cink is also 9-7-2 in four Presidents Cups. His 8.5 points in Ryder Cup competition tie him with Gene Sarazan for No. 26 on Team USA's all-time list and puts him just ahead of Jordan Spieth and Patrick Reed, who are T-28 with eight, for most among active players on the team or under consideration by Stricker.
"Of course I have aspirations for it," Cink said this week, when asked about his chances to be one of Stricker's six picks despite being No. 29 in the Ryder Cup standings entering the FedEx Cup playoffs finalse. "I think I probably need to, whatever you call winning this tournament. I need to play really great. And I don't know, I mean ... I think winning two times, yes, I've done enough to be in consideration, but I don't think I've been quite consistent enough to really be one of those like last remaining few guys that they're considering for a pick.
"I would love to be a part of the Ryder Cup again. It just means so much to me and it's so fun, but I would probably need to make an enormous splash here this week to be one of the guys on that little final list."