A veteran European Ryder Cup team gained even more experience Sunday when Lee Westwood qualified automatically for the biennial competition for the 11th time and when Padraig Harrington used two of his three captain's picks to bring two of Europe's most familiar faces to Whistling Straits. 
Ryder Cup veterans Sergio Garcia of Spain and Ian Poulter of England were named to the team by Harrington after the BMW PGA Championship, the final qualifying event on the European Tour. Harrington went with two golfers who have a combined 26-13-6 record in Ryder Cup play to add to the experience that Westwood — 20-18-6 in 10 previous starts — brings to Team Europe.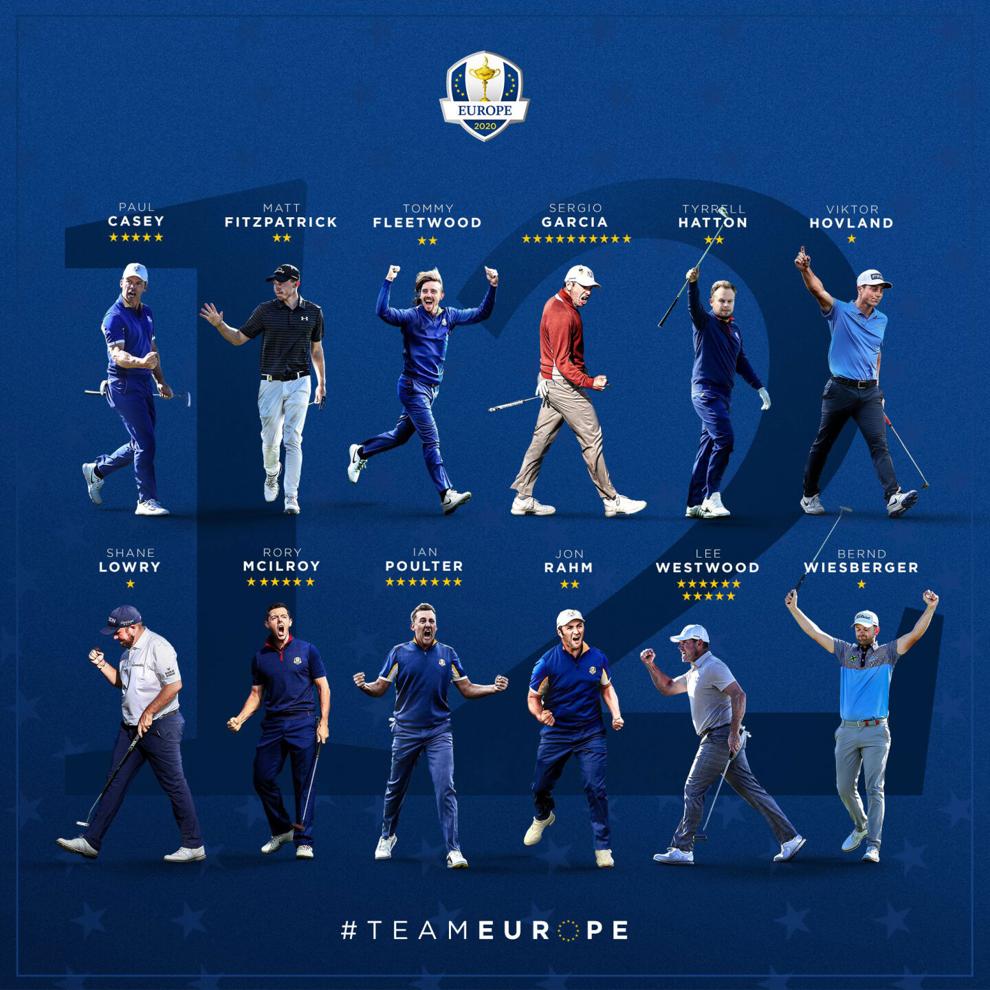 Garcia, 41, making his 10th Ryder Cup appearance, is the winningest golfer in the event's history with 25½ points from his 22-12-7 record. Poulter, 45, making his seventh Ryder Cup start, owns a 14-6-2 Ryder Cup record, highlighted by a 5-0-1 record in Sunday singles matches. 
Harrington could have added a third veteran in England's Justin Rose, who is 13-8-2 in five Ryder Cup appearances and looked to be rounding into form for the Sept. 24-26 matches in Wisconsin after closing with a 65 at Wentworth Golf Club in Surrey England to finish T-7 at the BMW PGA. However, he instead went with fellow countryman Shane Lowry, the 2019 British Open champion who — at age 34 — will be making his debut in Ryder Cup competition.
In the end, Harrington wound up with a team with just two rookies (Lowry and Viktor Hovland) and an average age of 34.5, including four golfers over the age of 40 with Westwood, 48, and Paul Casey, 44, joining Garcia and Poulter in that demographic. Team USA, meanwhile, will have just one golfer older than the average age of the Europeans — 37-year-old Dustin Johnson — with six rookies on the 12-man team U.S. Ryder Cup captain Steve Stricker finalized Wednesday.
Harrington said Sunday that he believes Poulter and Garcia bring the kind of intangibles to Team Europe — passion and leadership — only time can nurture.
"With all the picks, we have the strongest players in that position that we've ever had in the Ryder Cup in the 10th, 11th, 12th spots," Harrington told the BBC after announcing his selections. "I have a great team. I have a great team of ball-strikers, probably the best ball-strikers Europe has ever sent out in a Ryder Cup. ... We're going to a big golf course; we're going to a very strong golf course.
"I know I have players who are good enough. They don't need anything else. ... They're good enough to deliver. Ian Poulter is very much at the heart of our team to make sure the guys go out and have a great week."
Harrington, meanwhile, sang the praises of Garcia for his versatility in the three Ryder Cup formats — alternate shot, best-ball and singles.
"In golf terms, he's a great ball-striker and he's well-suited for the golf course specifically, but it's what he does for the team — he really, really leads out that team in the Ryder Cup," Harrington said. "Whether it's foursomes or four-ball, he's very versatile. He's a player who gets out there and gets the job done. He's obviously won the most points in the Ryder Cup. I'm expecting a few more from him this time around, but I'm relying on him to step up there and be a leader."
Harrington returns four golfers who were Ryder Cup rookies in 2018 when Europe won 17½-10½ in France. Jon Rahm, Tommy Fleetwood, Tyrell Hatton and Matthew Fitzpatrick combined to go 6-7-0 at Le Golf National. Combined with Lowry and Hovland, the two 2021 rookies, they give Team Europe six golfers whose Ryder Cup resumes are a work in progress not unlike the six first-timers U.S. captain Stricker will bring to the matches in his home state at Whistling Straits.
Then again, Harrington didn't talk Sunday like someone who expects Lowry to perform like a rookie in defending his selection of his fellow Irishman over the likes of Rose, Henrik Stenson, Victor Perez, Robert Macintyre and Guido Migliozzi — the latter three being top-15 finishers in both the European Points and World Points lists used to determine the nine automatic qualifiers under the Team Europe qualifying process.
"You think there was pressure (Sunday)? Shane has played with that pressure all year; Shane's been that name on the edge (of the points standings) all year," Harrington said. "Nobody thinks of him as a rookie. All it says is if I picked a rookie, he's probably delivered twice to get on the team because a rookie has to prove himself more than anyone else. Shane is a big-time player and he's never better than when he's on the big-time stage. He delivers consistency under pressure in those situations. It was an easy pick based on his form."