MILWAUKEE — It took all of seven or eight seconds for Steve Stricker to choke up.
That beat the over-under by a good half-minute. Formally introduced moments earlier Wednesday morning as the 2020 U.S. Ryder Cup captain in a news conference at Fiserv Forum, Stricker almost immediately struggled for words.
"This is, uh … thank you to the PGA and the Ryder Cup committee for giving me this opportunity, first of all," he said. Good start. But then the lump in his throat got in the way. His eyes filled with tears. He stopped and held out his hands, palms down, almost apologetically.
"I'm an emotional guy," he said.
No need to apologize, Steve. We know who you are. You're the humble, grounded guy who grew up just down the hill from a nondescript little nine-hole course in Edgerton, Wisconsin, and went on to forge a remarkable record while earning a reputation as one of the nicest men in golf. No one is going to begrudge you a few tears on one of the most important days of your career.
"I wasn't going to cry today," Stricker said later, shaking his head. "That didn't last very long."
The longtime Madison resident has won 12 times on the PGA Tour and three times on the PGA Tour Champions. He's been ranked as high as No. 2 in the world and played on three Ryder Cup teams. But this is without question the biggest accomplishment of his life in golf. He's captain of the U.S. team that will try to win back the Ryder Cup from Team Europe at Whistling Straits in 19 months.
It's a job that has grown in stature, responsibility and pressure as the Ryder Cup's popularity has exploded internationally, to the point where it's perhaps the most coveted – and scrutinized – position in golf. Only 28 men have captained the U.S. team, and Stricker is the first who hasn't won a major championship.
"Truly a dream come true," he said. "(It's) an honor to represent the PGA and the competition itself. I'm truly humbled, really humbled by this opportunity. I'm very passionate about this competition. Some people see (tears) and they don't think I'm very passionate or fiery about playing the game of golf and what I do for a living. But deep down, I'm very competitive. We want to win this more than ever."
The formal announcement Wednesday came as a surprise to no one. Stricker was on the 11-person Ryder Cup task force formed in the wake of the Americans' dispiriting loss under Tom Watson in 2014. He served as a vice captain under Watson, Davis Love III in 2016 and Jim Furyk in 2018 and captained the U.S. Presidents Cup team to a resounding victory in 2017.
Equally important, Stricker is universally respected by players on the PGA Tour, from its rank-and-file to its biggest stars, including Tiger Woods. With the 2020 matches at Whistling Straits, two hours from his home, his selection as captain was a no-brainer.
Suzy Whaley, president of the PGA of America, said Stricker was a unanimous choice of the six-person Ryder Cup committee, which consisted of Whaley, PGA vice president Jim Richerson and CEO Seth Waugh and players Zach Johnson, Jim Furyk and Woods.
"It was a very easy choice," Whaley said.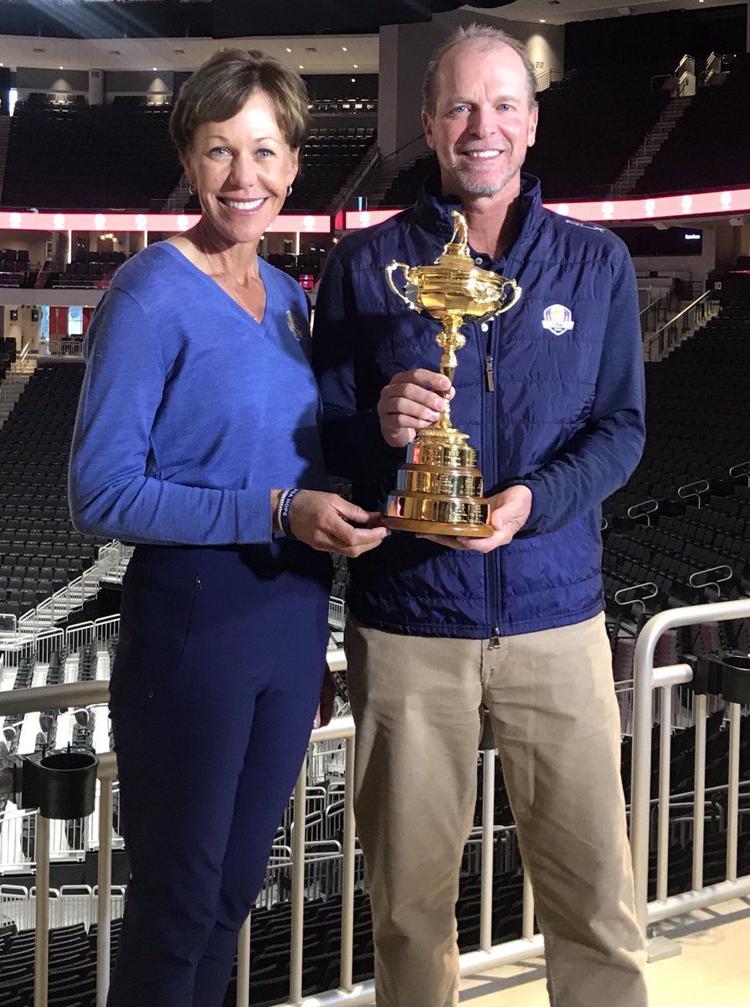 There is a perception on the part of some golf fans that Stricker is just too nice a person to handle the captain's job. They point to his many close calls in the majors without winning one as evidence that he lacks the fire or grit to come through under extreme pressure.
They couldn't be more wrong. You don't win 12 times on the PGA Tour, rack up nearly $44 million in career earnings and twice win the tour's comeback player of the year award without a little intestinal fortitude.
"He's as competitive a guy as I've ever known, which people don't see," said Mario Tiziani, Stricker's brother-in-law and agent. "I've been fortunate to play a lot with him and caddie for him. He loves to win. He hates losing. The unique thing about Steve is he's always done it the right way. He's never had that chip on his shoulder or that cockiness. He just loves to win and compete. He will have that in full force at the Ryder Cup."
Asked to recall an incident in which Stricker displayed that fiery nature on the course, his wife and sometimes caddie, Nicki, had to think all of three seconds.
"Like last week in Naples?" she said, referring the PGA Tour Champions' Chubb Classic. "There were a few times that clubs ended up upside down in the bag. I've been around it enough that I don't take it personally. I just leave them in there and then when I set the bag down, he'll take them out, flip 'em back the other way and wipe them off."
Still, the captain's job will require Stricker to tell players on the bubble that they haven't made the team, and he'll have to inform team members that they're sitting out matches at the Ryder Cup. Those decisions will be made with input from his assistant captains – he named Furyk as his first vice captain Wednesday – and the players. Ultimately, though, Stricker, is going to have to make some tough calls.
Tiziani saw him in action up close at the Presidents Cup and said Stricker will have no problem being firm and decisive.
"The thing that stuck out for me is he took onus on what his decisions were and he wasn't hedging," Tiziani said. "I think it's easy to listen to these high-level guys, when they say, 'Hey, I want to do this,' to say, 'Yeah, OK, do that.' He said, 'This is what we're going to do. This is who we're going to sit.' He had reasons why. He was transparent. And his delivery and the way he handled it got the respect for his decisions."
Stricker found out in December, in a phone call from Whaley, that he would be the next Ryder Cup captain. He had to keep the secret for two months and hinted that the behind-the-scenes discussions and planning for Wednesday was a bit of a distraction.
"I'm hoping that's why I haven't been making some putts lately, because I've had this on my mind," he said. "I'm glad it's done. I'm glad it's off my chest and we can move forward now."
The pressure only ramps up from here. But Stricker has never backed down from a challenge.
"I'm excited and honored to do it," he said. "I look forward to it already."