TOWN OF HAVEN – With Whistling Straits shrouded in mist between biblical downpours Tuesday morning, respective 2020 Ryder Cup team captains Steve Stricker and Padraig Harrington entertained the media, and often each other, during a lighthearted "Year to Go" news conference in the Irish Barn.
"An Irish summer's day," joked Harrington, the European team captain and a native of Dublin.
The day was scheduled to the minute for Stricker and Harrington, starting with the 8 a.m. news conference and continuing with photo shoots, one-on-one interviews with TV partners, social media stunts and, finally, the 6 p.m. taping of "Feherty" at the Sheboygan Weill Center.
With the 2020 Ryder Cup nearly a year away (Sept. 25-27), this wasn't the time to take a deep dive into the Ryder Cup points or speculate about who might or might not make the respective teams.
"I told myself, 'Just don't look at the points and things,'" Harrington said. "It's a full year away. … During the course of the last three months, you pick a new team every week if you're looking at it. So, this is very early."
Most of the questions lobbed at the captains were of the softball variety, but Stricker, a Madison resident who has the honor of captaining the U.S. team in his home state, did drop a few nuggets that hinted at a shift in strategy when he was asked why the Europeans have dominated the Ryder Cup in recent years.
Europe crushed Team USA, 17½ - 10½ in France two years ago and has been victorious in four of the last five meetings, and nine of the last 12 dating to 1995.
"I don't know if we are weak in that department," Stricker said of match play. "I think the Europeans have outplayed us the last few times. We get a lot of practice at it. We play a Presidents Cup every other year and we play this event, and we also have the World Golf Championships-Match Play event."
Perhaps the problem, he went on to say, is that the Americans have been too aggressive in the Ryder Cup. They are conditioned to make birdies in regular PGA Tour events, which means bombing it off the tee and aiming at flagsticks no matter the hole location. Most weeks, you can't win unless you get to 20-under par or better.
The Ryder Cup is a different animal.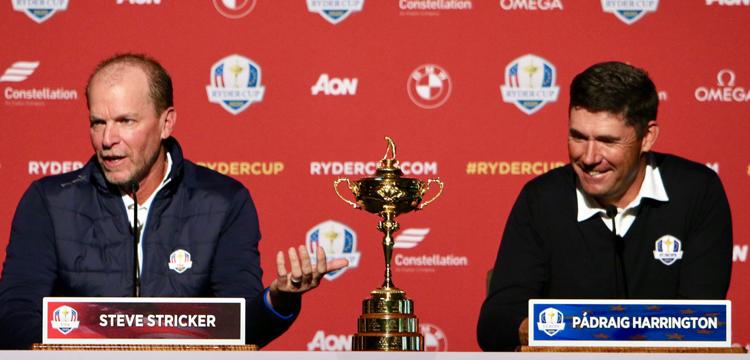 "We have been looking into stats … and we gave away a lot of holes in France by making something other than par," Stricker said. "We made almost as many birdies (as Team Europe), if I remember right, during that week but we just gave so many holes away in making different numbers.
"So, it could be our style of play. Our guys on the U.S. side are aggressive players. They make a lot of birdies. Usually, the guys that make the team are leading the birdie average for the year. They are just aggressive players and, you know, sometimes in match play it's OK to back down and try to make a par. It showed in France that if we could have just made some pars that it could have been a different match."
Telling birdie-making machines such as Dustin Johnson, Brooks Koepka and Phil Mickelson – if he makes his 13th consecutive Ryder Cup team at age 50 – to dial it down might be a tall order. But it sounds as if that's a theme Stricker plans to emphasize.
"I think if anything, the message for our guys would be, sometimes backing off and making pars and making the other team earn it is a good thing," he said. "Wear them out a little bit."
Stricker has a lot of say in how Whistling Straits will be set up for the Ryder Cup – just about everything other than hole locations – and it's no secret he'd like to duplicate, as much as possible, the conditions at Hazeltine National in 2016, where the Americans won, 17-11.
The problem is, Whistling Straits and Hazeltine National have little in common.
"There's no real tricks here," Stricker said. "It's not going to be eight on the Stimpmeter like it was in Paris. It's not going to be as high of rough as it was in Paris. But it is a little bit more of a challenge here."
Many of the prospective European team members, Harrington included, have played in one or more of the three PGA Championships held at Whistling Straits, so they'll have a familiarity with the course that the Americans didn't have at Le Golf National in Paris.
Plus, as it was pointed out by news conference moderator Julius Mason of the PGA of America, non-Americans have won all three PGAs at the Straits (Fiji's Vijay Singh in 2004, Germany's Martin Kaymer in 2010 and Australia's Jason Day in 2015).
"You're sure bringing up a lot of negatives here, Julius," Stricker said to laughter. "Yeah, it concerns us. When you look out here, it does have the feel of Ireland. The whole setting next to Lake Michigan, it looks like we could be overseas somewhere, for sure. But, yes, it concerns us."
Stricker said the Americans are counting on overwhelming crowd support to make the difference.
"The Wisconsin people, from what I understand, are very excited to have this event here," he said. "It's going to be an exciting time. … The state is going to show up big time and we're going to have the crowd on our side, so hopefully that will deter from what it looks like out there as far as an Irish setting. We're looking forward to it."