HAVEN – Like the teed-up golf balls that he mashes with his driver, Bryson DeChambeau's image has taken a pounding in recent months.
Some of it is his own doing. There is his well-chronicled petty feud with fellow U.S. Ryder Cup team member Brooks Koepka, which for a while trended on social media but appears, thankfully, to have run its course. There were his ill-informed comments about coronavirus vaccines; as smart as DeChambeau is, occasionally he has opened his mouth and inserted his Foot-Joy.
There is his media boycott, now in its second month. Other than a couple of TV interviews, DeChambeau has made himself unavailable. He made it clear Tuesday that his 15-minute appearance in the interview room at Whistling Straits was an obligation not of his choosing, and that he cooperated in deference to the U.S team and the PGA of America.
"I think this is a team event," he said tersely. "I'm focused on helping Team USA to a victory, and that's honestly the reason why I'm here." Forced smile. End of quote.
Some of the hate directed at DeChambeau, though, is underserved. Loutish fans took to yelling out "Brooksy" during tournament rounds to try to get a reaction from him, or worse, to try to throw him off his game (notably, no one in the gallery has yelled "Bryson" to Koepka). It was ugly and mean-spirited. He took it, mostly, because what else could he do?
But, 200 mph ball speed aside, DeChambeau is human. And it didn't feel good.
"I mean, no matter what, we're all humans at the end of the day, and I think there's obviously a level of, I guess you could say, control that any human will ever have, and you can have a lot of armor and you can protect yourself with people around you and all that," he said. "Sure, there are times where it's not comfortable, but there's also times where it fuels me."
If ever there was a time and place to rehabilitate his image, it's here and now, at the 43rd Ryder Cup. DeChambeau, ranked No. 7 in the world, will play before galleries at Whistling Straits that are heavily pro-American. He can whip them into a frenzy with his 350-yard drives. He can bask in their adulation by winning matches.
After going 0-3-0 in his Ryder Cup debut in Paris three years ago, DeChambeau can win over many if not all of his detractors by contributing to a U.S. victory.
"Look, I'm not trying to change anybody's perception," he said. "All I'm trying to do is showcase what I can do for the game of golf. Whether people like it or not, that's their interpretation of it. For me, again, I'm going to keep providing people with the best entertainment I possibly can, and some people may not like it, some people love it.
"At the end of the day, it's not about changing anybody's perception. I think it's about getting the crowd behind us and, I guess you could say, rile us up to win the Cup."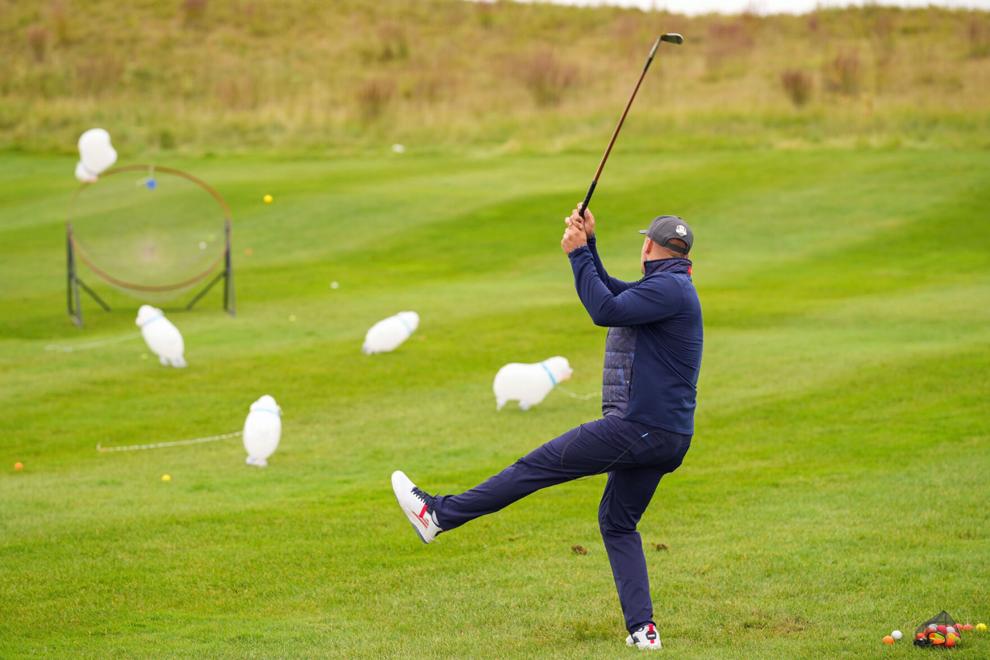 To be sure, DeChambeau already has millions of fans because he has figured out a novel way to play the game. His single-minded pursuit of power and speed, his unique practice regimen and his method of attacking golf courses is all next-level stuff. He won the 2020 U.S. Open by bludgeoning venerable Winged Foot with his driver in a way that stunned even veteran Tour players.
So why does he rub some people the wrong way? Perhaps it's because he's an iconoclast who doesn't fit the PGA Tour cookie-cutter mold. He's been hugely successful, which combined with a cockiness that is either entertaining or irritating, depending on your viewpoint, makes him a polarizing figure. Nobody would give him a second look if he finished 40th every week. As Kobe Bryant said, "Nobody hates the good ones. They hate the great ones."
"The perceptions around him, it's whatever the public creates," said U.S. teammate Scottie Scheffler, who is likely to team with DeChambeau in the partner formats. "I think everybody has an opinion on him. I have an opinion on him, as well. I think he's a fantastic guy. I've known him since college. He's always been nothing but gracious and kind to me, and he means really well.
"I think sometimes people take little tidbits of what he says and try and beat him down a little bit, and I think that's kind of what happens in sports is people get built up and then they get torn down once they reach the top. I think it's something you've seen for a long time. I've watched 'The Last Dance' a couple of times, and it's something you saw with (Michael) Jordan, as well. When people make it really big like Bryson has, I think some people try and tear him down a little bit.
"Fantastic guy, he's got a big heart, and I really have nothing but good things to say about him."
As far as his relationship with Koepka, well, U.S. captain Steve Stricker probably isn't going to pair them together this week. But the two appear to have reached a détente. They chatted and shared a few laughs on the practice range Tuesday, an act that in and of itself drew cheers from the gallery. DeChambeau even hinted at a future collaboration of sorts.
"You know, again, a lot of this social media stuff has definitely been driven by a lot of external factors, not necessarily us two," he said. "We had some great conversations at the Tour Championship last week when we had dinner, and then this week, as well. I sat down and had dinner with him (Monday) night, and it was fine. I think there may be something fun coming up here moving forward, but won't speak too much more on that."
In his practice round, DeChambeau played with Scheffler, Justin Thomas and Jordan Spieth. He joked with the gallery, elicited oohs and aahs with his mammoth drives, stopped to pet a service dog and walked around the Straits with a smile plastered to his face.
All he needs to do, starting Friday, is to go out and win matches.
"Look, I'm going to try to get as many points as I can, and I think yeah, that could potentially change (people's perception of him), for sure," he said. "There's always going to be people saying things, no matter what it is. Even if I make a hole-in-one on every single hole out here, there's always going to be people saying something. I'm not worried about it. I still love and respect them. I understand they have their opinions and whatnot and I respect those opinions. I see their points of view.
"But this isn't about me. This is about the team going and winning the Ryder Cup."
Photos: Tuesday's Ryder Cup practice rounds at Whistling Straits