Little Steve Stricker, 5 years old and about as tall as a 3-iron, stood in the doorway of the unpretentious house his grandparents built on Jenson Street in tiny Edgerton, Wis., and screamed bloody murder.
He watched as his father, Bob Stricker, and older brother, Scott, walked up the hill to Towne Country Club, golf clubs slung over their shoulders. Steve wasn't old enough to play a real course, even a quirky nine-holer like Towne, but he was old enough to know what he was missing. Already, he loved golf.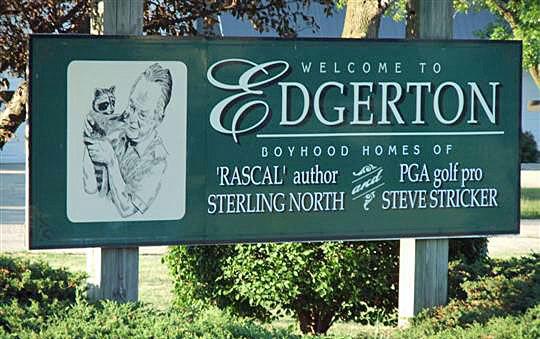 "Steve used to get madder than hell because he couldn't go," Bob Stricker said. "Scott and I would take off and, why, he'd just beller."
Who knows what the neighbors were thinking as this scene played out, time and again, until Steve, precocious and adamant, finally got to tag along and proved himself adept at getting a little white ball in a 4¼-inch hole? One thing they certainly were not thinking: "Someday that boy is going to be the captain of the U.S. Ryder Cup team."
How Stricker got from there to here – small-town Wisconsin kid leading 12 American stars in the biennial matches against Europe's best next week at Whistling Straits, two hours from his boyhood home – is a story that would be hard to believe if it weren't true.
With 12 victories on the PGA Tour, seven more on the PGA Tour Champions and a pair of comeback player of the year awards, Stricker, once ranked as high as No. 2 in the world, has had a great but not quite Hall of Fame-worthy career.
He is the 29th U.S. Ryder Cup captain, but the first without a major championship on his resume. That would have been a non-starter until a PGA of America task force was commissioned after yet another Ryder Cup debacle in 2014. The Europeans were routinely kicking the Americans' butts. Something had to change. The task force changed the way captains were selected, establishing a line of succession to ensure continuity.
Stricker, a member of that task force who was respected and admired by his peers as one of the game's consummate professionals and all-around good guys, was penciled in as a future captain, though he had his doubts.
"I guess I was never really positive it was going to happen," he said.
Photos: Steve Stricker through the years
Stricker had much to offer. He had played in the Ryder Cup three times and then served as an assistant captain for the matches in 2014, '16 and '18. His peers and the PGA saw in him the leadership qualities they coveted. He was prepared and organized. He listened to others but was confident in his ideas. He was thoughtful, but decisive. And it didn't hurt his chances that he captained the 2017 Presidents Cup team to a lopsided 19-11 victory at Liberty National in Jersey City, N.J.
When it came time to name a captain for the 2020 matches, the Ryder Cup selection committee voted unanimously for Stricker. Members of the committee were PGA of America CEO Seth Waugh, then-PGA president Suzy Whaley and vice president Jim Richerson, and players Tiger Woods, Jim Furyk and Zach Johnson.
"He was the overwhelming choice," Woods said. "All of us felt it was his time. He was deserving. What he has done as far as a leader of Ryder Cups and Presidents Cups has been tremendous. We just thought that, with his leadership and the way guys follow Strick, we thought he would be the best leader there is for 2020."
When told Stricker would be the first major-less U.S. Ryder Cup captain, Paul Azinger, the winning captain in 2008, said, "Is he? What difference does it make? It's not a winning formula, just because you won a major. We get our butts handed to us every single Ryder Cup (Europe has won four of the last five and nine of the last 12). That's not a winning formula, you had to have won a major. It's ridiculous."
'HE KNOWS ABOUT ADVERSITY'
Stricker is the captain partly because of some fortuitous timing but mostly because of his depth of character. As Midwesterners would say, he was raised the right way, by good parents in a loving home. He was taught to respect others, no matter their station in life. He was taught manners. He was taught to shoulder responsibility without complaint and accept the outcome, good or bad.
Some lessons were learned the hard way. As a hotshot junior, he got off to a bad start one year in a match at the Junior Masters at Johnson Park in Racine, losing the first three holes.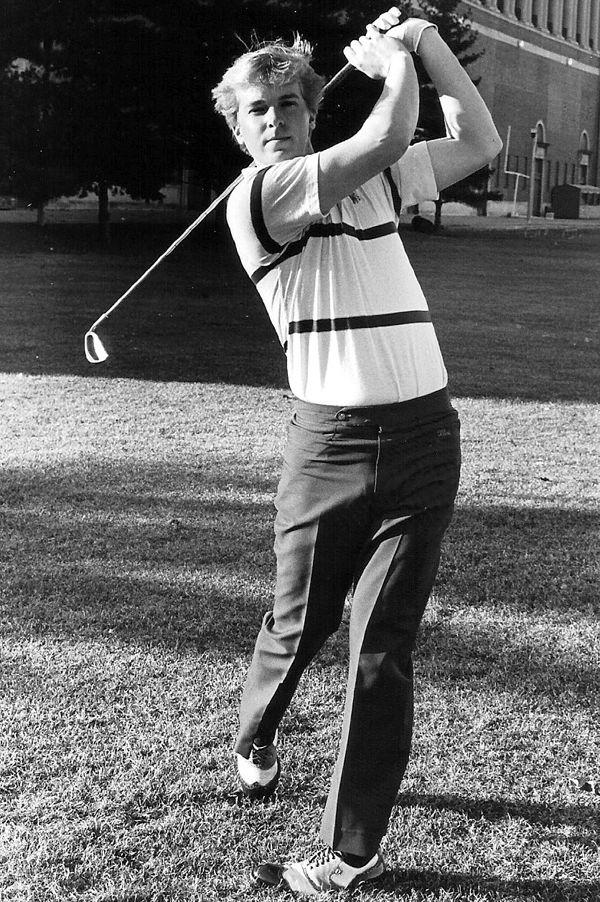 "Steve hits his drive on the fourth hole, and he was walking down the fairway and his lower lip was hanging out there," Bob Stricker said. "I walked up to him and I said, 'Hey, if you're beat, walk over and shake the guy's hand and we'll walk back to the clubhouse. If you know you're beat and you're giving up, why walk 15 more holes?' Any golfer who's worth a s---, someplace along the line is going to start playing and make a comeback."
After 17 holes, the match was even.
"He ended up losing," Bob Stricker said with a chuckle. "But he did fight back."
Stricker wasn't coddled. He didn't enjoy a country club lifestyle. He's probably one of few PGA Tour players who worked a real summer job through college, driving a truck for a lumberyard. He pulled wire for his father, an electrician. He attended the University of Illinois because then-coach Ed Beard was able to offer him a full scholarship; Dennis Tiziani, Stricker's future father-in-law and then the coach at Wisconsin, could only offer him a partial.
"I guess it came down to money," Bob Stricker said. "My business wasn't in the best shape at that time and we really didn't have any money to send him to college. So it was important, whatever he could get scholarship-wise."
Stricker showed up in Champaign without a driver in his bag. He hit a 3-wood exclusively off the tee. But everyone could see immediately that he was gifted. He was the Big Ten Conference co-champion as a freshman, won the title outright as a junior and senior and was a two-time first-team All-American. He won 10 college tournaments and still holds U of I scoring records.
"I'll never forget the first time that I saw him in person," said Brad Leighty, an Illini teammate two years older than Stricker. "I think he was in for a (recruiting) visit. We were playing a qualifying round at Savoy, which was our home course. I walked into the pro shop at the turn and there he sat, in a chair. Had his glasses on. Had his (high school) letter jacket on. I had never seen so many awards on a letter jacket. I thought, 'That must be the guy.'
"One of my best rounds, I think at the beginning of my junior or senior year, I shot even par on the front nine and then I got around to the back nine and went birdie-birdie-birdie-par-birdie-birdie-birdie. I shot 6-under for the day. Steve shoots 7-under. You just realize, 'Maybe I am going to have to put this University of Illinois degree to use.'"
Stricker struggled to get to the PGA Tour but then very quickly had success, winning twice in 1996, his third full season. He experienced a devastating mid-career slump, fought through it and came out of it a better player, winning nine of his 12 PGA Tour titles in his 40s, including the John Deere Classic three consecutive years (2009-'11).
"He knows about adversity," Tiziani said. "He's experienced that in his life. Not like some people have, but he was able to figure out how to be free and creative in his golf game. Next thing you know, he's winning again."
Now 54, Stricker continues to split his time between the PGA and Champions tours. Once he commits to playing the latter fulltime, probably in 2022, he's likely to add numerous titles to his victory total.
'JUST A GOOD DUDE'
But back to his personality. It says something about Stricker that he is among Woods' closest confidants on Tour. Woods does not let many people in his inner circle. It says something about Stricker that one of his greatest sources of pride is his foundation and its charitable giving through the Champions tour event he hosts, the American Family Insurance Championship in Madison.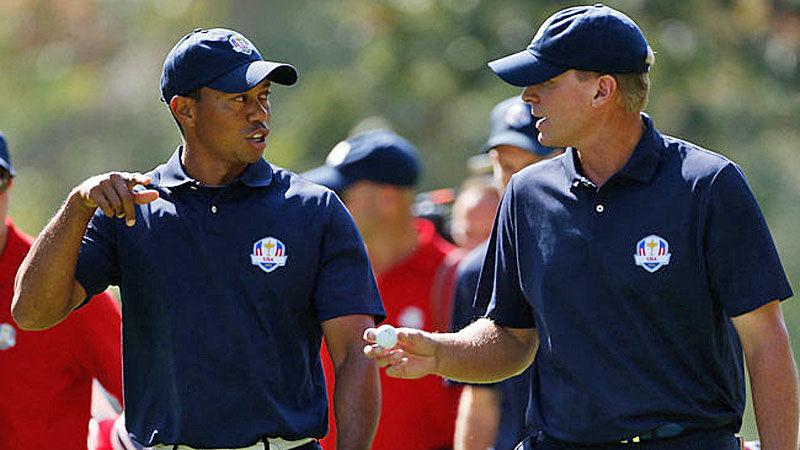 It says something about him that he skipped a trip to the White House with the 2008 Ryder Cup team in order to honor a commitment he made to go deer hunting in the Upper Peninsula with Tiziani. And it says something about the Ryder Cup captain that he's not too important to caddie for his daughters, Bobbi and Izzi, in their tournaments.
"Strick has always known who he is," said Mike Small, Stricker's teammate at Illinois and now the Illini head coach. "He's very comfortable in his own skin. He knows what he wants. He's happy where he's at. I gravitated toward him because, No. 1, he was just a good guy to be around. He was just a good dude. And he was also better than me, and I wanted to get better."
In golf, no trait is more highly regarded than integrity. You call penalties on yourself. You play the ball as it lies. You remove your hat and shake your opponent's hand, win or lose. Gene Haas, retired executive director of the Wisconsin State Golf Association, tells a story from the 1997 State Open that goes to Stricker's integrity. By then, Stricker had already won twice on the PGA Tour; he was a rising star locked in a battle with Ben Walter at Cedar Creek Country Club in Onalaska. Haas was officiating.
"Tony Coleman was in charge of the WPGA Section at the time," Haas said. "On the 14th hole, they had planted a group of sapling trees on the left side to try to stop balls from going over a fence and out of bounds because there were cows on the other side. Tony had guys go out and mark all those trees with yellow tags. If a ball was hit over there the player would get relief so he wouldn't chop down a tree (with his swing).
"Sure enough, in the final round Steve comes along and hits his tee shot down into the trees and it stops right next to one that was unmarked. Someone apparently missed it. I happened to be officiating on that hole and Steve comes along and says, 'Mr. Haas, did you see my ball?' I said, 'Yes, it's right over here next to the tree, but you're entitled to relief.' Now, if he'd have taken relief, he'd have been able to move his ball a club length or two away from the tree and would have had a clear shot to the green.
"He said, 'I don't want relief. I hit the ball there and this tree is not marked. I'm going to play it.' So, he played it backwards and I think he hit his next shot in the water. He made a double-bogey on the hole and Ben Walter ended up winning by one or two shots. If Steve had taken relief, he'd have had an easy shot to the green, and who knows? He pars in and he wins the tournament. That was the kind of guy he was – and is."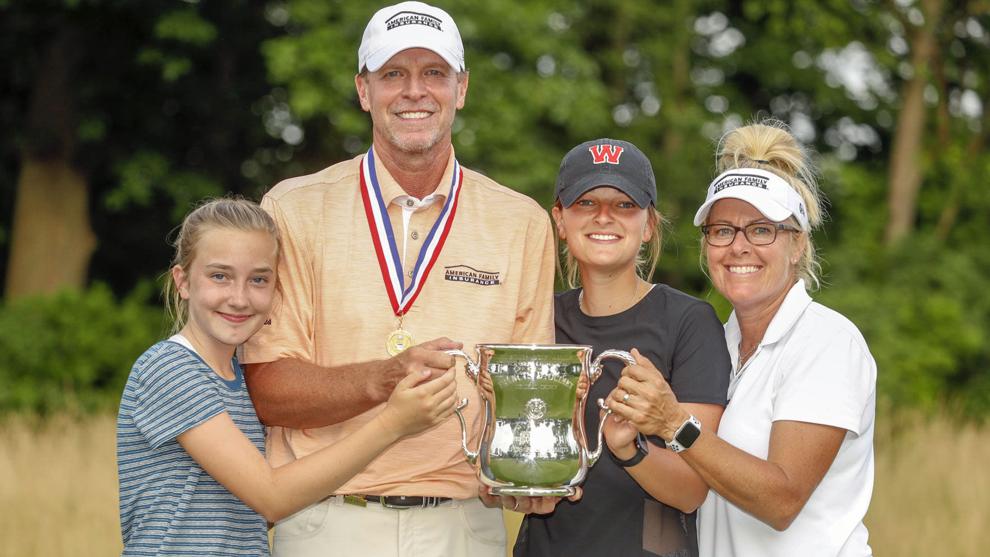 Because Stricker is unfailingly polite, because he is thoughtful and kind and because he has had chances to win major championships but has not come through in the heat of the moment, some people think he is too nice to captain a Ryder Cup team. There is a misperception that the captain should be a fire-and-brimstone, my-way-or-the-highway authoritarian.
"Steve is genuinely a great person," said two-time U.S. Open champion Andy North, one of Stricker's closest friends. "I think it starts with that. If you're somebody that people respect, that's a huge deal. He's been there and he's done it. That's important. And guys like him. They're going to do what he asks them to do. You don't have to be a gung-ho, follow-me-to-the-mountain kind of guy. If you handle your business properly, guys respect that and they're going to play hard."
But it's not as if Stricker is a milquetoast. Take it from those who know him best.
'A BURNING RAGE OF FIRE'
"To this day, I don't think I've met a more competitive person than Strick," Small said. "The media, the public, doesn't really know because he's so quiet and so polite. But inside, man, he's a burning rage of fire when he's competing."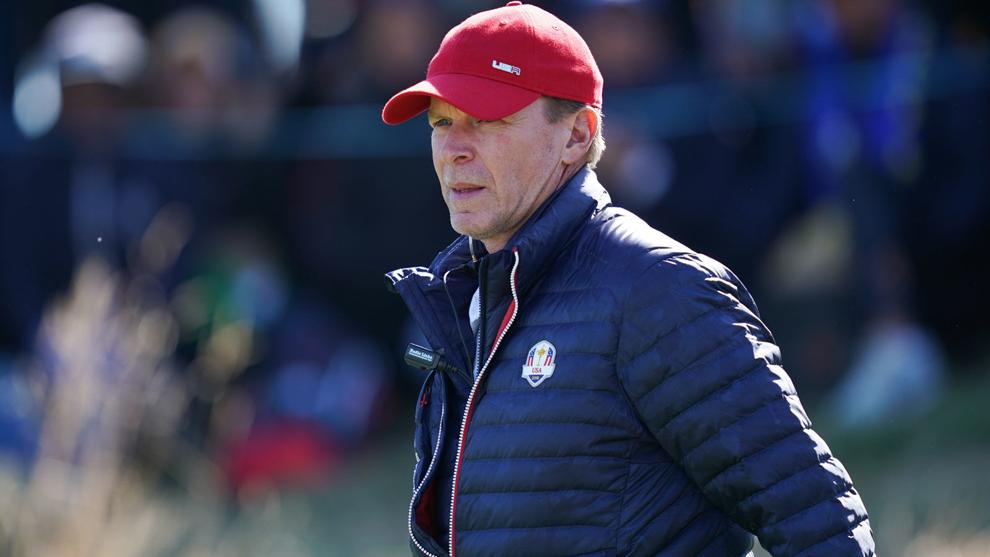 Mario Tiziani, Stricker's brother-in-law and agent, said, "Steve is as competitive a guy as I've ever known, which people don't see. I've been fortunate to play a lot with him and caddie for him. He loves to win. He hates losing. The unique thing about him is that he's always done it the right way. He's never wished bad on anyone else. He'd rather have everybody have their best stuff and his best stuff comes through."
When Stricker does gets angry on the course, he mostly directs it inward. Others have seen him mad off the course, but it blows over quickly.
"He'll get irritated at people," said Nicki Stricker, Steve's wife of 28 years – and his longtime caddie. "What father doesn't with his kids, right? He'll come in and be mad at the girls for not cleaning their rooms or whatever, and they'll both start laughing."
Said North, "I've seen him mad as can be, as every one of us has been. I've seen him where you almost start laughing because it's so out of character for him. Every competitor has that in him. If they don't have it, they're probably not going to be very good."
And anyway, the Ryder Cup never comes down to whether a captain is "too nice" or a hard-ass, or hasn't won a Masters or a U.S. Open. Stricker's most important job is to prepare his team to play its very best. As he said, his goal for next week is to out-prepare European captain Padraig Harrington. Once the players are out on the course, it's up to them to hit the shots and make the putts.
"It doesn't matter how good a captain is," North said. "If the guys don't play well, they're going to get beat. It's that's simple."
Stricker has said that motivational speeches and celebrity appearances in the team room at the Ryder Cup only added to his anxiety, so his players aren't going to see much of that. He's sought their input on any number of subjects, from practice schedule to pairings, and will do everything in his power to set them up to succeed.
'HE'S GOING TO BE AWESOME'
"The guys love him," said former Ryder Cup captain Jim Furyk, one of Stricker's best friends and an assistant on this team. "He did a great job as Presidents Cup captain. He's been an assistant captain a number of times, so he's got a ton of experience. I think he knows what he wants and how he wants to shape the team. He's going to set a great example and a great team room.
"He's not the rah-rah, cheerleader type. But he's well thought-out. When he speaks, he always has something to say and it's something you should be listening to. He's a lead-by-example type of person. A hard worker. A good man. I think the guys will have a good time with him."
When Stricker introduced his six captain's picks at a news conference last week, their respect for him was obvious. In Zoom calls, they expressed their gratitude for being picked and vowed to do whatever it took to win back Samuel Ryder's 17-inch trophy.
"This is a big championship for him, being back in Wisconsin," said Harris English. "We all know how much this means to him, being back home. I think all eyes and all ears are going to be on Strick and whatever he says, goes. Whatever pairings, however he wants to do it, I think everybody is going to be on board with it."
"He's going to be awesome," said Justin Thomas, who qualified for the team on points. "I'm sure he'll cry a lot in the team room. The good news, hopefully, is that he's crying for good reasons. Anybody who plays for him, myself included, will be glad and happy and proud to call him captain."
Stricker already has faced some mild criticism for his picks. Some think he made a mistake by leaving Patrick Reed off the team (notably, it seems, Reed himself). Billy Horschel said he was disappointed he didn't get a courtesy call from Stricker informing him that he hadn't made the team, though he made it clear he wasn't upset with Stricker. And then there's the mini-controversy not of Stricker's making – the petty feud between Brooks Koepka and Bryson DeChambeau.
It all goes with the territory. Stricker knew what he was getting into when he accepted the job. The captain is a genius when his team wins the Ryder Cup, and it is open season on him when his team loses. He will have 12 players, including six Ryder Cup rookies, looking to him for guidance, leadership and confidence.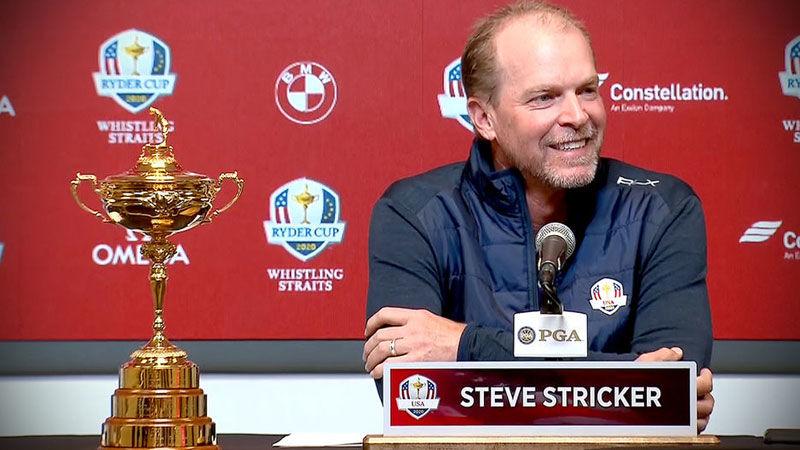 "He's never been a boss of anybody in his life, other than his caddie – and you know Nicki has been bossing him," Azinger said with a laugh. "And then, suddenly … you know, I never had a job in my life. I never had to be a leader of 12 guys like that. And then all of a sudden everybody is looking at you. Now what? What do you want me to do, Strick? Where do you want me to be?"
In an ideal world, the U.S. wins the Ryder Cup and Stricker sails off into the sunset … or to the nearest deer stand, as is his wont. But while the Americans are the much stronger team on paper, the Ryder Cup is played on grass. No one has to remind Stricker or his players how good Europe has been in these matches. The pressure is squarely on the Americans to deliver on home soil.
A loss would be devastating, but Nicki said her husband could handle whatever happens. There was a lesson in how their good friend, University of Virginia basketball coach Tony Bennett, handled losing as a No. 1 seed in the NCAA Tournament in 2018.
"Just because you want it to go a certain way doesn't mean it's going to go that way," Nicki said. "It's how you handle all of that. I think seeing Tony, how he handled that, it was unbelievable. I think Steve is equipped to handle that should they lose. He has throughout his career, when things weren't going well. It's hard. You don't really know what you're made of until you go through things like that. If it doesn't go well, he'll handle that. And if it goes in favor (of the U.S.) …
"I've seen him handle both things so well. That's just life, and it's part of this game."