HAVEN – He was clever. He was insightful. He was witty. He was introspective.
He was, as it turns out, Patrick Cantlay just being Patrick Cantlay.
The newly minted PGA Tour player of the year hardly looks or acts like the "Hello, world" type – a simple "hi" is probably more his speed – but if Cantlay wins the week here at the 43rd Ryder Cup the way he won his news conference Wednesday at Whistling Straits? Look out, world.
Cantlay threw back the curtain on his gin rummy knowledge in explaining the Europeans' recent success in these biennial matches, having won nine of the last 12 meetings with the Americans. He spoke eloquently when asked about the element of patriotism in defending the golf honor of his country against his counterparts, this year from six different countries throughout Europe.
If there were any doubts about the 2021 FedEx Cup champion's willingness to deliver for Team USA in his first Ryder Cup, however, they were dismissed near the end of his chat with media from around the world when he spoke with great candor about the recent trip he and girlfriend Nikki took with Xander and Maya Schauffele to Napa, Calif. Cantlay said it was part celebration of his winning the PGA Tour Playoffs and Schauffele's gold-medal performance in Tokyo earlier in the summer and part anticipation of a nice, relaxing trip to Northern California's wine country.
But it was mostly getting to know his likely Ryder Cup partner.
"I don't think … either of us would have gone out of their way to be friends with each other," Cantlay said of his 2019 Presidents Cup partner (they were paired in each of the first four sessions in Australia at Royal Melbourne and went 2-2). "But then spending that time together, we realized that we really got along with each other. I think he's incredibly smart, and I think he's incredibly conscientious. He's someone that probably brings out the best in me. He's more positive, and he has a way of being more light as opposed to me being serious."
It appears that is also what U.S. captain Steve Stricker sees in a pairing that could become Team USA's heir apparent to the duo of Justin Thomas and Jordan Spieth if the presumed anchor pairing of each session for the Americans goes crooked on the Straits Course.
Stricker sent Cantlay and Schauffele out with Dustin Johnson and Collin Morikawa in Tuesday's 18-hole practice round. They were grouped with Thomas and Spieth for nine holes Wednesday.
"They just enjoy being around each other, and that's half the battle when you try to pair guys up," Stricker said of Cantlay and Schauffele. "Each of their games complements the other one, and that's another thing when you put guys together, especially in foursomes … you want their games to complement each other, and theirs do."
Schauffele added: "We're very transparent. I think if I hit a bad shot or he hits a bad shot, we don't really care. We both know we're trying our hardest."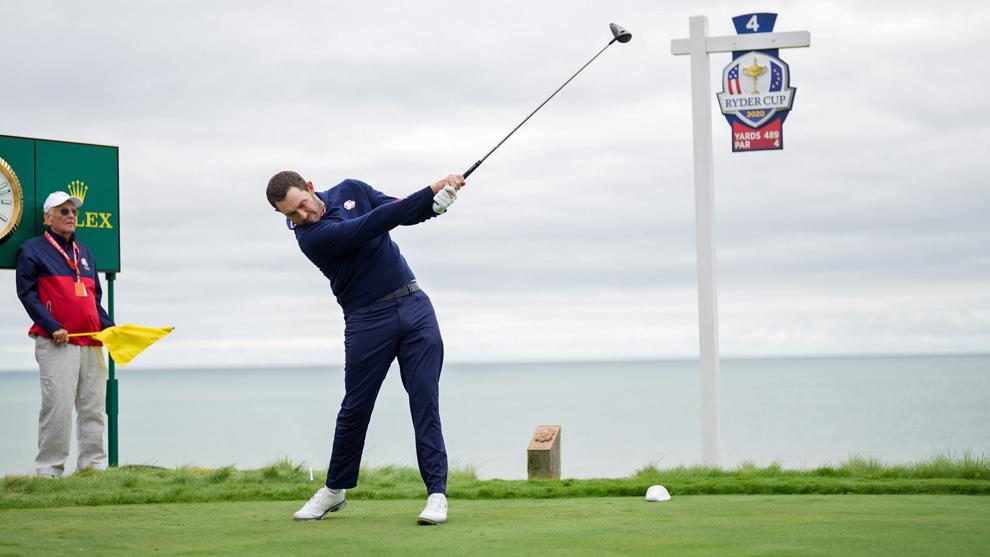 "Patty Ice" – as Cantlay came to be known during the PGA Tour Playoffs after beating Bryson DeChambeau in a playoff at the BMW Championship and holding off world No. 1 Jon Rahm at The Tour Championship – didn't have to try hard to speak from the heart during his session in the interview area Wednesday. That seemed to come naturally on several topics.
Europe's dominance in the Ryder Cup, for example, has been a frequent line of questioning for the Americans this week at Whistling Straits. No one offered a take quite as unique as Cantlay.
"So I've read a few gin books; let's see if I get it right," Cantlay said of the card game, not the cocktail ingredient. "If you play enough gin hands, a 1-2 percent difference in skill translates to almost a (sure) win over many, many, many hands of gin. But you could have a big difference between somebody, maybe a 60 to 40 percent skill level difference. Gin is still chancy enough to where you could play 10 hands and lose six or seven than someone worse than you skills-wise.
"These matches are only played every two years, and golf is very chancy. So would it surprise you if the U.S. went on a similar run to what Europe has been on for the next 20 years? (It) wouldn't surprise me. You go to Vegas and you play roulette and the chances are 50/50 but skewed toward the house a little, it could hit red six times in a row, but that's not abnormal. You flip a quarter it would be weird if the quarter flipped tails, heads, tails, heads, tails, heads. Then you would think something trippy was going on. I try to take a very long-term view on things like that. Who knows. The captains are different every year. The players are different every year. The venues are different every year. The weather is different every year.
"You're really going to ask a question like that and think you're going to get the right answer? I don't have the answers to that. This is my first one."
That was just about the only question for which Cantlay, ultimately, didn't have a real answer.
He couldn't have been more emphatic about the honor of representing the U.S. in team competition or more descriptive in recognizing the challenges that might come with that.
"One of the best parts of this is that I know for the most part … if someone is a USA fan, if someone really doesn't like me, they're still rooting for me to win my match," Cantlay said. "So that's like one of the best parts about this format, this team golf, this event. Consequently, someone on the other side of the pond may like me and they are rooting so hard against me. So it makes the stakes feel much larger. Playing on the biggest stages in golf is exactly why I've prepped and practiced my whole life, and it's one of the great joys I have in my life and it's what I look forward to. When you can get everyone amped up and make it feel like it really matters, that's the best. It's an honor to represent the United States, and hopefully we can give all the fans something to cheer for."
Given the allegiances that define a Ryder Cup, that led someone to ask Cantlay whether he considers himself patriotic. He replied that he's never felt more patriotic than he does this week.
"For sure," he replied. "I think there's something really cool about America and about the United States where you could be from anywhere and you could be anyone and there's an underlying feeling of we are still all Americans. … We may disagree with this, that or the other, but we're all American. We're all patriots and we all want the best for this country. Being just a small part of that is an honor, and I'm very excited to represent the country because I do have a sense of that, that at the end of the day I could disagree with someone on almost everything, but we still want what's the best for our country. I think that's an amazing thing about being an American."