KOHLER – If Herbert V. Kohler Jr. had been unable to convince the Kohler Co. board of directors – on his third attempt – to turn an old boarding house for immigrant workers into a resort hotel, there would be no 2020 Ryder Cup at Whistling Straits.
In fact, there would be no Whistling Straits because without The American Club, a AAA Five Diamond Resort hotel that opened in 1981, there would be no need for destination golf in Kohler.
And without golf in Kohler, it's conceivable that Erin Hills and Sand Valley would not have been built and Wisconsin would still be a flyover state instead of one of the hottest golf destinations in the world.
It took Kohler, then a young chairman and CEO of his namesake company, three attempts to convince the board to get into the hospitality business. Golfers everywhere, and especially in Wisconsin, should thank him for his persistence.
Kohler's son, David, became president and CEO of Kohler Co. in June 2015, taking over leadership of the company from his father. But Herb, 80, remains executive chairman and is engaged in just about every aspect of the manufacturing company's diverse businesses.
He is especially passionate about golf. Kohler Co. owns four courses in and near Kohler plus the Old Course Hotel, Hamilton Grand and Duke's Course in St. Andrews, Scotland.
With the Ryder Cup now some 10 months away, Kohler agreed to sit down with me in his office Tuesday for a rare interview. Michael Mueller, vice president of corporate communications, told me Kohler hadn't done a one-on-one interview in about five years.
I have a professional relationship with Kohler that goes back more than 25 years and I've enjoyed my many interviews with him. He is a grand storyteller, has a wonderful command of the language and can be surprisingly candid.
In our conversation Tuesday, he revealed that he had to talk Pete Dye out of building a pond next to the 17th green on the Straits Course. It's a story I'd never heard. No. 17 is one of the most photographed holes in golf and is one of the world's great par-3s. A pond next to the green? Unthinkable.
He also casually mentioned that he is searching for land in continental Europe on which to build a course that would play host to a future Ryder Cup.
Portions of the interview – abbreviated in parts but otherwise unedited – follow.
Q: We've often heard the story that before you built Blackwolf Run you played golf just a couple times a year, and with your father's hickory shafted clubs. Is that an exaggeration?
Kohler: "That is the honest-to-God truth. I think I still have his golf bag in my garage. It was a little carry bag, and that's all I had. That's all I knew. I got it out only when I was sort of forced to play with my friends. That was quite seldom, because I never really took the time to learn the game. And if you don't, as you know, you struggle. You can tolerate only so much of that struggling if it's very occasional."
Q: But the game grabbed you and I'm wondering why it didn't earlier in your life.
Kohler: "Well, it grabbed me after I was forced to build golf courses. Forced because I had to respond to this pile of suggestion slips (from guests at The American Club). As a young CEO I felt an obligation (to act), although I didn't know anything about the game. … I was grabbed by the game after we had Blackwolf Run built. Actually, we were in the process of building the fourth nine and I decided if I'm that involved in the game, I'm going to learn how to play the game."
Q: What is it about golf that speaks to you?
Kohler: "It combines the physical with the mental and the emotional like no other game I've played. And it has this underlay of values. Nowhere else that I know of are you forced, for example, to call penalties on yourself. That's a very interesting phenomenon. Then you start to play with executives who don't do that."
Q: It reveals character, doesn't it?
Kohler: "It sure does."
Q: When you got this idea that you were going to build your own course, I'm assuming you had to go before the board of directors and pitch it. Was it a hard sell, convincing the board to get into the golf business?
Kohler: "Actually, it was much more difficult trying to sell the idea of a resort hotel. That was the hard idea. The board beat me down twice. … Here I was chairman of this privately-owned company and it took me three times to sell the idea. So, anyway, we had this hotel and then came the suggestion slips after the first year and a half from the clients of the hotel. It seemed like a natural thing to do. So, selling the golf was not the hard idea; it was the hotel, which gave rise to the golf."
Q: You've often told the great story about Pete Dye going behind your back during the construction of Blackwolf Run and cutting down and burning a stand of trees that you expressly ordered him not to touch. Did you have other disagreements with him? Did you bump heads often?
Kohler: "Peter lied (laughs). All the time. Not occasionally. It was part of his charm. It wasn't something you'd get terribly upset at. I mean, sure, he'd irritate the hell out of you but it wasn't awful. He'd eventually get his way.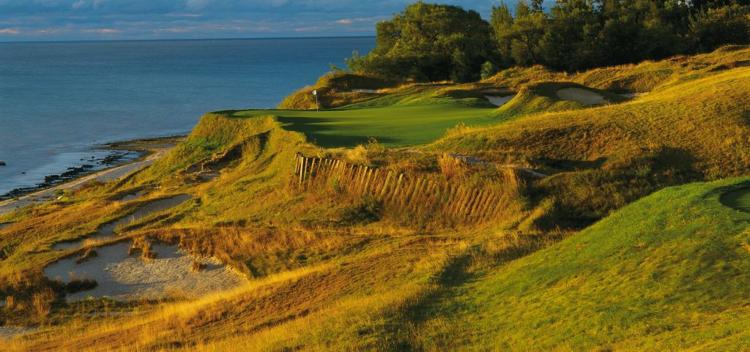 "I may have won one or two arguments with him. The 17th hole on the Straits Course. He had this notion, instead of a sharp drop-off on the left-hand side (of the green), he was thinking of building a pond. I said, 'Pete Dye, for God's sakes you don't want to build a pond next to Lake Michigan. Let it go.' And I finally got Alice (Dye, Pete's late wife) on my side and the two of us persuaded him."
Q. That's one of the great par-3s in all of golf. A pond next to the green would not have fit.
Kohler: "No, it would not have."
Q: Jumping ahead to Whistling Straits, when you walked the land with Pete for the first time, you said, 'Make this look like Ballybunion.' What was his reaction?
Kohler: "Pete and I probably by that time had taken at least four and maybe five or six trips to Scotland and Ireland. … That's where I really developed a love of the game, and what we saw in Scotland and Ireland, we did not see in this country. You just didn't see Lahinches or Ballybunions or courses like that.
"We had to take this land, it was about 37 feet above Lake Michigan, and we had to drop it down near the lake and then build it up in back (inland) and create some dune lines in the process. We had this opportunity to emulate a Lahinch or a Ballybunion. So, when I said, 'Make it look like Ballybunion,' it was based on what we experienced together and what we both loved."
Q: It was really a bold move on your part, with fescue fairways – at least, initially – and that sort of wind-swept, treeless links look and style course. Did you ever think, "What if this doesn't work? What if people don't like this style of golf?"
Kohler: "No. I knew what Pete loved. I knew what I loved because of the experiences we had in Scotland and Ireland, and it was that kind of an environment that I hopefully could create. … I didn't want to copy, but I wanted to create the unusual. That's what we've done in most of our product fields. We were able to do that with this piece of land."
Q: Regarding the 1998 U.S. Women's Open at Blackwolf Run, I don't think the USGA had ever seen such a massive turnout of enthusiastic fans for a Women's Open. What did that tell you about Wisconsin golf fans?
Kohler: "We may fail in the future for any number of reasons, but not because of the fundamental enthusiasm of Wisconsin golfers. It's quite remarkable. If you give them something noteworthy, they will support it. They'll run you over to support it."
Q: The 2004 PGA Championship was a watershed moment for Whistling Straits, for the Kohler Co. and for Wisconsin golf. How satisfying was it for you to have the world see the spectacular major championship venue your company built?
Kohler: "At least you did something right (laughs). It was a remarkable week."
Q: When you started this journey in golf, in your wildest dreams, could you have imagined getting inducted into not only the Wisconsin Golf Hall of Fame but the Wisconsin Athletic Hall of Fame?
Kohler: (Laughs) "Embarrassing."
Q: The Ryder Cup has become a huge global event, but people didn't really care about it 40 years ago. Then Europe started winning and it became a big deal. In ballpark terms, it's much more lucrative than a U.S. Open or a PGA Championship, is it not?
Kohler: "About 35 percent more lucrative. Isn't that interesting? It's still 45,000 people, your max per day, but the prices are higher and there are many more chalets and corporate partners. And they pay. But you think we could negotiate a better deal for ourselves? No-o-o. It all goes to the PGA of America. They make a hell of a lot of money. But it supports lots of good things."
Q: The Ryder Cup is the end of a great run of championships on your courses, following a U.S. Senior Open, three PGAs and two U.S. Women's Opens. Or is it the end?
Kohler: "Well, we keep scratching around to see what kind of interest there might be.
"The USGA likes the coasts because that's where the big money is. We're talking to the PGA Tour about the Tour Championship. Someday they may realize that Atlanta in August is not an appropriate venue for your final championship of the year. Maybe the Tour would like to move it around just a little bit."
Q: The sticking point would be Coca-Cola and the Southern Company. As long as they sponsor the Tour Championship, it would be hard to move it from Atlanta, wouldn't it?
Kohler: "That's their home. And certainly, East Lake has been developed and promoted in such a way that it has its own significant history. So it's a hard decision, but I think eventually the heat will get the best of them."
Q: The fifth golf course at Kohler has almost become mythical …
Kohler: (Laughs) "Yeah."
Q: Are you confident that ground will be broken at some point?
Kohler: "Of course. We just keep plugging along. … It's just going to take time. It will be a beautiful little course. It's not as rugged a landscape as the Straits but it will have its own charm. It will be quite different than the Straits, and different than Blackwolf."
Q: It's generally well known that Pete Dye, unfortunately, is suffering from Alzheimer's. Who is going to finish his rough routing?
Kohler: "We thought about awarding it to an architect and because we knew it was going to take such a long time to get resolved, we backed off and have decided that we don't want to do that (right now) and to some extent impact their careers because of restrictions on how close they could build other courses. But there are at least a half-dozen of the very top that would like to do it. We'll make that decision when the time is right."
Q: Considering it is going to be, when it's done, Pete's final golf course, have you thought about honoring him in some way?
Kohler: "We will. I'm not sure we can call it Pete's last golf course. He did the basic routing, but whoever comes in now … unfortunately it won't be Pete. He's just not capable of it now."
Q: Does the course have a name?
Kohler: "Certainly, we've tossed some names around. Have we decided on a final name? No. It needs a name that will be distinctive and have some sort of obvious relationship to the land."
Q: If I think of a name, I'll let you know.
Kohler: "You know, that would be actually quite appreciated."
Q: You have a healthy respect for the European team and players. Most Americans are rooting for the USA in the Ryder Cup …
Kohler: (Laughs) "Are we?"
Q. You aren't?
Kohler: "I probably have more connections with the European players that I can speak to, and know me well, than I do on the American team."
Q: Is that because your company owns the Old Course Hotel and because of your connections to St. Andrews and Scotland?
Kohler: "Partly. Over the years, we've had lots of opportunities to know each other, respect each other. Right now, we're actually hunting for – I'll tell you this – we're hunting for some land on the continent that might be turned into a Ryder Cup course."
Q: Spain? France?
Kohler: "North. More Germanic. Haven't found it yet, but we're looking."