HAVEN – It was a stroke of public relations genius. Score one for European Ryder Cup captain Padraig Harrington, who sent his players out for their Wednesday morning practice session at Whistling Straits in cheeseheads, to the delight of the fans in the massive grandstand around the first tee.
As the crowd roared its approval, the Euros flung the cheeseheads into the stands. Is there a better way to win over a gathering in Wisconsin? For a moment, everyone forgot that these guys were the enemies. They might as well have been the Green Bay Packers. In fact, their team uniforms were trimmed in green and gold.
"Look, it's lighthearted," said Harrington, who donned a Packers cap and declared himself a fan. "You want it that way in practice. It's somewhat respectful of obviously the Green Bay Packers, and they were very much on board with this, so a bit of fun and we got a nice reception with it.
"You know, it is a nod to Wisconsin and obviously to Green Bay that we've gone with this, we've gone with the colors. And obviously the cheeseheads and throwing the things up there is a bit of fun for the fans that are here. The Wisconsin fans are very appreciative, so we want to show our appreciation back."
If you're scoring at home, it's Europe 1, United States 0. And that's before the first shot that matters is struck Friday morning in the 43rd edition of the biennial matches.
"That was smart on their part," U.S. captain Steve Stricker admitted. "Why wouldn't you, when you come over to foreign soil, try to win some fans over, right? We do the same thing when we go over there, and I'm sure they realize that we are on U.S. soil, and with the travel restrictions and all that, they're trying to round up as many fans as they can.
"Cheeseheads are a staple here, right? So that's cool to see. I saw, I think, (Tommy) Fleetwood on TV wearing a green and gold hat, so I thought they were kind of going down the Packer route. So good on them and interesting to see, but we'd be doing the same thing."
Stricker is doing his best to keep the mood light and fun in the team room and the practice sessions, but the Europeans don't have to work at it. They approach the Ryder Cup with a combination of looseness off the course and intensity on it. It's one of the reasons – along with out-performing the Americans where it counts most, on the greens – that they have won nine of the last 12 meetings dating to 1995.
This time around, the U.S. is the betting favorite to hoist Samuel Ryder's 17-inch trophy and pop the champagne come Sunday evening. On paper, the Americans form the superior team, with nine players ranked among the top 11 in the Official World Golf Ranking.
As we've seen over and over, however, performance in individual Tour events and impressive resumes have no bearing on the outcome of the Ryder Cup. And a dive into the statistics reveals that the Europeans are just as strong as the Americans in several key categories.
Here's a breakdown:
OFF THE TEE
The U.S. team boasts five of the longest players on the PGA Tour in Bryson DeChambeau (No. 1 in driving distance in 2021 at 323.7 yards), Dustin Johnson (No. 7, 312.9), Brooks Koepka (No. 12, 310.7), Xander Schauffele (No. 22, 307.6) and Tony Finau (No. 31, 305.5).
In the lead-up to the Ryder Cup, the Americans' firepower was touted as superior to that of the Europeans. But is it? Rory McIlroy (No. 2, 319.3), Sergio Garcia (No. 16, 309.4) and Jon Rahm (No. 19, 309.0) are as long as anyone not named DeChambeau.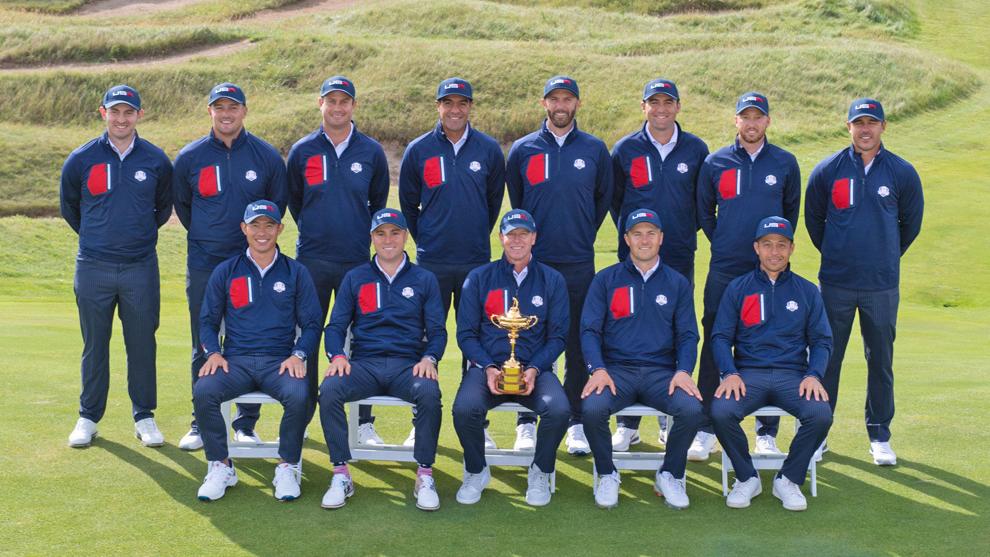 Shots Gained-Off the Tee is more indicative of driving prowess because it measures a player's performance relative to the field. DeChambeau is No. 1, gaining 1.162 shots on the field per round off the tee, but Europe boasts Nos. 2-5 (Rahm .834, Garcia .796, McIlroy .660, and Viktor Hovland .656).
DeChambeau, who plans to compete in the Professional Long Drivers Association World Championship immediately after the Ryder Cup, reportedly reached 148 mph swing speed recently, launching a drive 405 yards. It's fun to talk about his length, but in 15 mph wind at Whistling Straits, a 360-yard drive is likely to wind up in Lake Michigan or up where the sheep are grazing.
"There's going to be certain holes it's a huge advantage on: 10, 6, 5, 1, 2," DeChambeau said. "You name it, there's a whole list of holes where it's going to be a huge advantage, I hope, if I'm hitting it in the fairway."
Give the advantage to the Americans. But it's not as big as some think it is.
INTO THE GREEN
The Americans boast perhaps the best iron player in the world in Collin Morikawa, a two-time major champion at 24. Morikawa led the Tour in Shots Gained-Approach the Green (1.170).
But overall, this category is a strength for both teams.
For the U.S., Justin Thomas (No. 3, .887), Daniel Berger (No. 5, .834), Xander Schauffele (No. 14, .650), Patrick Cantlay (No. 24, .486) and Koepka (No. 25, .482) all ranked among the top 25.
Europe's top five are Paul Casey (No. 2, .895), Rahm (No. 8, .717), Tyrrell Hatton (No. 13, .651), Hovland (No. 15, .648) and Shane Lowry (No. 19, .543).
If anything, the Europeans might enjoy a slight edge.
PUTTING
This statistic is rendered virtually meaningless at the Ryder Cup because no matter what the numbers say going in, the Europeans typically make the bigger putts. The U.S. still celebrates Justin Leonard's cross-country bomb in 1999, but Europe has since returned the favor many times over.
Garcia and Lee Westwood are not regarded as great putters, but they have won 22 and 20 matches, respectively, which says all you need to know about their ability to get the ball in the hole. Poulter has made a career out of breaking American hearts.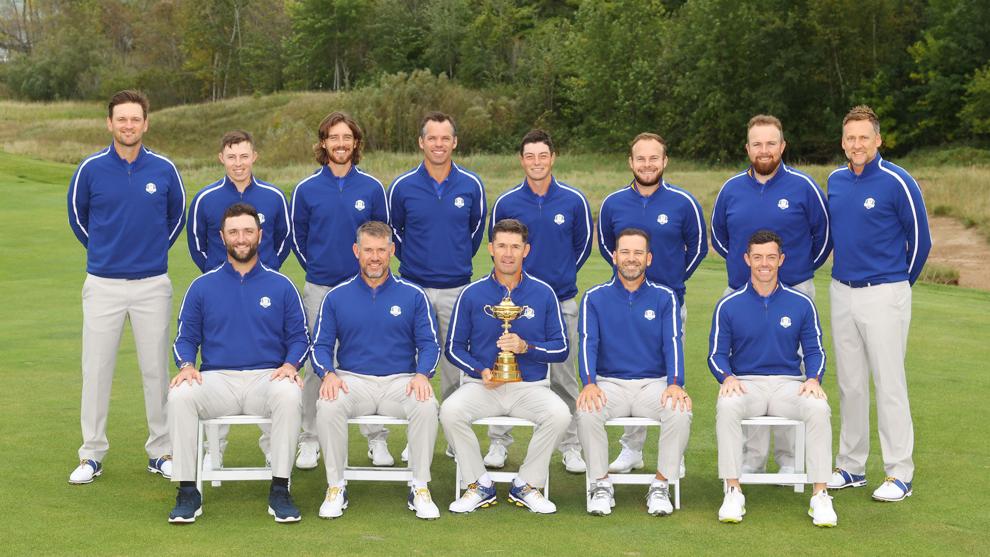 For the record, three Americans placed among the top 25 in Shots Gained-Putting: Harris English (No. 12, .544), Schauffele (No. 16, .480) and DeChambeau (No. 20, .456). Poulter (No. 3, .695) is the only European who showed up in the top 25.
That means next to nothing.
Advantage: Europe, until the Americans prove otherwise.
EXPERIENCE
The Europeans, led by veterans Westwood, Poulter and Garcia, have won more Ryder Cup matches (77) than Stricker's kiddie corps have played (49).
Does it matter? It depends, of course, who you ask. Experience helps teams playing on foreign soil because veterans know what to expect. Stricker loaded up on young, aggressive players because he thinks they'll be inspired to perform at a high level in front of rowdy, pro-U.S. galleries. And, let's face it, his six rookies have no scar tissue from previous losses.
Americans play some individual match play as amateurs, but rarely in team formats outside of the Walker Cup. When Cantlay was asked how much foursomes he'd played growing up, he responded by asking the reporter, "How much foursomes have you played?" Touche. No one plays alternate shot in America, but it's commonly played at clubs in Europe, as is fourballs.
Clearly, Europe has the advantage.
COURSE AND WEATHER
Whistling Straits looks like Ballybunion but is really a faux links, played through the air and not on the ground. That helps the Americans, who grow up playing target golf almost exclusively. But it's not as if the Europeans haven't adapted. McIlroy, Rahm and Casey are as American as apple pie when it comes to the style of golf they play.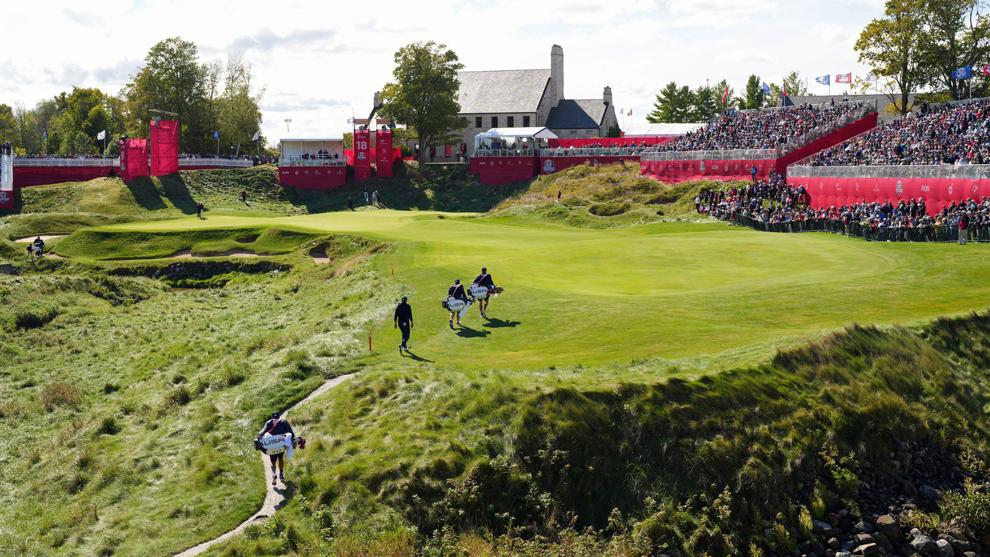 Stricker, whose dive into analytics told him the U.S. has lost too many holes with bogeys in recent Ryder Cups, set up the course with bogey avoidance in mind. The rough is not deep, the greens are receptive and the fairway corridors are not as narrow as they were in Paris in 2018. Expect to see a lot of birdies, but it goes both ways. The Europeans will make them, too.
The wind is forecast to blow at 10-15 mph this weekend, with highs ranging from the upper 60s to the low 70s.
"I do think I'm pretty happy with the conditions here to be honest," said Irishman Shane Lowry. "I'm pretty happy with the golf course and that cold wind. It feels very much like a summer's day in Ireland when you're out there."
In the final analysis, the Americans will have an advantage on the Straits only because the galleries will be heavily pro-U.S., despite Harrington's clever invoking of the Packers.
INTANGIBLES
Two years ago, Stricker and Harrington were guests on Golf Channel's since-canceled "Feherty," which was taped at the Stefanie H. Weill Center for the Performing Arts in Sheboygan. Host David Feherty asked both captains what they hoped for in the 2020 Ryder Cup, which wound up being postponed one year by the coronavirus pandemic.
Harrington gave a long-winded, thoughtful answer about camaraderie, a spirited but friendly competition, good sportsmanship, etc. Then Feherty turned to Stricker, who grinned and said, "I don't know about all that. I just want to win."
All the pressure is on the Americans. They're the better team on paper. It's a home game. Their captain is a Wisconsin native. They're sick and tired of losing. They're sick and tired of being asked about losing.
On the other hand, the Europeans relish their role as underdogs. The Ryder Cup is as important to them as are the major championships. Their formula for success cannot be measured, because there is no Shots Gained- Chemistry.
"You watch European Ryder Cup teams over the years, and they do seem to have that something that it takes to compete in this tournament," Lowry said. "You just can't teach that or you can't train that or you can't buy that. It's just something that has to come from within."
Your head tells you the U.S. should win. Your heart isn't so sure.