For southern Wisconsin charities, the American Family Insurance Championship is the gift that keeps on giving.
And giving big. An oversized check was only appropriate Wednesday when Madison golfer Steve Stricker and officials from the American Family Insurance Championship announced the 2019 tournament had generated more than $2.4 million for area charities.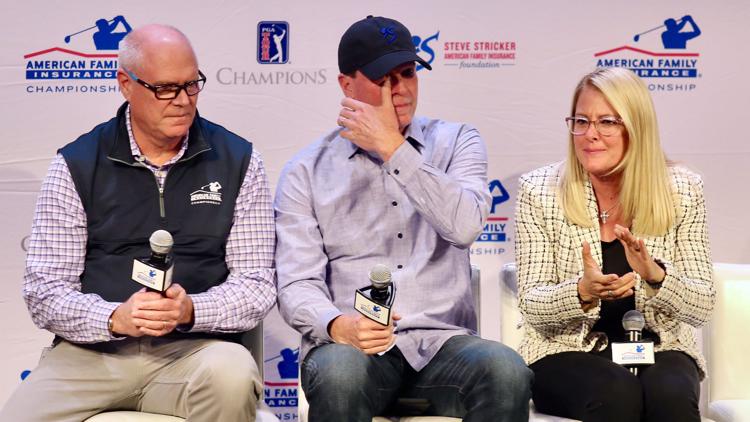 That's an increase from the nearly $2.1 million raised for charity by the 2018 tournament. In its four years as one of the most popular and best attended events on the PGA Tour Champions schedule the AmFam event has raised a total of almost $7.2 million.
Nearly half of the 2019 funds will be directed to the American Family Children's Hospital in Madison, while the rest will be divided among more than 90 non-profit groups. Representative of many of those organizations were on hand for the announcement at American Family Insurance corporate headquarters Wednesday, along with Stricker's wife, Nicki, and Charlie Kuehl, the beneficiary of a kidney transplant at the hospital who served as a smiling, squirming reminder of the good that can come from such support.
Just as he had struck the ceremonial first tee shot at the tournament in June, four-year-old Charlie – now healthy and living a normal childhood — helped Stricker tear the cover off the check to reveal the new record amount.
If the number was something of a surprise, one thing was not. The famously emotional Stricker grew weepy in describing the feeling of being able to help raise such "impactful" money for local groups and being able to help children like Charlie.
"It's a special week to play…to play in front of my family and friends and ultimately to give back," he said, apologizing for his tears. The first four years of the tournament have "flown by, but what an honor we have to be able to do this for the community. To raise the amount of dollars we're going to announce today truly blows me away."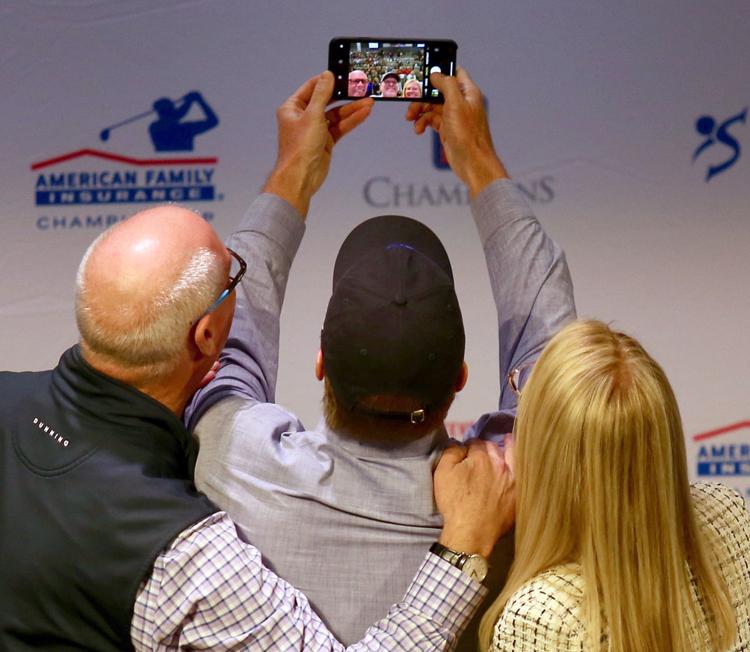 Jack Salzwedel, chair and CEO of American Family, recalled that in discussions about starting a tournament in Madison he and Stricker wondered if the community and sponsors would turn out to support such an event. The answer was a resounding yes, he said, noting that this year's event was aided by 1,100 volunteers from 15 states, along with support from community organizations including the University of Wisconsin Athletic Department and the staff of University Ridge Golf Course.
"It's unbelievable, really, the community support," he said. "The golf and energy of tournament week is incredible, but it's the meaningful long-lasting impact made through the money raised for charity that's most important."
Nicki Stricker said she and her husband were just thankful to be able to help raise such support for charities.
"It's humbling, too," she said, mentioning that strangers will approach them to thank them for what they do. "We look forward almost like Christmas to be able to give this away."
Groups receiving donations from the event range from golf-related, such as the First Tee program, to community efforts such as the Madison Reading Project, which works to combat low literacy rates, and the Madison Area Food Pantry Gardens, which provides produce for many area food banks and community programs.
In a statement, Miller Brady, PGA Tour Champions president, said that, "In four short years, the American Family Insurance Championship has set a gold standard" for the tour while at the same time "creating a tremendous community footprint."
In 2018, the American Family Championship was awarded the tour's President's Award based on outstanding charitable giving, sales, attendance and economic impact. It earlier had received the 2016 Outstanding Achievement award in its inaugural year after raising $1.1 million, the most ever raised for charity by a first-year event. The PGA Tour Champions will be announcing winners of its 2019 awards later this year.
Best day of the year for @amfamchamp and the @StrickerFNDN ! We're able to give away a very big number. Thanks to all that help our dreams become reality! pic.twitter.com/oo4Bj8ayxe

— Steve Stricker (@stevestricker) November 13, 2019
Next year's tournament will be held earlier than in previous years: May 30-June 7, 2020, with special events during the week and tournament play June 5-7. Madison's Jerry Kelly will return as defending champion and Stricker will play in the tournament for the fourth time.
The 2019 tournament led off with a concert headlined by Toby Keith that drew more than 10,000 fans. An announcement about the 2020 concert headliner will be made next week.
For the second year in a row, the American Family Insurance Championship in has been named the recipient of the prestigious President's Award …
Stricker noted that 2020 will be an especially busy year for him. He said he intends to play often on the regular tour in order to "stay visible" while competing against the younger players in addition to hosting the American Family event and, in September, serving as captain of the United States team in the Ryder Cup at Whistling Straits.
"It's going to be a busy year but one I'm looking forward to," he said. "It should be a great year and one that's going to fly by because I'll be so busy, but one I'm really looking forward to."
Serving as Ryder Cup captain "means a great deal," he said. "I'm privileged."