Something didn't sit well Thursday with Alex Gaugert, but the Lake Geneva native was back on Erik van Rooyen's bag Friday in Mexico City at the World Golf Championships-Mexico Championship. And it was a day to remember.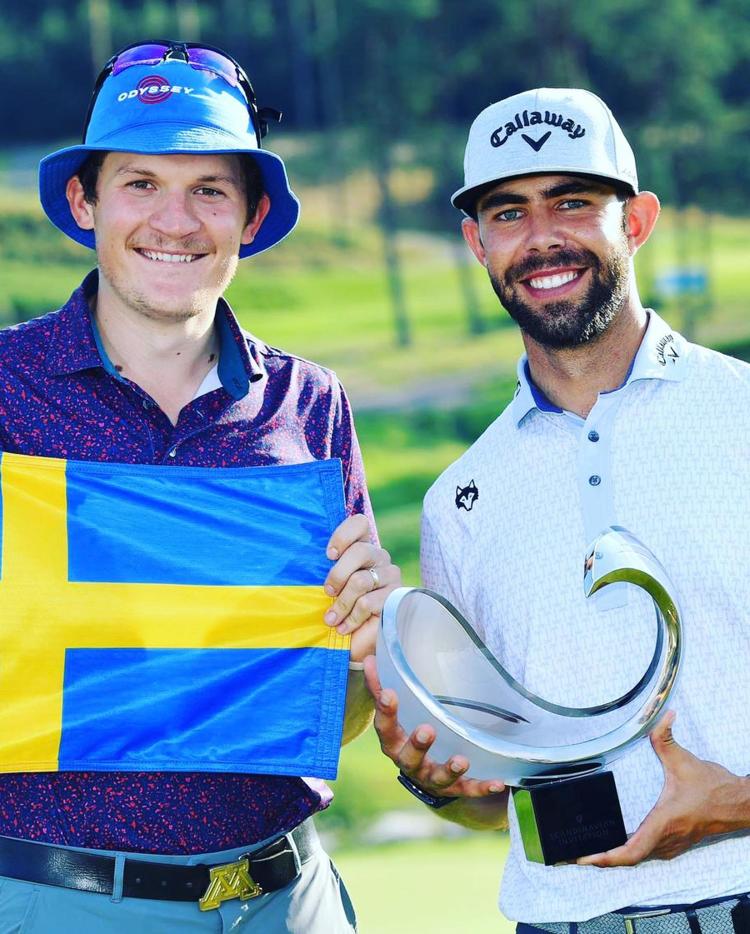 One day after food poisoning gave him a day off from caddie duties, Gaugert had a front-row seat to his former University of Minnesota teammate's bogey-free, 9-under-par 62 that moved van Rooyen into a share of second place at 10-under 132. He trails leader Bryson DeChambeau (63) by one shot with 36 holes to play at the Club de Golf Chapultepec in the 72-player tournament.
"Obviously, it's just Friday so there is a lot of work still to be done," Gaugert said Saturday morning in a telephone interview with Wisconsin.Golf before van Rooyen shot a 4-under-par 67 and remained one-stroke off the lead entering the final round of the international event. "It was a cool day. We just kind of clonked along. We didn't do anything extremely special; just kind of kept the ball in play and kept the ball in the right spaces and made a few nice putts. 
"We have a goal of having 10 bogey-free rounds throughout the year. And that marked No. 2 of the year."
That Gaugert — on the one-year anniversary of becoming van Rooyen's regular caddie — was healthy enough to contribute to the second-round showing spoke volumes for the power of recovery from Thursday's nasty illness.
"It was pretty bad," Gaugert said. "We went out to dinner on Wednesday night. Went to a little teppanyaki place and I had some shrimp and veggies and sushi and chicken. I think I'm starting to develop a little allergy against shrimp. It hit me about 3 a.m. ... I tried to feel like I could make it, but there was no way. I would have been no help. I was just wiped."
Gaugert's remarkable recovery off the course was almost akin to the turnaround van Rooyen made on the course.
After playing his first seven holes of Thursday's opening round in 3-over with his trainer on the bag, starting on the back nine, Van Rooyen parred Nos. 17 and 18 and then chipped in from just off the green for eagle at the 303-yard, par-4 first hole. He birdied the next two holes, offset two bogeys over his final six holes with two more birdies and closed in 4-under 31 to salvage a 70.
Friday's round, on the other hand, was flawless. 
Playing on his 30th birthday, Van Rooyen opened birdie-birdie, added two more birdies at Nos. 6 and 9 and played the front nine in 31 for the second day in a row. This time, though, the back nine was much kinder to the native South African as he birdied the first three holes making the turn, added birdies at Nos. 15 and 18 and shot his third consecutive nine-hole 31 to get him into contention for the weekend.
Van Rooyen didn't make a birdie putt longer than 10 feet, 6 inches during the second round. He holed his third chip of the week on No. 9, an 18-footer for birdie after he missed the green left with an approach shot from 136 yards.
"You don't want to miss it left there; (it's) quite a slick, little downhill chip,'" van Rooyen said. "But I told Alex ... '(We just need to) pitch it on the green and have it trickle down.' Again, (he gave me) a really good line, so good job."
Van Rooyen, who qualified for the upcoming Masters Tournament by finishing 2019 in the top 50 of the Official World Golf Rankings, now has his sights set on getting into next month's Players Championship. The top 50 in OWGR as of March 4 get into golf's unofficial "fifth major" and van Rooyen was ranked 52nd coming into this week.
But first things first. Van Rooyen and Gaugert can knock off another of their goals by doing the same things van Rooyen has been doing over the last 27 holes.
"You have to keep your foot on the gas," Gaugert said. "You're playing against the best in the world. If you're playing against the best in the world, you've got to stay on offense. ... Obviously, there will be a bit of nerves, but that's what you want. That's what you practice for. That's what you play for. ... You want to be nervous. That means that there is something to play for and there's stuff on the line. That's where you want to be."