MADISON – Steve Stricker walked onto the 10th tee at University Ridge Golf Course on Saturday, with the gallery five deep and spilling down the right side of the fairway. He got the thunderous ovation he always gets as a hometown hero and the host of the American Family Insurance Championship.
After he hit his tee shot, though, only a smattering of spectators left their positions along the gallery rope to follow him. Stricker, playing in the penultimate threesome, knew why. In fact, if he wasn't fighting for the lead, he might have stayed put, too.
"Have fun following that," he said with a grin, gesturing behind him as he walked past me.
Ah, yes. That.
Jack Nicklaus. Brett Favre. Toby Keith. Andy North.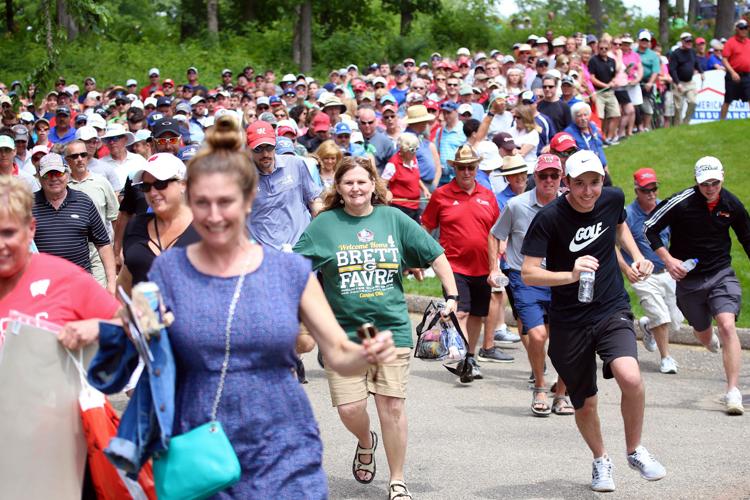 The Celebrity Foursome not only has become a staple of the PGA Tour Champions event, it rivals the tournament itself in terms of fan appeal. Favre and Keith, the ex-Packers gunslinger and the country western crooner, are huge draws, and North is revered in these parts. But getting Nicklaus, the 18-time major champion, was a coup and put the hit-and-giggle team event over the top.
"The only way I can describe it," Favre said of playing with the Golden Bear, "is being a priest and serving mass with the Pope."
Nicklaus, 79, dressed in a yellow shirt and hat and a navy vest, is a shell of the golfer who dominated his sport as few ever have. Nobody expected to see great shots from a man who walks as if every joint aches, appears to be at least two inches shorter than his listed height of 5 foot 10 in his prime and needed a cart to get around the hilly back nine at U Ridge.
That's not why they were here. They just wanted to see the greatest player the game has known, to call out his name, to get a wave or a nod. Nicklaus heard, "Thanks for coming, Jack," at least 100 times. Even Barry Alvarez, the Wisconsin AD, followed along in a cart.
The golf was secondary, really. The event was a fundraiser for American Family Children's Hospital, ostensibly pitting North and Keith against Nicklaus and Favre in a two-man scramble. The teams tied and AmFam doubled its donation from $25,000 to $50,000. So, everybody won.
But someone forgot to tell North, a two-time U.S. Open champion; Favre, a three-time NFL most valuable player, and Nicklaus, who never was particularly fond of losing, that it was OK to tie.
"Everybody always wants to win," Nicklaus said in the media center afterward. "I mean, I can't imagine any one of us here who have played anything or done anything that doesn't want to win when you play."
Nicklaus turned to Keith and said, "You know, I don't know how you win at music, but you win."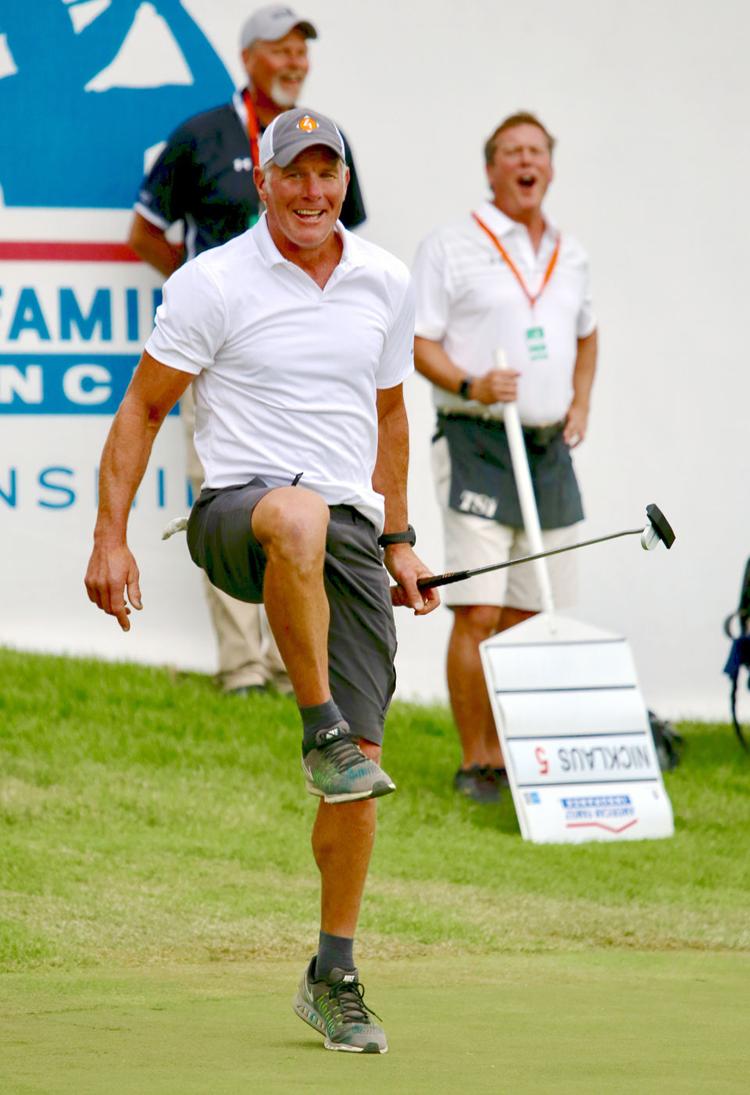 "You get paid a lot of money," Keith said.
The event was filled with good-natured ribbing and frivolity. The four posed for photos on the 10th tee holding aloft red cups, a nod to Keith's smash country hit, "Red Solo Cup." After Favre slashed a shot out of the rough on No. 11, he said, "That one came out hot." Nicklaus responded, "I haven't seen one of those in years – one that came out hot," and Favre doubled over in laughter.
On the 17th hole, Favre tossed a football into the grandstand, a tradition that dates back to the inaugural AmFam Championship, and when Nicklaus attempted to duplicate the throw … well, let's just say it came up a bit short.
Despite all that, the golf was surprisingly good. Even Keith, who owns his own golf course in Oklahoma but is a high-handicapper, hit some good shots (his shank over the heads of spectators on the 12th tee notwithstanding). Favre chipped in with a couple of clutch birdie putts and North, despite protestations that he never plays, striped several drives.
In the end, though, it was Nicklaus – who else? – who delivered in the clutch. He cut the dogleg on the par-5 16th with a risky tee shot over a hazard that probably flew 240 yards in the air.
"That's the only ball I hit all day," he said.
Not true. On the next hole, the par-3 17th, he hit a lovely shot that stopped some 12 feet above the hole. With the crowd chanting "Jack! Jack! Jack!" and then "Birdie! Birdie! Birdie!" Nicklaus stepped up to the putt and barely missed, eliciting a groan from the crowd as he dropped his putter in disbelief.
"It's amazing when we do these things, the closer we get to who can win, he always plays a little bit better – sort of like he's done for 50 years," North said. "He had a great drive at 16, probably 30 yards further than any other drive he hit, and a beautiful shot at 17. It's fun to see."
Nicklaus came to Madison out of his respect for North, a close friend, and Stricker, who Jack first met when his son, Gary, played at Ohio State while Stricker was at Illinois.
"Oh, it was terrific," Nicklaus said of the day. "We had good fun. I had a great partner. Andy had a great partner. We ended up all even. We doubled the money for the hospital. We had fun. The people had fun. What more do you ask for?"
A return visit is unlikely. Nicklaus will turn 80 in January and does only a handful of these things a year. The last time he played in a tournament in which he had to hole every putt and his score counted, he said, was 2005.
Nicklaus played in Milwaukee only twice in PGA Tour events, first as an amateur in the 1961 Milwaukee Open, where he tied for sixth. One shot off the lead going into the final round, he called his wife, Barbara, but in his excitement over his game he neglected to wish her a happy one-year anniversary.
"It cost me dearly when I got home," he said.
Twenty-four years later – and one year before he won his sixth and final Masters – he finished second to Jim Thorpe in the 1985 Greater Milwaukee Open. What did he remember about his close call at Tuckaway Country Club?
MADISON — In three short years, tournament host Steve Stricker and his team at the American Family Insurance Championship have built a PGA Tou…
"I got mugged," he said, referring not to Thorpe but to an encounter on a street in Milwaukee. "A guy came up to me and he says, 'Give me your wallet.' He stepped in front of me and I said, 'Get out of my way, get out of here.' He says, 'I'm going to shoot you.' I said, 'Get out of here,' and I kept walking.
"I walked about 10 more steps and he says, 'Well, if I hadn't forgotten my gun, I would have shot you.' Absolute truth."
Back in the media center after they'd finished playing, Keith, who performed a concert Friday night at Breese Stevens Field, serenaded a handful of reporters with an acapella version of "It's Now or Never." When he finished, he said, "Your turn, Brett." Favre leaned into the microphone and said, "I wrote the song, 'I'll never forget old what's-her-name.'"
There were more jokes, more laughter, and then it was time to pack up and leave. But not before Keith got in some parting words.
"I'm writing a song called 'Jack Daniels and Jack Nicklaus,'" he said. "Let it be documented on this day in June, so nobody can steal my idea."
Should be another hit.