MADISON – They've won a combined $79.4 million playing professional golf, so let's not feel sorry for Steve Stricker and Jerry Kelly. They've had great careers, they have good lives and the American Family Insurance Championship this week is practically a love-fest for the Madison residents.
If either was to go on to win Sunday at University Ridge, the celebration on State Street might rival that of a Badgers' Rose Bowl victory. OK, maybe that's an exaggeration. But it would be big.
How big?
"I would probably cry," Kelly said, "like Steve."
Stricker, yes, he'd definitely cry. And I'd pay to see Kelly break down and sob on the 18th green. But if their records prove anything, it's that winning a home game is much harder in golf than it is in just about any other sport.
The Dynamic Duo is a combined 0-for-41 in professional tournaments in Wisconsin, going back to their formative years in the Greater Milwaukee Open in the early 1990s. It's a streak punctuated by close calls and heartache but, so far, not a single trophy hoisted.
Last year, Kelly finished one shot behind winner Scott McCarron in the AmFam. He lost a playoff to Loren Roberts in the 1996 Greater Milwaukee Open. Ten years later, he finished second to Corey Pavin in Milwaukee, despite shooting 64-67-64-67 at Brown Deer Park. He was a combined 51-under in those three tournaments and had nothing to show for it, except for nice paychecks.
Money spends, but titles are forever.
"I was right there," Kelly said wistfully Thursday. "I was right there with Carlos Franco (when Kelly finished third in the 1999 GMO). He knocks it in for an (eagle) on No. 8. Loren, he knocks it up there … or was it Corey who made the two on 8? I don't know. It doesn't matter. They all did that kind of stuff to me.
"Loren's coming out of the rough on 18 (in the playoff) and he lands short of the green in the high stuff and it kicks to the right and goes over there for a tap-in. You know, it's like they give you that much and then it's like, OK, that's enough."
Not that it stuck with him.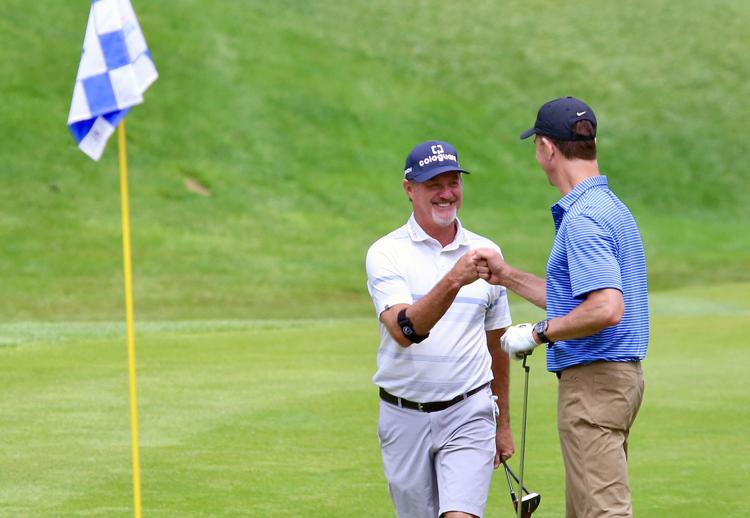 "N-o-o," Kelly said with a laugh. "But that's what brought me back year after year on tour, is because I use every single one of them. Solidly place a chip on my shoulder and go back and go after it the best I can."
Stricker has tied for third in the AmFam Championship, which he hosts, in each of the last two years. Going back to the GMO, he had six top-15 finishes, including a runner-up to Jeff Sluman in 1998. Unlike Kelly, Stricker didn't recall many details of his close call, but he did remember how hard it was to play in front of friends and family.
"It was probably the most nerve-wracking week of the year because of all the expectations on how well you want to play," he said. "So that part, I never looked forward to, the extra added pressure."
It's the same story this week, as Stricker can't turn around without being tugged in three different directions. It's part of his gig as the tournament host, but it isn't conducive to the kind of preparation he needs to be competitive.
"Yeah, it's a challenge," he said. "I was just trying to practice putt a little bit and it's a challenge to get in my time that I normally am accustomed to at a regular event. But it all comes with the territory, and I expect that."
Last year, Stricker shot 64-75-65 and admitted his second-round score was at least partly due to some, ahem, self-inflicted pain.
"I learned not to maybe party so hard on Friday night," he said with a rueful smile, referring to the concert at Breese Stevens Field featuring REO Speedwagon. "Hopefully, I can apply that to Toby Keith this year, but that will be hard because he's a friend of mine and he puts on an unbelievable show."
When it came to the major championships in Wisconsin, Stricker tied for 16th at the 2017 U.S. Open and tied for 18th at the 2010 PGA Championship, but neither he nor Kelly ever scared the leaders.
"I never really figured out Whistling Straits until I couldn't play it anymore, unfortunately," said Kelly, who missed the cut at the PGA in 2004 and '10. "Now I have. There's actually room out there, it's just visually intimidating. But I'm a slow learner. What can I say?"
Scott McCarron, the defending AmFam champion, said he was surprised Stricker and Kelly have never won in Wisconsin. Then again, he wasn't.
"I think it's hard anytime you are playing in your hometown," McCarron said. "There's a lot more distractions going on for Steve Stricker this week because he is the host. There's even a lot more distractions going on for Jerry Kelly because he lives here, so you have a lot of friends and family.
"But again, both play well, it seems like, every week. I think they'll be OK."
He's right about that. As hard as Kelly is on himself – it's unwise to approach him after a 75 or a bogey on the 18th hole – he has come to appreciate his career. He won three times on the PGA Tour and has won three times and counting on the PGA Tour Champions.
"For a guy that doesn't have a great swing, moves a lot on his shots and his putts and gives the announcers a lot to talk about, I like my career more than I ever have, just knowing how long I've been doing it consistently," Kelly said. "I've started to accept that I actually did a pretty good job."
But dang it all, wouldn't it be fun if he or Stricker won the AmFam?
"One of these years one of us will pop this off, I think," Stricker said, "and it will be a special time when one of us does."