The American Family Insurance Championship will not be played in 2020, but the PGA Tour Champions event will still have the same charitable impact on Wisconsin as if it would have drawn the generous galleries it usually attracts to University Ridge Golf Course in Madison.
Tournament officials announced Thursday the cancellation of the 2020 AmFam Championship and all events associated with tournament week due to the ongoing COVID-19 pandemic and the inability to secure alternate dates in 2020 for the event.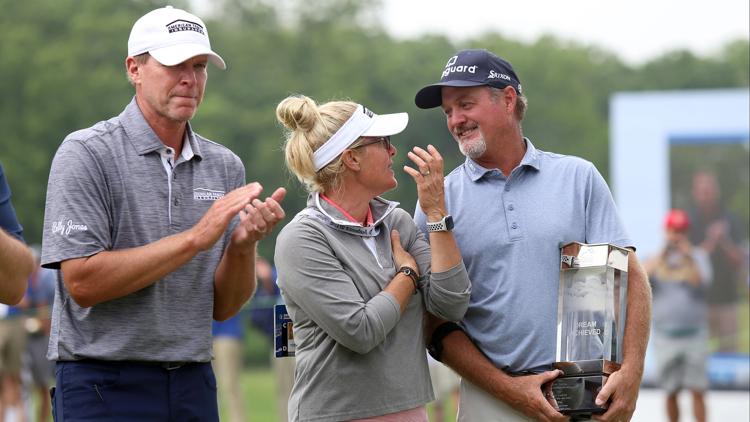 In addition to the 54-hole tournament hosted by Steve Stricker — with fellow Madison golfer Jerry Kelly as the defending champion — the cancellation includes the tournament week's pro-ams, the Friday night concert at Breese Stevens Field featuring Little Big Town and the BoDeans, and the University of Wisconsin Carbone Cancer Center's "Race for Research."
The tournament had been scheduled for June 5-7. 
Sponsors, golf ticket-holders, concert ticket-holders, volunteers and run/walk registrants will be contacted directly by AmFam Championship staff. They will have the option of receiving a refund, a carryover to 2021 or donation opportunities.
In Thursday's announcement, tournament officials also revealed the 2021 AmFam Championship will be played June 11-13 at University Ridge. Tournament officials also said they have rescheduled the 2020 concert with Little Big Town and BoDeans for Friday, June 11, 2021.
Tournament director Nate Pokrass said the PGA Tour, which administers the PGA Tour Champions, presented alternate dates in June, July and August for the AmFam Championship. However, the University of Wisconsin, which owns University Ridge GC, announced last week an extension of its cancellation of all "non-essential, in-person campus events" through June 30, adding that it was "highly likely that restrictions on large attendance events and/or those that involve travel from around the country will continue later into summer."
Pokrass said alternate venues were not considered for the 2020 AmFam Championship. He said consideration was given to staging the tournament without fans, but organizers quickly decided against it.
"We explored a wide variety of options and one of those was going the path of executing a tournament with no fans," Pokrass said. "Ultimately, when we looked at that option, this tournament is about the community. It is about engaging the fans, the volunteers, nearly 200 sponsors with American Family Insurance leading the way. When we explored that path, we felt we could not execute a tournament to the level we wanted to with no fans."
American Family Insurance will instead "reallocate its tournament title sponsorship investment" and immediately distribute $2.8 million to charitable organizations that rely on the funds raised through the tournament. That includes $1 million to the American Family Children's Hospital in Madison and $800,000 to non-profit organizations in south-central and southeastern Wisconsin, with an additional $1 million being donated to COVID-19 relief efforts throughout Wisconsin.
"In the end, the decision probably wasn't that difficult," Jim Buchheim, vice president for communications for American Family Insurance, said during a Zoom news conference. "It's a sad decision. It's not a decision any of us wanted to have to have made. But I think it's clearly the right decision and it was really the best option available for us.
"Part of the reason for that is because of the charitable component. American Family, as the title sponsor, is putting money in to support the tournament in a variety of ways. The majority of dollars are not going to get spent this year, which allows the Stricker Foundation to turn those title sponsor dollars around and get them back out into the community to charities right now."
Buchheim said the nearly 100 local non-profit groups that received grants in 2019 will receive the same amount in 2020. Officials hope to have that money distributed by the end of the month, according to Buchheim.
The cancellation came on the same day the PGA Tour announced another set of postponements and cancellations of events on three of its affiliated tours, impacting more than 60 tournaments. The AmFam Championship cancellation and updated schedule changes on PGA Tour Champions were not included in that announcement but are expected "in the coming weeks" as golf continues to deal with the impact of the coronavirus.
PGA Tour: Cancelation/Postponement Scoreboard
Tour
Events
Canceled
Events
Postponed
PGA Tour
10
15
PGA Tour Champions*
6
3
Korn Ferry Tour
9
3
Mackenzie Tour/
PGA Tour Canada
0
10
PGA Tour
Latinoamerica
0
8
* = Additional changes
to be announced
"Ultimately, when you looked at the options (the PGA Tour) presented, it kept coming back to how can we ensure a healthy and safe environment and how can we impact our charitable partners here immediately?" Pokrass said. "Making the decision to cancel was the best way to achieve those two primary objectives."
The AmFam Championship has received the PGA Tour Champions' Presidents Award each of the past two years. The award is given to the tournament that demonstrates outstanding achievement in areas such as charitable giving, sales, attendance and economic impact.
In 2019, the tournament raised $2.4 million for nearly 100 local charities, pushing its four-year total to $7.1 million impacting about 280 charities. More than 70,000 fans attended the championship in 2019, supported by a volunteer base of 1,200 people from 15 states. The week featured a sold-out concert headlined by Toby Keith at Breese Stevens Field and a celebrity foursome of Keith, Brett Favre, Andy North and Jack Nicklaus behind the last group on the back nine during Saturday's second round, creating an economic impact on the Madison area of nearly $15 million.
"The PGA Tour Champions has been a great partner in this," Buchheim said. "They helped us explore a variety of options and wanted to help us from a reschedule perspective. Ultimately, it also landed with us in terms of supporting this cancellation, seeing the benefits that we would be able to deliver from a local-charities standpoint and helping us to start to turn our attention to next year."
There is a good chance, Pokrass acknowledged, that next year might come with new expectations for events as large as the AmFam Championship.
"Policies, procedures and providing a safe environment is always at the forefront of our tournament," Pokrass said. "The PGA Tour is always providing updates on how we can run a safe tournament in any environment. What I think is going to happen here over the next couple months, as the PGA Tour executes their schedule in this environment, if they are able to have tournaments — perhaps some with no fans or maybe later in the year if they are able to have fans on-site — we're going to be able to learn from those tournaments what this 'new normal' entails."