The cancellation of the 2020 American Family Insurance Championship, announced last week, was yet another somber reminder of how COVID-19 has uprooted our plans, our calendars and our lives.
Jerry Kelly, however, managed to find the tiniest ray of sunlight in a storm cloud that won't go away.
"It means," Kelly said with a chuckle, "that Steve has to have me as defending champion for another year."
You'll forgive him if he revels in it just a bit. Kelly won the 2019 AmFam Championship in a dramatic three-man playoff that included tournament host Steve Stricker, and he won it in Madison, the city both call home.
That the two have had a friendly rivalry going back to their junior golf days and are nearly as close as brothers made Kelly's victory all the sweeter. He has had a wonderful career, but Stricker has mostly had the upper hand. In fact, the very next week they reversed roles at the U.S. Senior Open, Stricker winning and Kelly finishing a distant runner-up, six shots back.
As the defending AmFam champion, you can bet the always entertaining Kelly would have been in rare adrenaline-fueled, backslapping, camera-mugging form at University Ridge in June. Now, he'll have to wait another year, as the tournament won't be played again until June of 2021.
"I found out from texts from other people," Kelly said of the cancellation. "Then I read an email from (tournament director) Nate (Pokrass). Companies are having a hard time whether they want to put their people at risk. I totally understand that. Could they have found a date (later in the year)? Yes, but it would have been closer to fall and who knows if the (coronavirus) starts flaring up again?"
Kelly praised American Family Insurance and chairman and CEO Jack Salzwedel for committing to reallocate the company's tournament title sponsorship investment and immediately distribute $2.8 million to charitable organizations.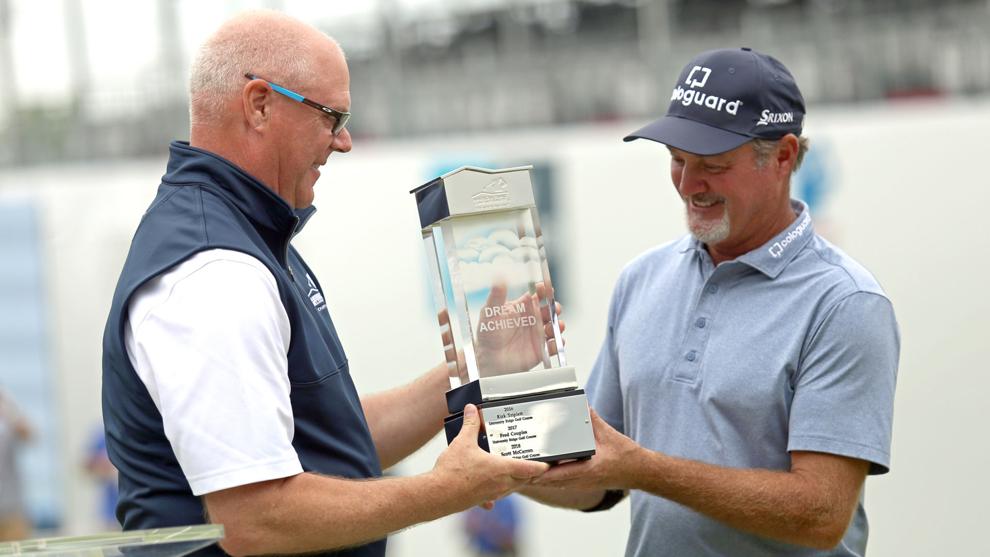 "I think it's pretty cool that Jack released every bit of the money for charity," Kelly said. "That says a lot about him and the company and Steve. It's really about not being self-serving, and serving others. I think that's money better spent than us playing golf."
In recent weeks, Kelly has been no different than the rest of us, staying safer at home in Paradise Valley, Ariz., binge-watching "Ozark" and "Black Mirror" on Netflix and tooling around a bit with his wife, Carol, on a pair of Trek e-bikes. His winter home abuts Paradise Valley Country Club, but he is not yet a member and is on the wait list to join.
"I'm looking at it right now out my window and I can't play it," Kelly said. "It's killing me."
Wait a second. Three victories on the PGA Tour and six on the PGA Tour Champions don't move you to the front of the line?
"I told (the club president) from the beginning, 'I do not want any special treatment,' " Kelly said. "I don't want to get into a club and people are like, 'Oh, yeah, they just pushed him in.' I don't want any of that. I want to just get in when I get in. I don't care who I'm behind. Let's just do this the right way. That's totally fine with me."
When he has teed it up in recent weeks, it's been at TPC Scottsdale. But he has played just a handful of rounds, and not very well.
"My game is awful right now," he said. "I can't putt, I can't chip, I can't hit irons, I can't hit a fairway. It's all over the joint."
With Kelly, that in itself is not a cause for concern. He doesn't play his best golf until the lights come on and has never been a particularly good practice-round player.
"I always tell my pro-am partners, 'Guys, I'm a pretty good 2-handicap on Wednesday,' " he said. "So many times, guys have put their arm around me after a round and said, 'Keep working. The cut's going to be tough this week, but there's always next week.' Then I take a top-10 in the tournament and they're like, 'What happened?' I'm like, 'Sorry, you guys don't pique my adrenaline as much.'
"I love the competition. Even if you play for money with another pro, it just doesn't do it for me. I just want to play tournaments."
What is of slightly greater concern is that the 53-year-old Kelly was off to a slow start before coronavirus shut down the season. He had just two top-25 finishes in five starts and finished an uncharacteristic T-54 and T-43 in his two most recent starts. This, from a man who'd piled up 35 top-10 finishes in his first 67 starts – an impressive 52 percent – on the PGA Tour Champions.
"There's definitely been a little letdown this season," he said. "I'm in one of the ebbs right now. My career has always been that way. It was that way last year at the beginning of the year. Out of the blue, I shoot a great round on Sunday at Hualalai last year (67) and then I don't do anything inside of the top 20 until (April). And then I have another crappy run until I get to AmFam.
"This is not my best time of year, anyway, other than Hawaii."
Kelly vows to be ready whenever the season resumes. First up on the Champions tour schedule – though that could change depending on where the nation is in its fight against the coronavirus – is the Bridgestone Senior Players Championship, July 9-12 at Firestone CC in Akron, Ohio.
"Where the season is starting up is kind of my meat through the end of it," he said. "I'm looking forward to getting back at it, obviously."
The Senior Players Championship is followed two weeks later by the Senior Open Championship in Berkshire, England. No one knows better than Kelly how COVID-10 has ravaged Europe. His son, Cooper, a junior at the University of Colorado, was to spend the spring semester in a study-abroad program in Italy but was ordered home just before the virus ravaged that country.
Would Kelly travel overseas in July?
"Absolutely, I'd go over," he said. "One thousand percent."
He said it would be unfortunate, but understandable, if the first few events back were played without spectators. That would have a greater impact on Kelly than it would on many others, because he feeds off the fans' energy. The bigger and louder the galleries, the better.
As a tradeoff, Kelly suggested wiring the players for sound, though he admitted "they'd need a pretty good five-second button for me."
"I think that our entire product should, and probably will, change a little bit with what's going on," he said. "I'd like to see more cameras in our faces, more microphones – possibly (us) wearing cameras and microphones.
"We're an entertainment tour. Nobody else in professional sports has the access that fans have at our tournaments. If we have to change that to more access over the air in competition, I think we have to be entirely open to that. It's just one of the ways we have to change.
"If I can replace (Golf Channel analyst) Lanny Wadkins while I'm playing, that would be awesome."
In the meantime, he has been working out in a small cart-storage garage in his home, which he converted into a mini-gym. He has dumbbells, kettle bells, a bench and a Schwinn Airdyne exercise bike and said he has gained considerable strength in recent weeks.
"I feel good. I feel strong," he said. "I've got more swing speed than I've ever had. I'm talking as an old guy. I was pushing 105 mph (swing speed with his driver) on good days. I mean, when it's hot and I'm warmed up and I'm trying to swing hard I could get to 108, maybe. And now I can get over 110.
"Obviously, my right arm, which was torn, is much stronger. My right knee, which was torn and repaired, is stronger. My legs and my glutes and my back and my shoulders, I mean, I'm stronger everywhere. I'm pushing decent weights. I'm bike riding. I'm doing a lot of things that I haven't been able to do."
With Wisconsin Gov. Tony Evers amending his safer-at-home order to allow golf courses to open Friday, Kelly will lose in-person access to his teacher starting this week. Jim Schuman, who also winters in the Phoenix area and is Kelly's brother-in-law, is returning to his teaching position at Blue Mound Golf & Country Club in Wauwatosa.
"Jim texted me and said, 'Hey, I've got to go back. We've got to get at it,' " Kelly said. "I'll put some good time in with him and then I'll probably shut it down and just probably think about my swing for a while."
Knowing Kelly – insert smiley-face emoji here – that could be dangerous.