MADISON – Talk about some holiday cheer.
Smiles weren't hard to come by on the American Family Insurance campus Monday morning, when a huge cardboard check signifying charitable proceeds raised by the 2018 American Family Insurance Championship was unveiled.
The number written on it: $2,067,000.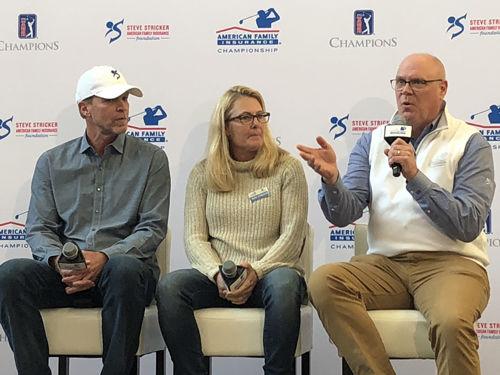 The money will be distributed through the Steve Stricker American Family Insurance Foundation to 83 charitable organizations, with roughly half of it going to the American Family Children's Hospital.
"It's amazing," said Jack Salzwedel, American Family Insurance chair and CEO. "It's absolutely amazing what you can do when you all pull together and you have a common goal – which is raising money for charity – and you all band together with the right intentions in mind."
In just its third year, the PGA Tour Champions event held at University Ridge Golf Course has wildly exceeded expectations. In addition to an annual $15 million economic impact, the tournament has raised a total of $4,781,000 for charity.
The inaugural AmFam Championship raised $1,089,000, the highest-ever total for a first-year PGA Tour Champions event. In 2017, the event raised $1,625,000.
The 2018 total of $2,067,000 represented a year-over-year increase of $442,000, or 27 percent. More than 65,000 spectators from 29 states attended the three days of tournament play in June.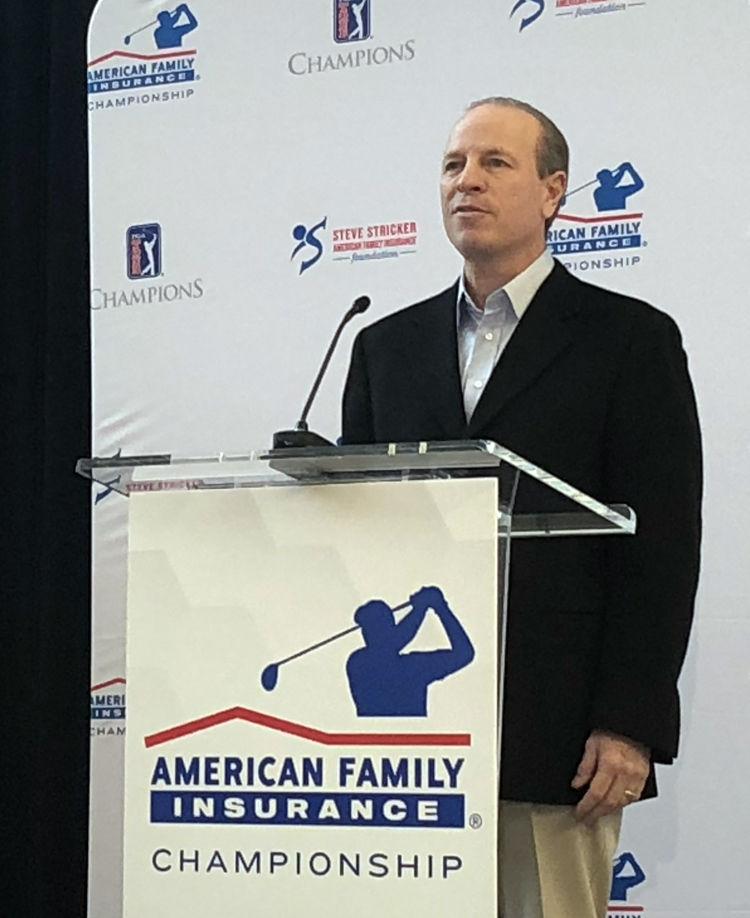 "It's surprising and humbling at the same time," said tournament director Nate Pokrass. "It's motivating, too. We know we have more room to grow."
Tournament host Steve Stricker, who flew back home to Madison after finishing in a tie for eighth place with partner Sean O'Hair in the QBE Shootout in Naples, Florida, on Sunday, was on hand for the Grant Distribution Celebration, as was his wife, Nicki, who read through all 110 grant applications.
"It's a special week," Stricker said of the tournament. "It's a lot of fun. We look forward to it every year and to have everybody involved – obviously a great sponsor, Jack and his team here at American Family and Nate, the whole team. I just show up and play and support it as much as I can.
"It's a wonderful week for us to be part of the give-back. That's why we're here today."
Last Thursday, the American Family Insurance Championship was awarded the prestigious President's Award from the PGA Tour Champions during tournament meetings in Palm Springs, California. The award is based on outstanding charitable giving, sales, attendance and economic impact.
"The President's Award is basically the tournament of the year," said PGA Tour Champions President Greg McLaughlin. "It's our best tournament out of 27 events. There's a lot of people that are responsible for that – the supporting sponsors; obviously American Family; University Ridge, which has been a tremendous partner; and certainly Steve and Nicki's leadership in pioneering this vision."
In addition to the American Family Children's Hospital, other organizations benefiting from AmFam Insurance Championship proceeds include The First Tee of Southcentral Wisconsin and The First Tee of Southeast Wisconsin, the East Madison Community Center-Serve, the Vera Court Neighborhood Center, Operation Fresh Start and dozens more.
The 2019 AmFam Championship will be held June 15-23 at University Ridge. Special events include a kickoff concert featuring Toby Keith at Breese Stevens Field, a celebrity foursome playing a nine-hole match and, new this year, a 5K run to be held the Saturday before tournament week on the Thomas Zimmer Championship Cross Country Course adjacent to University Ridge.
Scott McCarron will return as the defending champion and Stricker will play in the tournament for the third time. Also expected to compete are Jerry Kelly of Madison, who finished runner-up to McCarron, and Fox Point native Skip Kendall, who will be fully exempt on the PGA Tour Champions in 2019.