Kyle Anderson knew he wasn't in Edgerton anymore when he was tasked with trimming the edges of a pond at Le Golf National in Paris, where he was working as a volunteer greenskeeper during last fall's Ryder Cup.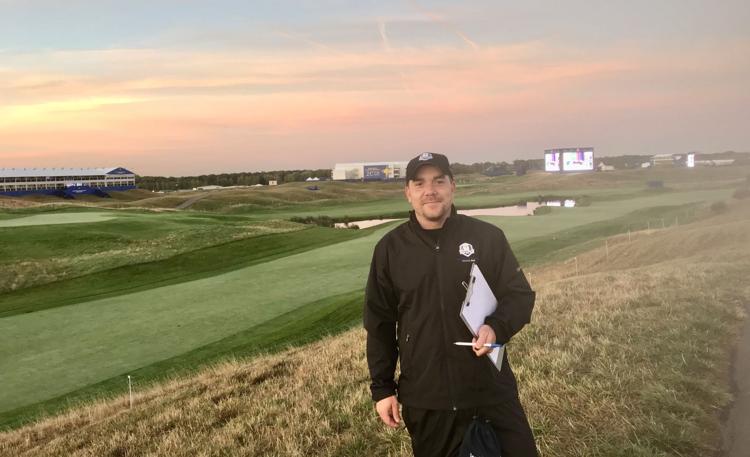 As the golf course superintendent at Edgerton's Towne Country Club in real life, Anderson knew the job and expected to be given a weed whacker to do it. But at the Ryder Cup that's not how it worked.
"They had me cut a pond edge with scissors," he said, "like what you'd cut a piece of paper with."
That attention to detail was just one of the things Anderson experienced during his trip to Paris. It was his first overseas flight, his first taste of one of the world's greatest cities — no offense, Edgerton —and long days of work and socializing that added up to merely "the greatest experience of my life."
The U.S. side lost. Anderson left a winner. How you gonna keep him down on the farm now?
Anderson, 36, was one of 10 members of the Golf Course Superintendents Association of America who joined with 10 members of the Federation of European Golf Greenkeepers Association to be part of the Ryder Cup maintenance team. When renewing his membership in GCSAA early in 2018 Anderson had answered yes to a question about whether he would be willing to serve as a volunteer in Paris, thinking at the time nothing would come of it. Some 600 superintendents gave the same answer.
When the call came to notify him he had indeed been selected Anderson didn't even pick up because he didn't recognize the number. It was only after he responded to a message a short time later to call about some good news that he learned he would be going to Paris.
"To be completely honest I forgot I even signed up for it," he said.
The all-expense paid trip was sponsored by Martin Sternberg, whose company Capillary Concrete is involved with golf course construction. A native Swede who was the first European to earn Certified Golf Course Superintendent status through GCSAA, Sternberg has long referred to course management and greenkeeping as "the international language." The trip was intended to give the lucky superintendents opportunities for networking and education along with the chance to work on a course hosting the game's biggest international event.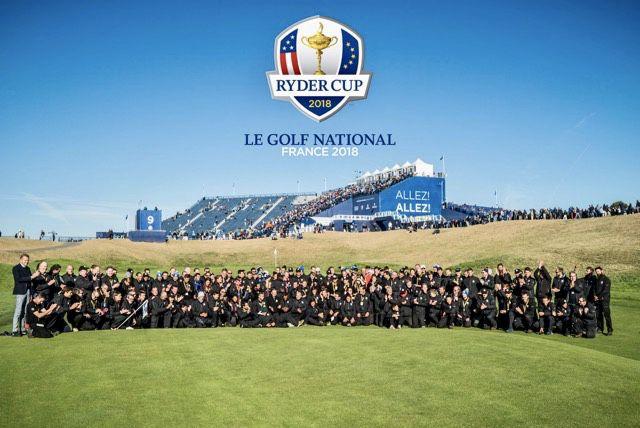 Anderson and his fellow supers were housed in a nice hotel, given a full wardrobe of suitable clothing ("The clothing we got was out of control," is how he put it) and provided with all meals. Days were long. They were picked up at 5 a.m. and bused to the golf course, where they would work for several hours before breaking for breakfast. During the mid-day they were free to go out on the course to watch practice or play before working a second shift in the late afternoon before dinner.
Most days they didn't return to their hotel until 9 p.m., he said, but that didn't stop the superintendents from bonding over a beer and establishing new friendships. And while the U.S. team suffered some friction over pairings and captain Jim Furyk's decisions, the superintendents from different parts of the country, and the world, got along famously, Anderson said.
"Everyone in my opinion dropped their egos at the door and worked together," he said. "We were a team. I took full advantage of talking with people."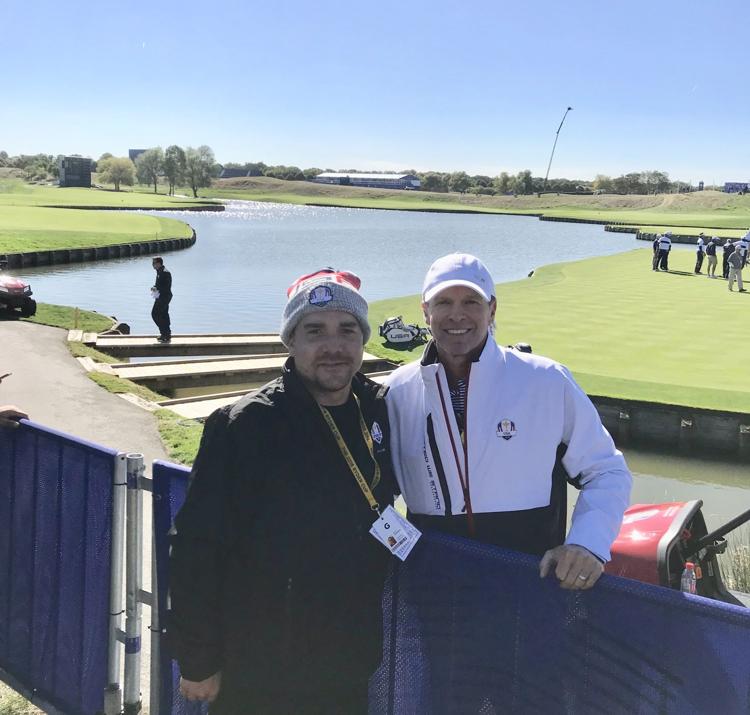 Early in the week he mentioned that he was from Edgerton and assistant captain Steve Stricker was a friend, which apparently struck a few of his new colleagues as a bit of a stretch. But when he texted Stricker, he got a reply three minutes later and arranged to meet him at the 18th hole for photos, he said, "they were all like, OK, I guess you do know him.
"We were basically the two people over there representing Edgerton," he said.
Among Anderson's duties was calculating the green speed on holes five through nine and reporting to set-up officials. It was apparent to him that the course was being set up to help the Europeans, who were thought to favor slower greens than Americans were used to. When the ninth green came in at 12 on the Stimpmeter, he said, officials ordered it to be watered but not cut for the next two days.
"Just being on a small time circuit in Wisconsin I just couldn't conceive of not cutting the greens on a tournament day," he said. But he fully expects similar efforts to help the US squad when Whistling Straits hosts the 2020 Ryder Cup, where Anderson will again serve as a volunteer greenskeeper.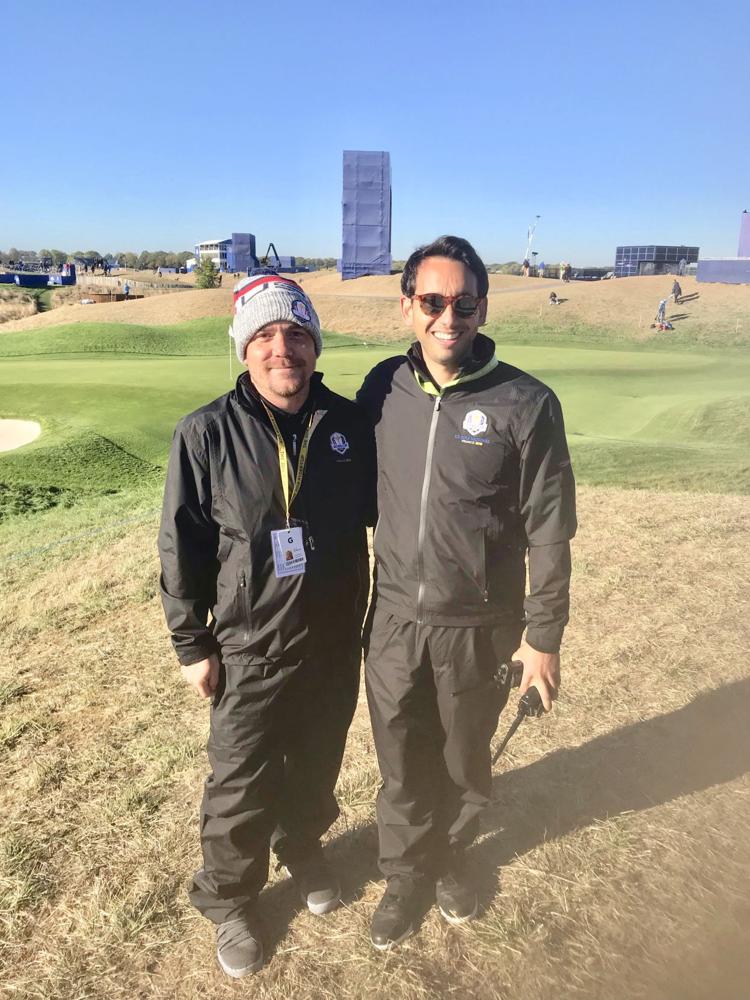 On his one day off, Anderson and two other volunteers went into the center of Paris, an expedition he said he might have been reluctant to do on his own. Some first-time visitors might tell of seeing the Mona Lisa at the Louvre or the Cathedral of Notre Dame with its famous flying buttresses; Anderson reported finding a Paris Packers bar.
Anderson said he has attended huge sporting events in the past, but none compared to the Ryder Cup. The crowd around the first tee on opening day was the largest he has ever seen and support for the Europeans was boisterous.
"It was hands down the loudest (setting) I'd ever seen," he said, still marveling months later. "It made the hair on my neck stand up, it was so intense. "It was, as I said, the greatest experience of my life. The Ryder Cup will always be dear to my heart, from now on out. Like I said, it was all amazing. It was crazy. It was one hell of an experience."