SILVIS, Illinois — It's the only big-time sports event in the Quad Cities and a throwback on the PGA Tour schedule, which operates almost exclusively these days in mega TV markets teeming with potential corporate partners. In Ponte Vedra Beach, it's all about the Benjamins.
And so, the John Deere Classic is what the Tour used to be and no longer is. It's major-league golf in a minor-league market, but one in which the tournament is a source of civic pride. There is Class A baseball here, and minor-league hockey, but no other sporting event brings world-class athletes to the steamy banks of the Mississippi River. People in the Quads circle the JDC's July dates on their calendars. It's their Super Bowl.
Of course, the tournament, which gets underway Thursday, would cease to exist without title sponsor John Deere, headquartered less than two miles from TPC Deere Run and the region's largest employer. Deere is the PGA Tour's third-longest tenured title sponsor behind only Honda and AT&T and is signed on through 2023. The company also is the Tour's official equipment supplier.
Still, as much as the JDC depends on community support, a good title sponsor and numerous corporate partners big and small, a good deal of its success is due to the passion and steady-handed leadership of tournament director Clair Peterson.
Peterson, who lived in Milwaukee from the ages of 2 to 15 and started his love affair with golf as a caddie at Blue Mound Golf & Country Club in Wauwatosa, has run the JDC since 2003. He started in John Deere's marketing department in 1975, fresh out of college, and remains an employee 44 years later. The company "loans" him to the tournament.
"I'm the library book that never got returned," Peterson said with a laugh. "I feel like I won the lottery here."
The same could be said for the tournament. It was Peterson who persuaded John Deere to charter a jet to take players directly to the British Open from Quad City International Airport, an annual $400,000 investment that has paid off in stronger fields. It was Peterson's idea to invite players and their families to John Deere's test site early in the week to tool around on bulldozers and fish in bass-stocked ponds. The "Big Dig" has become an overwhelming success.
Peterson's handprints are everywhere on the tournament. He has the respect of players on the PGA Tour, who appreciate his earnest approach and professionalism. The John Deere doesn't get the best field in golf, but it consistently punches above its weight. Its list of champions since 2003 includes Steve Stricker (three times), Jordan Spieth (twice), Bryson DeChambeau, Zach Johnson and Vijay Singh.
"Clair absolutely is the heart and soul of this tournament," said Sean McGuire, the JDC's volunteer chairman and a member of the tournament's board of directors. "As still a John Deere employee, he bleeds green and yellow. He has a passion for the tournament and the Quad Cities that is pretty much unmatched. And he's highly respected on the PGA Tour. He carries a lot of weight in this industry and we've very fortunate to have him."
Those formative years in Milwaukee — his family lived on 89th Street, just north of Capitol Drive — had a profound influence on Peterson. For starters, he is a rabid Green Bay Packers fan. He is a Packers shareholder, as are his three sons, and an autographed photo of Bart Starr hangs in his office, a converted farmhouse near the second green at TPC John Deere.
"Oh, gosh, I'll never forget, I was in front of the TV for the Ice Bowl," Peterson said. "Three feet from the screen watching Bart's quarterback sneak. I'll never forget it. Every Monday we'd go to school and talk about the game and what happened. You just get imprinted."
Though Peterson was living in the Quad Cities when the Brewers went to the World Series in 1982, he cheered the team from afar and remains a fan.
As a teen, he strapped his golf clubs to his back on hot summer days and pedaled to Currie Park Golf Course. And he credits his experiences as a caddie at Blue Mound (and later Davenport Country Club) for teaching him invaluable life lessons.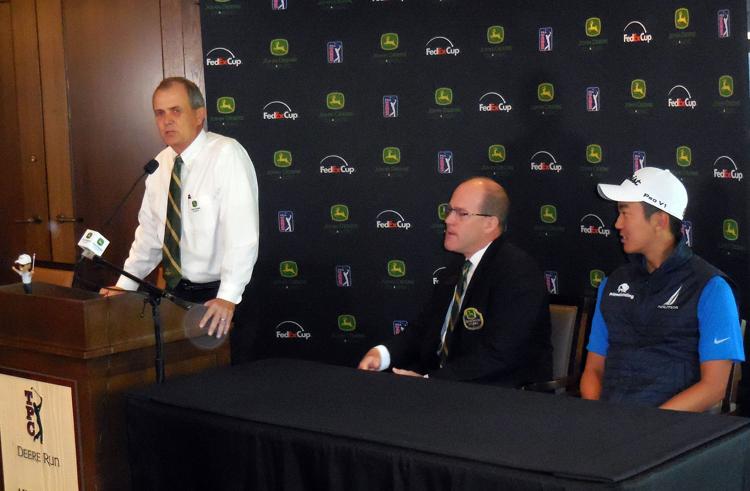 "Being a caddie at Blue Mound, it was so formative when I was 13," he said. "My dad was a caddie in Minneapolis. In fact, my grandfather went to Bobby Jones' win at Interlachen his Grand Slam year. My dad was into golf. He wasn't a great player but he loved the game. He loved everything about it.
"So, from 13 years old I've been around the game. Like every caddie, it's such an advantage. You get a glimpse at adulthood so early and a chance to observe and learn watching guys that you respect and want to be like, and you see guys that you don't necessarily want to be like. It's a real gift."
A few years ago, Peterson went back to Blue Mound. He became emotional just talking about it.
"We drove up the main drive and my friend is going, 'Wow, this must really bring back memories,'" Peterson said. "I said, 'You know, I don't remember this.' And then we got into the clubhouse and went over to the pro shop and there it was. There was a chain-link fence. I used to ride my bike through that Mayfair shopping center. The bike racks were still there in the back of the caddie shack area. I started crying. I'm starting (to cry) now. It was such an important time in my life.
"So, I just love Milwaukee, Wisconsin."
After working at John Deere for 27 years in advertising and promotions and in the company's new golf and turf division, Peterson succeeded Kym Hougham as tournament director in 2002 and started running the JDC the next year.
He immediately launched the Big Dig. The suits at the PGA Tour warned him that it would generate only lukewarm interest among the players. Instead, it's become hugely popular. Peterson remembers a frantic Bernhard Langer showing up at dusk one year, saying, "Am I too late? Am I too late?"
One year, Stricker and his wife, Nicki, asked to come back the next day to fish in the ponds and became so preoccupied with trying to land lunkers that they got locked in the test site.
"They took their Buick courtesy car over the hill and were fishing and we didn't know they were back there," Peterson said. "I get a call: 'The Strickers are locked in the test site.' It took like an hour to get them out. The joke after that, I told Steve, 'A lot of places will give you the key to the city. We're going to give you the key to the test center.'"
Said Stricker, "Clair is a friend. I always enjoy talking with him and he puts on a great golf tournament. He's done an unbelievable job with the John Deere Classic with a date that makes it very tough."
With the tournament scheduled the week before the British Open, the challenge has been to attract the game's top players. As the now-defunct Greater Milwaukee Open did when saddled with the same dates, the JDC charters a jet, and the prospect of hassle-free, no-cost travel to the U.K. for players, caddies and wives has helped.
"John Deere pays for the jet," Peterson said. "We went to them in 2008, after in '07 having only seven players play here and go to the Open, and all of them lost their luggage going through Heathrow. It was just a nightmare to get there from here. You had to connect in Chicago or New Jersey and then fly over.
"We went to Deere and said, 'Listen, there's only a few things you can do that would have any effect on the field. Different date, that is almost impossible. Put more money in the purse? Good luck. We've seen other events try to do that and it doesn't work. But option No. 3, we think if you make their life easier, if you make it hassle-free to get to the Open, we think we might have something to offer.'
"That first year, in 2008, we had 25 players take the jet. And those are the guys you really want."
Peterson, a youthful 66, and his staff of six turn over every stone to make the JDC a success. The tournament generates an annual economic impact of $53 million and has crossed the $100 million mark in charitable contributions. Its social media platforms produce tremendous numbers. At the entrance gate last year, people stopped to pose for photos at a giant driver attached to an excavator, which resulted in 14 million social media hits.
"People stood in line," Peterson said, "like they were at Disney World in front of the Magic Kingdom castle."
He likens the JDC to the Packers in that both are small-market success stories.
"The PGA Tour probably will never come to a community of 375,000 people again," he said. "There are only 46 PGA Tour events in the world and we've got one. So we really need to preserve what we've had here for a long time, never take it for granted and always support it. And people have here."
It helps to have a good cheerleader.