Jerry Kelly signed his scorecard, scribbled a few autographs and disappeared into the arms of his mom, Lee, after his bid to win the American Family Insurance Championship for the third consecutive time ended Sunday with a T-3 finish.
Remember that Kelly family picture behind the 18th green last year at University Ridge that seemed to include everyone this side of Ireland? This year, the Madison golfer had to swap it for a far more intimate snapshot of him with his mom, brother and three sisters off a cart path behind the clubhouse.
For the first time since Scott McCarron hoisted the "Dream Achieved" trophy in 2019, there would be no homegrown winner of the AmFam Championship. Instead, Thongchai Jaidee put Thailand in the winner's circle for the first time on the PGA Tour Champions with his one-stroke victory over Tom Pernice Jr.
Kelly, who seems to enjoy Sundays at the AmFam as much as he does a good steak and a bottle of wine the night before, put himself in position to win yet again with a ball-striking clinic on the back nine. He hit every approach shot to every green after No. 10 to within 15 feet, but only made two of them for birdie en route to a 5-under-par 67 that left him two strokes behind Jaidee with a 54-hole total of 12-under 204.
"I struck it well, I putted well; they just didn't go in this time," said Kelly, who now has two firsts (2019, 2021), a second (2018) and a third to go with the T-13 from his AmFam debut in 2017. "But I gave myself some good looks. ... What I saw was that back side, every single putt was downhill or broke over a foot and a half. I didn't put myself, I guess, in the right spots to run at them."
That the four-man Wisconsin contingent left University Ridge with a much brighter disposition than they had when they arrived says a lot about what this event means to them to fight to the very end.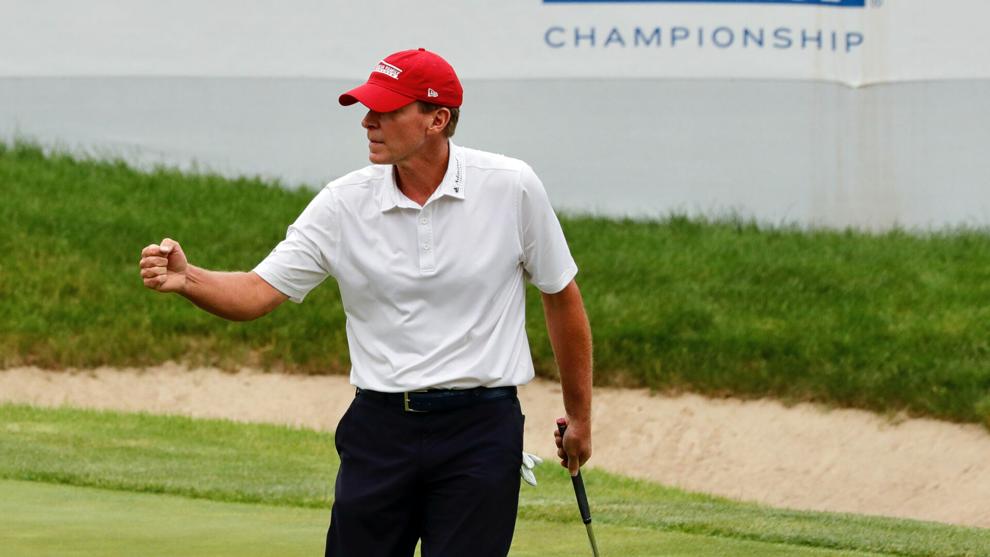 In addition to Kelly's third-place showing, tournament host and fellow Madison golfer Steve Stricker rallied with a closing 67 to finish T-11 at 9-under 207. Madison's Mario Tiziani and Fox Point's Skip Kendall both played bogey-free golf on the back nine Sunday, both finished with 1-under 71s in the final round and both finished T-35  at 4-under 212. Tiziani bettered his T-71 showing in his AmFam debut a year ago and Kendall broke par all three rounds for the first time since the inaugural AmFam Championship in 2016 when he shot 70-68-70 to finish T-29.
"You hear the roars," said Kendall, who — like Tiziani — had an early tee time Sunday and was several groups ahead of Stricker and Kelly, but close enough to hear what they were doing. "Obviously, they pull for us and maybe Mario and I can do something (like that) in the years to come here."
Tiziani sounded content to find a spot in the gallery to watch yet another thrilling Sunday back nine unfold at the AmFam Championship. When asked what he planned to do after his round, Tiziani said: "Get some food and put some running shoes on and get out there."
He got there in time to watch Stricker try to build off a run of consecutive birdies starting at No. 12 and ending at No. 14, the latter pushing him to 9-under and one off the lead at that point. Would this be the year that the tournament host would also become the tournament winner?
"I told Nicki I had to get to 13(-under) yet and I was at 9 and we had four holes left," Stricker said. "I was thinking an eagle in there at (No.) 16 and then trying to birdie some coming in. Yeah, a little late to join the party, but there were some better things (Sunday).
"I putted awful, though. I didn't birdie any of the par-5s (Sunday). Could have been a real special round, but just didn't get it in the hole very well."
In Stricker's defense, his body still hasn't recovered from his bout with a mysterious illness last winter to the point where he can trust it from one day to the next. He is looking forward to this week's break in the PGA Tour Champions schedule ahead of the U.S. Senior Open in Pennsylvania in two weeks.
"I need to get my back and my core better," said Stricker, who has started to experience nagging aches and pains that weren't such an issue before his illness when he lost close to 25 pounds. "It shows up after a period of time when I start to play that it starts to fail so I've got to just get better with working that out and getting stronger."
His back-nine surge coincided with the appearance of the sun after a foggy morning. "Heat helps a lot," he said. "Heat is good."
Kelly, looking to win in back-to-back weeks after taking the Principal Charity Classic last week in Iowa, knows all about bringing the heat.
He brought it with impeccable ball-striking, hitting 11 of 13 fairways in the final round and 17 of 18 greens, a feat matched in the final round only by Woody Austin. However, he need 30 putts in his closing 67, two more than each of the first two round, or he would have been right there.
"I was really happy with the way things were going and I was kind of expecting them to drop; 'OK, anytime now,'" Kelly said. 
I asked him when it truly felt like "Sunday Jerry" was poised to make his annual Sunday appearance on the AmFam leaderboard.
"Third hole," he replied. "Once I didn't get (birdie at) 2; I played No. 2 even-par for the week. That's a tough one to swallow, so I didn't get (birdie at) 1 or 2. So it's like wedges and a reachable par-5 and I didn't get either of them to start out.
"But once I got 3, made a great save on 4 and then got 5, now I'm like 'OK, let's go.' I mean I hit so many good putts that just didn't go. No, I'm proud of the way I played. (A lot of) good chances.
"I found my form, I found my stride that I've (had) since last week. No reason that we can't keep carrying that forward."