Mark Rolfing grew up in DeKalb, Ill., but has made his home on the island of Maui for more than 40 years. He was reintroduced to March weather in the Midwest when he visited Stevens Point earlier this week. Spring definitely has not sprung.
There's something else he felt, besides a chill in the air, as he made his way around town: excitement.
Rolfing, the NBC/Golf Channel jack of all trades, was in Stevens Point to gather intel for the U.S. Senior Open at SentryWorld later this year and picked up on what he described as a "great vibe."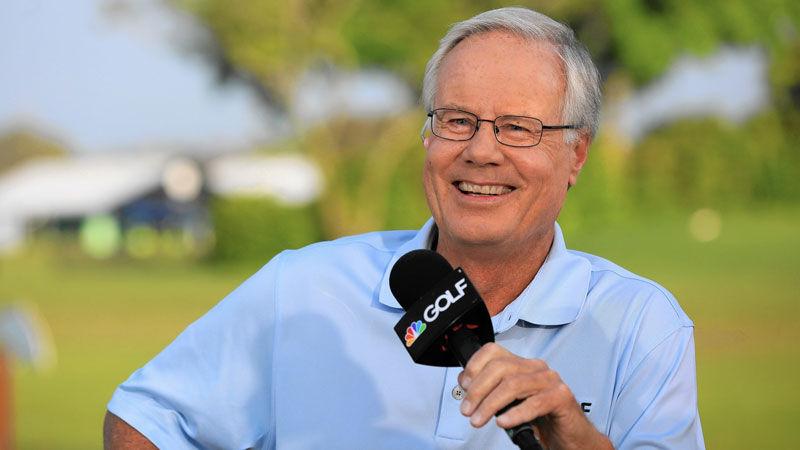 "I'll tell you, the last couple of days, going around town, people are so revved up about this Senior Open," Rolfing said. "Everybody is just totally jacked up. I'm intrigued by the way this small town has embraced a big event, which is going to be probably the biggest sporting event in the history of central Wisconsin.
"There seem to be a lot of avid golf fans. I can tell how excited the people are, and the players are going to be able to sense it instantly."
The 43rd U.S. Senior Open is scheduled for June 29 through July 2 at SentryWorld, which has undergone a total renovation in recent years and has emerged as a shining example of parkland golf.
As an ambassador for Sentry Insurance — the company is the title sponsor of the PGA Tour's Sentry Tournament of Champions on Maui — Rolfing has played SentryWorld several times and said the course checked every box as a championship venue.
"There are some tremendous shot values out there," he said. "The course has got a great balance to it. I don't think it's going to favor any particular style of play, other than it is going to require better driving than any championship I've seen in awhile. The fairways are going to be narrow. The rough is going to be substantial.
"I don't even know what the length of this course is going to be, but it doesn't matter. You are going to have to drive the ball straight out there. And in some cases, long."
In a wide-ranging interview with Wisconsin.Golf, Rolfing touched on a number of subjects related to the Senior Open. Questions and answers have been edited for brevity and clarity:
Q: You were raised in DeKalb, not far from the Wisconsin-Illinois border. How much golf did you play in Wisconsin growing up?
A: "I played Lawsonia early on before it was even en vogue to think about architecture like that. I was never a Michigan (golf) guy because we were far enough west. We always came to Wisconsin. So it's been fascinating for me to watch this whole sort of evolution of Wisconsin golf and Wisconsin becoming one of the top golf destinations in the world. Forget America. In the world."
Q: What do you think of Stevens Point, with a population of about 26,000 and located in somewhat remote central Wisconsin, as the host city for the U.S. Senior Open?
A: "I think this is kind of the future model for championship golf, and particularly for senior golf. Going to a market where they're the biggest show that's ever been here is really smart, as opposed to going to New York, let's say, or L.A., or big markets where you're competing with a bunch of other sports. This is going to be really embraced by this community."
Q: SentryWorld is a parkland course and doesn't have an ocean near it, or even, as is the case at Whistling Straits, a lake. How do you think it's going to show on television?
A: "I think the course is going to look phenomenal on TV. I think some of the drone coverage you've been seeing on NBC this year has been spectacular. What's really going to be something that people have never seen here is shots from the air. If you look at SentryWorld at ground level, particularly in the summertime when the leaves are on the trees, it's a parkland course and you don't really get a sense of everything as a whole; you have to get up in the air to be able to do that. And this will be the first time with NBC network TV coverage that you're seeing shots from up in the air that are just going to make this place look spectacular."
Q: Steve Stricker won a high school state title at SentryWorld …
A: "I had no idea."
Q: … and he and Jerry Kelly, who both live in Madison, will be huge fan favorites. How big would it be if one or both were in the hunt coming down the stretch in the Senior Open?
A: "It would be enormous. And the thing about Stricker and Kelly, they are players I've watched for years and years that are oblivious to pressure. When I look at Steve, I was wondering whether or not he was going to be able to handle the pressure of being the (U.S. Ryder Cup) captain in his home state (in 2021). And he was impeccable in his decision-making and the way he carried himself. You know, he can be a shy guy in a lot of ways and sort of a reluctant hero. But I thought he was just spectacular in that role.
"I think both of them will perform very well here. I don't think you have to say 'if they're in the hunt.' Stricker will be in the hunt. Period."
Q: You were at the Ryder Cup at Whistling Straits. What was your takeaway, particularly in regard to how Wisconsin embraced the event?
A: "I thought (it) was one of the greatest sporting events I've ever seen. When you think about it, it's 24 of the best players in the world playing for no money, on a course kind of in the middle of nowhere that nobody would ever dream that you could build, with 40,000 people out there watching. The whole thing was almost make believe. But it really showed what a great sporting venue this state is. There were a lot of people there who probably weren't even golf fans. They were sports fans.
"I think you're going to see that here. I think you're going to see kind of a young crowd here. People would naturally think, 'Oh, senior golfers, we're going to have a lot of senior spectators.' Yeah, you probably will have some but I'm not so sure this won't be a pretty young crowd out here. And I think the enthusiasm level is going to be just brilliant."

Q: How good is the talent level on the PGA Tour Champions? What can people expect to see at SentryWorld?
A: "Jerry Kelly played 72 holes at The Players (Championship) last time I looked. I think the people who come out here and watch the U.S. Senior Open, once they're out here, they're going to forget they're watching guys over 50. They're going to think they're watching the best players in the world.
"If it were an 8,000-yard course these guys couldn't compete. But with the way this course is going to be set up for the U.S. Senior Open, people on the PGA Tour … they're not going to shoot much lower than what we're going to see from the older players.
"The interesting thing about men's golf at the highest level, you've got three players who have pretty much separated themselves in (Scottie) Scheffler, (Jon) Rahm and (Rory) McIlroy. If you take a look at senior golf, you don't have that. You've probably got a dozen guys at the same level. … At the U.S. Senior Open, you'll have 30 or 40 guys who can win this thing. There's a lot of parity."