After three days of practice, we're ready to tee it up Thursday in the 84th Masters. I truly think we've got as good a shot as anyone to win. Erik's game is in great shape. He looks extremely comfortable, which is pretty impressive considering this is his first Masters. He's very relaxed. He's like, "OK, we'll figure it out," vs. "Oh my gosh, it's the Masters. I've got to hit it there."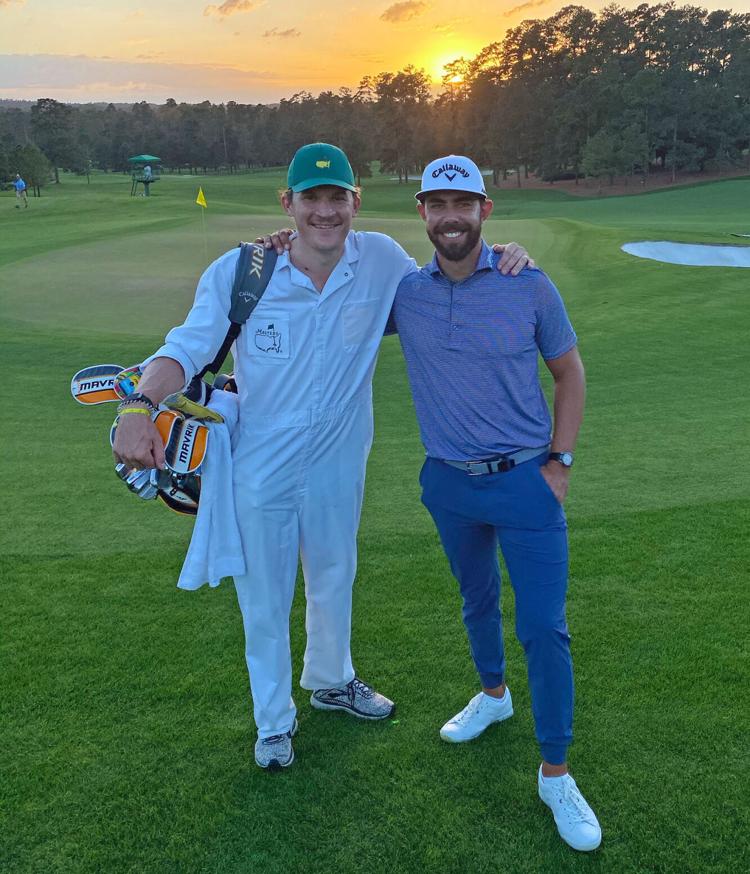 We go off the first tee at 11:05 a.m. EST with Sung Kang of Korea. Because there are 92 players in the field, there are 30 threesomes and one twosome. It's a bit unlucky that we happen to be the twosome. I'd prefer a threesome because you see how more balls react, you see different shots guys are hitting, different lines and angles on approach shots, and you see more lines on putts. But it is what it is. In the grand scheme of things, good draws and bad draws are going to even out.
In terms of a playing partner, I think it's fine. Do I think it's the best pairing for us? No, but it's OK.
Today, it misted on and off and Erik decided to take it pretty easy. He needed some rest, so I walked the course in the morning with Tim Mickelson, who caddies for his brother, Phil, and Luke Reardon, who caddies for Jason Day. Tim shared a little bit of knowledge, which was cool.
Erik came out to the course later in the day and we played nine holes – five with Jason Kokrak and four with Henrik Stenson.
On Tuesday, we had a pretty full day. We played 18 holes, starting on No. 10. It was the first time we played the back nine, so I finally saw Amen Corner, which was really cool. Then we played the front nine in the afternoon with Francesco Molinari.
Once you take it all in, it's like OK, now it's down to business. We started forming our game plan. For instance, on the short par-4 third hole, we'll hit driver when the pin is in a certain position and we'll hit iron off the tee when the pin is in other positions.
No. 13 is a really interesting hole as a caddie because you get so many different angles into the green. The hitting area to the layup shot is so big, you can plan that, OK, if the flag is here, we're going to hit it there. Same thing on No. 15 – if it's a right flag, we'll lay up to the left and if it's a left flag, we'll lay up to the right; that gives you a better angle to the flag.
The idea I'm getting out here is that the par-5s are extremely important to score. If you score on the par-5s, you've got an incredible chance to put up a good number. We spent a lot of time on No. 8, the par-5. Bryson DeChambeau is getting home with an iron, but in the practice round we had 271 yards to the front edge. It's kind of touch and go whether Erik will go for that green in two. We'll see what the conditions bring and how they set up the course.
The only real nerve-wracking thing about the week so far was our COVID-19 test on Monday morning. We were really anxious. You get nervous taking the test every week. Despite all the precautions, you don't know if you've got the virus, so you get really anxious waiting for the result. We took the test about 8 o'clock and found out about 10 o'clock that we were good to go. During those two hours of waiting, we got a little breakfast and went back to the house. I played video games to get my mind off it. Thank goodness we tested negative.
Driving down Magnolia Lane for the first time was really cool. I describe it as getting to the top of the first big hill on the rollercoaster, getting ready to go down. You're just super excited. Later in the day we played the front nine with Adam Scott, so I got to watch two of the best ball-strikers, in my mind, on the planet. Adam had some great advice for Erik. He said that as a rule of thumb, all the putts break toward Rae's Creek, but you use the Rae's Creek more for speed than for break.
I've spent quite a bit of time talking to some of the caddies who have been here before, trying to learn as much as I can, as quickly as I can. I spent 20 minutes with Michael Greller, who caddies for Jordan Spieth. I met with one of the local caddies and went through all the holes.
In terms of preparedness, I feel quite prepared. Will I gain more experience as time goes on? Yeah, I'm going to keep learning the course. I don't want to ever think I know it all.
Erik is ready for this. He's played in six majors and has made the cut in all six; I've been on his bag for the last five. The way we're approaching the week is that, yes, it's Augusta National and the Masters, but at the same time, if you play good golf you can win the tournament. If you play bad golf, you're not going to win. You pick a spot and hit it there. There's a hole on the green; the hole isn't in the bunker. You kind of have to dumb it down.
We call ourselves "masters of the As" – adaptability, attitude and awareness. We're professionals at what we do. We're going to be ready Thursday.