Rob Hernandez: Silence is golden for Scott McCarron as Wisconsin-born Jerry Kelly settles for silver, Steve Stricker for bronze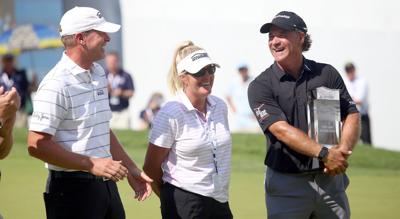 Scott McCarron had just birdied three holes in a row Sunday at University Ridge GC to take a one-stroke lead with two holes to play in the American Family Insurance Championship.
Most years, Wisconsin golf fans take to a nice guy trying to win their PGA Tour Champions event like mustard to a brat. But that's when McCarron noticed something was a little off.
"(On) 17, I hit a beautiful 6-iron to about 7½, 8 feet and hardly got any applause at all," he said.
"And then on 18, I hit a really nice drive there and we had 167 yards up the hill and I hit a beautiful 7-iron right there and I was posing and just saying 'Be right, be right, be right.' I knew that it was close when I only got two or three claps. I knew everybody was kind of upset."
Maybe it was fitting, then, that McCarron wore a black cap in his march to victory.
It wasn't so much that his bogey-free, 8-under-par 64 made him a winner on the PGA Tour Champions for the seventh time. It was that it kept favorite sons Jerry Kelly and Steve Stricker, who thrilled the mammoth galleries by being right there, from the Dream Achieved trophy.
McCarron finished the 54-hole event at 15-under 201 -- one stroke ahead of Kelly (65), whose potential game-tying birdie chip from the right fringe on No. 18 bounded left at the buzzer and forced him to settle for second. Two groups earlier, Kelly squashed Stricker's hopes of taking this gathering of over-50 golfers to extra holes when he got to 14-under and left the host in a tie for third at 13-under 203 with defending champ Fred Couples (67) and Colin Montgomerie (64).
Of the first three Am Fam Championships, this one served up the most delicious Sunday drama and that's saying a lot because neither of the first two were decided by more than two shots.
This time, seven different golfers held the lead at one point during the final round. Esteban Toledo, Glen Day, Fred Couples, Colin Montgomerie, Steve Stricker and Jerry Kelly all enjoyed the view from the top of the leaderboard, but McCarron was the only one who could keep it.
"You know, it was really funny," the 52-year-old McCarron told reporters later. "I kept hearing the roars in front of me and I kind of knew who was making what -- either Steve or Jerry."
Stricker, 51, whose streak of sub-par rounds starting his PGA Tour Champions career ended Saturday with a 2-over 74, got back to where he was before Saturday's setback with birdies at Nos. 2 and 6. He moved two off the lead with a birdie at No. 9, his third on a par-5 on the front, and birdied Nos. 10 and 11 to keep pace with Montgomerie, 55, who was busy making birdies three groups behind Stricker and got to 14-under before he three-putted for bogey on No. 17.
That was just the opening Stricker needed. He birdied Nos. 13 and 16 to join Montgomerie at 13-under, but missed birdie putts at Nos. 14 and 15 as well as Nos. 17 and 18 and was left to hope that McCarron and Kelly would find similar challenges on the green down the stretch.
"When we were coming in, I told Nicki we've got to try to get to 15," Stricker said.
He came up two strokes short; Kelly missed by one.
Kelly, 51, who matched Stricker with birdies on all three par-5s on the front nine, made back-to- back birdies at Nos. 12 and 13 to get to 12-under and Nos. 15 and 16 to get to 14. That was enough to bump Stricker out of title contention, but not enough cushion to ward off McCarron.
"Yeah, I really thought it was going to happen, you know?" Kelly said. "Unfortunately, I wasn't as aggressive as I should have been on 16 and 17. And then (on No. 18) I had a hook lie and tried to hit a cut and I just didn't release it. Then a tough kick, good chip and good putt to finish it off."
It was shades of the Greater Milwaukee Open for Stricker and Kelly, who never won the local stop on the PGA Tour before it closed shop in 2009. Stricker had one runner-up finish (1998) and a third (1996); Kelly had two of each, including a playoff loss to Loren Roberts (1996).
"They're probably both in the same boat," Kelly said of his close call then vs. the close call now. "I feel like I let the GMO slip a little bit more, not getting things done in the playoff, but that was rookie year in a playoff, hometown (and) I was really nervous. This one, my wits were about me. I was was totally fine. I just miss-played a few putts. (But) I'm happy with the whole body of work that I did (Sunday). We knew it was going to be a horse-race today. It wasn't like (Friday)."
Indeed, there were 11 bogey-free rounds Sunday and the 69.711 scoring average was the tournament's first sub-70 average since the final round of the 2016 championship (69.887).
And there was Scott McCarron. He may not have been the people's choice, but he was the logical one. His final-round average at the six events he'd won was 66; he won this one with a 64 and it didn't matter how many Wisconsin-born toes he needed to step on to get there.
"Jerry and Steve both are true champions and local favorites and, of course, everybody's going to be rooting for them," said McCarron, who was hoping wife Jenny and mother-in-law Linda Klein hailing from Waukesha would count for something. "So, even though I'm not from Wisconsin, my wife is from Wisconsin… and her mom was out there, too. … Hopefully, next year maybe I'll get a little support everyone knowing that my wife's from Wisconsin."
At the pairings party? Sure. At the Friday night concert? They'll sing along with you.
But Sundays at University Ridge? That's a home game for the home grown.
PGA Tour Champions: 2018 American Family Insurance Championship (University Ridge GC-Madison) | Final round
| Pos. | Name | Total | Today | R1 | R2 | R3 | Total |
| --- | --- | --- | --- | --- | --- | --- | --- |
| 1 | Scott McCarron | -15 | -8 | 70 | 67 | 64 | 201 |
| 2 | Jerry Kelly | -14 | -7 | 68 | 69 | 65 | 202 |
| T3 | Colin Montgomerie | -13 | -8 | 67 | 72 | 64 | 203 |
| T3 | Steve Stricker | -13 | -7 | 64 | 74 | 65 | 203 |
| T3 | Fred Couples | -13 | -5 | 69 | 67 | 67 | 203 |
| 6 | Paul Goydos | -12 | -5 | 69 | 68 | 67 | 204 |
| T7 | John Daly | -11 | -5 | 67 | 71 | 67 | 205 |
| T7 | Mark Calcavecchia | -11 | -4 | 69 | 68 | 68 | 205 |
| T7 | Kent Jones | -11 | -3 | 69 | 67 | 69 | 205 |
| T10 | Mike Small | -10 | -4 | 68 | 70 | 68 | 206 |
| T10 | Stephen Ames | -10 | -4 | 70 | 68 | 68 | 206 |
| T10 | Jay Haas | -10 | -4 | 70 | 68 | 68 | 206 |
| T10 | Bernhard Langer | -10 | -3 | 68 | 69 | 69 | 206 |
| T14 | Ken Tanigawa | -9 | -5 | 73 | 67 | 67 | 207 |
| T14 | Carlos Franco | -9 | -6 | 70 | 71 | 66 | 207 |
| T14 | Joe Durant | -9 | -5 | 72 | 68 | 67 | 207 |
| T14 | Todd Hamilton | -9 | -5 | 69 | 71 | 67 | 207 |
| T14 | Kenny Perry | -9 | -5 | 70 | 70 | 67 | 207 |
| T14 | Tim Petrovic | -9 | -9 | 69 | 75 | 63 | 207 |
| T14 | Scott Parel | -9 | -3 | 69 | 69 | 69 | 207 |
| T14 | Glen Day | -9 | -2 | 68 | 69 | 70 | 207 |
| T14 | Joey Sindelar | -9 | -2 | 69 | 68 | 70 | 207 |
| T14 | David Toms | -9 | -1 | 70 | 66 | 71 | 207 |
| T24 | Doug Garwood | -8 | -3 | 68 | 71 | 69 | 208 |
| T24 | Jeff Sluman | -8 | -3 | 68 | 71 | 69 | 208 |
| T24 | Billy Mayfair | -8 | E | 68 | 68 | 72 | 208 |
| T24 | Esteban Toledo | -8 | 1 | 69 | 66 | 73 | 208 |
| T28 | Miguel Angel Jiménez | -7 | -4 | 69 | 72 | 68 | 209 |
| T28 | Tom Pernice Jr. | -7 | -3 | 69 | 71 | 69 | 209 |
| T28 | Brandt Jobe | -7 | -5 | 69 | 73 | 67 | 209 |
| T28 | David McKenzie | -7 | -3 | 70 | 70 | 69 | 209 |
| T28 | Billy Andrade | -7 | -2 | 71 | 68 | 70 | 209 |
| T28 | Duffy Waldorf | -7 | -1 | 69 | 69 | 71 | 209 |
| T28 | Brad Bryant | -7 | E | 65 | 72 | 72 | 209 |
| T35 | Scott Hoch | -6 | -4 | 71 | 71 | 68 | 210 |
| T35 | Gary Hallberg | -6 | -5 | 70 | 73 | 67 | 210 |
| T35 | Jeff Maggert | -6 | -1 | 69 | 70 | 71 | 210 |
| T35 | Wes Short, Jr. | -6 | -1 | 70 | 69 | 71 | 210 |
| T35 | Gibby Gilbert III | -6 | -1 | 71 | 68 | 71 | 210 |
| T35 | Bart Bryant | -6 | -6 | 71 | 73 | 66 | 210 |
| T35 | Marco Dawson | -6 | -1 | 70 | 69 | 71 | 210 |
| T42 | John Riegger | -5 | -2 | 72 | 69 | 70 | 211 |
| T42 | Jerry Smith | -5 | -2 | 68 | 73 | 70 | 211 |
| T42 | Woody Austin | -5 | -3 | 70 | 72 | 69 | 211 |
| T42 | Paul Broadhurst | -5 | -4 | 70 | 73 | 68 | 211 |
| T42 | Willie Wood | -5 | -4 | 74 | 69 | 68 | 211 |
| T42 | Scott Verplank | -5 | -5 | 68 | 76 | 67 | 211 |
| 48 | Rocco Mediate | -4 | E | 68 | 72 | 72 | 212 |
| T49 | Corey Pavin | -3 | E | 71 | 70 | 72 | 213 |
| T49 | Davis Love III | -3 | E | 72 | 69 | 72 | 213 |
| T49 | Steve Flesch | -3 | E | 67 | 74 | 72 | 213 |
| T49 | Vijay Singh | -3 | -1 | 71 | 71 | 71 | 213 |
| T49 | Grant Waite | -3 | -2 | 70 | 73 | 70 | 213 |
| T49 | Skip Kendall | -3 | -2 | 73 | 70 | 70 | 213 |
| T49 | Tommy Tolles | -3 | -4 | 73 | 72 | 68 | 213 |
| T49 | Michael Bradley | -3 | -5 | 73 | 73 | 67 | 213 |
| T57 | Lee Janzen | -2 | 1 | 72 | 69 | 73 | 214 |
| T57 | Tom Byrum | -2 | -2 | 71 | 73 | 70 | 214 |
| T57 | Mike Goodes | -2 | -3 | 75 | 70 | 69 | 214 |
| T57 | Fred Funk | -2 | -4 | 72 | 74 | 68 | 214 |
| T61 | Tom Lehman | -1 | 2 | 69 | 72 | 74 | 215 |
| T61 | John Huston | -1 | -1 | 74 | 70 | 71 | 215 |
| T61 | David Frost | -1 | -1 | 74 | 70 | 71 | 215 |
| T61 | Olin Browne | -1 | -2 | 73 | 72 | 70 | 215 |
| T61 | Fran Quinn | -1 | -2 | 75 | 70 | 70 | 215 |
| T66 | Russ Cochran | E | 2 | 76 | 66 | 74 | 216 |
| T66 | Loren Roberts | E | -1 | 74 | 71 | 71 | 216 |
| T68 | Dan Forsman | 2 | 2 | 74 | 70 | 74 | 218 |
| T68 | Mark Brooks | 2 | 1 | 72 | 73 | 73 | 218 |
| T70 | Clark Dennis | 3 | 4 | 70 | 73 | 76 | 219 |
| T70 | Steve Pate | 3 | 1 | 73 | 73 | 73 | 219 |
| 72 | Clay Devers | 6 | 3 | 75 | 72 | 75 | 222 |
| 73 | Tommy Armour III | 7 | 5 | 73 | 73 | 77 | 223 |
| 74 | Steve Lowery | 9 | 2 | 77 | 74 | 74 | 225 |
| 75 | Bob Tway | 10 | -2 | 74 | 82 | 70 | 226 |
| 76 | Tom Kite | 12 | 7 | 74 | 75 | 79 | 228 |
| WD | Gene Sauers | -- | -- | 74 | 72 | -- | 146 |
| WD | Scott Dunlap | -- | -- | 74 | 75 | -- | 149 |