SCOTTSDALE, Ariz. — Steve Stricker made sure Padraig Harrington knew what he was in for Thursday as they left the first tee at TPC Scottsdale with playing partner Jerry Kelly, who — like Stricker — calls Wisconsin home.
"Walking off the first tee ... I said 'Paddy, we got two Badgers against you today,'" Stricker, the U.S. Ryder Cup captain, said of his European counterpart. "He was like 'Well, I need to get used to that, I guess.'"
The 53-year-old Stricker won the pairing of PGA Tour veterans, shooting a 6-under-par 65. Kelly, 54, and Harrington, 49, shot matching 1-under 71s.
Stricker's 65 to begin his 19th appearance at the Waste Management Phoenix Open also left him alone in fifth place, two shots behind co-leaders Matthew NeSmith and Mark Hubbard. Americans Nate Lashey and Sam Burns were tied for third after matching 64s.
With wife Nicki as his caddie and daughters Bobbi and Izzi traveling with them on the West Coast swing, Stricker became just the second golfer over the age of 50 to shoot 65 or better in this event. It also matches his low round in five starts during the 2020-21 PGA Tour wrap-around season and, when he did it in the third round of the Mayakoba Golf Classic in December, it was his first round of 65 or better on the PGA Tour since the 2018 Fort Worth Invitational.
"Felt like the old Steve Stricker," the Madison golfer told reporters afterward. "I am old, but I don't feel 53 or 54. I feel like I still have a little bit of game left in me."
Stricker, who felt he played well last week in making the cut at the Farmers Insurance Open near San Diego, picked up where he left off Thursday at TPC Scottsdale. He hit 10 of 14 fairways and 13 of 18 greens, capping his round by hitting a 7-iron from 178 yards out of a fairway bunker and making a 13-foot putt for birdie, his seventh of the day to go with one bogey (at the fifth hole).
Half of the American golfers in the top 10 of the latest U.S. Ryder Cup standings are in the 132-player field here this week — No. 3 Justin Thomas (70), No. 4 Xander Schauffele (66), No. 7 Brooks Koepka (68), No. 8 Webb Simpson (73) and No. 10 Harris English (72). Stricker, who will captain Team USA at Whistling Straits in Wisconsin in September, beat them all Thursday.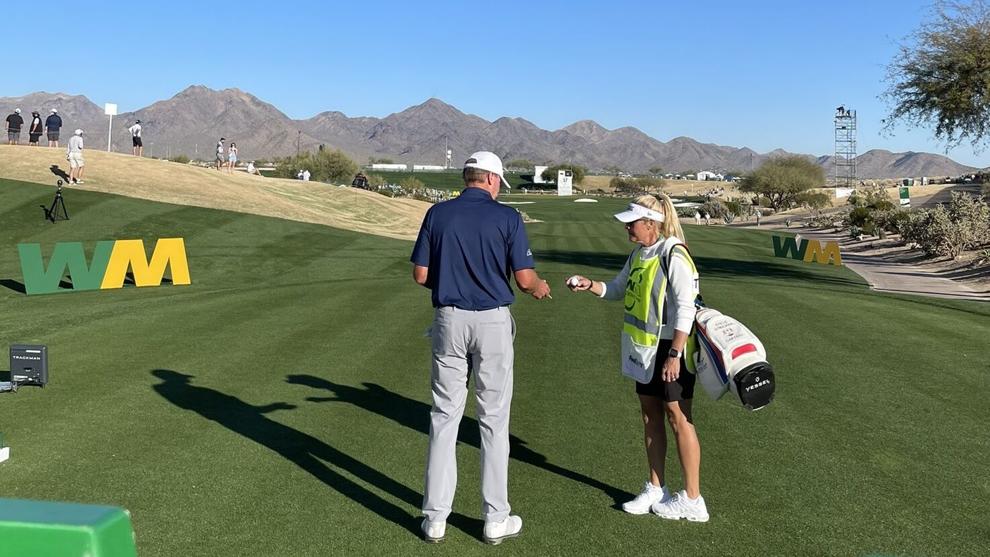 "Well, it's only one round," Stricker said, when asked what he would say to his potential Ryder Cup team members looking up at him on the leaderboard. "But it shows that I'm still out here trying to compete with them, trying to play, trying to beat them. ... The reason I'm out here, I totally expected to be on the Champions Tour this year because we were supposed to play the Ryder Cup last year, and then I was going to be pretty much done out here.
"Now that the Ryder Cup is pushed off to the end of this year, that brings me out another year, which I'm totally ... fine with. I enjoy the challenge."
Stricker played a practice round before The American Express with Ryder Cup hopeful Patrick Cantlay two weeks ago. He talked to Patrick Reed before Reed went out and won The Farmers Insurance Open last week. He chatted up Thomas again this week, saying the captain's presence in PGA Tour events "keeps me relevant, keeps me out here, keeps me in their kitchen."
Paired with Harrington for the first two rounds, it also gives the two Ryder Cup captains — both considered among golf's foremost "nice guys" — the chance to compare notes. PGA of America officials have said they are hoping the biennial event, postponed in 2020 due to COVID-19, can be played with at least 45,000 fans on the grounds at Whistling Straits come late September.
"He was asking me if we were going to have fans (and) what do I think as far as that goes," Stricker said. "It's too early to tell, right? We don't know what's going to happen yet. So we've got to keep plugging away like it's going to happen with full fans or half fans or no fans. I'm sure we're going to play it.
"And he feels the same way. ... We know we're going to play it in September, I would think, but we would love to see a full house, for sure."
In the meantime, Stricker is clearly enjoying his pairing and having Kelly, who contended two weeks ago at the Mitsubishi Electric Championship at Hualalai on the senior circuit, in his corner to give Harrington a taste of Wisconsin.
"So he knows what's coming when he comes there in September," Stricker said. "Hopefully, we can put a good team together and play well and bring that (Ryder) Cup back home where it belongs."