Hard as it is to follow up one exceptional round of golf with another, Steve Stricker admitted Sunday that it felt as if he'd been given three opportunities to give it a try over the weekend on the formidable South Course at Firestone Country Club in Akron, Ohio.
The Madison golfer, however, wasn't sure he ever succeeded.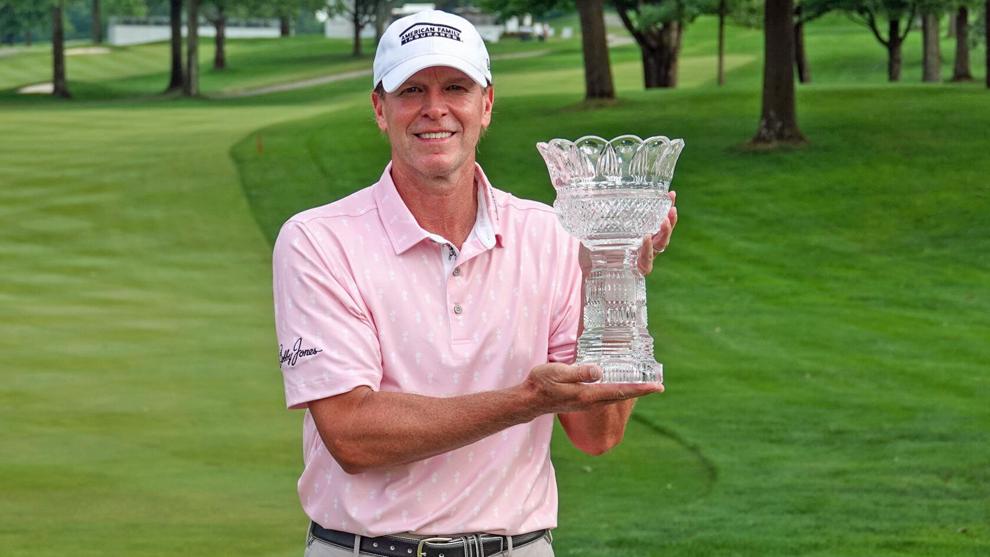 Staked with four-stroke lead after an opening-round 63, Stricker stretched his lead to nine shots midway through Saturday's third round of the Bridgestone Senior Players Championship and then spent the final 27 holes holding on for dear life. In the end, five straight pars to close Sunday's final round proved to be the deliberate dagger as he stretched a two-shot led over fellow Madison golfer Jerry Kelly to six and won his third career PGA Tour Champions major.
It marks the 54-year-old Stricker's third victory in 10 career starts in PGA Tour Champions majors and his first since 2019 when he won the Regions Tradition and the U.S. Senior Open. He also becomes only the third wire-to-wire winner in the 39-year history of the event, joining Arnold Palmer (1985) and Bernhard Langer (2015), but it was a task that seemed to get more difficult the deeper into the tournament he went. 
"It was hard; it was a hard day," Stricker said after his even-par 70 left him with a 7-under 273 total and kept him a safe distance ahead of Kelly (72-279), the only other golfer in the 81-player field to finish the 72-hole event under par. "You know, I basically played with a lead all the way from the start of the tournament. Had a big lead on Saturday, kind of let that slip away. It's hard to play with a lead, I'm finding that out."
Indeed, after failing to protect 54-hole leads at each of the first two major championships on this senior circuit this year, Stricker withstood Kelly's best attempts to eat away at the four-stroke lead with which his friend began the day.
They came at Stricker from the very first hole. While his opening drive found a fairway bunker, forcing him to make a scrambling par, Kelly split the fairway off the tee and knocked his second shot onto the green with a chance to slice Stricker's lead in half.
"I make a great up-and-down, he misses his birdie so we walk off there even," Stricker said. "He just kept putting the pressure on and that forced me to get it up-and-down when I was out of position or try to play a little bit more aggressively. It's still hard. When you have that four-, three-shot lead, you don't want to make a mistake and then you end up playing pretty defensively and that's not good in the game of golf."
Kelly said: "He made some great up-and-downs starting with No. 1 from 50, 60 yards. He doesn't get that up-and-down and I make a 5-footer ..."
Who knows? It's quite possible Kelly could have rode the momentum to a come-from-behind victory and his second consecutive Senior Players title.
Instead, Stricker bounced back from a bogey at No. 4 that allowed Kelly within three shots of the lead by making three birdies over the final four holes on the front nine, starting at No. 6. Stricker delivered a glancing blow at No. 9 where Kelly chipped in for birdie only to have Stricker make a 3-footer for birdie to match him.
"I mean, with him knocking it in there close, it would have been out of reach had I not done that," Kelly said.
Yet, it was hardly out of reach four holes into the back nine after Stricker bogeyed Nos. 11 and 13, the latter a hole Kelly birdied to produce a two-stroke swing that left Stricker with a two-stroke lead.
"You try to be protective of that lead and you kind of get out of your normal routine and your normal way of playing and you make a mistake here or there, and then all of a sudden you feel like you're going the wrong direction," Stricker said.
A Kelly bogey at No. 14 (he failed to save par from a greenside bunker) forced him to be aggressive on the par-5 16th hole, down three shots to Stricker and running out of holes. Moments after Stricker laid up to 100 yards with his second shot, Kelly's 4-iron from 200 yards hit off the front, greenside bank and spun back into the water, leading to the first of three consecutive bogeys to finish.
"I had my 200(-yard) club, so I was trying to fillet something in there to get it to stop," Kelly said. "Again, it's doing a lot, but I was now 3 back with three to go, I've got to try for an eagle. You know, then I just ... lost all my adrenaline.
"It was kind of ceremonial from that point on once he got it in the fairway and I was standing on my head. ... I mean, to shoot even par when you've got a lead like that, that's tough. I would have had to shoot 4-under to catch him."
As Stricker strolled up the 18th fairway, he paused and walked over to Kelly, his longtime friend, and the pair shared the rest of the walk to the green together.
"We're friends and we're both trying to beat each other badly, but when we can walk away and still be friends is the cool part," Stricker said. "But it's hard when you're playing against your friend out there. I know he wants to beat me bad and I feel the same, but we're still friends and that's the nice thing about it.
"And I said that to him walking up 18. I said 'It was fun, but I don't like it.'"