MADISON — Steve Stricker is at a sweet spot in his life.
A year removed from the onset of a terrifying illness, he's feeling great as he approaches his 56th birthday in February. He's looking forward to playing a full PGA Tour Champions schedule in 2023, and maybe even a couple of events on the PGA Tour. He's overseen a redesign of his home course, Cherokee Country Club, now TPC Wisconsin. His daughters, Bobbi and Izzi, are forging their own paths in golf.
All of it has given him perspective and appreciation for what the game has given him.
Other than family, though, nothing means more to him than the charitable work he and his wife, Nicki, do through the Steve Stricker American Family Insurance Foundation, thanks to the American Family Insurance Championship, the Champions tour event he hosts in June.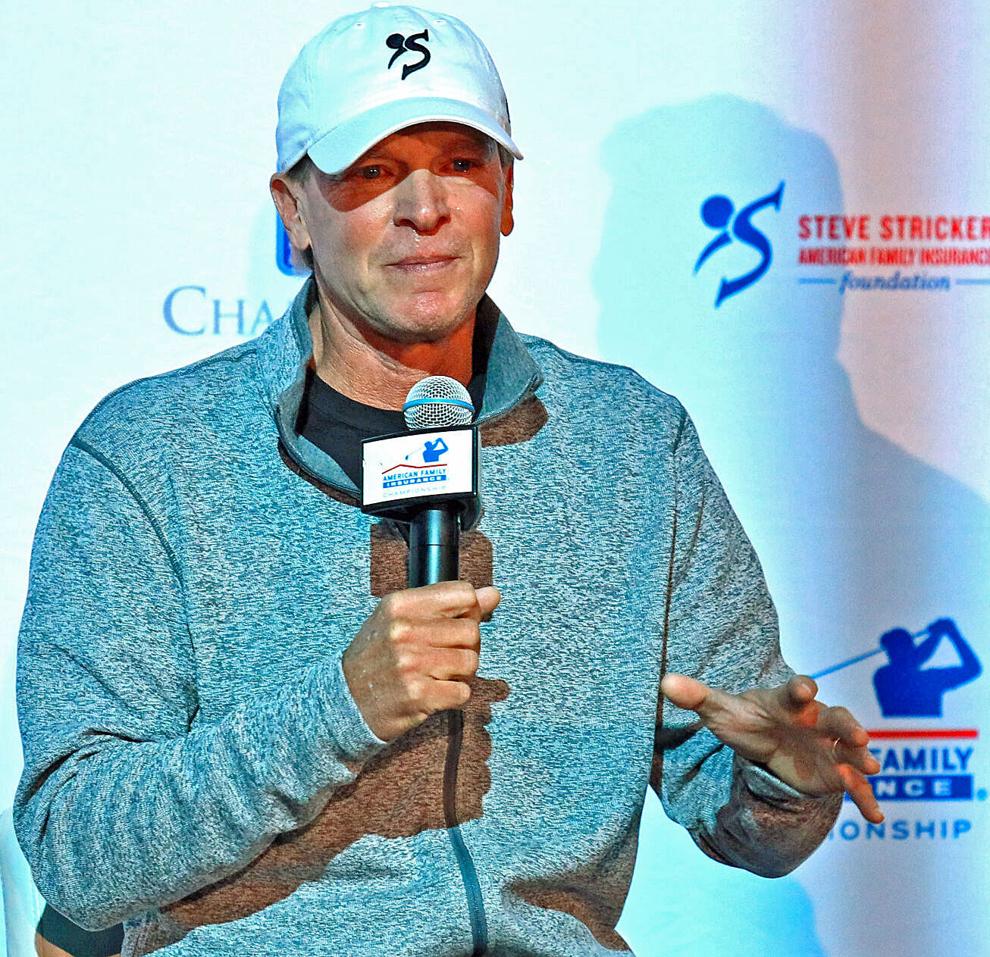 His gratitude came pouring out Monday during the AmFam Championship's grant proceeds celebration at the company's headquarters.
The 2022 tournament, won by Thailand's Thongchai Jaidee, raised $2,234,000 for charitable organizations. That brings the total amount raised for charity to $14,813,000 since the inaugural AmFam Championship in 2016.
Stricker has been known to shed a tear or two after many of his tournament victories — 12 on the PGA Tour and 11 and counting on the Champions tour — but he went into full meltdown mode when he was asked by Jim Buchheim, AmFam's community and social impact officer, what those numbers mean to him.
Overcome by emotion, Stricker had a hard time getting out the words. He had to stop several times to compose himself. Tears rolled down his cheeks.
"Um," he started, his voice breaking as he looked out at a gathering of grant recipients. "Sorry … but it really does mean a lot to all of us, our families, American Family Insurance, the people here, the sponsors, the volunteers — everybody that's a part of this.
"I was in that hospital a year ago … didn't know what was going to happen. Didn't know where I was going. Had unbelievable care. … So you just never know, right? That's why I go hunting in the fall now, because I don't play any golf. I just do the things I want to do. You just don't know what life is going to throw at you.
"So I just want to say thank you. We can't do it without all of you. … You can tell how much this means to me … sorry … to be able to do this, to give back to the community, the place that I call home, the place where I grew up. And, um, I'm a mess. Thank you so much. We're so happy to be able to help everybody here."
Stricker joked that he'd downed a couple of beers to calm his nerves before giving his speech at the Ryder Cup opening ceremony in 2021 but "I didn't have any beers this morning."
This is why Wisconsin loves Steve Stricker. He's sincere. He's caring. He's relatable. Unlike many successful athletes, it's never about him.
In an interview later, he said that the charitable giving through his foundation means more to him than anything he's done in golf. More than those 23 victories. More than his two PGA Tour comeback player of the year awards.
"Yeah, for sure," he said. "Just what we're able to do for other people. The amount of people that we're impacting, to see the smiles on their faces, to hear the impact of the money we're giving them, what that does for their organizations.
"Especially, you know, as we get older we get that perspective. Golf is golf. Don't get me wrong, it's the way I've made a living and it's been an important part of my life. It's why we're able to do this. But this, no doubt, means a lot to all of us."
After COVID-19 canceled the 2020 AmFam Championship and limited the number of spectators in 2021, the tournament returned this year with no restrictions. Fans from 32 states attended the event at University Ridge and 925 volunteers from 14 states donated 20,000 hours. The local economic impact was estimated to be $15 million.
Approximately 50 percent of the money raised went to American Family Children's Hospital in Madison. The balance was donated in varying amounts to 140 primarily local charities such as the Badger Childhood Cancer Network, Camp Hometown Heroes, the MACC Fund and SHARP Literacy.
"We're so happy to be able to help everybody here," Stricker said, before posing for photos with many of the grant recipients. "I know how much it means to you guys. We love to be able to support your endeavors, your foundations, your charitable giving to the utmost that we can. We're trying to help a lot of different people. Again, appreciate you all. We hope to continue this on for many years, to keep giving, to keep helping Children's Hospital.
"I'm just so happy and honored and humbled to be a part of it. Thank you."