LA JOLLA, Calif. — Tiger Woods was a 29-year-old icon who had already captured eight of his 15 major championships and recorded 41 of his 82 PGA Tour wins when the PGA of America revealed this week in 2005 that it would bring the Ryder Cup to Wisconsin in another 15 years.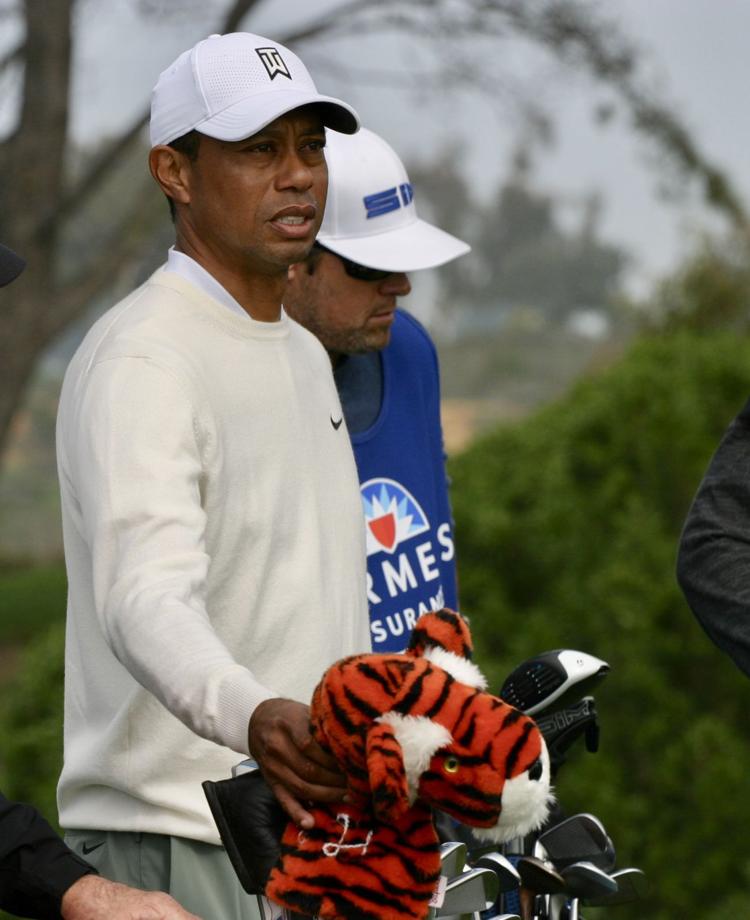 Technically, that announcement came Jan. 24, 2005, and included, at the time, the more immediate headline that Whistling Straits in Haven would also get two more PGA Championships (2010 and 2015) following the success it had hosting its first PGA in 2004. The news broke one day after Woods won what is now the Farmers Insurance Open – his third of eight wins at Torrey Pines, capped by his 2008 U.S. Open championship – to jump-start a year during which he won six times and reclaimed the world's No. 1 ranking (and then hold it for 281 consecutive weeks).
I recall vividly wondering what the world – let alone the golf world – would look like in the fall of 2020 when Team USA would battle Europe along the Lake Michigan shoreline. We were a few days removed from the start of President George W. Bush's second term and a few days away from YouTube going online for the first time, but – in that moment – no one could have forecast the myriad of personal problems and four back surgeries that would keep Woods from being anything other than the headliner for the culmination of Kohler's relationship with the PGA.
Now 44, Woods last stood atop the world rankings May 17, 2014, before plummeting as low as No. 1,199 following the 2017 season. He has clawed his way back to No. 6 entering this year's Farmers Insurance Open, but – as he inched his way up the leaderboard on a foggy weekend on Torrey Pines' South Course – Woods showed he remains the people's undisputed No. 1.
Mammoth galleries tailed Woods from the moment he arrived on the property at The Farmers for Wednesday's pro-am until his final putt was holed Sunday afternoon. I tried to squeeze onto the bandwagon Saturday, catching glimpses of Woods in between his entourage as he made his way from the seventh green to the eighth tee and again as he came up No. 15 where a picnic table left of the fairway collapsed under the weight of fans trying to get a better view.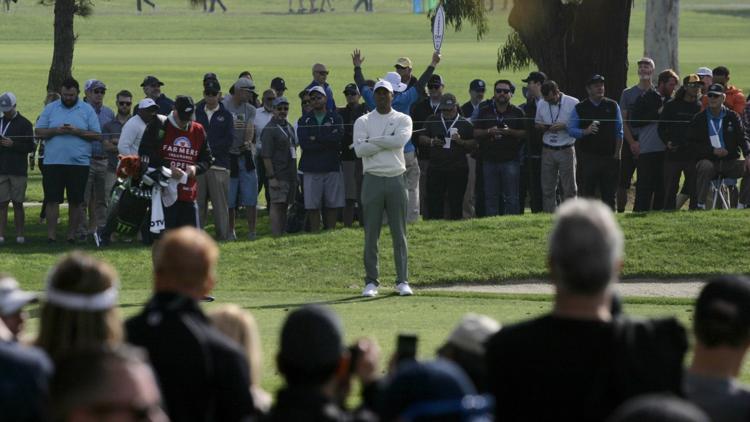 It was as tough to get a good look at Woods as it was to see the crashing waves of the Pacific through the fog that gripped San Diego's swanky North County coastline most of the weekend.
That's Tiger Woods for you, though. With his fans, he never gets old even as he grows old.
He bounced back from a four-putt double-bogey on the first hole of the South Course in Friday's second round to birdie three of his last four holes on the front nine and make the turn 1-under. After bogeying No. 1 in Sunday's final round, Woods two-hopped his approach shot into the cup on No. 2 only to have the ball pop back out, a foot or so from the hole for a tap-in birdie. He made three birdies and one bogey the rest of the way, finishing the week with a 69-71-69-70 card to finish tied for ninth place at 9-under 279, six shots behind winner Marc Leishman.
At the start of the week, Woods – just two years removed from a 30-month stretch in which he played just one PGA Tour event – described this chapter of his legendary career as "blessed opportunities." That rang so true Sunday after he finished the final round of The Farmers to tragic news that his friend and fellow sports icon Kobe Bryant, a former Los Angeles Lakers great, died earlier Sunday in a helicopter crash that also claimed his oldest daughter Gigi.
"He came into the (NBA) and I turned pro right around the same time and we had our 20-year run together," Woods told reporters. "It's shocking. … Life is very fragile, as we all know. You can be gone at any given time and we have to appreciate the moments that we have."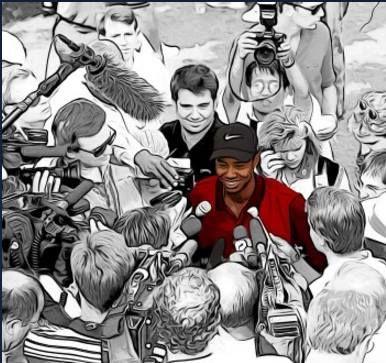 For those of us in the room at Brown Deer Park Golf Course in Milwaukee in 1996 when Woods said "Hello, world!" and turned professional at the Greater Milwaukee Open, the 2020 Ryder Cup is a sobering reality that this could be the last time we see Woods roaming Wisconsin fairways.
Outside of his first professional hole-in-one in the final round of the 1996 GMO (where he tied for 60th), Woods' appearances in Wisconsin have not exactly been memorable. He tied for 24th at the 2004 PGA at Whistling Straits, tied for 28th in 2010 and missed the cut in 2015. The 2017 U.S. Open at Erin Hills near Milwaukee fell during Woods' sabbatical from competitive golf.
That his evolving game held up from start-to-finish at The Farmers in his first start of 2020 – hitting a new model of Bridgestone ball with a new TaylorMade driver, no less – bodes well for the hope he will command the same level of spectator buzz in September at Whistling Straits. At No. 5 in the U.S. Ryder Cup points standings coming off a return to excellence in 2019 when he won his fifth green jacket at The Masters, it would appear that Woods – after making himself a captain's pick on the victorious Presidents Cup team he captained last month in Australia – is in a position to be a key veteran on U.S. captain Steve Stricker's Ryder Cup team this fall.
If that proves to be the case, the end of his year could be even more captivating than the start.
And who knows how many more Ryder Cups are in the cards for Woods? Only four American golfers age 48 or older – Raymond Floyd, Phil Mickelson, Jay Haas and Fred Funk – have played in the biennial competition (Floyd did it twice, the last in 1993 at the age of 51) so, barring injury, Woods figures to have at least three more chances to play for Team USA.
In the meantime, Woods continues to focus on finding new ways to take on Father Time.
"When I was younger, ... I had more good days than bad feeling-wise," Woods told us when he visited the media center this week. "Now at 44, I feel more bad days than I do good days. I think all of you at my age or older can relate to that. I think that's the hardest part about being an older athlete. You see it all the time at The Masters. You see it every single year, either Fred (Couples), (Bernhard) Langer or somebody's up there for about two to three days, then they fade. It's hard to put it together for all four days as you get older. … It's hard to recover."
Fortunately for the game, Woods has had no trouble recovering the immense following he enjoyed before personal and physical woes forced him to step away from the game.
"There's nothing like it; I can't describe it," second-year PGA Tour golfer Collin Morikawa said Thursday after becoming the first golfer born after Woods turned professional (Feb. 6, 1997) to be paired with him. "I love it, the noises, whatever, but those (fans) are all there to root you on. Yeah, they're watching Tiger, but they're still having fun with my shots. If I make a birdie, they're still clapping. So I think the fans are awesome, I love seeing them out there. That's why we're here, we're here to just play our best golf and have people enjoy that. I love every part of it."
The opportunity to enjoy Woods in a Ryder Cup setting here in Wisconsin has been 15 years in the making. When that day finally arrives in September, we should love every part of it, too.