Firestone Country Club's long-standing reputation as a classic championship golf course is steeped not so much in taking more than it gives as much as it is in simply giving precious little. In other words, patience is critical.
Jerry Kelly got a taste of that Friday in the second round of the Bridgestone Senior Players Championship when he began the day with 14 pars in a row. The Madison golfer was served another reminder Sunday when he began the final round of the season's fourth major on the PGA Tour Champions schedule with 11 pars and one bogey after beginning the final round tied for the lead.
That's what made his car ride Sunday morning from his Akron, Ohio, hotel with wife Carol to the golf course perhaps the turning point in what would be a two-shot victory over fellow Madisonian and defending champion Steve Stricker for his second major championship.
"Right when we left in the car, she just said it doesn't matter what happens, just go out there, just have a positive attitude and it's going to come to you," Kelly said after winning the Bridgestone Senior Players for the second time in three years by playing his final six holes in 3-under-par. "I kept on saying, 'OK, I'm going to smile when I miss this one and it's going to come to me.' And they ended up coming at the end."
Kelly two-putted from 70 feet for par on the 18th hole to finish off a 2-under 68, giving him a 54-hole total of 11-under 269 and helping him hold off Stricker (68), who took a 1-stroke lead with a birdie at No. 11 only to fall back with bogeys at Nos. 13 and 15. Stricker birdied No. 17 and finished at 9-under 271, one shot ahead of Australia's Steven Alker (69), who bogeyed No. 18, and South African Ernie Els (68) in the scramble for second.
It marked the fifth time that Kelly and Stricker have finished 1-2 in a PGA Tour Champions event and the third time it has happened in a major championship (Stricker won by six strokes at both the 2019 U.S. Senior Open and 2021 Bridgestone Senior Players). Before Sunday, Kelly's only other victory in a 1-2 finish with Stricker came at the 2019 American Family Insurance Championship, their hometown event that Stricker hosts, when Kelly won in a playoff the week before Stricker returned the favor at the U.S. Senior Open.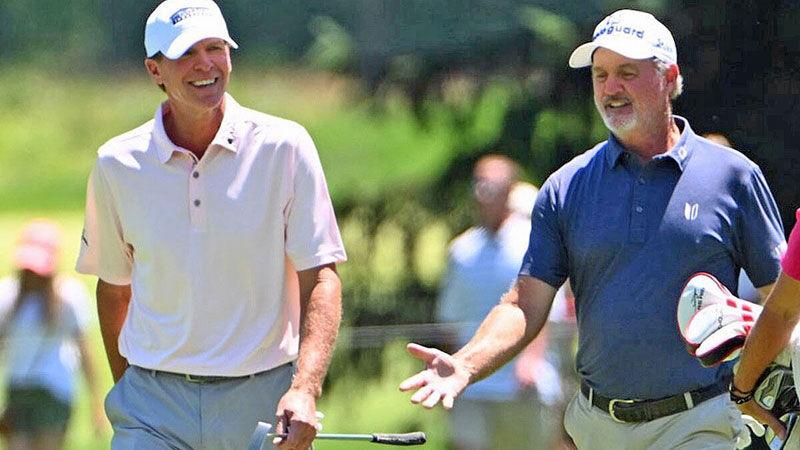 "He played great and he made the putts when he had to coming down to the end," Stricker said of his longtime friend. "He made a nice putt at 13 for birdie and then I basically showed him the line at 16 and he made another great one at 17. So yeah, he made the putts when he had to coming down, and vice versa, I didn't. Again, that's the difference."
Kelly said the birdie putt he made on No. 16 after Stricker missed his was a product of a similar situation on No. 10 where Stricker also showed him the line but Kelly failed to take advantage of it. "That really helped me get that one to the hole (on No. 16) after what happened on (No.) 10," Kelly said.
In between, however, Kelly felt the shot of the day was his approach shot on No. 13 around one tree and left of another from the right rough. He hit a hybrid into the face of an elevated green to take the speed out of the shot and watched the ball roll up to within five feet of the pin for his first birdie of the day.
"That was one of the best shots of my life and it checked perfectly into that hill," Kelly said. "I didn't even know if I'd be able to fly it that far. I thought I might have to roll it up, but when it came out hot, that's when I knew it had to sit down and it just dug right in and got really close.
"So that was my first birdie, so that kind of opened the door."
Kelly slammed the door shut with back-to-back birdies at Nos. 16 and 17. After taking advantage of Stricker's read on the par-5 16th, Kelly made an 8-foot birdie putt on No. 17 to stay two strokes ahead of Alker before Stricker made a 6-footer for birdie as a cell phone went off during his stroke to catch Alker at 9-under and pull within two heading to the final hole.
But there would be no catching Kelly, who won for the 10th time in 117 starts on the senior tour. Kelly, 55, becomes the third two-time winner on PGA Tour Champions this season, joining Alker and Miguel Angel Jiménez, and moves to No. 3 in the season-long Charles Schwab Cup standings behind Alker and Stricker.
"It feels great," Kelly said after punching his ticket to the 2023 Players Championship on the regular PGA Tour for winning this event. "The first major is awesome, but the second one, even more validation. I think that puts me at (10 victories). I'm really excited to go back to Sawgrass next March. That was a big piece of the desire in winning this tournament. That's one of those great things that we have with our majors that we can get to go play at the high point of golf.
"I'm really excited about that. It's always such a great tournament at a great golf course like this and to come out on top's pretty cool."
In the meantime, Kelly is looking forward to the season's final major in two weeks — the Senior Open Championship at Gleneagles in Scotland. He'll make that trip without his wife, however, because Carol has another treatment in her recovery from kidney cancer surgery last October.
"She would want me to go do my job," Jerry Kelly said. "I missed one treatment for Wisconsin, this one going overseas and every three weeks for a year I'll be at all of them except for those. She knows how important the Senior Open Championship is to me, I love going over there. I'd love to have her with me, but she had to do it on those dates and we didn't want to mess with that."