As he prepared to leave the unthinkable that was 2020 and cross into the unknown that will be 2021, Nate Pokrass wished his crystal ball was a little bit more decisive about what life will look like come June when the American Family Insurance Championship hopes to return to the PGA Tour Champions schedule at University Ridge Golf Course in Madison after a one-year hiatus.
Specifically, the AmFam tournament director would like to know what COVID-19 restrictions will still be in place and what life will be allowed to look like come Saturday of tournament week.
"There is one moment that always sticks in our mind and we have to plan for this scenario," Pokrass said. "If you think of Saturday afternoon, the 10th tee box when the celebrity group is teeing off right after the final group (of the tournament). You think about the size of that crowd, when it's Andy (North) and Brett Favre and when it's been Jack (Nicklaus) and Lee (Trevino) and all of the others who have been on that tee box with the crowds and the enthusiasm.
"We have to understand that's the largest moment in time where fans are congregating so we have to know when can we provide that environment again? There's always that one question. We don't know. We don't know that answer. But that's what we have to plan for. As we plan and think about safe distance and healthy environments, those are moments we have to address."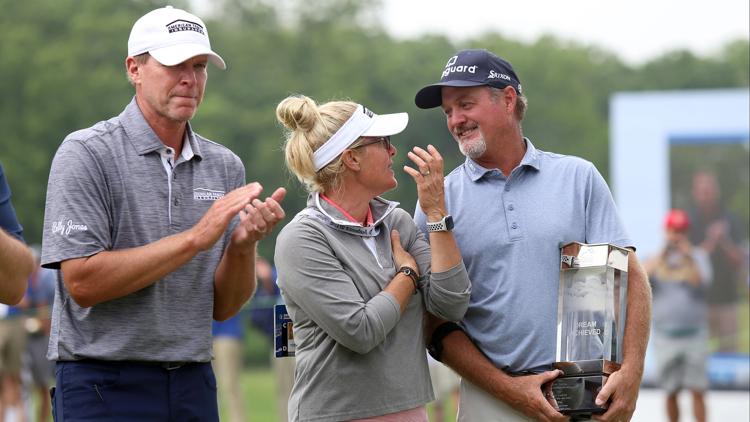 Indeed, one year after COVID-19 left one Madison golfer (Steve Stricker) without a tournament to host and another (Jerry Kelly) without a title to defend, the PGA Tour Champions' successful return in late July amid the ongoing pandemic has Pokrass optimistic the AmFam Championship will be able to offer a week full of events in some way, shape or form June 5 through 13, 2021.
Will that include the Race for Research 5K run the Saturday before the tournament (June 5)? Will it offer The First Tee of South Central Wisconsin Skills Challenge (June 8)? Will it feature the usual assortment of pro-am tournaments Monday, Wednesday and Thursday? Will fans be able to move from University Ridge to Breese Stevens Field after the opening round to enjoy Little Big Town, the musical headliner whose 2020 gig fell victim to the AmFam cancellation? Will the popular celebrity foursome led by North, the two-time U.S. Open champion who still calls Madison home, be part of the Saturday festivities as it was the event's first four years?
Those were just a few of the questions that followed Pokrass and his staff into the new year.
"As we look to 2021, we have developed a variety of ways the tournament could be executed," Pokrass said during a mid-December interview. "We have a variety of different formats that we've talked through, vetted through (and) analyzed, any one of which could be implemented and executed. It starts with running a tournament in full with full fans, hospitality (offerings), the full week of tournament activities. That's certainly our first and foremost desire.
"We also recognize that time might not allow for that come June. We don't know. There is that unknown of how society handles sporting events and mass gatherings going forward. While we are certainly planning one model of a full tournament, we also have other models in place."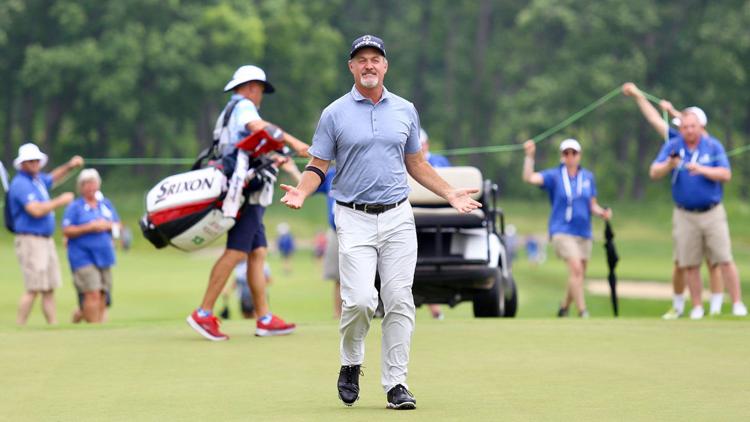 It will be difficult to top the model that played out in 2019, when Kelly outlasted Stricker and Retief Goosen in a playoff to become the first homegrown champion of a PGA Tour-sanctioned event in Wisconsin. The combination of golf legend Jack Nicklaus, former Packers quarterback Brett Favre and country music star Toby Keith alongside North drew an enormous gallery for Saturday's celebrity foursome, which has become a roaring success among the fans.
"I don't know if he jabs Steve behind the scenes, talking about how long he gets to hold the trophy, but it has been a long title defense," Pokrass said of Kelly, 54, who will defend titles in consecutive tournaments during 2021 when he heads from Madison to the Bridgestone Senior Players Championship in Akron, Ohio, to defend his first major championship of his four-year career on the PGA Tour Champions. "If we can have another finish with him and Steve in a playoff again, coming into 2021, if you tell me that's how it's going to play out, we'd love it."
Then again, Pokrass would just love to have a tournament to run again in 2021.
Admittedly, there was a considerable void the first full weekend in June in 2020 that he tried to fill with an AmFam Championship staff outing at University Ridge. After four years of seemingly always looking ahead, Pokrass said it was a chance to reflect on the accomplishments of an event that has won the PGA Tour Champions' President's Award two years in a row.
"We used it as a walk down memory lane, remembering the previous four years and all the fun and excitement – having Lee Trevino (2018) and Jack Nicklaus (2019) on site (and) having great tournament champions." recalled Pokrass, whose April 16 announcement to cancel the 2020 event would prove to be one of many changes to the senior circuit's calendar. "While certainly sad, we knew there were greater issues at hand and we certainly understood the decision that needed to be made. … As we look back on the year and how the year has gone, we knew it was the right decision at the time and, looking back, it confirms – seeing how society has changed and evolved – it was the right decision to cancel and start looking ahead."
Which brings us back to Pokrass' crystal ball. There is so much potential for the 2021 AmFam Championship to be another huge draw at the gates with Ernie Els, Jim Furyk, K.J. Choi, Mike Weir and Phil Mickelson among those having turned 50 since Kelly hoisted his AmFam trophy in 2019 - so much so that the concern heading into 2020 about the tournament moving two weeks earlier on the June calendar is barely a whisper heading into 2021 given the perspective of having gone through a year without an AmFam Championship.
"It certainly changes the stress point," Pokrass said with a chuckle. "A year ago, we were concerned about the date change – will fans be able to adjust to early June vs. late June? Now, what we're hearing is fans just want to be out there. They want to be around watching sporting events and music and entertainment. We hope we can provide that … for everybody.
"AmFam has been able to provide its resources to find ways to execute the tournament in an environment that everybody can celebrate together. Their commitment has been unwavering and extremely strong. They want to see this tournament back just as fast as anybody else, but they recognize we have to do it with the right method. They are providing those resources to determine, in the end, the right method. While we don't know it exactly today, by June we will know how to run this tournament and having AmFam's support has been phenomenal."